As history shows, evaluating quarterbacks is no easy task. All quarterbacks' strengths and weaknesses lie in different areas – and when piecing it all together to build an offense around their strengths, with the right scheme and players around them to be successful – it's far often easier said than done.
The truly elite quarterbacks in the NFL possess certain levels of each of these main trait criterias below with consistency, with the middle- and bottom-tier quarterbacks having a mix and match of some without the other. We've done our best to quantify these traits with PFF grades and data to help get a better picture in evaluating quarterback play.
Here are the things I look for when evaluating a quarterback on tape:  
Arm Talent & Accuracy
This first look at a quarterback is clearly his overall arm and efficiency of the release. Although deliveries from QB to QB differ, the most consistently accurate quarterbacks – with the most-talented arms – have commonalities with their upper- and lower-body mechanics. All possess a certain whip to their arm that gives them a quick release, the ability to snap off throws in the face of pressure, as well as make throws from different throwing positions when their feet aren't perfect, with a flick of the wrist.
Guy I'm most fired up to watch next season: Patrick Mahomes. Most talented arm in the NFL #whip pic.twitter.com/omTMBiaNym

— Zac Robinson (@Zac_Robinson5) June 29, 2018
Arm talent can be grouped into a bucket of accuracy, arm strength, the ability to pace and layer the ball up and over defenders while maintaining velocity, as well as short area and deep ball touch. The bottom line is, can you put the ball where you want to, accurately and consistently, regardless of how many other boxes you check as the "look" of an NFL quarterback?
How PFF grades and data Help in Evaluation:
Big-time throws

Advanced accuracy charting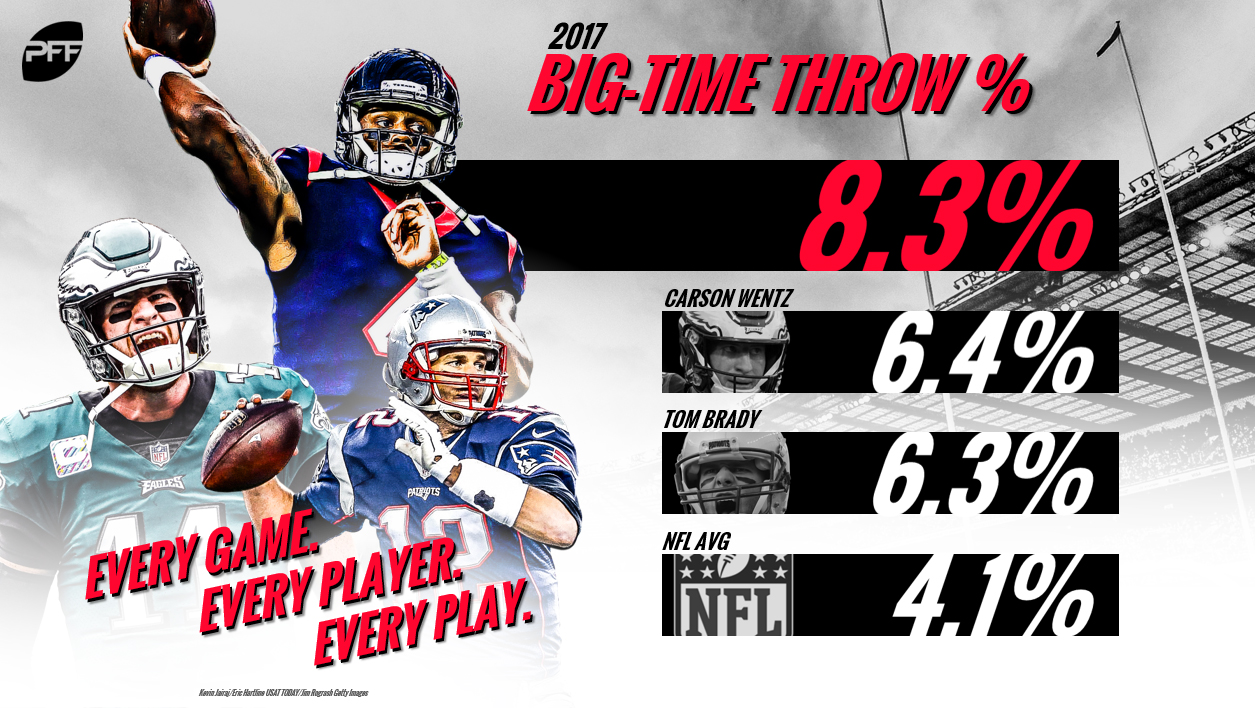 Processing/Vision:
Playing quarterback is largely played from the neck up, processing both pre- and post-snap.
Pre-snap: The best quarterbacks are able to handle a bevy of information at the line of scrimmage (getting the offense in to the right play, changing protections) and diagnose the defense having an idea of where to go with the ball before the snap. When trying to see how a quarterback processes, I look at what the quarterback is being asked to do on the given play based on play call, and what the defensive look and coverage dictates for where the ball should go.
With our advanced QB data, we've found that quarterbacks go to their first look an average of 65 percent of the time. Players that consistently play in rhythm and throw accurately, getting to the right place with how they diagnose pre-snap, hold a big advantage.
Post-snap: The elite players can identify pre-snap – and when that look doesn't go as planned post-snap – have the vision and poise to react smoothly and get to the next read. A lot of the time I'm looking for how quickly their mind reacts/why they turned down the first read (tightness of coverage or spin of defensive coverage that takes them elsewhere), and if their feet remain calm and stay on rhythm with their drop. These true "pure progression" quarterbacks are able to handle any type of concept and simply get to the open man no matter the defensive look. A lot of players flash this ability, but the best do it with consistency.
The last part of post-snap processing is anticipation. Whether it's anticipating a window or a receiver coming out of his his break, finding quarterbacks that can anticipate and have a quick response time from the time they see it to when they let the ball go, is vital.
How PFF grades and data help in evaluation:
Performance on throws to first read

Performance on multiple reads

Performance against the blitz

Pocket Feel/Poise and the Ability to Extend the Play
If you've seen any quotes of Bill Walsh talking about evaluating quarterbacks, you'll most likely have seen him talk about the importance of instincts in the pocket. While this can be harder to quantify, the subtle feel for the pocket and sense for what's around, while maintaining poise (i.e. Tom Brady), is often the separator between the elite players at the position, and those that may be more scheme- or playmaker-dependent around them. When looking for instincts in the pocket, I'm looking for the subtleties in how they move when their eyes are clearly fixated down the field.
Extending the play has and always be a prerequisite for top quarterback play. All of the elite players are able to play with their eyes up, to extend the play within the pocket (Brady), out of the pocket (Russell Wilson) or even both (Aaron Rodgers, Ben Roethlisberger). These quarterbacks remain a passer at all times, finding options down field or checkdowns late in the play.
Called Aaron Rodgers a pocket-manipulating ninja in an article I wrote recently. Exhibit A: Just ridiculous pic.twitter.com/C24hzHJitr

— Sam Monson (@PFF_Sam) January 8, 2017
How PFF grades and data help in evaluation:
PFF grade when 'time to throw' is over 3.0 seconds

Sack rate vs pressure

Performance under pressure
Decision-Making/Judgement
Decision-making and judgement can be sliced in more ways than just a poor decision resulting in an interception or a turnover-worthy play. In this, I look for situational awareness, when to let a throw go, when to turn it down and find an outlet or take off for yards on the ground, and if the quarterback is making the right play late in the down. Everyone is competitive, and the mindset that every play has to work and you must get something out of it can work strongly against a quarterback.
This 'gunslinger mentality' many possess can be good and bad, with the best ones knowing the right balance when to take that shot in to tight coverage or when to pull it down and find an outlet.
How PFF grades and data help in evaluation: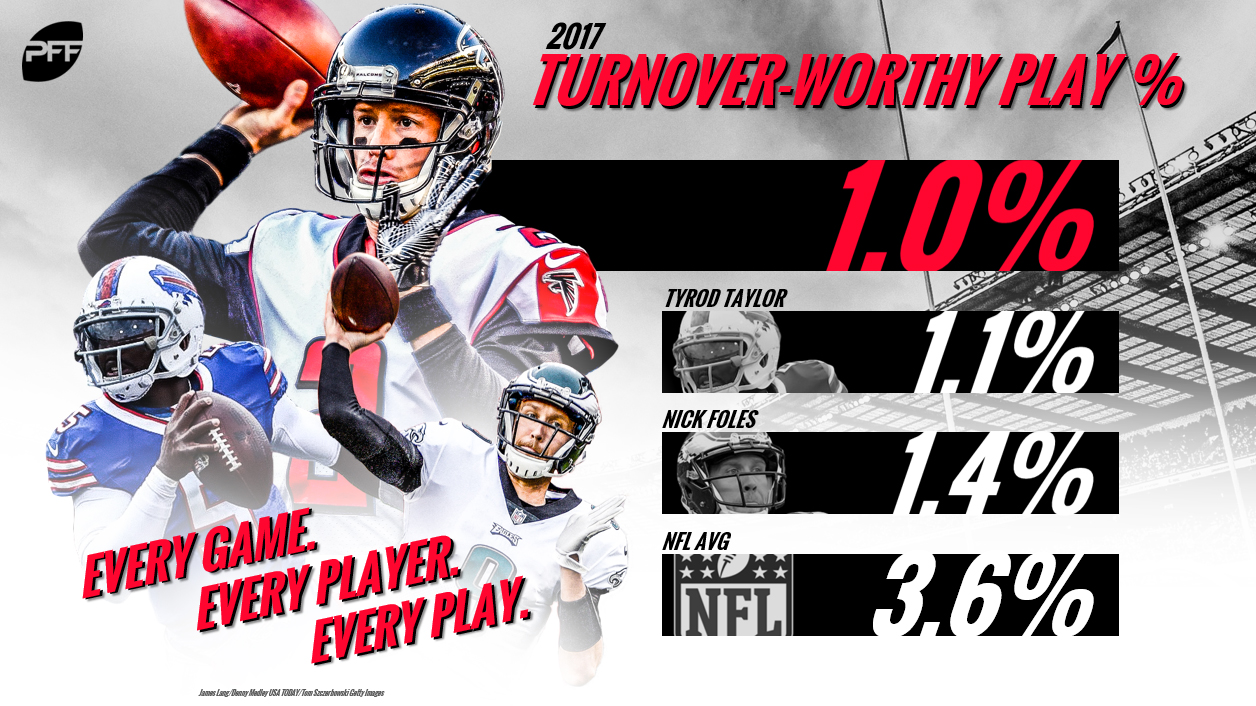 Playing quarterback in the NFL is the toughest position in all of sports. Throughout my time here at PFF, I've realized the importance of data backing up what your eye tells you when trying to isolate quarterback play, as your eye can lie to you. Quantifying these "traits" and having your eye match up with the data is key in evaluating any position, but especially at quarterback.