PFF expects big things from Lamar Jackson and the Baltimore Ravens' rushing attack this upcoming season. Per PFF's fantasy projections, Lamar & Co. are currently projected to lead the NFL in rushing yards (2,158.7) and average fifth-most yards per carry (4.52). And only the Buffalo Bills (483.4) are projected to run the ball more than Baltimore (477.9) in 2019.
Such lofty numbers should come as no surprise to those that followed the Ravens down the stretch of last season. From Week 11 through Wild Card Weekend (Jackson's eight starts), Baltimore ran the ball on 59% of early downs, an NFL-high in the eight-week stretch. The team also led the NFL in total rushes (340), rushing yards (1,695) and rushing first downs (91) all while ranking sixth in yards per carry (5.0) and tied for fifth in percentage of carries resulting in a first down or touchdown (27%) in the same span of games.
Undrafted Rutgers product Gus Edwards led the charge for Baltimore in Weeks 11-WC, rushing for 677 yards, 30 first downs and two touchdowns across his 130 carries (5.2 YPC). He also earned an impressive 78.2 rushing grade, averaged 0.18 forced missed tackles per attempt and 3.3 yards after contact per attempt in said span.
Jackson wasn't too far off from Edwards, as he rushed for 608 yards, 33 first downs and four touchdowns across 129 total carries in his eight weeks as the team's starter. Removing scrambles from the equation, and Jackson turned 108 designed runs into 433 yards, 23 first downs and four touchdowns.
Paving the way for Jackson, Edwards & Co., Baltimore's offense ranked fifth in run-blocking grade (64.9), and its running backs averaged a whopping 1.85 yards before first contact per attempt, ranking eighth in the NFL after Week 11.
Much of the same is expected from Baltimore. The offensive line didn't lose anyone to free agency, and youngsters Ronnie Stanley and Orlando Brown Jr. are only expected to improve as they continue to get more comfortable in the team's new run-heavy system. Jackson is the projected starter if he can stay healthy, and Edwards enters Year 2 with high expectations. The biggest difference is Edwards isn't the projected starter in the backfield.
Adding veteran Mark Ingram via free agency this offseason, Baltimore is expected to lean on the former Heisman Trophy winner as the team's lead back. Edwards will still get touches as Ingram's complement, but it will be Ingram leading the charge.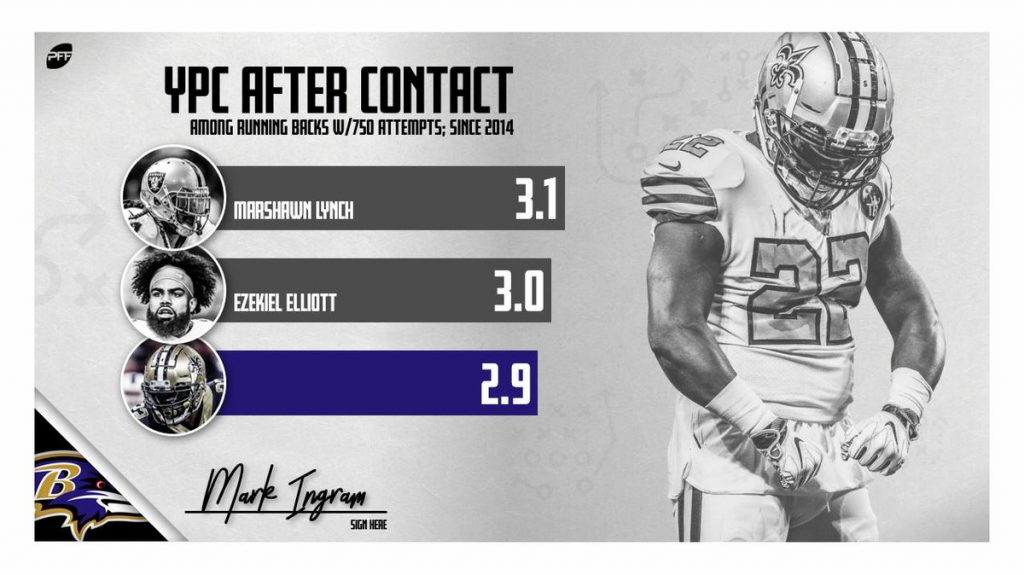 Mark Ingram
Even at 29 years old, Ingram still proved quite the difference-maker in the New Orleans Saints' offense working as Alvin Kamara's complement a year ago. He rushed for 732 yards, 31 first downs and six touchdowns across his 158 carries in 2019, averaging a first down or score on 23% of his carries in the process. He also averaged 0.15 forced missed tackles per attempt and 3.0 yards after contact per attempt on the year; he's now averaged 3.0 yards after contact per attempt for three consecutive seasons.
Ingram is currently projected to lead all Ravens running backs in rushes (168.1), rushing yards (710.7) and rushing touchdowns (4.9), per PFF's fantasy projections. However, he isn't projected to lead the team in any of the aforementioned metrics.
Lamar Jackson
If he can manage to avoid big hits and stay healthy, Jackson is well on his way to a big Year 2 on the ground for Baltimore. He is currently projected to rush for 880.1 yards and eight touchdowns across 177.7 carries in 2019.
Jackson's elite speed and athleticism were on full display in 2018. He forced 20 missed tackles and averaged 4.7 yards per carry on the year. His Achilles heel, however, was ball security. Fumbling the ball a whopping 10 times this past season, Jackson's rushing grade took a major hit. Keeping the football off the turf has to be Jackson's top priority in 2019 if he is going to meet such lofty expectations set out for him in his sophomore campaign.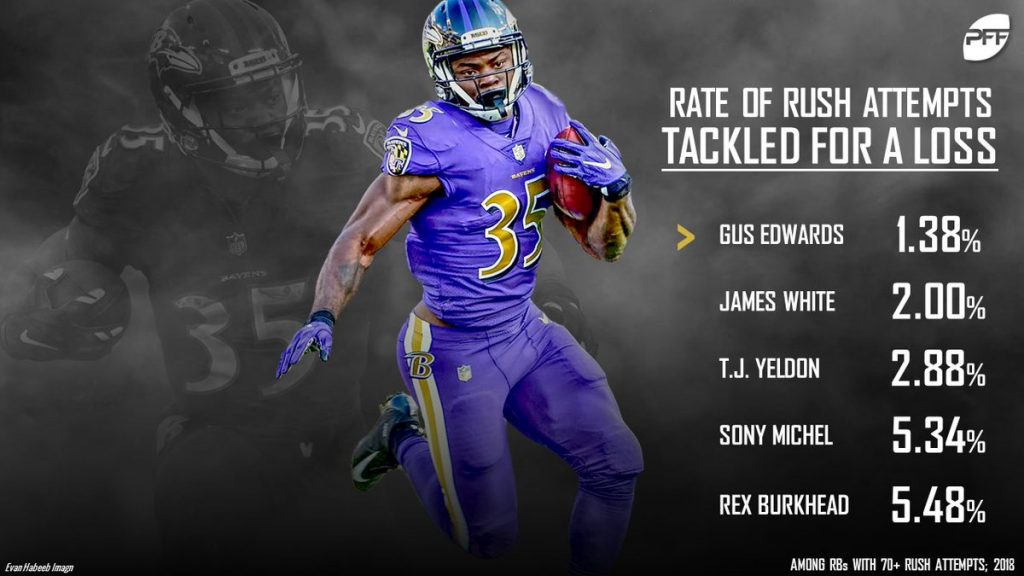 Gus Edwards
 Removed from his lead role but not forgotten, Edwards is projected to rush for 303.7 yards and 1.7 touchdowns across 72.3 carries in 2019. His ability to force missed tackles and plow through contact last season made him one of the better, more efficient backs in football late last season. He should make the best of the opportunities he's given, if not push for a larger role as the season presses on.
Justice Hill
Oklahoma State product Justice Hill, a fourth-round pick in this year's draft, is in a perfect situation to carve out a role as the Ravens' change-of-pace back behind much slower backs in Ingram and Edwards.
Weighing in at 5-foot-10, 198 pounds at the 2019 NFL Scouting Combine, Hill ran a 4.40-second 40-yard dash, one of the faster times recorded at his position. With the Cowboys, he earned a career-high 84.5 rushing grade in 2018, rushing for 971 yards, 30 first downs and nine touchdowns in the process. He also averaged an impressive 0.20 forced missed tackles per attempt and 6.0 yards per carry this past season.
Hill's projected stat line for the 2019 season is 32.7 carries for 131.8 yards and 0.7 touchdowns.
Kenneth Dixon
Kenneth Dixon, a former Louisiana Tech standout and 2016 fourth-round pick, falls to the wayside with the addition of Ingram and Hill. He is projected to rush for just 65.7 yards and 0.4 touchdowns across 15.5 carries.