Despite our "Lock of the Week" turning a 15-point halftime lead for the New England Patriots into a 0.5-point loss, we had a winning 3-2 week in Week 6, putting our record since 2017 to 63-57-6 (52.5%), including 43-35-3 against the spread (55.1%). We're going to go with four games this week, although there's something in our last pick that you can work with if you want a fifth one.
Our models rely heavily on our PFF ELO rating system for the NFL, along with game information like where the game is played, how far a team has to travel, etc. We also fold in opponent-adjusted PFF grades into our machine learning algorithm to factor in roster changes and possible asymmetric mismatches that can occur through the course of a game.
We are now 16-10-1 on our Lock of the Week picks since the start of 2017 (64.0%), and will be featured on the Sports Illustrated Gambling Show with our pick (visit PFF Greenline to see this week's pick). The analyses here will involve a point-counterpoint between the two of us for all five picks, using perspectives that only the PFF grades and data can provide. Follow us on Twitter at @PFF_Eric and @PFF_George, and for some podcast commentary on some of these picks, and the process that goes into them, give the PFF Forecast a listen. We will have a special Monday morning podcast each week with look ahead lines for the upcoming week.
Prediction: Chargers 30-22 (Chargers cover)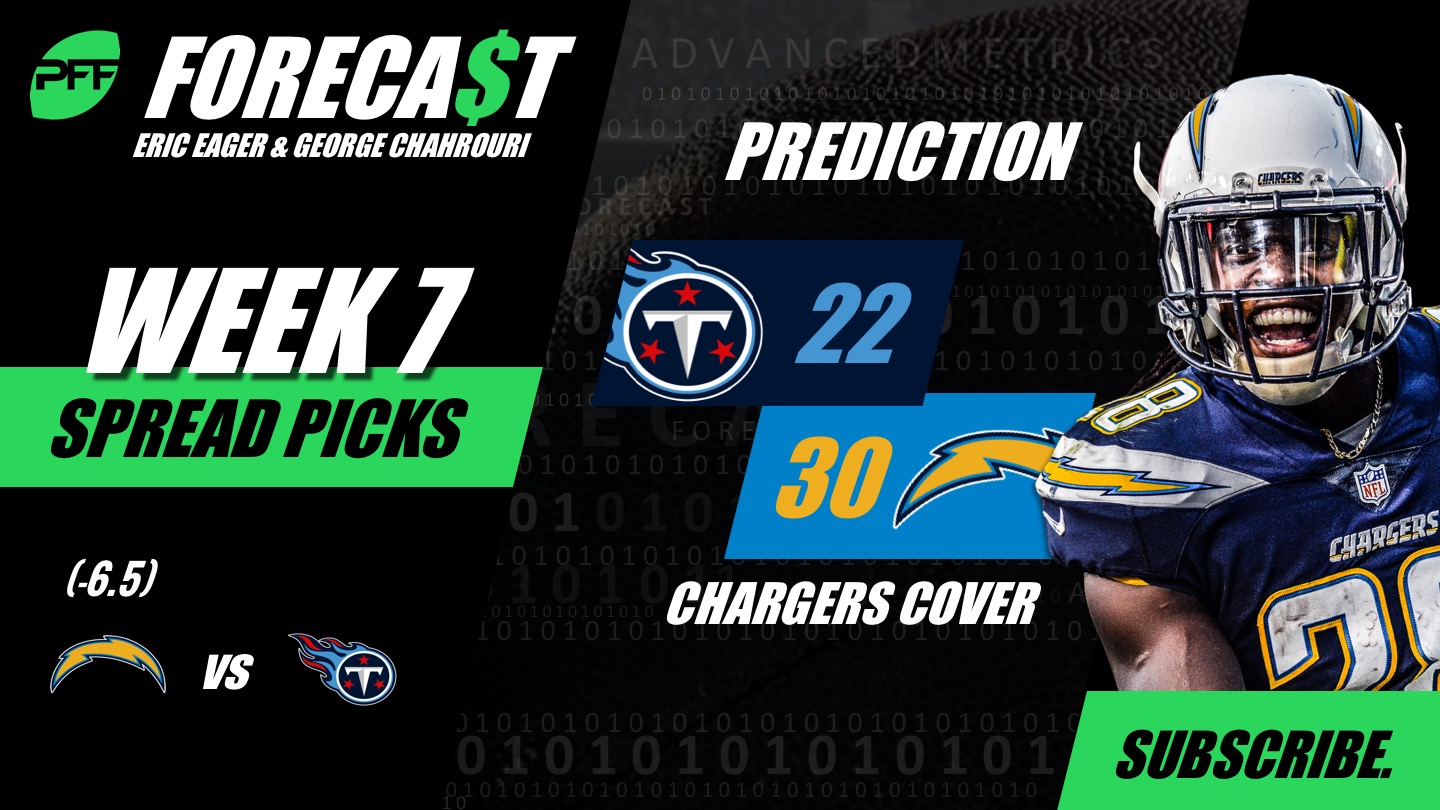 Point (Eric Eager): You're probably buying the Chargers at the top of the market right now, sure. However, as the most efficient passing offense and the second-most efficient rushing offense in the AFC, it shouldn't have taken us watching them beat Cleveland handily to notice them already. Their defense, still missing Joey Bosa, has been pretty good aside from two games against the league's two best offenses in Kansas City and the other Los Angeles, allowing the third-lowest EPA per early-down passing play in the league so far. So, while a Ravens-like shutout might not be in the cards this week, I don't see them having an issue with Marcus Mariota, with whom the Titans offense has lost 0.11 expected points each time he's dropped back to throw. On the other side of the coin, the Chargers are earning almost a third of an expected point every time Philip Rivers drops back to throw. Swallow the points, take the Bolts.
Counterpoint (George Chahrouri): Unless you've been living on a different planet you know that this is precisely the time when the Chargers fail to meet expectations. The only good news for Los Diego fans is that after visiting Cleveland last week, London will feel like Southern California on its nicest day. So far this season, Rivers has been about as good as any quarterback. He is the only quarterback with a 110-plus passer rating against pressure and when clean while also taking sacks at the fourth-lowest rate in the NFL. We can expect this insane level of play under pressure to regress a bit while his counterpart, Mariota, has nowhere to go but up considering his passer rating when clean sits dead last at 74.2. The Titans have a respectable defense that has been strong in coverage, allowing the fifth-lowest passer rating from a clean pocket (91.6).
Prediction: Colts 22-18 (Bills cover)
Point (GC): As you once memorized but never truly understood, subtracting a negative number is actually adding a positive. Buffalo isn't the first place you'd expect to see a shrewd use of maths but in this situation, they have managed to improve their chances simply by shedding embattled Josh Allen (second-worst PFF grade) and the Nathan Peterman (worst PFF grade). Derek Anderson just needs to not be the worst and the Bills will improve. Anderson is reunited with Kelvin Benjamin who will be protecting Derek's blindside from his left tackle position which should only further thwart the Colts decrepit pass-rush that ranks sixth-worst in pressure rate. The Bills sport a strong defense behind Jerry Hughes and his 34 pressures (tied for the most among edge rushers). They have "forced" the fifth-highest rate of turnover-worthy plays and we have no reason to see a decrease with Andrew Luck and his penchant for costly errors (sixth-highest turnover-worthy play rate).
Counterpoint (EE): Derek Anderson… woof. He hasn't played over 184 snaps in a season since 2010, and that was 2014 – the last time he (really) started a game. His PFF grades have never eclipsed 70.0 in a season, even when he "broke out" in 2007 for the Browns. The retort that he might be better than Allen or Peterman is noted and largely agreed with, and it's as clear as the nose on my face that the Colts defense has allowed over a 60% early-down success rate to opposing passers so far this season. Part of me can't shake that at some point Luck, who has graded in the middle of the pack thus far in his return, will break out with an increasingly-healthy supporting cast and score enough points so that the Bills will not be able to keep up. Pray for me.
Prediction: Jaguars 23-19 (Texans cover)
Point (EE): This is the first time this year we've been on the side of the Texans, and while going 4-1 against them has been great, the time is now to have some fun rooting for a battered, yet impressive, Deshaun Watson. He has earned a positive grade on one-third of his dropbacks, which is among the league's best. He's made plays with his arm and his legs and seems to have found something in Keke Coutee, who may be able to take similar advantage of the Jags' weakness in the slot as Dallas did last week in Jerry World. DeAndre Hopkins is one of, if not the, best receiver in the league, and Jalen Ramsey was unable to stop a similarly-talented (different physically) player two weeks ago in Tyreek Hill. Now that we've argued that Houston can score enough points, I present to you Blake Bortles. Fewer than 20% of Bortles' dropbacks have been positively-graded, while Jacksonville's passing offense is generating a negative average expected points per each dropback.
Counterpoint (GC): With both quarterbacks healthy there is no doubt that Watson is the better side. But a collapsed-lung-Watson in Jacksonville against a motivated defense may be at a slight disadvantage. Watson is playing better this season than he did last season but the big-time throws are down and he actually makes turnover-worthy plays at a higher rate than he is making those game-changing throws. This could be a serious problem with an offensive line that has allowed a pressure on 38% of pass plays, the highest rate in the NFL thus far. Meanwhile, the Jacksonville defense has not been the unstoppable force they were last season but they still rank eighth in expected points per pass play allowed. If Watson isn't near 100 percent, the Jaguars could put themselves ahead early with their defense which would prevent us all from the greatness of Bortles with the game in his hands.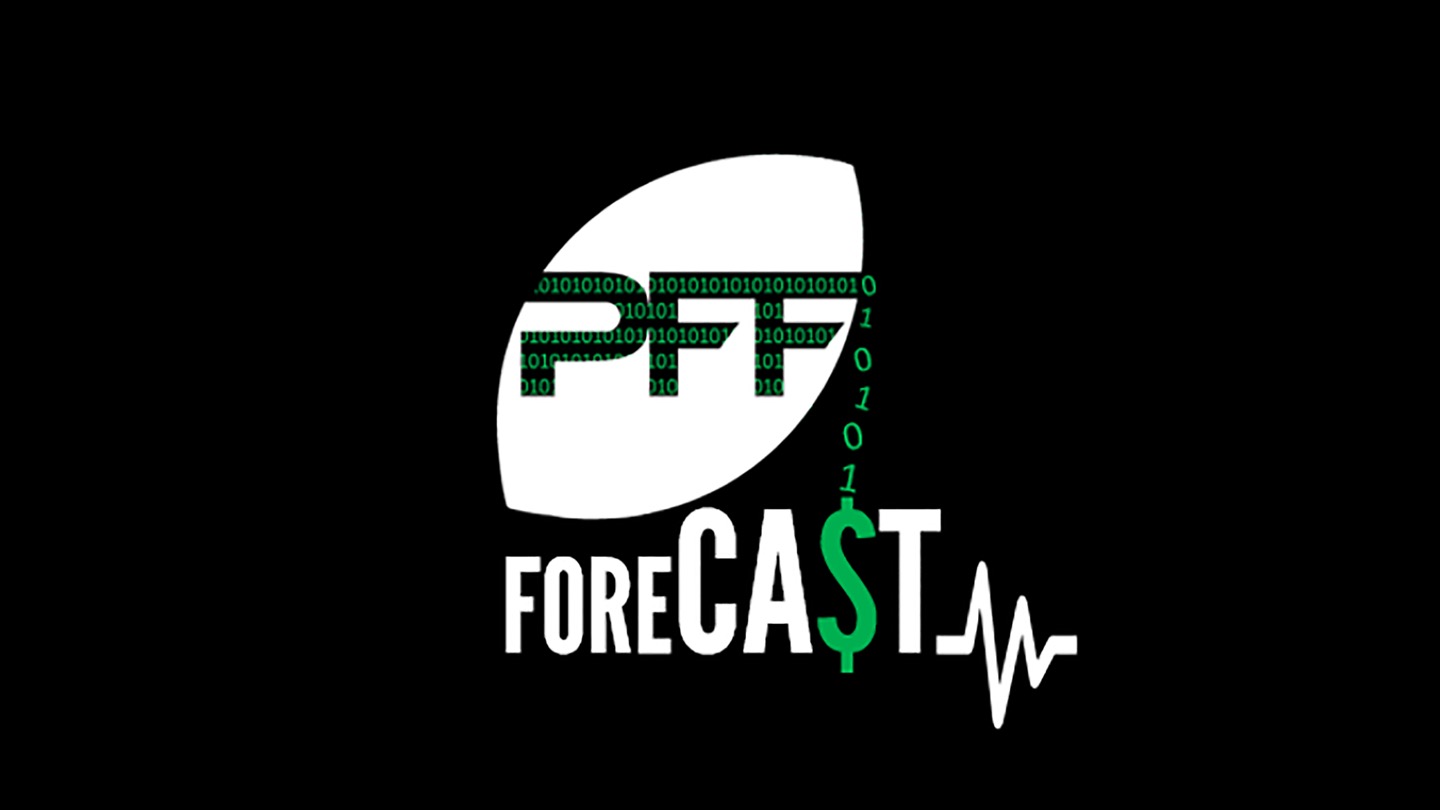 Prediction: Falcons 33-27 (the over hits)
Point (GC): There isn't a human on earth who is worried about the Falcons putting up points. The over will ride on the Giants ability to muster a representable point total. Many will remember how horrendous Eli Manning looked last Thursday against the Eagles defense which has a defensive front that is far superior to Atlanta's defensive line. Only Tampa Bay, New Orleans and Oakland are allowing more expected points added per pass play than the Falcons defense that is missing their best player in Deion Jones. The Eagles ranked first in pressure rate while the Falcons rank 29th. Manning will have a few more clean pockets to check down to Saquon Barkley who ranks second in missed tackles forced at 37. I would imagine there is also a quota for the number of targets for Odell Beckham Jr. and the Falcons corners have combined to allow an absurd 121.2 passer rating into their coverage (30th). While we expect the total to sail over 54, I wouldn't start preparing for any sort of miracle like a Julio Jones touchdown.
Counterpoint (EE): My esteemed colleague hates unders. And I get it, those things are a grind. Overs are more fun, once they're over, they're over (I'm writing this after having shut off Denver/Arizona upon generation of the 42nd-and-a-half point). That said, needing an over from someone like Eli can sometimes feel like relieving oneself of a kidney stone. Atlanta's defense is #notgood, surrendering early-down success on over 54% of early-down dropbacks. They have been especially gashed when their linebackers and slot guys are targeted, with Foyesade Olukun, Duke Riley, Jordan Richards and Brian Poole all earning PFF coverage grades below 55.0. Barkley had something like 37 receptions for 315 yards last Thursday against an Eagles defense having similar struggles, but his production would not have been enough to cover this number last week and could leave them short this week. That said, I wouldn't touch this under with a 40-foot pole.