What a week last week, as three of our picks were games that went into overtime, including our second consecutive "Lock of the Week." Houston finally made us pay, finishing off the Colts after a logical decision by Frank Reich to go for it on fourth down in overtime. We're on to Week 5 with what we think are some good picks.
Our models rely heavily on our PFF ELO rating system for the NFL, along with game information like where the game is played, how far a team has to travel, etc. We also fold in opponent-adjusted PFF grades into our machine learning algorithm to factor in roster changes and possible asymmetric mismatches that can occur through the course of a game.
We are now 15-9-1 on our Lock of the Week picks since the start of 2017 (62.5%), and will be featured on the Sports Illustrated Gambling Show. The analyses here will involve a point-counterpoint between the two of us, using perspectives that only the PFF grades and data can provide. Follow us on Twitter at @PFF_Eric and @PFF_George, and for some podcast commentary on some of these picks, and the process that goes into them, give the PFF Forecast a listen. We will have a special Monday morning podcast each week with look ahead lines for the upcoming week.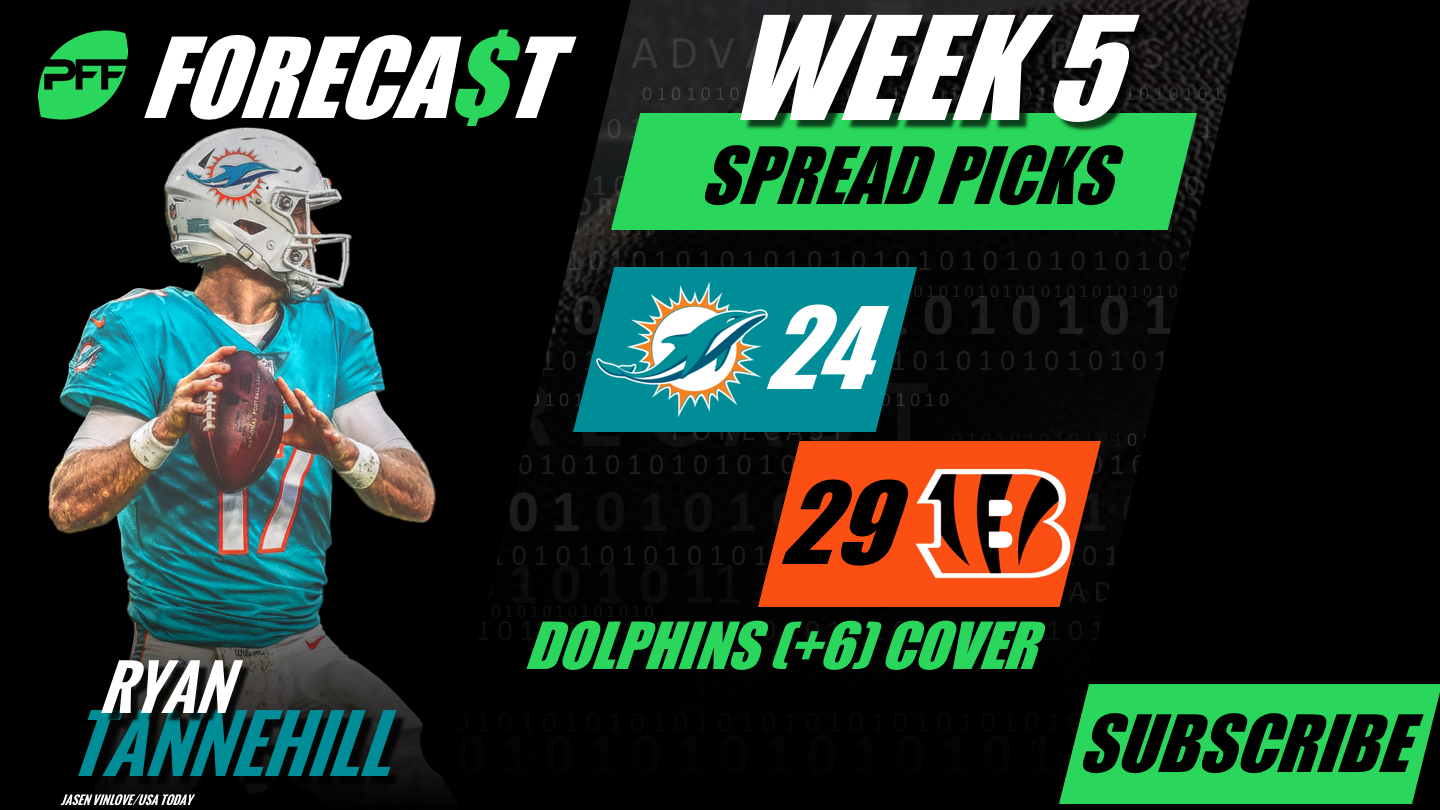 Prediction: Bengals 29 – 24 (the Dolphins cover)
Point (Eric Eager): Miami let us down last week in our OVER pick in New England, failing to score a touchdown until the great Brock Osweiler entered the game in the second half. That said, they are still 3-1, and while Cincinnati has been explosive offensively (generating 0.20 expected points added per early-down pass), the Dolphins are right behind them (0.18), generating success on over half of the early-down dropbacks they attempt. Cincinnati is coming off of a hard-fought battle in Atlanta, one that saw their sketchy pass defense (0.15 EPA allowed on early-down passes) exploited early and often. Miami has been the best team in the AFC and the second-best team in the NFL at limiting EPA on early-down passes and should be able to slow a Bengals passing game that will be without star TE Tyler Eifert and likely without WR John Ross this Sunday in CincyVegas.  
Counterpoint (George Chahrouri): There will be a moment of silence before the game to remember what Eifert has meant to this Bengals offense – with Eifert on the field, the Dalton-led Bengals more than triple their expected points added per play. While this seems like good news for the Dolphins, it could inspire the Bengals and if we have learned anything about the Dolphins from last week's debacle, they don't do well when the other team cares about winning. Ryan Tannehill has been quick to put the ball up for grabs, his 5.8 turnover-worthy play rate is worse than every starting quarterback except Sam Darnold and Josh Allen and the Bengals sport our second-ranked defense. This one could definitely get out of hand if Adam Gase and Co. don't figure it out.
Prediction: Green Bay 28-27 (the over hits)
Point (EE): Green Bay took it pretty easy this past Sunday at home against Buffalo, easing Aaron Rodgers back into health while allowing their defense the opportunity to force turnovers and gain confidence. They won't have that type of luxury against the Lions, who boast one of the league's best trios of receivers in Golden Tate (2.45 yards per route run), Kenny Golladay (1.90) and Marvin Jones (15.5 yards per catch so far on 23 targets). Both offensive lines, while having struggled at times early this season, have the potential to be among the league's most efficient, and in the case of Green Bay, are working against the league's worst pass-rush in Detroit (while Green Bay is in the bottom half of the league). With Jaire Alexander, Nevin Lawson, Quandre Diggs and Ezekiel Ansah all questionable going into the weekend, look for Matthew Stafford to join Rodgers in producing what should be a competitive shootout to see who will be the closest to the Bears at the close of the weekend.
Counterpoint (GC): If the OVER were a superhero (and it should be), its arch-nemesis would be Mike McCarthy and receivers that are bad or too injured to run a slant-flat with any effectiveness. Rodgers will have so much time in the pocket that he could get his knee surgically repaired before making a throw, but no one being open makes that proposition a little bit harder. On the other side of things, the Packers will trot out a defense that has allowed the eighth-lowest EPA per pass play so far this season, Kerry-On my wayward John-Son.
Prediction: Chargers 30-26 (the over hits)
Point (EE): The Chargers have won two games this year. In both games, versus Buffalo and San Francisco, they were favored by a significant amount.  In both games, they allowed the opponent to score enough points for the OVER to be no sweat. Oakland got behind early against the Browns Sunday and showed they could claw back and score points against a defense that is every bit as good as the Chargers. For every air yard Derek Carr is throwing, his receivers are generating 1.35 passing yards, a rate that is only behind Jared Goff through four weeks. Jared Cook (2.55 yards per route run – fourth among tight ends) has been playing like a man possessed, and should be able to make the Chargers pay for the number of times they like to blitz rookie superstar Derwin James (nine total pressures so far). On the other side, do we really think Oakland can stop a Chargers team that has been the conference's most-efficient early-down passing team?
Counterpoint (GC): With the Raiders bolstered by playing closer to their home in Las Vegas, it will take nothing short of a Joey Bosa miracle recovery to keep this one from ending up with 60-plus points. That being said, this number is quite high and the Raiders averaged just 17.3 points per game before their 45-point explosion against the Browns last week. Carr is once again showing an aversion to the deep ball, ranking just 26th in percentage of throws traveling 20-plus yards downfield (9.5 percent). Given how obvious this seems, we are destined for a game where each QB has three touchdown passes dropped and three field goals hit the uprights.
Prediction: 49ers 22-20 (The Cardinals cover)
Point (GC): Niner fans bought tickets for a pilgrimage to Levi's this summer hoping to see the Savior play, instead they will don black clothes in respect for Jimmy's unfortunate 2018 demise. They will wait a whole season for Garoppolo to rise, but this Sunday, the franchise savior taking the field has already Rosen. The best Josh from the 2018 draft class was on the money in his starting debut despite what the box score might say – he was one of only four quarterbacks this season to throw five big-time throws and no turnover-worthy throws in a game (Goff was one of them vs the Vikings for some perspective). Two of those great throws ended up dropped by his receivers and he suffered five total drops in the game – many of which cost first downs or touchdowns. The PFF grade doesn't lie, Rosen earned the second-highest grade on throws 10-plus yards downfield and third best overall. The 49ers defense may be young and talented but the results are not as encouraging: They rank in the bottom third in opponent-adjusted pass-rush grade and have allowed the sixth-worst EPA per play to opposing passing offenses. On the other side of things, Cardinals defensive coordinator Al Holcomb ranks first in our coaching rankings (learn more on this week's PFF Forecast) so far this season making Beat Hard Cover the Sequel a mere pipe-dream in San Francisco.
Counterpoint (EE): The Cardinals have not been coached well so far this season on the offensive side of the ball, with Mike McCoy among the lower quarter of the league in our aforementioned coaching metric. Their offensive line is the league's worst in terms of opponent-adjusted PFF grades, and face a 49ers front that has DeForest Buckner and his 17 total pressures through four weeks. Additionally, Beathard wasn't a complete disaster last Sunday in Los Angeles, having only one dropback that was negatively-graded and putting the ball efficiently into the hands of what has low-key been one of the league's best supporting casts of offensive skill players in George "Chahrouri" Kittle (2.87 yards per route run – second among tight ends), Kyle Juszczyk (2.00 yards per route run – first among fullbacks), Matt Breida (7.6 yards per carry) and Pierre Garcon (one drop the last two years). While I'm with George, this number is simply too high to back the 49ers in any capacity, the 49ers have some redeeming qualities even while Jimmy G is busy atoning for the shortcomings of humanity right now.
Prediction: New Orleans 30-24 (Washington covers)
Point (GC): There were moments in last week's Saints-Giants game where Eli Manning looked alive against the Saints defense, this bodes well for a well-rested Alex Smith and Co. Smith has thrown the third-highest rate of catchable passes through four weeks and has suffered just one drop. The underrated Jay Gruden continues to generate open throws for his quarterback, Smith's target has had a step or more of separation on 85 percent of his passes (fourth). The Redskins defense is allowing the lowest EPA per pass play while the Saints rank 32nd. Drew Brees is the better quarterback and Michael Thomas and Alvin Kamara will get all the hype, but Smith has plenty of capable weapons in Jordan Reed and one of the most dynamic pass-catching backs in Chris Thompson while the Saints have allowed the sixth-highest passer rating to running backs (109.1). If this isn't enough to convince you that this line is 2-points too high, consider for a brief moment that this is an Adrian Peterson revenge game.
Counterpoint (EE): The Saints have been an enigmatic bunch – failing to cover the first two weeks before coming back and taking care of business the last two (a la 2017). They come home to face a Washington team that, with Kirk Cousins, covered this number and almost beat them outright last year in this spot. While that's a Trend Zone-level argument that is reserved for the obligatory, late-night counterpoint for a pick we both really like… it's still not a thing.  What may be a thing is that the Saints have been successful on almost two-thirds of early-down passes this season, and were able to run the ball with Kamara to the tune of 134 yards and 4.1 yards per carry after contact, when the Giants effectively shut down Michael Thomas last week in the Meadowlands. If their offense continues their diversified assault on the league's defenses, and Washington's success the first three weeks is simply the product of a three-game fluky sample, this could be a frustrating, 2017-type game that gets out of hand early on Monday night.