Week 9 of the 2016 NFL season is in the books, meaning we are past the halfway point of the season and can begin to reflect on what we've seen so far.
With at least half of the games played for every team, it's time to give out some midseason awards. Who has been the most valuable player? Which rookies have stood out, and who have been the most dominant offensive and defensive players?
Read on to find out:
Most Valuable Player
Winner: Russell Wilson, QB, Seattle Seahawks
Monday Night Football made up my mind on this choice, with Russell Wilson bolting from the pack to earn the midseason MVP award at the last gasp. It's a tight race, with multiple players having strong cases, but what Russell Wilson has been able to do given his offensive line's "protection"—not to mention with an injured ankle—has been ridiculous. He currently sits fourth in PFF's QB rankings with a grade of 87.9, but the Seahawks hold the lowest pass-blocking grade as a unit in the entire league, and only four QBs have been under pressure at a greater rate than Wilson (38.1 percent of his dropbacks). His performance on Monday night was a perfect example of how his play has mitigated that pressure, putting the ball in the air early to the right spot and allowing his receivers to go and make a play before the pressure arrives.
Runner-up: Matt Ryan, QB, Atlanta Falcons
Matt Ryan's play has improved to match the uptick in his numbers, and he's a big reason the Falcons' offense is on fire—along with Julio Jones. Ryan is now second in PFF's QB rankings, with a grade of 90.8, and is completing almost 70 percent of his passes (69.7).
Offensive Player of the Year
Winner: Tom Brady, QB, New England Patriots
Tom Brady has been arguably the best player in football since returning from suspension, and certainly the best QB in the league. He has yet to throw an interception, is completing 73.1 percent of his passes, and even under pressure, has a passer rating of 96.8 in the four games since his return. Adjusting for drops, spikes, passes throwaways, etc., his completion percentage is a ridiculous 87.5—7 percent clear of any other QB. The only thing keeping Brady from the MVP conversation at the midseason point is that he missed half of the season (so far), and the team won games comfortably without him. If he continues this level of play throughout the second half of the year—and the Patriots continue to look this unstoppable—it will be difficult for him not to earn MVP honors. This might be the best Tom Brady has ever played, and that includes a career with some of the best single-season performances in NFL history.
Runner-up: Julio Jones, WR, Atlanta Falcons
While Antonio Brown has had relative struggles with his QB play, Julio Jones has been only more dominant with the guy throwing him the ball stepping up to an elite level so far this season. Jones has 970 yards through nine games, putting him on pace for a 1,724-yard season on 90 receptions, and has simply taken over and dominated games at times this season. Whether teams allow Jones to kill them or go out of their way to take him away and open things up for others, the Falcons' top wideout has changed every game he has played in.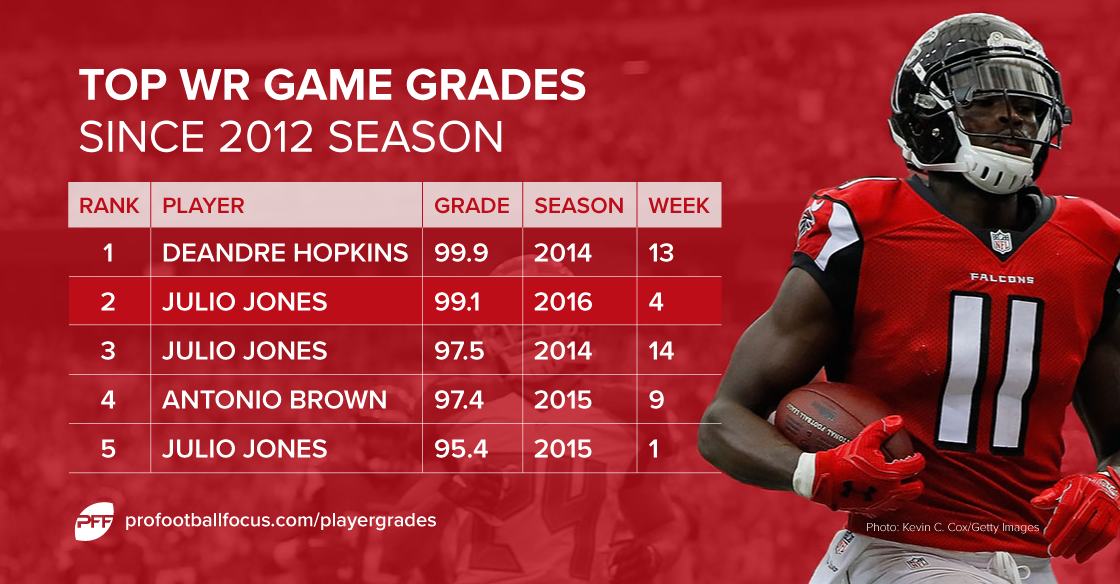 Defensive Player of the Year
Winner: Aaron Donald, DT, Los Angeles Rams
Aaron Donald has picked up exactly where he left off a year ago as the single-most unstoppable defensive force in the game. Donald is playing at J.J. Watt-levels right now, and he has been at that point for the last season and a half. The only difference is how that is reflected in box-score numbers, like sacks. Donald leads the NFL this season in total QB pressures, with 49—a ludicrous number for a player that lines up almost exclusively on the interior of the defensive line and does not see significant snaps as an edge rusher. Donald has multiple-sacks in two games this season, but only five overall, which will likely see him underrated again when it comes time to give out season awards, but he is the single highest-graded player in the league this year (outside of Tom Brady, who has played half as many games) with an overall grade of 95.6, and hasn't had a bad game since the 2014 season.
Runner-up: Eric Weddle, S, Baltimore Ravens
Eric Weddle has been the league's best safety for most of his career, and a change in scenery this offseason has done nothing to change that fact. He is the best-graded safety in the league in 2016 as a Baltimore Raven, with a 92.4 overall grade, the only safety to clear the 90.0-barrier. He has graded well in every facet of the game PFF measures, and has been a real difference-maker on a defense that had been crying out for an impact player in the secondary for awhile.
Rookie of the Year
Winner: Ezekiel Elliott, RB, Dallas Cowboys
I said the moment that Ezekiel Elliott was drafted by Dallas that he was destined for Rookie of the Year behind that offensive line, and so far, that logic has held up. The Cowboys still have arguably the best offensive line in the game, and Elliott has shown at times the value-add he can bring in terms of yards after contact and work beyond the space they open up. He leads the league with 891 rushing yards, which puts him on pace for 1,782 rushing yards this season—within sight of Eric Dickerson's rookie rushing record. Crucially, Elliott has also earned solid grades in the passing game, both as a receiver and blocker, keeping him as an every-down player and an impact force that can carry the Cowboys' offense when it needs it. He certainly has competition to fight off from the rookie QBs, none more so than his own teammate, but right now, Elliott is the midseason Rookie of the Year.
Runner-up: Dak Prescott, QB, Dallas Cowboys
The most unlikely rookie of the year candidate of them all, Dak Prescott maintained his excellent preseason performance once things went live in the regular season. He has been excellent but for one hiccup in performance against a formidable Eagles' defensive front, and if he maintains this (and keeps the starter's job) down the stretch, he will be a hard player to beat out for Rookie of the Year.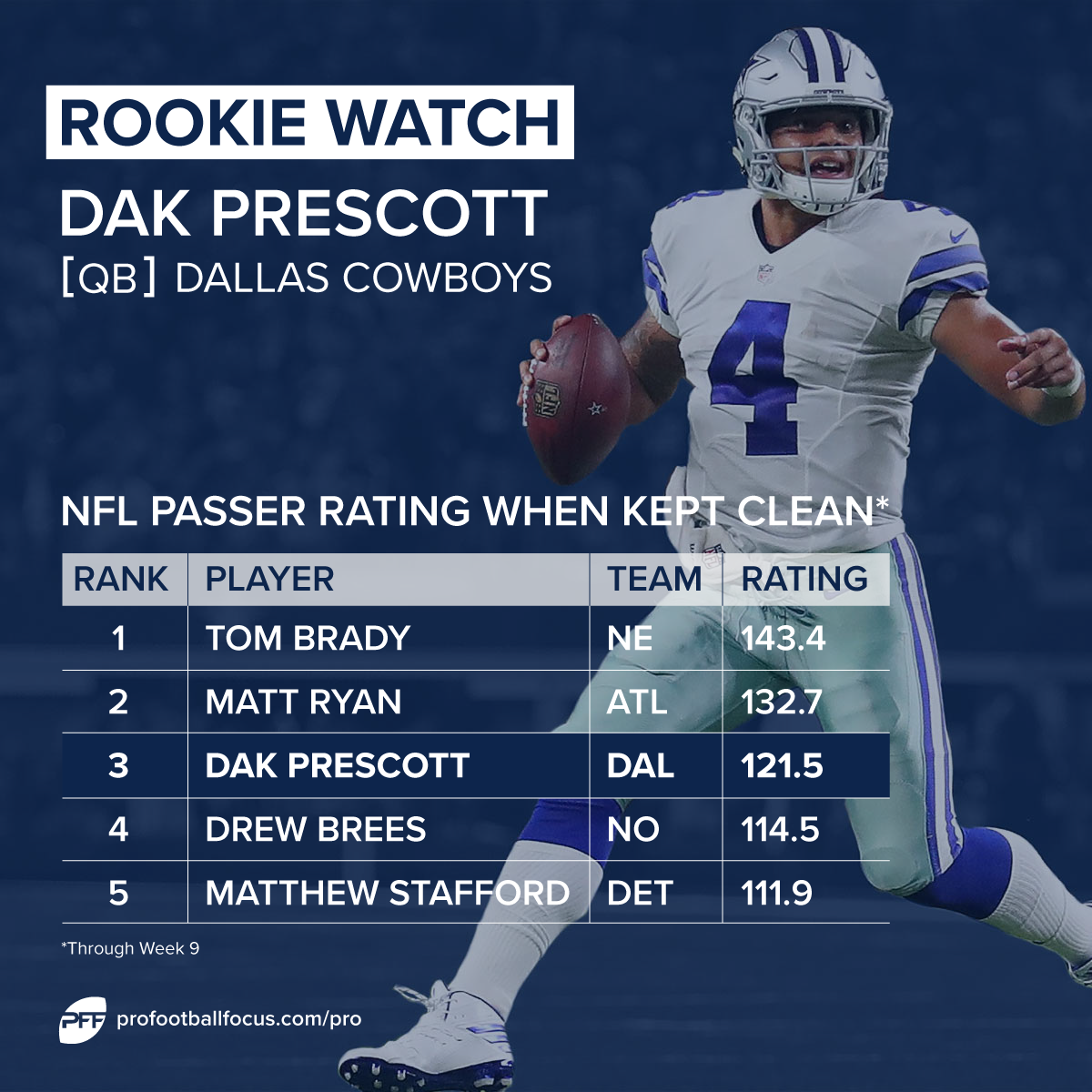 Offensive Rookie of the Year
Winner: Ezekiel Elliott, RB, Dallas Cowboys
The best two rookies this season both happen to be on the offensive side of the ball, so the winner remains the same here. Dak Prescott, Carson Wentz, and Titans right tackle Jack Conklin are the other serious candidates.
Runner-up: Dak Prescott, QB, Dak Prescott
Other names worth throwing into the conversation would be Saints wide receiver Michael Thomas, who is basically running a 2-route tree, but has 573 receiving yards and five touchdowns already, and Bears running back Jordan Howard, who has dominated since winning the starter's job.
Defensive Rookie of the Year
Winner: Joey Bosa, OLB/DE, San Diego Chargers
We may have had to wait awhile to see him on the field, but Joey Bosa has been the league's most dominant defensive rookie by a distance. In just five (four and a half, really) games and 236 snaps, Bosa has 30 total pressures and 10 defensive stops. He has shown the ability to line up on both sides of the defensive line, and both at defensive end and outside linebacker for the Chargers. He looks every bit the impact pass-rusher San Diego was looking for; Bosa hasn't had a game in which he has recorded fewer than four total pressures so far in his NFL career, and has the most pressures by any player after their five games of NFL action over the past 10 years of PFF grading.
Runner-up: Karl Joseph, S, Oakland Raiders
The Raiders took a couple of games to get Karl Joseph into the lineup, but he made a big and immediate impact once they did. He tied together a secondary that had solid components, but wasn't playing together well, and while the Oakland defense still seems to be less than the sum of its parts, it's far better with Joseph playing. The former West Virginia Mountaineer currently ranks 14th in the PFF safety rankings with an overall grade of 82.6, just one spot below Seattle's Earl Thomas.
Be sure to check back at the end of the season for PFF's 2016 season awards. To view last season's winners, click here.