It's too easy to say JC Jackson, an undrafted rookie cornerback out of Maryland now starting for the Super Bowl-bound New England Patriots, came out of nowhere. It's easy to say no one saw him and his immediate success coming – admittedly easy, but false.
The Immokalee, Fla. native was a four-star recruit coming out of high school with offers from Miami (Fla.), Florida State and Florida among several other Power 5 programs. He was highly regarded, not overlooked.
It was an arrest in April 2015 that had him kicked out of Florida and into California's Riverside Community College, a world of doubt and nearly out of reach of his dream to play in the NFL. And it was DJ Durkin that made it all possible again.

Maryland's head coach at the time, Durkin gave Jackson the second chance he needed, pulling him from Riverside to College Park to play for the Terps ahead of the 2016 season.
"Coach Durkin just changed my whole mindset," Jackson said, per Daniel Bernstein of The Diamondback. "Just being in that environment, not being in Florida, being away from home, I was just focused."
A shift in mindset and change of scenery gave Jackson the opportunity to refine his craft across 1,579 defensive snaps with Maryland in 2016 and 2017.
After earning just a 59.1 overall grade in his first year with the Terps, Jackson took major strides in 2017, earning a 67.2 overall grade and logging nine pass breakups and three interceptions. Though his grades and advanced statistics didn't leap off the page entering the 2018 NFL Draft, Jackson's significant improvement year over year was evidence that he was still chasing sky-high potential.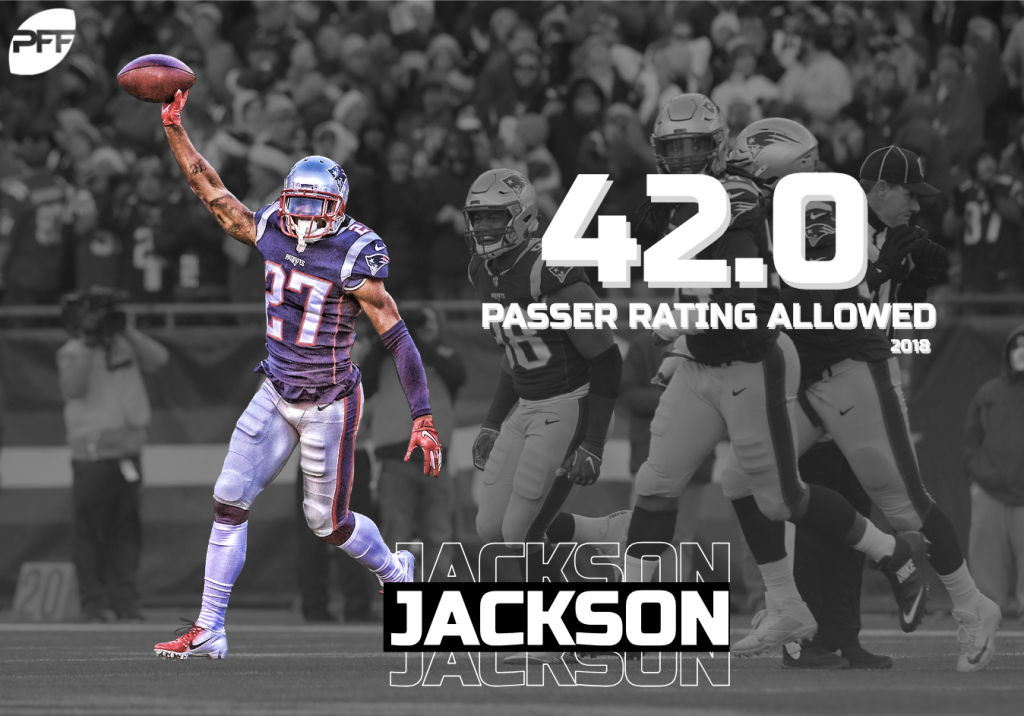 Still learning, still improving, Jackson was cast into a significant role in Bill Belichick's defense starting in Week 13, playing at least 38 defensive snaps in each of the Pats' next seven games (includes postseason). He earned a respectable 67.7 overall grade and ranks second in forced incompletion percentage (27.3) and 15th in passer rating allowed (69.4) in that span.
Largely because of his efforts down the stretch, Jackson finished the regular season ranked fourth in forced incompletion percentage (21.4%) and first in passer rating allowed (42.0) among the 98 cornerbacks with 40-plus targets on the year.
The root of Jackson's success has been his ability to limit downfield passes within the Pats' defensive scheme. During the regular season, he tied for first in forced incompletion percentage (32.0%) on passes of 10-plus air yards, and he claimed the sole lead in passer rating allowed on such throws at 8.3 – Oakland Raiders' Gareon Conley ranked second among qualifiers with his 50.5 passer rating allowed on such throws. Jackson's 90.5 overall grade across his 28 targets of 10-plus air yards also paced all qualifiers, as his teammate Stephon Gilmore ranked second at 78.5.
Belichick, like Durkin, bet on Jackson's potential when others doubted. And now, his Pats' defense is reaping the benefits.