Now nine games into his sophomore season in the NFL, Carolina Panthers running back Christian McCaffrey is answering the league's call for a modern, every-down bell-cow in the backfield. The 5-foot-11, 205-pound Stanford product doesn't resemble the bell-cows of old (e.g., Steven Jackson, Shaun Alexander, Jamal Lewis, Deuce McCallister), and he's proven he doesn't have to carry the load for an offense.

Garnering 19.7 touches per game – a top-10 figure among all NFL backs – McCaffrey has totaled 1,018 yards from scrimmage, seven touchdowns and 41 first downs. He's also averaged a 5.76 yards per touch and forced 0.19 missed tackles per touch, ranking sixth and eighth, respectively, among backs with 120-plus touches this season. And he's done so with a high percentage of his total touches coming not as a runner, but as a receiver, which is a testament to the modern, pass-happy era.
McCaffrey is one of four backs in the NFL with receptions accounting for north of 30% of their touches, and there's a good reason for it. Among the 37 running backs with at least 100 routes run this season, McCaffrey ranks seventh in passer rating when targeted (117.7), 10th in yards per route run and has yet to drop any of his catchable targets.
A mismatch nightmare for any linebacker and even most safeties, McCaffrey can get the best of a defense even on critical downs. Of the 11 running backs with 10-plus targets on third or fourth down, McCaffrey ranks second behind New England Patriots' James White (another outstanding back for today's NFL) in conversion rate (54.5%).
And the good doesn't stop there, as McCaffrey has also vastly improved as a runner going from Year 1 to Year 2 in this league, leading to career-high marks in forced missed tackles per attempt (0.19), yards after contact per attempt (2.7) and total rushing first downs (27) compared to Weeks 1-10 of his rookie campaign. McCaffrey's 74.8 rushing grade, also a career-high mark for this point in the season, ranks 10th among backs with 75-plus carries on the year.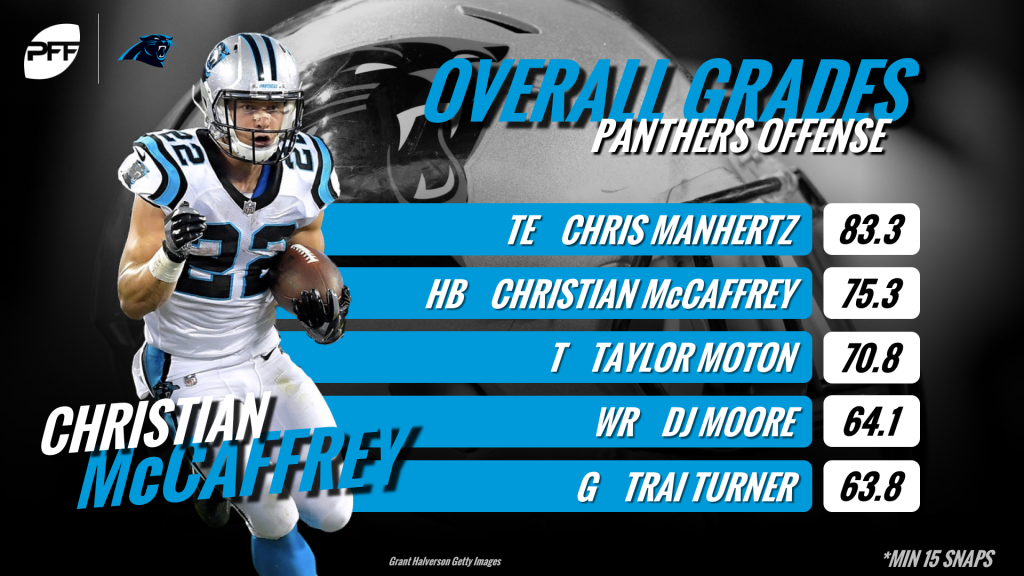 Looking purely at early (first and second) downs, McCaffrey has averaged 4.97 yards per carry and moved the sticks or scored on 20.2% percent of his carries, which is tied for sixth and 12th, respectively, among qualifying backs.
A knock on McCaffrey coming out of college was his ability to run between the tackles given his below average frame, but he's proved any of his doubters wrong in that regard in his first two years in the league. He has averaged 4.4 yards per carry running in between the tackles in his NFL career, ranking 12th among the 36 running backs with 100-plus inside rushing attempts dating back to Week 1 of the 2017 season.
McCaffrey's high-end production coming out of the backfield as a receiver and running the football is among the best in football, and the level of balance his game currently sits at has become ideal for backs in this league. Bell-cows no longer need to feed from the troughs to the tune of 30-plus carries a game at 220-plus pounds; modern NFL bell-cows need balance, a McCaffrey level of balance.