Kareem Jackson and Johnathan Joseph are having career years at a point when many players are past their prime. The saying "things get better with age" doesn't typically hold true for most modern-day athletes. Many lose their top-speed, burst or flexibility that once made them special players. This has not been the case for the two Texans defensive backs. If anything, they are only getting better.

Joseph has had his fourth-highest graded season at the ripe age of 34. He's demonstrated that he has plenty of juice left in the tank, as he currently holds a 77.3 overall grade and 78.7 coverage grade, which rank 10th and tied for ninth, respectively, among qualifying corners.
His 4.8 coverage snaps per target is the highest among all corners with at least 175 coverage snaps, which shows he is targeted at a higher rate than any other qualifying corner, and he is on pace to be targeted more ever in his career. Despite being targeted so frequently, Joseph is allowing just a 55.2 percent of passes thrown his way to be completed- the third-best mark of his career.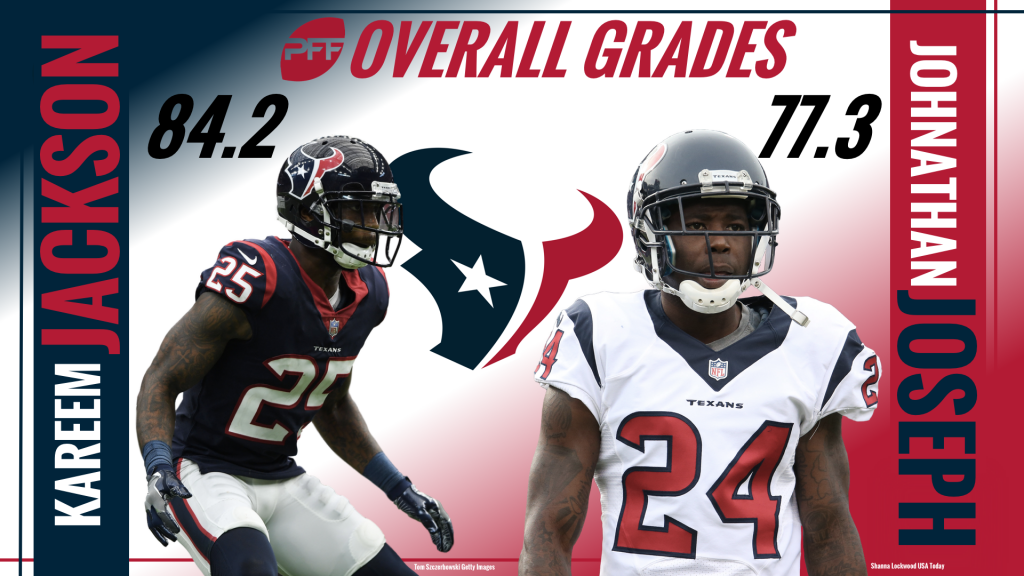 The 13-year veteran started the season slow, posting just a 54.2 overall grade and 54.2 coverage grade while allowing a 106.9 passer rating through the first four weeks. Since the Texans have started reeling off wins, Joseph has been much improved. For Week 5 through Week 7, Joseph has a 92.1 overall grade and a 92.0 coverage grade, both of which rank first among qualifying corners. He has seen 27 targets, the third-most of all corners during that stretch, and allowed just 11 passes to be completed while allowing just 37 yards per game.
Joseph has been lock-down in coverage, allowing a passer rating of just 37.7 when targeted and collecting an interception and three pass breakups. His excellent play in coverage over the last few weeks has had a huge impact on the Texans' defense, and no play demonstrates that better than his game-winning pick-six against the Buffalo Bills.
The Texans defensive back sees that Nathan Peterman is staring down the left side of the field. As soon as Kelvin Benjamin starts to open up, Joseph is off to the races, easily intercepting the pass and running it in for the touchdown. The veteran corner's combination of savvy and athletic ability was on full display, and he should continue to be an anchor for this secondary.

Jackson has bounced between playing corner and safety a few times this season, playing 34 percent of his snaps at safety and 58 percent at corner. Primarily used as a corner earlier in his career, the Texans were experimenting with Jackson at safety, where he was playing well, before moving him back to corner after sustaining injuries at the cornerback position. On the year, Jackson has been consistent in any capacity, as he has received a 65.0 overall grade or higher in every one of his games this season.
Jackson has matched his career-high grade of 84.2, which ranks second among corners with at least 250 snaps this season. He's been a force against the run, posting an 88.1 run-defense grade (third) while registering 12 run stops (second) for a run-stop percentage of 7.1 (second).
He's also been excellent in coverage this season, tying Joseph's coverage grade of 78.7 and allowing a passer rating of 47.9 when targeted- the best mark of his career by far. Jackson has also allowed just 0.68 yards per coverage snap, which ranks eighth among qualifying cornerbacks.
Where Jackson has been extremely valuable for the Texans' defense this year is his ability to force turnovers. In their matchup with the New England Patriots, Rob Gronkowski caught a ball over the middle from Tom Brady as they proceeded to try and shred defense the way they seemingly have forever. Jackson never gives up on the play, running down Gronk and punching the ball out from behind, forcing the fumble for Tyrann Mathieu to scoop up.
Jackson has two interceptions and two forced fumbles on the season. His four forced turnovers are tied for the most among all defensive backs, and Jackson is currently on pace to shatter his career-highs in both turnovers forced (9) and defensive-stops (34). The Texans defensive back just turned 30 this year but looks more comfortable than ever, as his level of play is at an all-time high.
A slow start to the season had many concerned about the Texans' secondary, but Joseph and Jackson are two 30-plus-year-old veterans who are not just holding their own — they're carrying the load, locking down receivers and having career-best years in the process.