Once Earl Thomas went down with a season-ending leg injury in Week 4, the Seahawks' Legion of Boom officially came to a close. However, a new era could be beginning, as safeties Bradley McDougald and Tedric Thompson have stood out in the back-end of the Seattle defense, and while they might not be up to the level of the legendary Seattle secondaries of recent years, they have formed one of the top safety tandems in the NFL in 2018.

The duo was dynamic in the Seahawks' Week 6 win over the Oakland Raiders in London on Sunday. McDougald was active all afternoon coming up from his safety position to make plays on underneath routes. He allowed only 32 receiving yards on six targets in coverage, and his day was highlighted by a vicious forced fumble on Oakland's Dwayne Harris. Thompson didn't see a target come his way, displaying exceptional coverage on a day where Derek Carr dropped back to pass on 40 different occasions.
For McDougald's efforts, he was even selected to the Week 6 Team of the Week, joining Mike Mitchell at safety.
Currently, both McDougald and Thompson rank in the top-five in overall grade at the position at 87.4 and 85.6, respectively, through six games. McDougald has been consistent in coverage during previous seasons, but it's been his improvement in that regard that has made the surprising jump to elite status this season. The safety has allowed only 14 receptions on 20 targets for 102 yards, and his five combined interceptions and pass breakups are tied for fifth-most for a safety this season. McDougald's coverage grade of 89.4 ranks first among active safeties with a minimum of 150 coverage snaps through six weeks.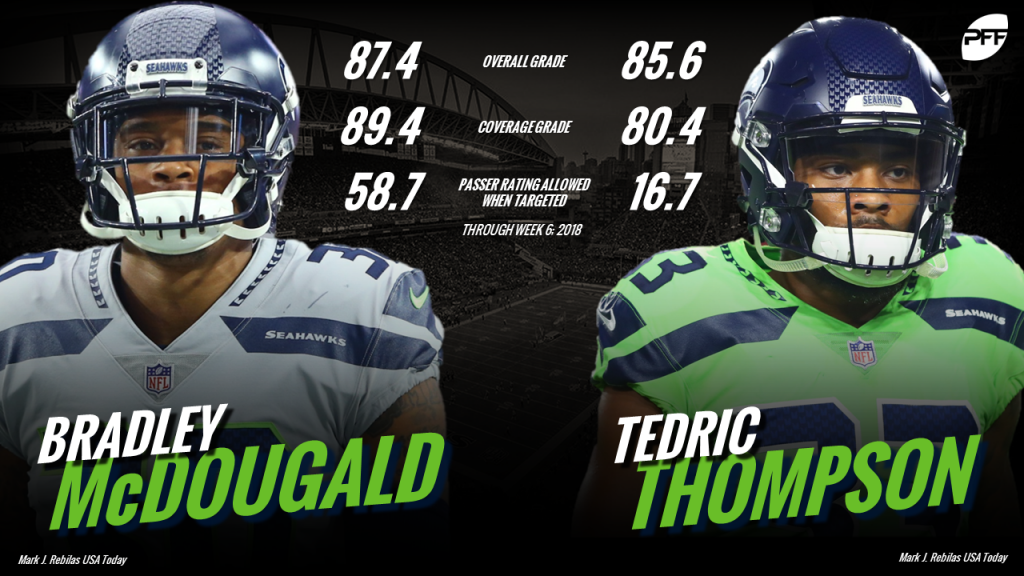 The odds were against Thompson in replacing the three-time All-Pro selection and six-time Pro Bowler in Thomas when he was thrown into the starting lineup in Week 5 against a prolific Rams' offense. However, he's exceeded all expectations during the past two weeks. Thompson has seen only one target come his way in 75 coverage snaps, and he snatched that target for an interception. When targeted, his passer rating allowed ranks first among safeties at 16.7, and his coverage grade of 80.4 is seventh-best.
Thompson appeared in two games last season for the Seahawks and posted a 61.9 overall grade across his eight snaps. Drafted out of Colorado in 2016, he gave up completions on just 40.3 percent of passes into his area while racking up seven interceptions and seven passes defensed. The second-year safety lacked top-end athletic measurables prior to the draft but was able to make up for it with great anticipation, awareness and tremendous ball skills. Those attributes have been on full display this season in Seattle, as he continues his development as a starter.
The Seahawks' defense was thought to be doomed once Thomas went down, but the team has rallied and might have found a formidable tandem at the safety position for years to come. Combined with elite-level linebacker play from Bobby Wagner, Shaquill Griffin's continued growth at corner and improved production from Frank Clark as a pass-rusher, the Seahawks' defense has a bright future, especially with McDougald and Thompson locking down their safety roles.