The Buffalo Bills will battle the Jacksonville Jaguars in the Wild Card round of the postseason. PFF previews the top player matchups of this win-or-go-home game.

PFFELO Ranking: 14
Coverage by: Elliott Rooney
RB LeSean McCoy vs. LB Telvin Smith – Success on the ground will be vital for the Bills if they are to win this game. The health of McCoy is still day-to-day, but with him being Buffalo's best offensive player, expect to see him during the game if it's at all possible. McCoy finished the season with an overall grade of 86.0 and a run grade of 84.0, the sixth and tenth-best marks, respectively, among running backs. McCoy can be dangerous when he gets to the second level of the defense, his 16 runs of 15 or more yards were the second most in the regular season and his breakaway percentage of 36.2 ranked seventh. Smith will do everything in his power to make it difficult for McCoy to break one of these long runs. Smith had a career year, and earned an overall grade of 88.8 that ranked as the seventh-best among linebackers. Smith has been an excellent run stopper this season, no linebacker had a better run-defense grade than Smith's 93.9 run-defense grade. Smith converted his high level play into production and ended the season ranked ninth among linebackers with a run-stop percentage of 9.9.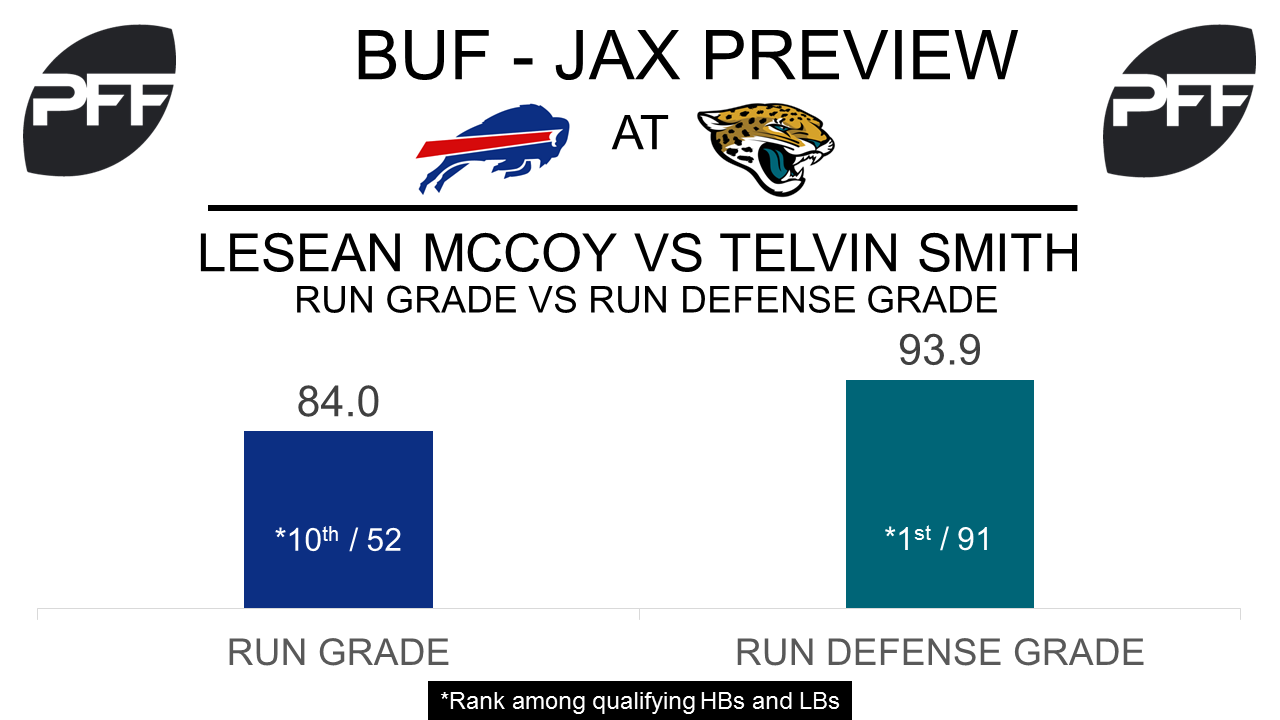 WR Kelvin Benjamin vs. CB Jalen Ramsey – Regardless of which cornerback Benjamin lines up against, he will be in for a difficult day, as both starting cornerbacks for the Jaguars grade as 'elite.' Benjamin is Buffalo's biggest threat in the passing game, as he led all Bills receivers with an overall grade of 79.1 He is also leads all active Bills receivers with a wide receiver rating of 97.3 and 1.70 yards per pass route. While Ramsey and teammate A.J. Bouye tend to stay to the left and right sides of the defense respectively, it is Benjamin who will move to both sides of the field. When he lines up to the offense's right, he'll find Ramsey waiting. Ramsey finished the 2017 season as the second-highest graded cornerback in the NFL with an overall grade of 92.2, however Ramsey's coverage stats over the last four weeks of the regular season were not at the level we are used to seeing from him. Between Weeks 14 through 17, Ramsey allowed a passer rating of 99.6 when targeted, ranked 53rd, and his yards per coverage snap allowed of 1.72 ranked 69th among 74 cornerbacks. It will be interesting if the Bills challenge Ramsey more often than he otherwise would be.
T Dion Dawkins vs. Edge Yannick Ngakoue – Ngakoue should have the edge in the passing game, as he ranked 13th among edge defenders with a pass-rushing grade of 87.8, which is quite high when compared to Dawkins' pass-blocking grade of 75.5, ranked 32nd among tackles. Ngakoue had the sixth-best pass-rushing productivity (12.8) of any edge defender in 2017, as he earned 70 total pressures on 437 pass-rush snaps. The run game, however, is a different story, and the Bills could take advantage of this matchup. Ngakoue had one of the worst grades against the run of any edge defender at 50.3. Ngakoue also ranks dead last among edge defenders in run-stop percentage (1.8 percent), with only five stops on 273 run-defense snaps. Dawkins earned a run-blocking grade of 80.2 this season, so the Bills should be keen on running the ball to the left when these two are squared off.

PFFELO Ranking: 13
Coverage by: Aaron Resnick
QB Blake Bortles vs. S Jordan Poyer – The length of a Jaguars playoff run this season may be determined by what version of Bortles shows up when he's needed the most. Even though the Bills struggle to get consistent pressure, it may not matter depending on how Bortles plays. In Weeks 13-15, Bortles' passer rating of 137.2 when kept clean was tops in the league. Over the past two weeks, when given a clean pocket, Bortles had a passer rating of 76.9, 31st out of 38 qualifying quarterbacks in that span. With an overall grade of 86.1, Poyer had his best season to date. He was strongest in coverage, where his grade of 92.0 was third among safeties and he only allowed a reception once every 20.3 coverage snaps. As Poyer carries a passer rating of 53.8 allowed to go along with five interceptions on the year, Bortles will need to think twice before throwing in his direction.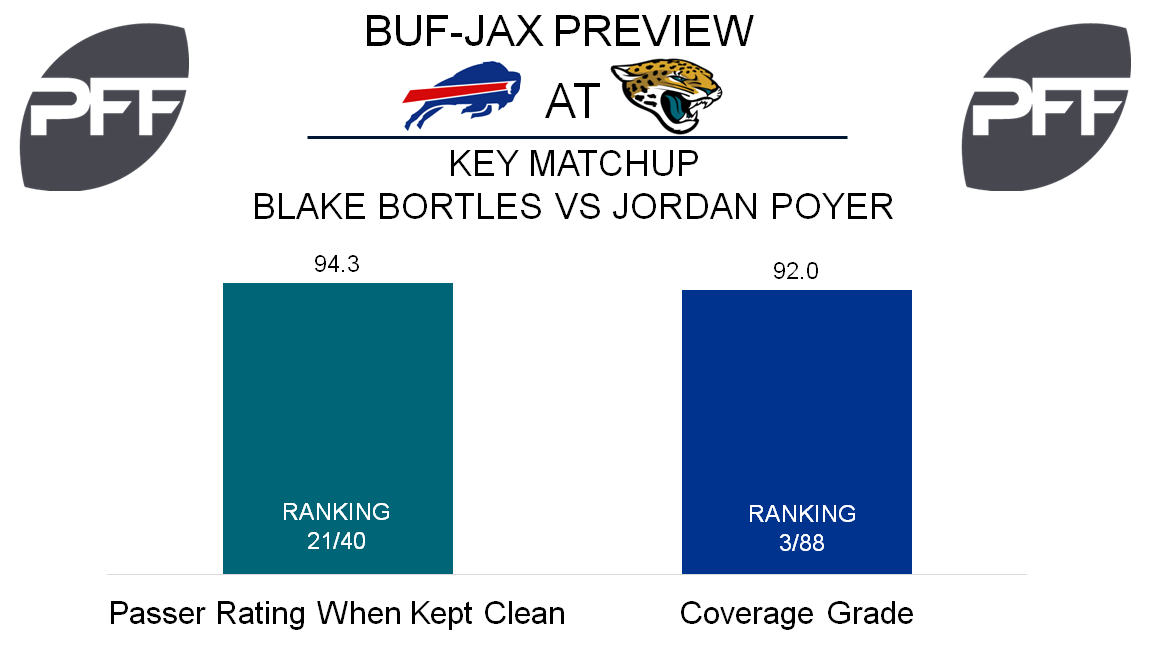 WR Allen Hurns vs. CB Leonard Johnson – After a six week absence, Hurns returned in Week 17 and played 47 snaps. With an overall grade of 80.7 on the season, Hurns was the Jaguars' highest-graded wideout and he did most of his damage from the slot, where 39 of his 54 targets orginated. Hurns' average of 1.67 yards per slot route run was the 12th-best figure in the league. Johnson's 423 coverage snaps from the slot were the second-most by any corner in 2017 and he had the most targets thrown his way in slot coverage with 83. Opponents had a passer rating of 99.6 when targeting Johnson in the slot and his 1.43 yards allowed per coverage snap ranked 40th among 55 eligible slot corners. Hurns was targeted on five of the 32 routes he ran last Sunday, and it wouldn't be a surprise if that number increased this week.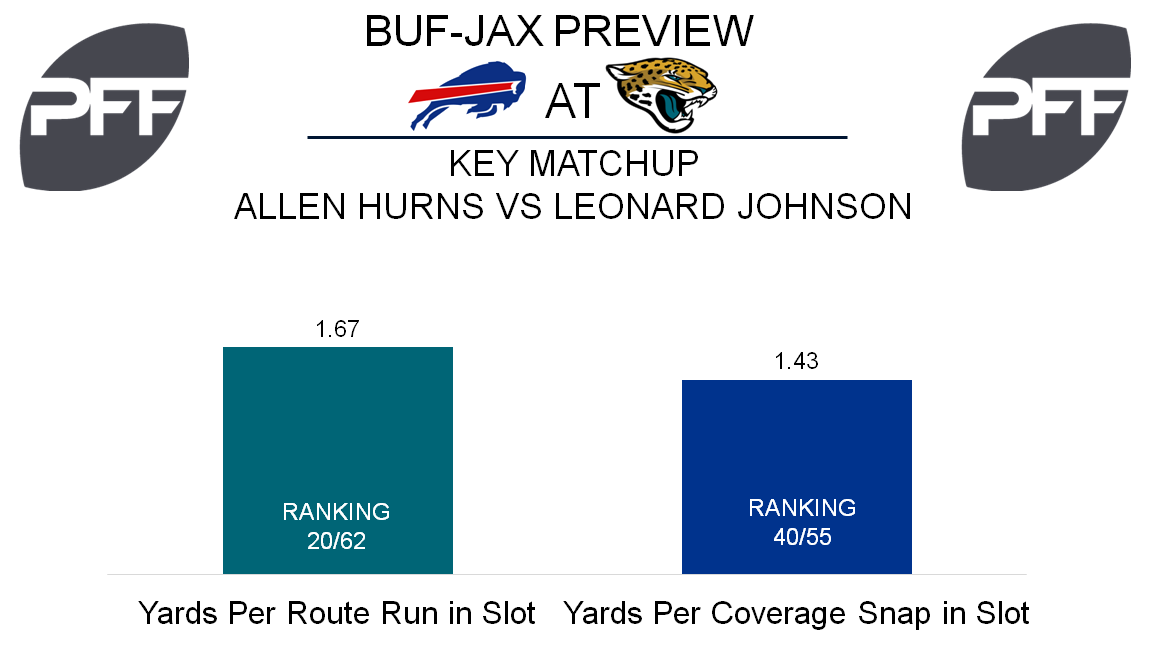 RB Leonard Fournette vs. DI Kyle Williams – The Jaguars have been trying to establish an imposing ground game, which many would consider essential come playoff time. Fournette's physical running style translated well in his rookie season, as despite missing three games, his 35 missed tackles forced when running the ball ranked tenth among running backs last year. Extremely difficult to bring down in space, Fournette hasn't had much room to operate of late. In the past two games, 73 of his 117 yards have come after initial contact. Williams, who has played 8,000 plus snaps in his 12 year career, will be playing in his first playoff game this Sunday. One of the league's premier interior defenders in his prime, his grade of 80.0 against the run was still tops among Bills interior defenders. Williams and Fournette are in opposite stages of their careers, but their matchup could be a huge determining factor in who wins this game.