DENVER, CO - SEPTEMBER 11: Wide receiver Tyrell Williams #16 of the Los Angeles Chargers catches and runs for a gain of 12 yards in the fourth quarter of the game against the Denver Broncos at Sports Authority Field at Mile High on September 11, 2017 in Denver, Colorado. (Photo by Dustin Bradford/Getty Images)
The Los Angeles Chargers visit the New England Patriots in Week 8 of the 2017 NFL season. PFF previews the top player matchups of the game.

Coverage by: Alejandro Chavez
WR Tyrell Williams vs. CB Malcolm Butler – While Keenan Allen gets more attention (deservedly so), the Chargers should be looking to exploit the fact that Butler and the entire Patriots defense struggle to cover the slant route. Allen's wide receiver rating on slant routes is just below the NFL average, but Williams' rating of 102.1 on slants is 17.2 points above NFL average. Opposing teams have targeted Butler's coverage against slant routes five times through the first seven weeks. He's allowed four completions on those five attempts, giving up 73 yards, 43 of those yards coming after the catch. Opposing passers have a passer rating of 118.8 when throwing into Butler's slant coverage, also significantly higher than the league average.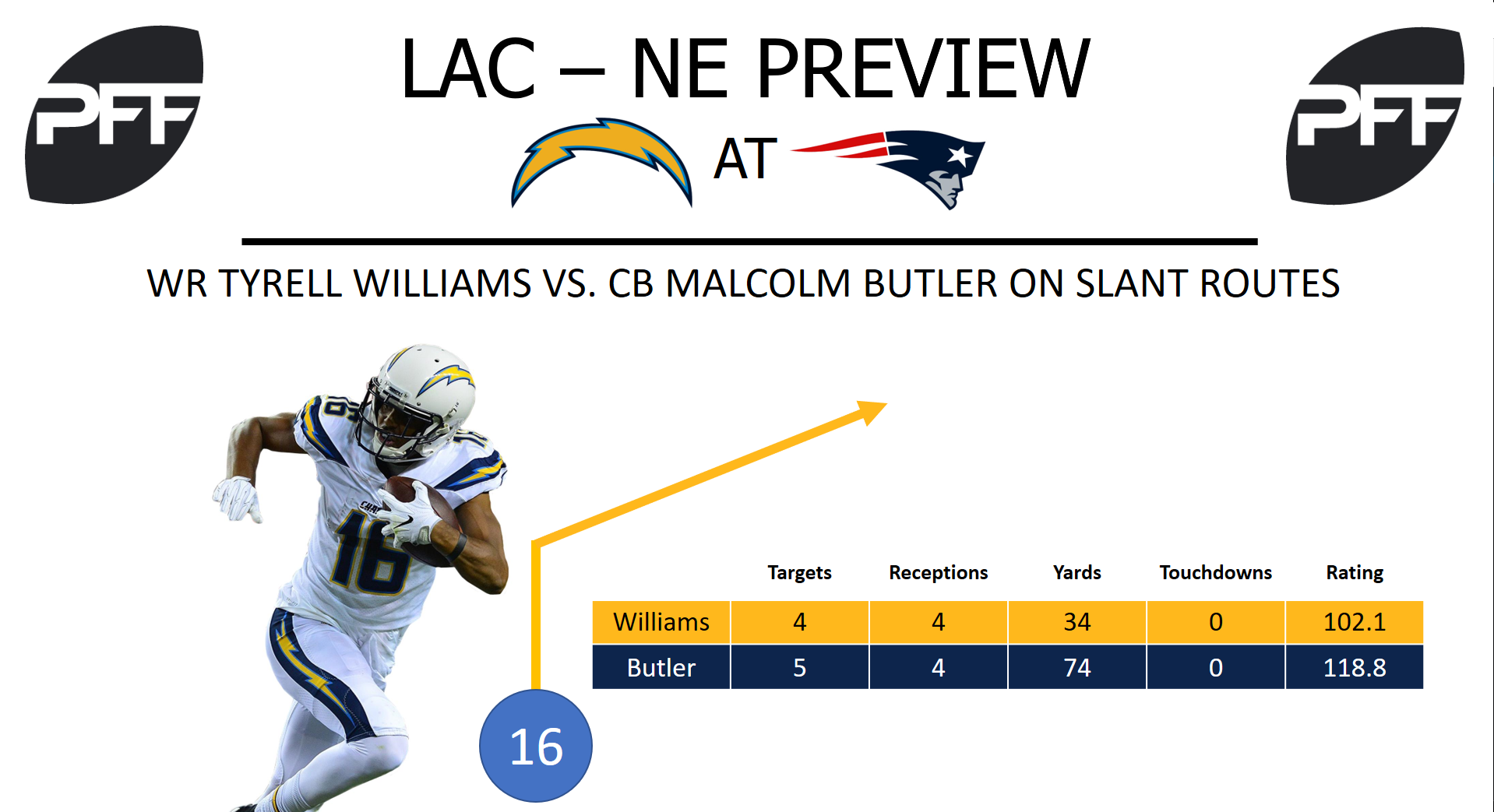 RB Melvin Gordon vs. DI Lawrence Guy – RB Melvin Gordon is enjoying another solid season. While his grade has come down a bit since earlier in the season, it still rests at a comfortable 78.7 overall. His most success running the ball comes on the interior, specifically to the right of the center. There to meet him this week will be Guy. This matchup was slated to be Gordon versus DI Malcom Brown, the best interior defender on the Patriots. However, he'll miss the game due to an ankle injury. Guy's overall grade (73.7) and run-defense grade (73.7) are both average for interior defenders.
TE Hunter Henry vs. New England slot coverage – Henry has spent the vast majority of his playing time aligned inline, but the Chargers have only passed 36 percent of the time when Henry has been playing from a traditional tight end alignment. When he's lined up in the slot, they pass 84 percent of the time. That could present a problem for the Patriots, who have been work-shopping covering the slot this season. S Devin McCourty has played 69 snaps in coverage there and has struggled. CB Patrick Chung has the most coverage snaps out of the slot for the Patriots this year, and he ranks 33rd in the NFL in slot passer rating given up (105.2). CB Jonathan Jones has been getting more snaps recently and ranks 20th in the NFL in slot passer rating given up (92.1).

Coverage by: Daniel Rymer
Matchup: New England Patriots Offense vs. San Diego Chargers Defense
TE Rob Gronkowski vs. Chargers middle field defenders – The Chargers' defenders responsible for the middle of the field will have their hands full with Gronk . Seven weeks into the season, Gronk has a yards per route run of 2.29, good for second in the league among tight ends. On 197 routes run, Gronk has 46 targets for 452 yards. LB Hayes Pullard is allowing 1.49 yards per cover snap, 40th out of 46 inside linebackers. Fortunately for the Chargers, they have Tre Boston, who is allowing a league-best 0.02 yards per cover snap among safeties. Safety Jahleel Addae is allowing 0.53 yards per cover snap, tied for 39th out of 82 safeties.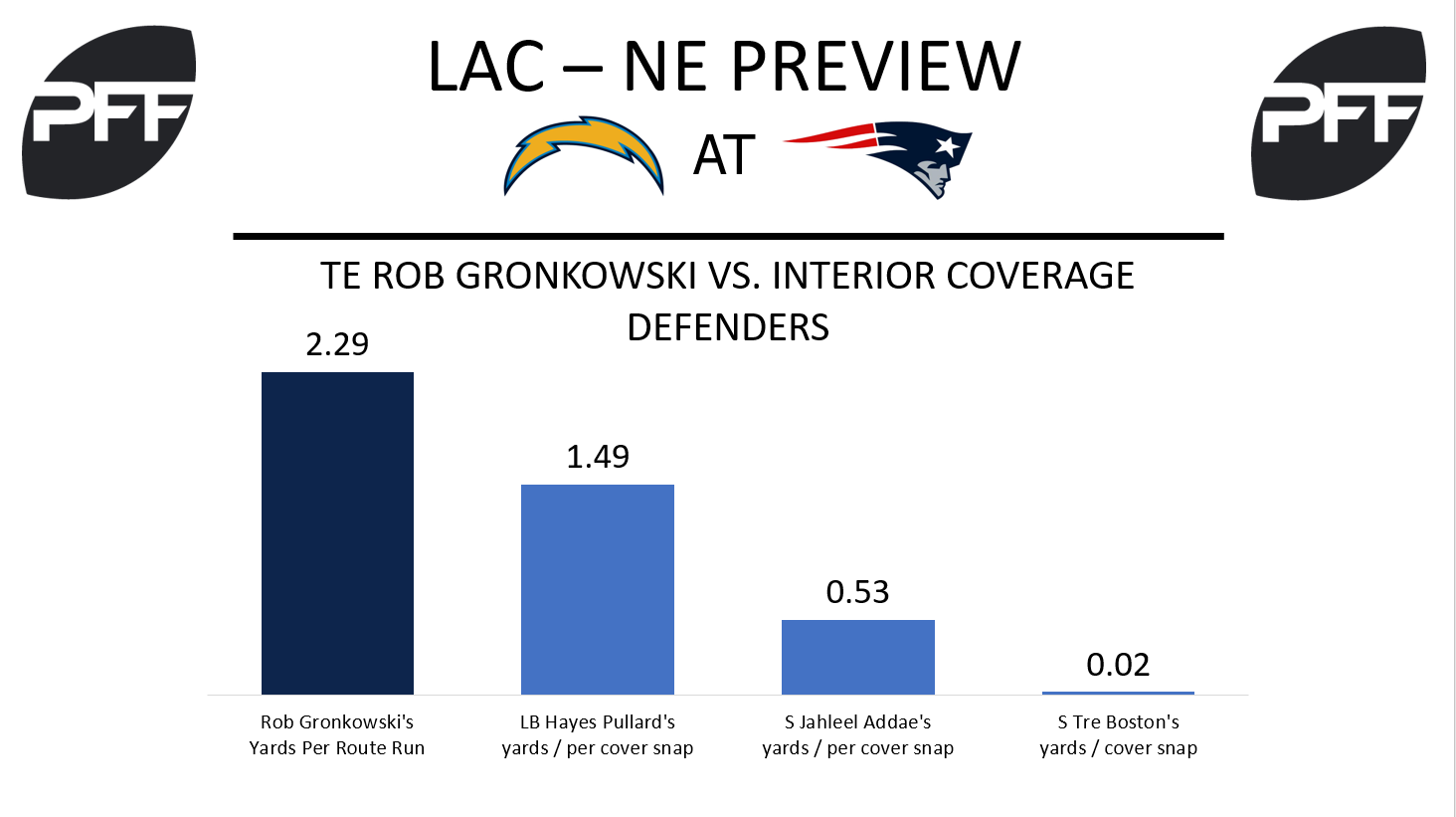 T Marcus Cannon vs. Edge Joey Bosa – In order to slow down Tom Brady and the Patriots' high-powered offense, you need to create pressure early and often. With Joey Bosa, the Chargers can do just that. On 207 pass-rush snaps, Bosa has generated 30 pressures (eight sacks, four hits, 18 hurries), giving him an 11.8 pass-rushing productivity rating on the year. On the other hand, Marcus Cannon has been just average in pass protection. His 94.1 pass-blocking efficiency rating is tied for 36th out of 70 tackles with at least 80 pass-block snaps. On Cannon's 245 pass-block snaps, he has allowed 18 pressures (four sacks, three hits, 11 hurries). Of Bosa's 207 pass-rush snaps, 121 have come from his left side and 86 have come from his right, so he and Cannon are bound to clash heads in Foxborough.
WR Brandin Cooks vs. CB Trevor Williams – No one is generating a better passer rating for Tom Brady than Brandin Cooks. On Cook's 44 targets, he has 28 receptions for 537 yards, three touchdowns, and no interceptions, good for a passer rating of 128.7 (best among Patriots pass-catchers and fourth among all NFL wide receivers). The Chargers will look to undrafted free agent cornerback Trevor Williams to help cover Cooks. Williams has been a surprise for the Chargers in his sophomore year, as he has an overall grade of 86.9 and is allowing a passer rating of just 64.3 on targets thrown his way (27 targets, 14 receptions, 143 yards, one touchdown, one interception).