ARLINGTON, TX - JANUARY 15: Ezekiel Elliott #21 and Dak Prescott #4 of the Dallas Cowboys celebrate after a first down during the third quarter against the Green Bay Packers in the NFC Divisional Playoff game at AT&T Stadium on January 15, 2017 in Arlington, Texas. (Photo by Ronald Martinez/Getty Images)
Sunday saw two of the top three teams in the AFC pick up comfortable victories to strengthen their position near the top of the food chain, while in the NFC the Seattle Seahawks continued their resurgence and now sit just a half game back of the Los Angeles Rams. With some big wins by some of the top teams in the league, we saw some big time performances, so let's take a look at the Sunday standouts on the offensive side of the ball.
C David Andrews, New England Patriots, 94.4 overall grade
He wasn't quite perfect in pass protection, with his one hurry allowed giving him a pass blocking efficiency rating of 97.7, but pass protection definitely wasn't something New England Patriots center David Andrews stuggled with on Sunday night.
WR Doug Baldwin, Seattle Seahawks, 87.8 overall grade
The sideline debate with Seattle Seahawks offensive line coach Tom Cable got the headlines, but wide receiver Doug Baldwin's performance on the field was the real story. He pulled in all nine of the catchable passes thrown his way for a perfect drop rate of 0.00, while forcing two missed tackles.
HB Ezekiel Elliott, Dallas Cowboys, 93.7 overall grade
At one point Ezekiel Elliott was going to miss this game as he began his suspension, but on the field he showcased how important he is to the Dallas Cowboys offense with a huge performance as a runner and receiver. His lone target in the passing game went for a 72 yard touchdown, giving him a yards per route run average of 5.5.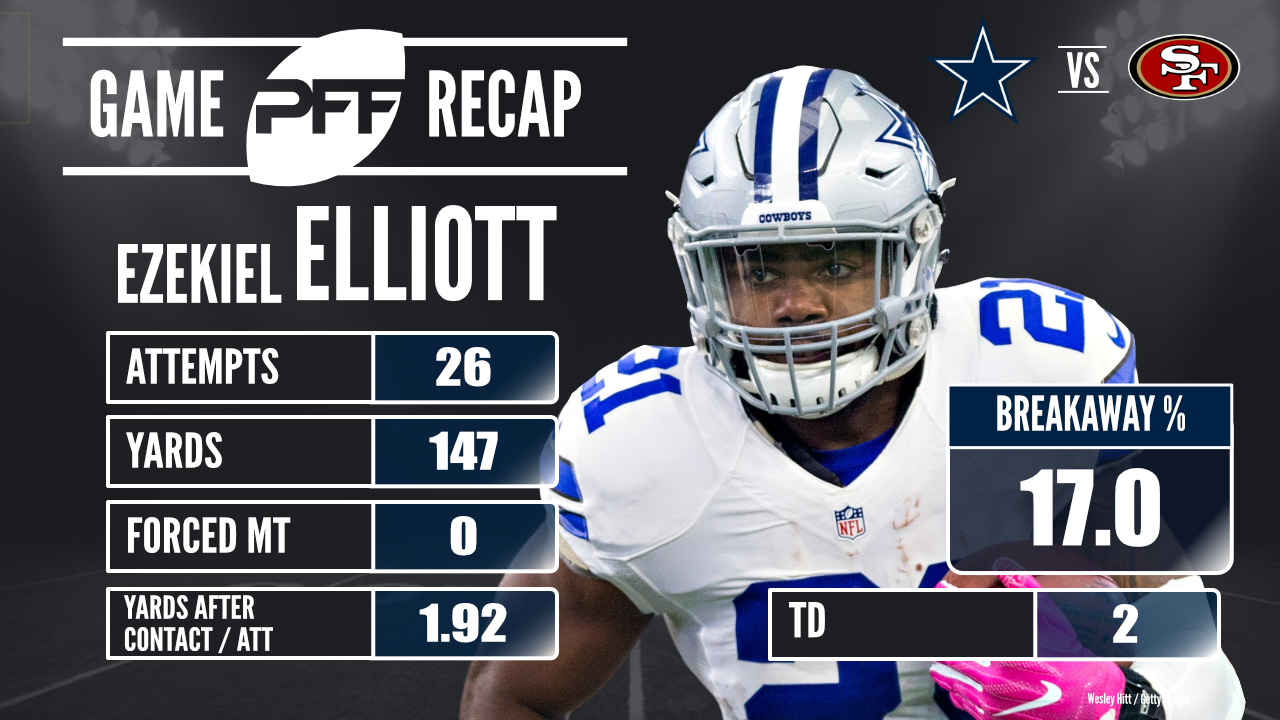 HB Aaron Jones, Green Bay Packers, 87.8 overall grade
The Green Bay Packers have seen plenty of injuries to key players on the offensive side of the ball, but the emergence of running back Aaron Jones has been a pleasant surprise. Against the New Orleans Saints, Jones proved his worth as a big play threat, with 82 of his 131 rushing yards coming on runs of 15 yards or more, good for a 62.6 percent breakaway percentage.
WR Jarvis Landry, Miami Dolphins, 86.7 overall grade
Miami Dolphins wide receiver Jarvis Landry is used all over the field, and he impressed on Sunday again, with throws to him netting an NFL passer rating of 92.9. Landry picked up receptions against five different New York Jets defenders, and with another missed tackle forced, increased his season total to nine.
TE Marcedes Lewis, Jacksonville Jaguars, 87.9 overall grade
Jacksonville Jaguars tight end Marcedes Lewis caught both catchable passes thrown his way for a perfect drop rate on the day. One of those catches went for a touchdown, but it was his impressive work as a run blocker that pushed him to be one of the top graded tight ends on the day.
G Zack Martin, Dallas Cowboys, 89.7 overall grade
With zero sacks, hits or hurries allowed on 26 pass blocking snaps, Cowboys guard Zack Martin produced a perfect 100.0 pass blocking efficiency rating against the San Francisco 49ers. His dominance really showed as a run blocker, where he cleared the way for Elliott's big day.
OT Mike Remmers, Minnesota Vikings, 86.6 overall grade
The Minnesota Vikings strengthened their lead at the top of the NFC North with their win over the Baltimore Ravens, and the play of offensive tackle Mike Remmers played a big role. From 32 pass blocking snaps, Remmers allowed just one hurry, good for a pass blocking efficiency rating of 97.7.
TE Jason Witten, Dallas Cowboys, 90.0 overall grade
The third Cowboys offensive player to earn a spot on the Sunday standouts, tight end Jason Witten capped his performance with a stunning touchdown catch. Witten averaged 2.35 yards per route run on the day, playing his part in Dallas' big win.
HB T.J. Yeldon, Jacksonville Jaguars, 87.3 overall grade
No Leonard Fournette? No problem for the Jaguars. Running back T.J. Yeldon filled in admirably for the talented rookie, averaging 3.0 yards after contact per attempt. 58 of his 122 yards came on one run, with the former Alabama player showcasing his big play ability.