Beyond providing data for all 32 NFL teams, PFF also supports network broadcasters with game-preview packets that are used to enhance the in-game experience for fans and viewers. This Lions-Dolphins preview features the same information our broadcast partners use for team research and in-game production.


Wilson taking off after the catch
Miami Dolphins' wide receiver Albert Wilson ran wild on Sunday against the Chicago Bears defense. Wilson racked up 138 yards after the catch last week, improving his yards after the catch per reception to 14.6 – first among all wide receivers.
Osweiler an upgrade against the blitz
Brock Osweiler nearly doubles Ryan Tannehill's grade and passer rating when under pressure, could he be an upgrade this Sunday?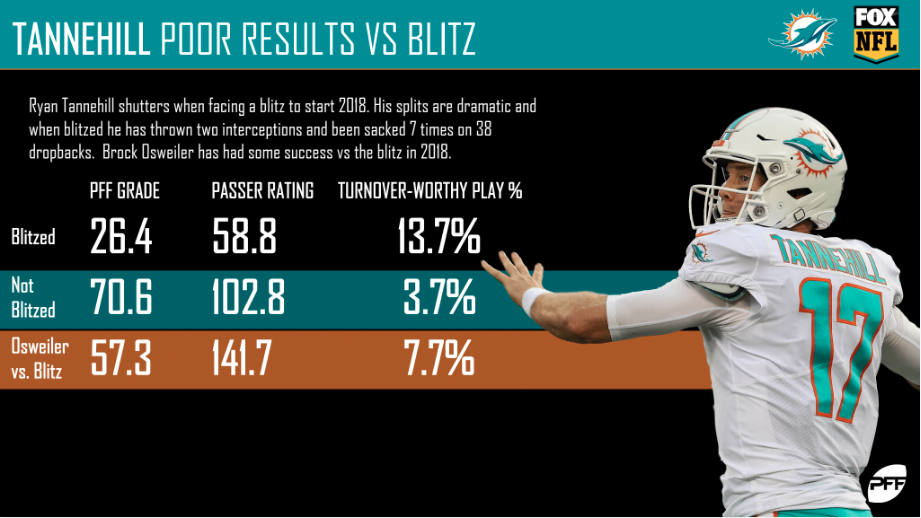 Fitzpatrick shutting down the slot
11th overall pick Minkah Fitzpatrick is excelling in the slot, only allowing a 48.6 passer rating when targeted in slot coverage. That mark is impressive for a rookie who plays 69% of his coverage snaps in the slot.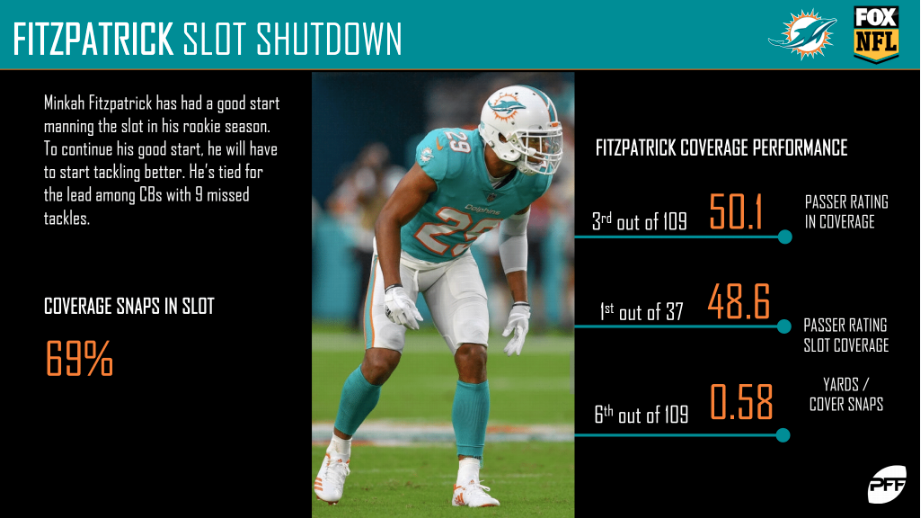 Grant bringing them back
Explosive returners can change the course of the game and Miami's Jakeem Grant is doing so this season. He has the second-highest kick return average in the NFL and is the only player to have a touchdown on a kickoff return and a punt return.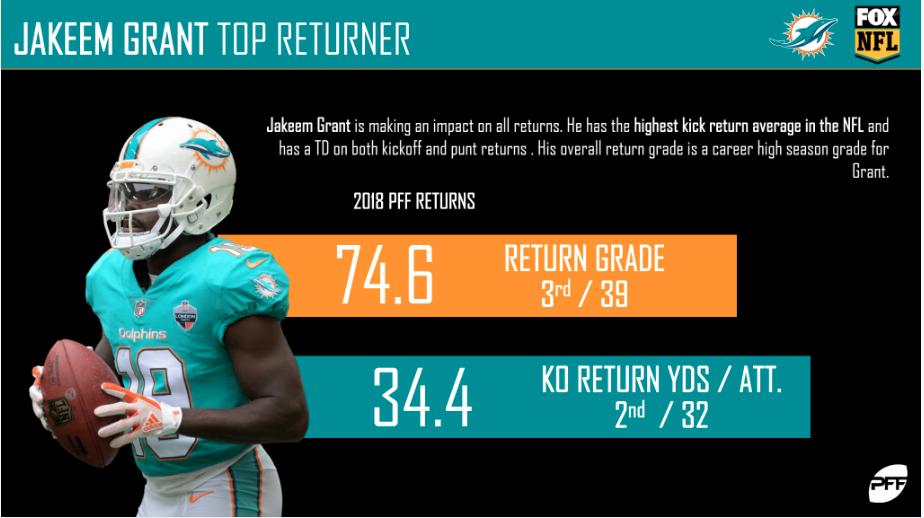 Stafford not running play action
Detroit has not utilized play-action in their offense near as much as other NFL teams.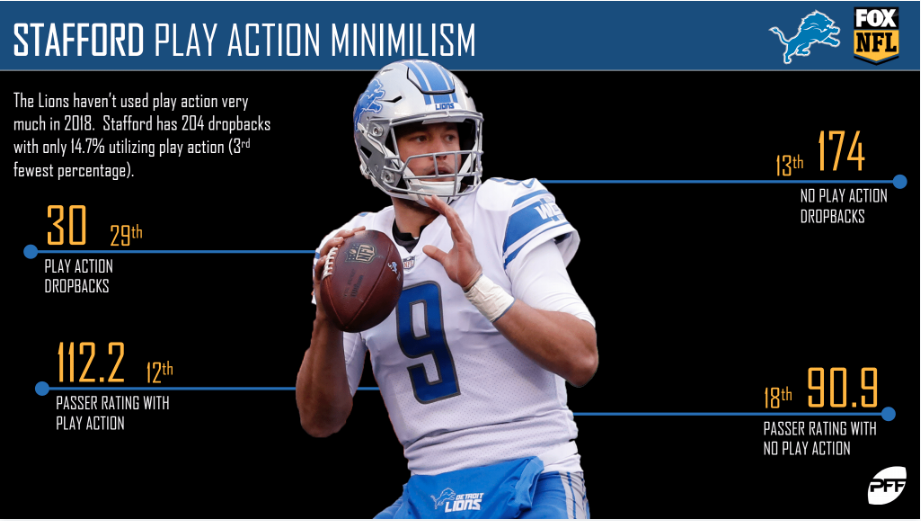 Stafford not holding up under pressure
Matthew Stafford's passer rating drops nearly 40 points when under pressure this season. Thankfully, however, Stafford hasn't been pressured much. The Lions will look to keep it that way on Sunday.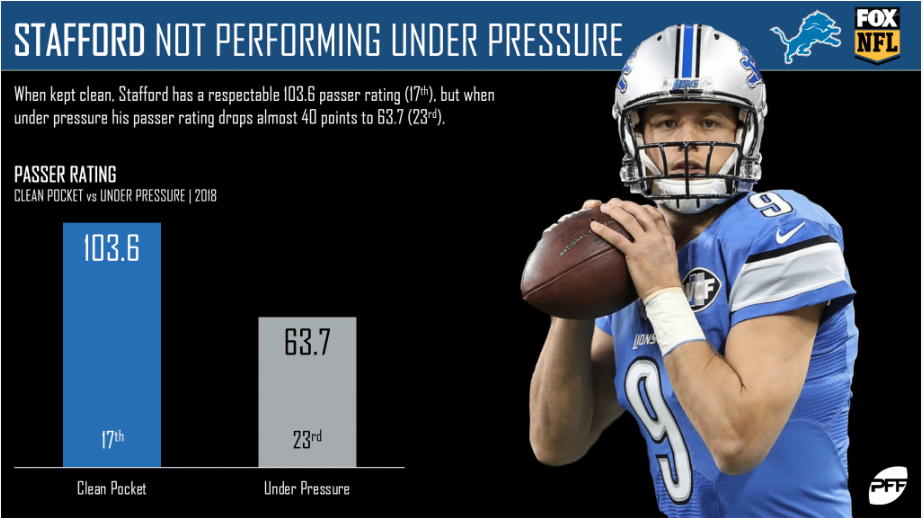 Davis getting to the quarterback
Second-year linebacker Jarrad Davis ranks first in pass rush productivity among linebackers with at least 20 rushes (19.6). His success in pressuring the quarterback has given him the third-highest pass-rush grade among players at the position (89.5).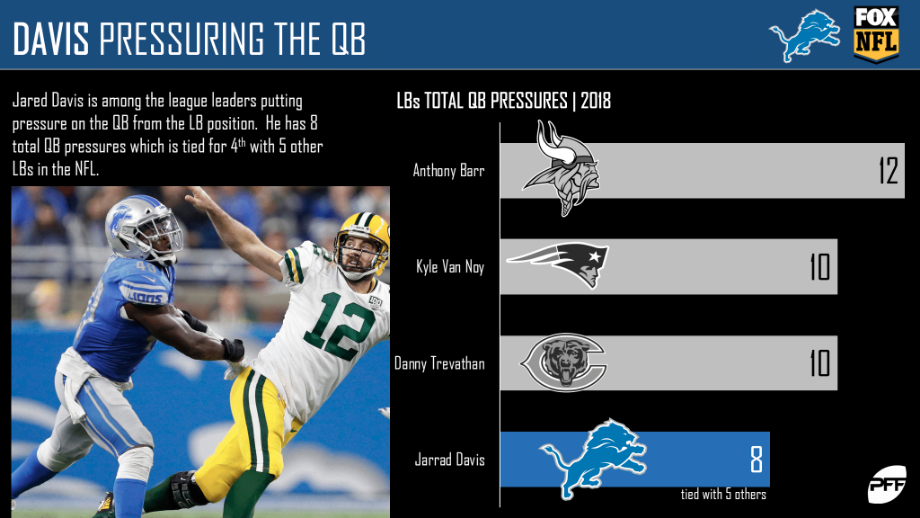 Lawson & Slay struggling on the outside
The Detroit secondary has struggled this season, allowing the sixth-most passing yards per game (243.2) among all NFL teams. Darius Slay and Jamal Agnew are giving up 1.18 and 1.99 yards per coverage snap, respectively.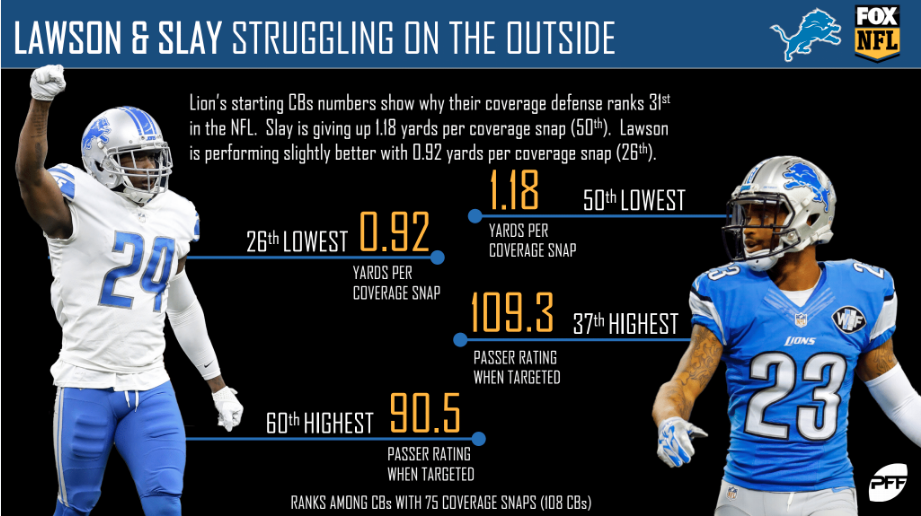 Key matchup