PFF provides every fan with the right information to best prepare for Week 5 of the 2019 NFL season. We offer advanced stats and grades on key players to watch, fantasy football advice and links to PFF Greenline predictions for all 16 NFL games on the schedule for this week.
[Editor's Note: ELITE subscribers have access to all of PFF's fantasy football projections, rankings and lineup tools in addition to PFF NFL and College Greenline, an online dashboard with predictions for the spread, total and moneyline for every FBS and NFL game every week. Subscribe today to gain access!]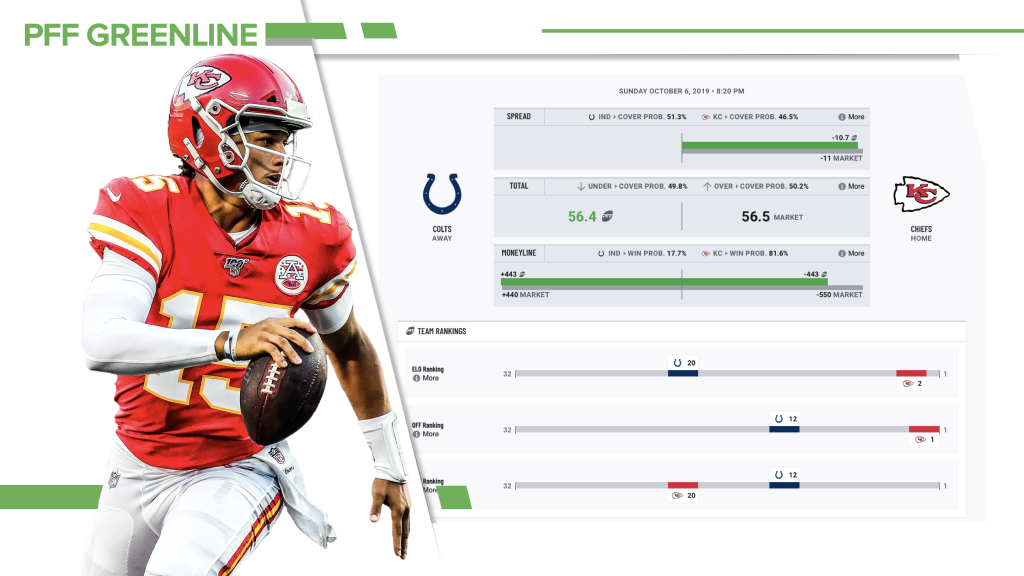 Thursday, October 3
Los Angeles Rams @ Seattle Seahawks
NFL Players to Watch
Aaron Donald continues to be one of the toughest players in the NFL to block in 2019. While his PFF pass-rush grade has been merely good, at 74.0, with a sack and six hurries on 149 pass-rushing snaps, his 90.1 PFF run-defense grade is the best among players on the defensive interior. Six of his seven solo tackles against the run through four weeks have resulted in a defensive stop.
Fantasy Football Preview
Jameis Winston drove a 33.1-point-sized hole through the "Rams shut down opposing quarterbacks" narrative last week — the Rams had allowed 30.2 points to the position all year before that Week 4 shellacking. What did Winston do differently than the quarterbacks who have struggled against the Rams? He threw it deep — Winston's average depth of target against the Rams was 9.4 yards, compared to Cam Newton's 7.0 in Week 1, Teddy Bridgewater's 7.7 in Week 2, and Baker Mayfield's 8.7 in Week 3. Russell Wilson's aDOT so far this year is 9.6.
Greenline Preview
The Rams travel north on a short week after suffering a tough home loss in Week 4. The spread for Thursday Night Football has flipped after opening with the Rams as one-point favorites — the Seahawks are now two-point favorites. Greenline can point you in the right direction for bets in this tricky game with the large line movement and the potential trend involving Thursday Night Football totals. 
Sunday, October 6
Atlanta Falcons @ Houston Texans
NFL Players to Watch
After earning himself a big contract extension in the offseason, Grady Jarrett is proving why that was a smart move by the Atlanta Falcons. His 87.7 PFF pass-rushing grade ranks fourth among all players on the defensive interior, something that Texans fans won't want to hear heading into their matchup this weekend. Their offensive line features just two players, Laremy Tunsil and Zach Fulton, who have produced PFF pass-blocking grades of 70.0 or higher so far this season.
Fantasy Football Preview
Julio Jones can't score! Kidding, obviously — Week 4 was Jones' first game without a touchdown since Week 13 of last year, breaking a string of seven straight games with a touchdown. Jones' nine receiving touchdowns in that stretch is as many as or more than nine different teams managed in that span, and at least half as many as every team but the Chiefs.
The Falcons are the team in this matchup with a defense knocking on the door of the top 10. The Texans find themselves at 24th in defensive rankings with name recognition but lacking performance to start 2019. Both Deshaun Watson and Matt Ryan have graded similarly in 2019 with Ryan struggling much more under pressure. Greenline offers a play with the market consensus established at -5 for the Texans. 
Jacksonville Jaguars @ Carolina Panthers
NFL Players to Watch
What was supposed to be Nick Foles versus Cam Newton is now Gardner Minshew versus Kyle Allen. Minshew has been a revelation compared with his draft slotting and is the 10th highest graded quarterback in the NFL through four weeks. When kept free from pressure, he is completing 76.8% of his passes and averaging 8.2 yards per attempt, compared with 53.8% and 5.9 when under pressure. It's an even bigger gap for Allen, who completes 81% of his passes and averages 9.8 yards per attempt when kept free from pressure, but 50% and just 4.6 yards per attempt when facing the heat.
Fantasy Football Preview
The Gardner Minshew story gets its toughest chapter in Week 5, running into a Panthers defense that has allowed a league-best 181.8 passing yards per game so far this year, the only team under 200. Despite facing a relative murderer's row of Jared Goff, Jameis Winston, Kyler Murray, and Deshaun Watson, the Panthers haven't allowed a single quarterback to pass 208 yards. If Minshew can put it together in Week 5, the story gets really interesting.
Of course the guy with the mustache would be 3-0 against the spread when starting. Bettors may have taken note with this line opening at -4 for the home favorite before sliding down. It doesn't look like it will stop at -3.5, either, so it is worth it to check Greenline quickly to get the recommended play at the right price. 
New England Patriots @ Washington Redskins
NFL Players to Watch
Among cornerbacks with at least 100 snaps on the field this season, the Patriots boast the third-highest and sixth-highest graded players at the position. Jonathan Jones has been targeted 23 times, giving up just 10 receptions for 105 yards and allowing an NFL passer rating of 57.3 on throws into his coverage. Meanwhile, Jason McCourty has allowed just 12 receptions for 120 yards from 26 targets.
Fantasy Football Preview
Only three teams (Miami, Cincinnati, and the played-three-games Jets) have scored fewer points than Washington's 66 so far, and it's worth noting that Washington has seen its point total go down each week (27 to 21 to 15 to 3). Meanwhile, the Patriots have allowed only 27 points through four weeks — only the Bears are within double that. Add in that the Patriots have comfortably the league's best PFF defense (89.8) and coverage (91.3) grades, and that we don't even know which of three different names will start for Washington this week, and things look bad for our nation's capital.
The Patriots failed to cover the spread for the second straight week, with bettors reacting quickly seeing the road favorite spread fall from an opening of -16.5 to -15. The total has also seen significant line movement, dropping 2.5 points from an opening 46. Are these overcorrections or correctly in line with Greenline predictions?
Baltimore Ravens @ Pittsburgh Steelers
NFL Players to Watch
Something to look for in this one as the Ravens try to get back on track is how often they use play action. In Week 1, they used it on 50% of Lamar Jackson's dropbacks, 40.9% in Week 2, 20% in Week 3 and 25.6% in Week 4. For the season, Jackson is completing 61.5% of his passes and has thrown five touchdowns and no interceptions when using play action.
Fantasy Football Preview
Surface numbers can fool you. Mason Rudolph's surface numbers in two weeks as a starter — 38-of-55 passing, 403 yards, 4 touchdowns, 1 interception — look good enough, but it's worth noting that more than two-thirds (68.2%) of his passing yards so far this year have come after the catch. Luke Falk's 60.1% is the next-lowest percentage. In other words, Rudolph's receivers have been helping him a lot. On the other hand, no team has allowed more yards after the catch this year than the Ravens' 668, so it's possible Rudolph's run could continue.
An old rivalry with new faces at quarterback as Lamar Jackson faces off against Mason Rudolph. Rudolph had his best passing grade last week. Bettors seem to be buying in as the total has risen two full points since the open in some spots. Is this an overcorrection? Only Greenline can provide the answer.  
New York Jets @ Philadelphia Eagles
NFL Players to Watch
It feels like we aren't talking enough about how good quarterback Carson Wentz has been in 2019. Our highest graded quarterback in the league among players with at least 50 dropbacks, Wentz struggled in Week 2 against the Atlanta Falcons, but has been impressive the rest of the way. His numbers for the year are modest, but he's also been the unluckiest quarterback in the NFL when it comes to drops, with his receivers failing to hold onto 12 catchable passes through four weeks.
Fantasy Football Preview
The Eagles are singularly vulnerable to deep receivers so far this year, as we've seen in big games against them by Terry McLaurin (23.5 PPR points in Week 1), Julio Jones (27.6 in Week 2), Calvin Ridley (24.5 in Week 2), Marvin Jones (22.1 in Week 3), and Davante Adams (28.0 in Week 4). Unfortunately for the Jets, they are almost singularly unable to attack that way. The Jets are one of only two teams with only one deep reception this year, with 1 completion on 8 targets (the other, the Saints, have only attempted three deep balls). Add in either a struggling Luke Falk or a just-back Sam Darnold, and they aren't set up to exploit the Eagles' weakness.
Here we have two defenses that rank in the top half of the league, with the Jets owning the fifth-best mark. The total market has dropped to a low of 43.5 with a wide -13.5 spread. If the lean is toward the home favorites covering, does the total continue to fall closely behind? 
Minnesota Vikings @ New York Giants
NFL Players to Watch
Giants cornerback Janoris Jenkins has been very Jekyll and Hyde in his play so far this season. Through four weeks, he has allowed the third-most yards in the league among cornerbacks, with 297 yards coming on throws into his coverage. However, those yards are split by 34 coming in Weeks 1 and 4 combined and 163 in Weeks 2 and 3, so which player will show up on Sunday against the Vikings?
Fantasy Football Preview
Golden Tate is expected to make his Giants debut after serving a four-game suspension. Since the start of the 2012 season, Jarvis Landry and Antonio Brown are tied for the second-most forced missed tackles on receptions, at 94 each. Tate leads the way in that span … with over 50% more than those guys, at 142. He's a forced-missed-tackle machine.
The Vikings continue their road trip east with a matchup in New York featuring two evenly ranked offenses. Kirk Cousins has led the Vikings to an offensive ranking within three places of the Giants. Surprisingly, the Vikings have found some backers with this line moving out to -5 for the road favorites in certain spots. Greenline sees some value on one side of this spread but slippage or line movement could occur.  
Tampa Bay Buccaneers @ New Orleans Saints
NFL Players to Watch
One of the premier player matchups in the NFL this week sees Buccaneers edge defender Shaquil Barrett go up against Terron Armstead and Ryan Ramczyk at offensive tackle for the Saints. Barrett is on pace to smash the single-season sack record, but will be trying to get past a pair of bookend tackles who have yet to allow a sack on a combined 510 pass-blocking snaps this season.
Fantasy Football Preview
Cooper Kupp and Robert Woods feasted on the Buccaneers in Week 4, because slot receivers all feast on the Buccaneers. Dating back to the start of last year, Tampa Bay has allowed the second-most receptions, second-most yards, second-most touchdowns, and third-highest passer rating on slot receptions. Meanwhile, Michael Thomas has the best yards per route run on slot receptions over the past three seasons (3.66) by almost a full yard over second (A.J. Green, 2.85).
Teddy Bridgewater continues to supply just enough offensive spark to allow the Saints to continue their winning ways in the absence of Drew Brees. Consensus betting markets are moving the other direction, however, after the Bucs' big road win over the Rams in Week 4. This line opened at -5.5 for the Saints but has slid down to a field goal spread. Greenline finds little value in the spread at that price but may have a play on the total if some line movement comes into the market. 
Chicago Bears @ Oakland Raiders
NFL Players to Watch
Are the Bears better with Chase Daniel at quarterback? With Mitch Trubisky currently doubtful to face the Raiders in London on Sunday, their backup is likely to get the chance to follow up an impressive performance last weekend. Against the Vikings, he attempted just five passes 10-plus yards downfield but completed four of them for 88 yards. The level of efficiency he can provide could be key for the Bears offense to get back on track.
Fantasy Football Preview
Darren Waller has been a machine for the Raiders so far this year, but his work has mostly come over the whole field. Oakland hasn't targeted the tight end in the end zone yet this year on 37 targets; no other tight end has more than 14 targets without one in the end zone. If Waller isn't getting the scoring opportunities, his scoring potential could be capped.
Gruden lost his favorite grinder, Vontaze Burfict. This should put to rest the argument of body blow equals success as the Raiders sport the NFL's worst defense. The Bears own the second-best defense in the NFL, with the line movement buying into a low-scoring affair by dropping a point from the open.  Keep checking Greenline if this line continues to move for potential plays to open up in what is expected to be a low-scoring, one-sided affair. 
Buffalo Bills @ Tennessee Titans
NFL Players to Watch
Bills cornerback Levi Wallace continues to be one of the best stories in the NFL. And after going from walk-on to starter at Alabama, he has now gone from undrafted free agent to starter in Buffalo. Owning the 20th highest PFF coverage grade among cornerbacks with at least 100 snaps on the field, he is starting to make a name for himself on the Bills' defense.
Fantasy Football Preview
There are 21 running backs with at least six runs of 10-plus yards. Of those 21, 20 have at least 27 carries, and most of them have 50-plus. And then there is Bills rookie Devin Singletary, who has seven runs for double-digit yardage out of only 10 carries so far, a ridiculous success rate. Singletary missed Weeks 3 and 4, but assuming he makes it back on the field for Week 5, he's a chunk play waiting to happen.
The Bills were sitting at one-point 'dogs in this matchup against the Titans until Jonathan Jones knocked Josh Allen into the concussion protocol midway through Week 4. This line has jumped out to -3 with some spots holding onto -2.5. Some line shopping is required with Greenline finding value on certain sides of both the spread and total.  
Arizona Cardinals @ Cincinnati Bengals
NFL Players to Watch
Kyler Murray is the rookie that gets the most attention, for obvious reasons, but second-round cornerback Byron Murphy has delivered some nice performances, too. After allowing six receptions for 81 yards on eight targets in Week 1, he has allowed just seven receptions for 61 yards on 14 targets over the past three weeks.
Fantasy Football Preview
Seven different running backs have scored at least 14 PPR points against the Bengals so far — and just to remind everyone, they've played four games. They are second-worst in yards allowed to the position, touchdowns allowed, and receptions … and David Johnson is third in the league in RB receptions so far, back to his old pass-catching ways. Expect a big game from the Cardinals running back.
After both teams in this matchup were blown out in Week 4 and unable to move the ball effectively, this total has dropped from its opening 48.5. The spread can be found anywhere from -4.5 to -3.5 for the home team Bengals. Greenline sees little value in the spread but offers a potential play on the total if it continues to see some movement. 
Denver Broncos @ Los Angeles Chargers
NFL Players to Watch
In his fourth season out of Ohio State, edge defender Joey Bosa is having his highest-graded season so far. From 119 pass-rushing snaps through four weeks, he has racked up three sacks, three hits and 10 hurries, averaging a pressure once every 7.4 pass-rushing snaps. He has also been a force against the run, with 10 of his 16 solo tackles resulting in a defensive stop.
Fantasy Football Preview
Melvin Gordon timed his return well, getting a shot against a Denver team that has allowed at least one touchdown to running backs each week so far, including multiple scores to Josh Jacobs and Aaron Jones. And of course, we saw Leonard Fournette cut them up for 225 rushing yards in Week 4, plus another 42 for Ryquell Armstead. (And now Bradley Chubb is lost for the year.) The big question for the Chargers is how they will deploy their Gordon/Austin Ekeler combo, but there's every chance both could have a big week.
Denver has found serious backing after an opening of -7.5. This has slid through the key number and currently sits at -6.5. Was this too big of a correction? Greenline is intrigued by a certain side at this price. 
Green Bay Packers @ Dallas Cowboys
NFL Players to Watch
Jaire Alexander continues to dominate at cornerback. Of all players at the position to play at least 100 coverage snaps, his 88.3 PFF coverage grade is by far the highest. Targeted 27 times in coverage, he has allowed just 11 receptions for 125 yards and a touchdown. He also leads the position with six pass breakups.
Fantasy Football Preview
The Packers shut down the Bears in Week 1, but since then, running backs have had their way with Green Bay. Vikings backs went for 218 yards and a touchdown in Week 2; Broncos backs for 293 and two scores in Week 3; Eagles backs for 191 and three scores in Week 4. And now Ezekiel Elliott gets a shot.
Dak Prescott enters into this matchup as the higher graded quarterback with the Cowboys ranked in the top five. The Packers have a defense ranked third with an offense ranking in the top 10. Opening at -4.5, this price was bet down with offerings between -3.5 and -3 depending on juice paid.  
Indianapolis Colts @ Kansas City Chiefs (Game of the Week)
NFL Players to Watch
Any reps we see between Chris Jones on the Chiefs defensive interior and Colts left guard Quenton Nelson are going to be must-see TV this week. Jones has racked up two sacks, five hits and 11 hurries on 144 pass-rushing snaps this season, while Nelson is the second-highest graded left guard in the league and has allowed six total pressures on 165 pass-blocking snaps.
Fantasy Football Preview
There are only nine occurrences in NFL history of a team scoring 25 or more points in at least 10 straight games. Only two streaks have topped 14. One of those was the 2012-2013 Broncos, who did it in 18 games. And then there are the Chiefs, who are on an active streak of a whopping 25 straight games of at least 25 points … with no end in sight.
Patrick Mahomes seems to enjoy toying with opponents as he leads the highest-ranked offense and our number two overall ranked team. The -11 price feels right with the total the highest price so far in 2019. 
Monday, October 7
Cleveland Browns @ San Francisco 49ers
NFL Players to Watch
We saw a big improvement from Baker Mayfield in the win over the Ravens, particularly in his pocket presence, which had been an issue going into the game. He had been responsible for four of the sacks and six of the hurries in terms of pressure being charged to players on offense, but wasn't responsible for any pressure against himself this past week.
Fantasy Football Preview
Five players have more than 12 red-zone carries so far. Four of them — Ezekiel Elliott, Christian McCaffrey, Mark Ingram, and Sony Michel — wouldn't really surprise you. They all rank in the top 18 in raw carries as well. The fifth? San Francisco's Jeff Wilson Jr., who has 13 red-zone carries out of 18 carries total. All 13 came in Weeks 2-3 when Tevin Coleman was out. So if Coleman returns in Week 5, that's something to monitor — but Wilson is acting like Jerome Bettis' spiritual successor so far.
Monday night finally brings some intrigue with a bounce-back Browns squad facing off against the 3-0 49ers. Mayfield and Jimmy Garoppolo offer similar passing grades, with this total dropping from an opening of 47.5. Check Greenline to see if this was too much and where the best spot resides with the Browns gaining the hook to  -3.5 spread.