The San Francisco 49ers visit the Los Angeles Rams in Week 17 of the 2017 NFL season. PFF previews the top player matchups of the game.

PFFELO Ranking: 24
Coverage by: David Neumann
QB Jimmy Garoppolo on deep passes — Jimmy G has carved up opposing defenses up in the short and intermediate areas since taking over as San Francisco's starting quarterback. On passes traveling 19 yards or less in the air since Week 13, Garoppolo has completed 74.8 percent of his passes (fourth) and averaged 8.9 yards per attempt (first). Perhaps the one thing we have yet to see Garoppolo do over the past four games, however, is to connect on deep throws. When targeting players 20 yards or more downfield, only three of 14 attempts have found their intended target, with two of those completions coming against busted coverages that left players wide open downfield. San Francisco did find some success on deep passes against this Rams defense back in Week 3, completing two of three attempts for 109 yards.
WR Marquise Goodwin vs. CB Trumaine Johnson — Goodwin has been one of the primary beneficiaries of Garoppolo's ascendance over the past month. Pre-Garoppolo, the speedy wideout was used almost exclusively as a deep threat and averaged 1.65 yards per route run, ranking 35th out of 89 qualifying receivers. Goodwin's game has seemingly evolved with Garoppolo at the helm and he's up a full yard per route, averaging 2.66 yards per route run over the past four games, the sixth-best figure during that span. Johnson, who should be lining up across from Goodwin for much of this game, has also been playing well of late. During the past three games, Johnson has allowed a lowly 43.8 percent catch rate into his coverage (14th of 128 defenders with at least 10 targets during that span) while breaking up four passes and keeping receivers out of the end zone.
49ers interior linemen vs. DI Ethan Westbrooks — Westbrooks will attempt to fill the void left by Aaron Donald, who will finish his season with 91 total quarterback pressures, 25 more than any other interior defender. Westbrooks has 15 total QB pressures this year on just 154 pass-rush snaps, and he'll attempt for more against a 49ers interior offensive line that has allowed 96 pressures this season, tied for the seventh-most. Had Donald suited up in Week 17, he would have been pushing to become just the second player in the PFF Era to accumulate 100 pressures.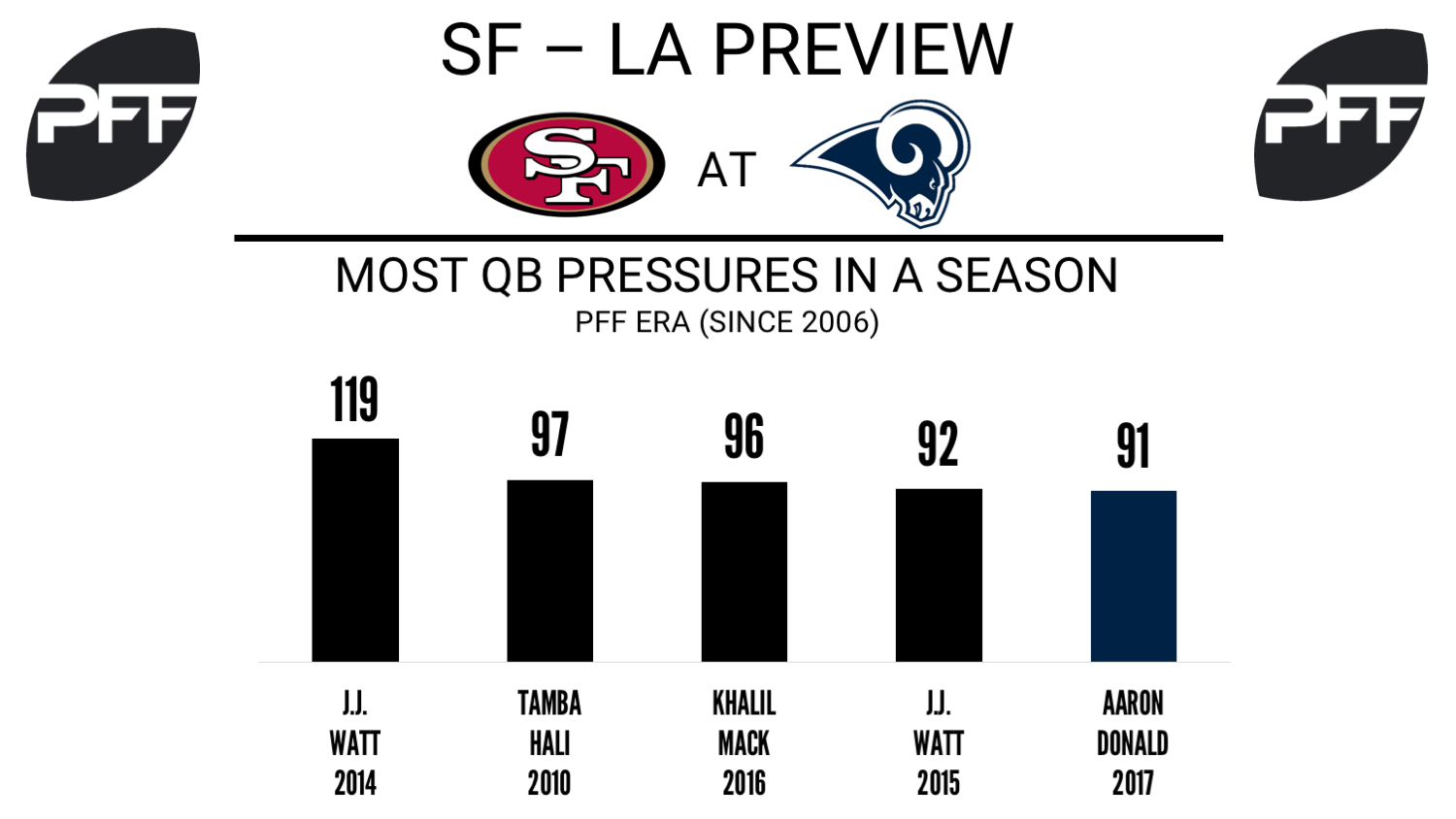 Coverage by: Mike Cahill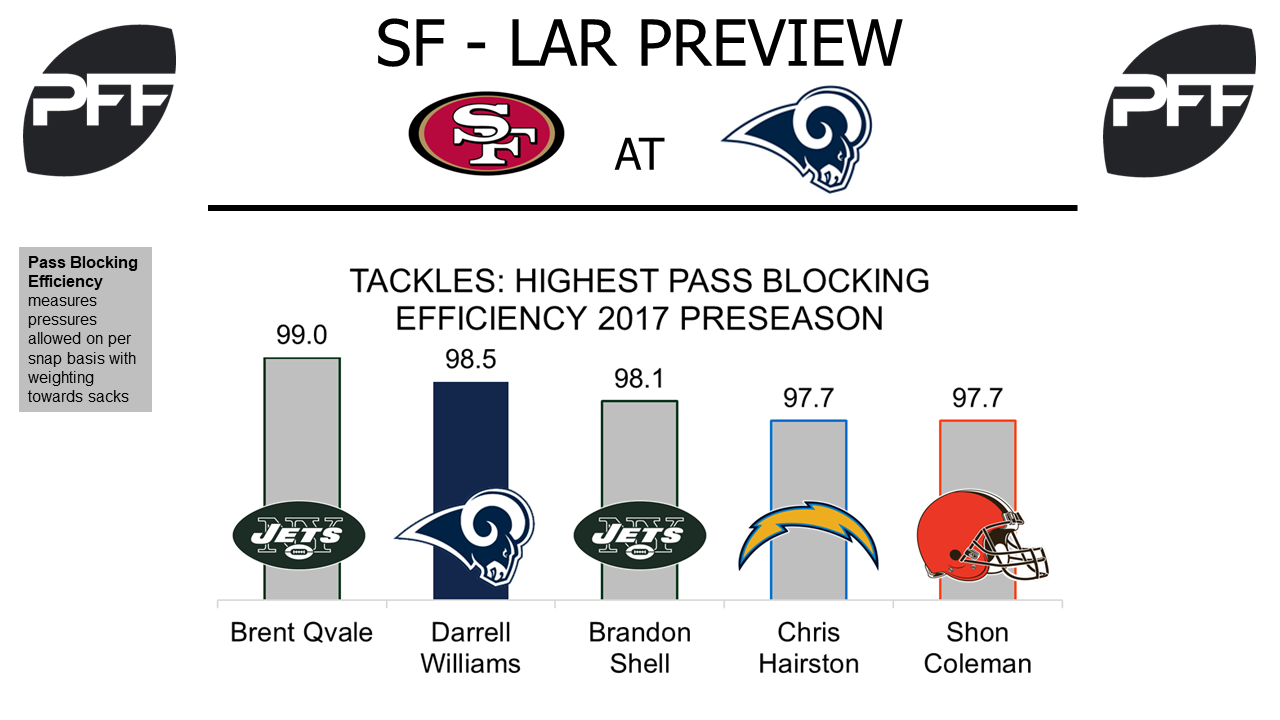 WR Josh Reynolds vs. CB Ahkello Witherspoon – When quarterback Sean Mannion was throwing to Josh Reynolds in the preseason, he targeted him four times on passes of 20 or more yards. Reynolds caught two of those passes for 58 yards and two touchdowns. Since the preseason, he has seen only one such target of 20 or more yards and he did not catch it. Of his other 16 targets, he has caught nine of them for 88 yards, one touchdown, and has generated a wide receiver rating of 87.4, 11th-highest among rookie wide receivers. With Jared Goff most likely resting in the season finale, Reynolds will have his deep shots against rookie cornerback Ahkello Witherspoon. It should be noted, however, that Witherspoon hasn't given up a single touchdown since Week 12 and is currently allowing a passer rating of 66.4 since Week 13. Both Reynolds and Witherspoon were ranked in the top-15 among their respective positions in PFF's 2017 draft guide.
RB Malcolm Brown vs. San Francisco run defense – Brown has been limited to 72 carries between the preseason and regular season in 2017, but has been able force tacklers to miss 12 tackles in the run game and four more in the passing game, while averaging 2.36 yards after contact per attempt. The only three games he has seen double-digit carries came with the Rams having games in hand, but he did average 4.2 yards per carry in such games and forced three of his six missed tackles. Meanwhile, the 49ers defense is tied for sixth-fewest missed tackles over the last five games with 29 combined. On top of that, they have inside linebacker Reuben Foster, who is in his rookie season but owns the third-highest run-defense grade (92.3) among all inside linebackers and has the second-most run stops (21) since Week 9.