The Tampa Bay Buccaneers visit the Carolina Panthers in Week 16 of the 2017 NFL season. PFF previews the top player matchups of the game.

PFFELO Ranking: 26
Coverage by: Bill O'Brien
WR Mike Evans vs. CB Daryl Worley – Buccaneers' wide receiver Mike Evans finally broke his touchdown drought this past week, scoring his first touchdown since Week 7. Evans put together one of his best games of the season by earning the sixth-highest wide receiver rating of Week 15 with a rating of 148.2. The Panthers will look to put his touchdown streak to a quick end by matching cornerback Daryl Worley against Evans. Worley for the most past stays aligned on the defense's left side, so he will not see all of Evans all game. Worley has been the Panthers' best cornerback this season, he has allowed the fewest yards per cover snap (0.88) among Panthers cornerbacks.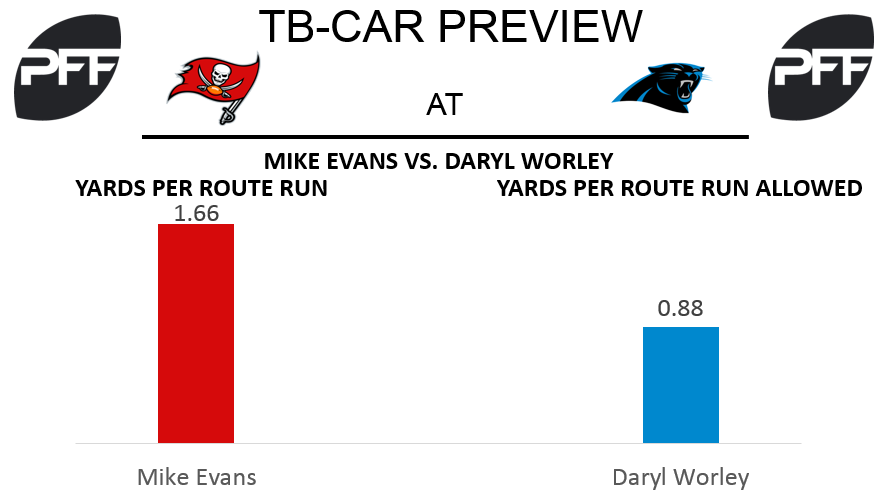 TE Cameron Brate vs. S Mike Adams – The Buccaneers lost rookie tight end O.J. Howard for the season due to injury last week, leaving tight end Cameron Brate as the go-to tight end. Brate has been a solid contributor for the Buccaneers this season and currently ranks sixth among tight ends in overall grade with a grade of 81.0. Panthers' safety Mike Adams will likely see is fair share of Brate. Adams is a capable player in pass coverage and has earned the 17th-highest coverage grade among safeties with a grade of 85.7.
T Donovan Smith vs. Edge Mario Addison – Panthers' edge defender Marion Addison will look to provide help for teammates Mike Adams and Daryl Worley in their matchups by bringing pressure up front. Addison spends the majority of his time rushing from the defensive right side and is having success off the edge this season. Among the Panthers' edge defenders, Addison has earned the highest pass-rush productivity rating with a rating of 10.2. Buccaneers right tackle Donovan Smith will be tasked with trying to stop Addison from providing pressure. Smith has had an up and down season this year and has earned a pass-blocking efficiency rating of 94.7, which ranks tied for 33rd among offensive tackles.

PFFELO Ranking: 10
Coverage by: Mike Manning
RB Christian McCaffrey vs. LB Kwon Alexander – McCaffrey is on pace for 103 targets this season, which would be the second-most for a rookie running back. The former Stanford Cardinal's 90 targets are second-highest by a rookie this season. McCaffrey has been most efficient in the red zone, where he has a passer rating of 124.3 when targeted and has accrued four of his five receiving touchdowns. 11 of those 12 times he was targeted in the red zone, McCaffrey lined up against a linebacker. In Lavonte David's absence last week, the role of coverage linebacker falls onto Alexander and his 20th-ranked 77.9 coverage grade. Alexander allowed 63 receiving yards in 32 coverage snaps against the Falcons, the third-most by a linebacker in Week 15. His tackling has also been lacking this season with 19 missed tackles, tied for the most by any defensive player in 2017.
WR Devin Funchess vs. CB Brent Grimes – Fuchess' has been one of the most targeted receivers in the league and has accounted for 47.3 percent of the Panthers' wide receiver targets since Kelvin Benjamin was traded away. But as of recently, Funchess has had trouble converting those targets into catches, with a catch rate of 48.4 percent since Week 12. But that is partially because only 17 of his 31 targets in that span have been deemed catchable. With his size, Funchess may have an advantage on contested passes over Grimes. Funchess has earned a passer rating 94.7 on contested passes while scoring three touchdowns while Grimes has allowed a passer rating 106.9, including allowing his only touchdown this season, on such passes. That's compared to Grimes' 54.0 passer rating allowed on all non-contested passes thrown his way.
TE Greg Olsen vs. S Chris Conte – Cam Newton's favorite target since coming into the league in 2011, Olsen had his best game of the season in Week 15 with a game grade of 88.1. That was the second-highest game grade by a tight end last week. Olsen's 3.52 yards per route run in Week 15 was his highest since Week 5 of 2016. His grade has jumped up to 76.3 overall this season, the 10th-highest grade by a tight end. In the teams' first matchup Week 8, Conte only allowed two receptions for six yards to Ed Dickson, and has yet to allow a touchdown in 364 coverage snaps this season.