The Carolina Panthers visit the New Orleans Saints in Week 13 of the 2017 NFL season. PFF previews the top player matchups of the game.

Coverage by: Mike Manning
RB Jonathan Stewart vs. DI Sheldon Rankins – Even with Christian McCaffrey improving in his rookie year, Stewart still leads the team in touches 159 to 135, but he has not recorded a reception since Week 6. While Stewart's overall snap percentage played has been under 40 percent in five of the past six weeks, his 50.8 percent of run snaps is a career high. However, his 56.1 rushing grade is the lowest of his career. His 2.5 yards per carry in the A Gap (between guard and center) is the lowest of any gap along the offensive line and lowest on the team. He'll be seeing Rankins and his 71.2 run-defense grade, the lowest along the Saints defensive line. His 3.4 percent run-stop percentage is the 10th-lowest among interior defenders this season.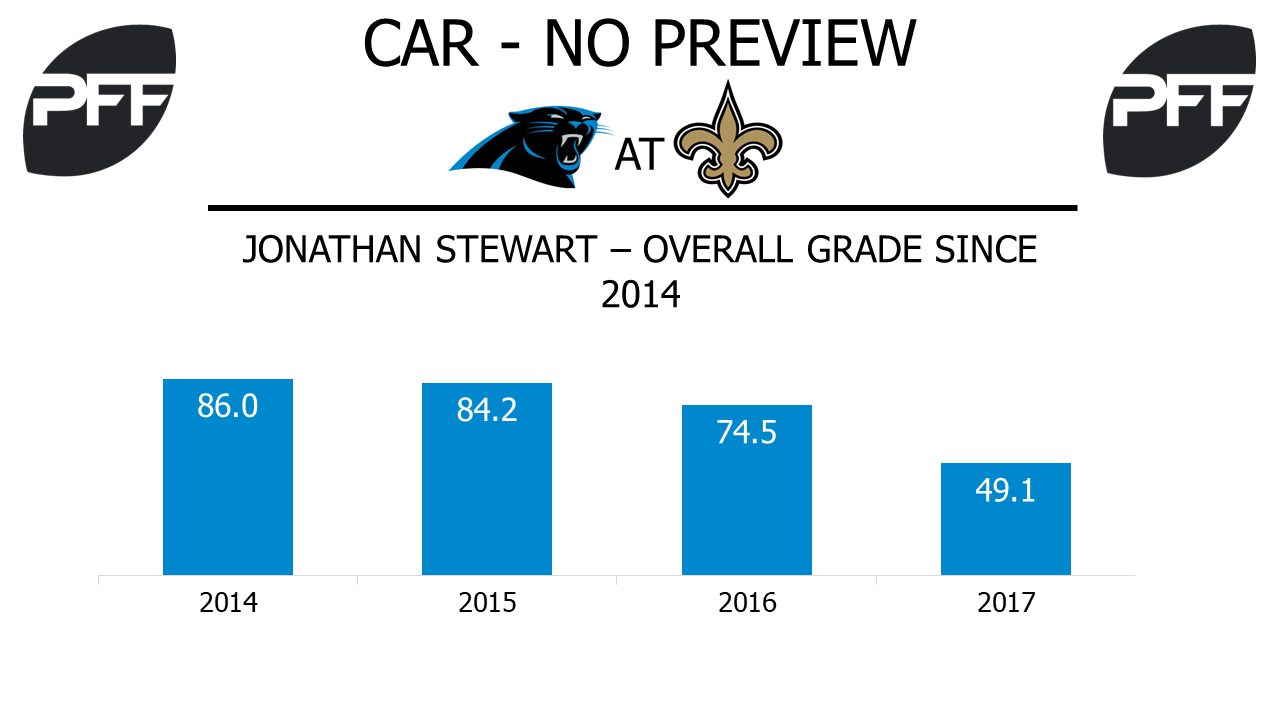 T Daryl Williams vs. Edge Cameron Jordan – Williams is the sixth-highest graded tackle in the league and the third-highest graded right tackle with an 84.2 overall this season. But he has allowed 27 pressures this season, 12 of which have come via an outside move. That is the move that Jordan has used to record 42.3 percent of his 52 pressures this season with, and nine of his 11 sacks have come from over the right side of the offensive line. Jordan is also the highest-graded edge defender in the league this season at 93.4 overall.
WR Russell Shepard vs. S Kenny Vaccaro – Since Curtis Samuel was placed on injured reserve with an ankle injury prior to Week 11, Devin Funchess has accounted for 80 percent of the wide receiver targets and 100 percent of the receptions. None of the targets have gone to Shepard in that span. Shepard has run 78 percent of his routes from the slot but has only been able to account for 0.68 yards per route run from there, the eighth-lowest by a wide receiver this season. Vaccaro has lined up in the slot for 215 coverage snaps this season, allowing a passer rating of 84.2. He has allowed 6.4 yards after the catch per reception from the slot and has the lowest coverage grade among safeties this season with a 36.5 grade.

Coverage by: Andrew Fleischer
QB Drew Brees vs. S Mike Adams – Drew Brees continues to play at an extremely high level; his overall grade of 86.1 through 11 games is the fourth-highest mark among quarterbacks. He leads the league in adjusted completion percentage at 80.1, and he's seventh among quarterbacks in accuracy percentage on deep passes at 46.7. Those deep passes are likely to regularly involve safety Mike Adams as the last line of defense, who's spent 62 percent of his snaps in coverage, and 54 percent of his coverage snaps as the free safety. Adams is allowing only 0.42 yards per snap in coverage, a mark tied for 19th among 61 safeties with 227-plus snaps.
WR Michael Thomas vs. CB Daryl Worley – Michael Thomas has the highest-overall grade among Saints wide receivers at 86.2, which is also the eighth-best grade out of 116 qualifying wide receivers league-wide. His reliable hands continue to be a strength, and his 2.78 drop rate now stands at sixth among wide receivers with at least 60 targets. He's earned the highest game grade among Saints receivers for three consecutive games, and will look to make it a fourth, drawing the primary coverage of Panthers cornerback Daryl Worley. Worley's experiencing a sophomore slump, posting an overall grade of 45.6 through 431 snaps, after posting a 74.1 overall grade on 865 snaps for his rookie year. His tackle efficiency of 3.0 is tied for the third lowest figure among 65 qualifying cornerbacks.
RB Alvin Kamara vs. LB Luke Kuechly – Last week against the Rams, Alvin Kamara's 9 missed tackles forced as a runner and receiver were the most among all running backs. His elusive rating of 122.9 for the season now leads all running backs by a healthy margin, and his overall grade of 87.7 currently stands at No. 3 among 59 qualified running backs. He'll undoubtedly command the attention of linebacker Luke Kuechly, who's overall grade of 93.2 also ranks at No. 3 at his position among 99 eligible linebackers. Kuechly's 38.0 tackle efficiency in the running game is tied for the fourth highest mark out of 63 linebackers with at least 63 run snaps.