Week 11 concludes itself with a potential Super Bowl LIII preview between the Rams and the Chiefs on Monday night. Hopefully, the matchup can hold up to Sunday's exciting slate of games, which treated us to nine of eleven meetings ending in a one score differential as teams jockeyed for a playoff berth, seeding, or just played for pride.
Let's focus on some of the standout offensive players from the day and highlight at least one key signature statistic for each.
[Editor's note: Our signature stats, like our grades, are subject to change upon review. These statistics will become final once the review process is complete, and will be available to all PFF ELITE subscribers]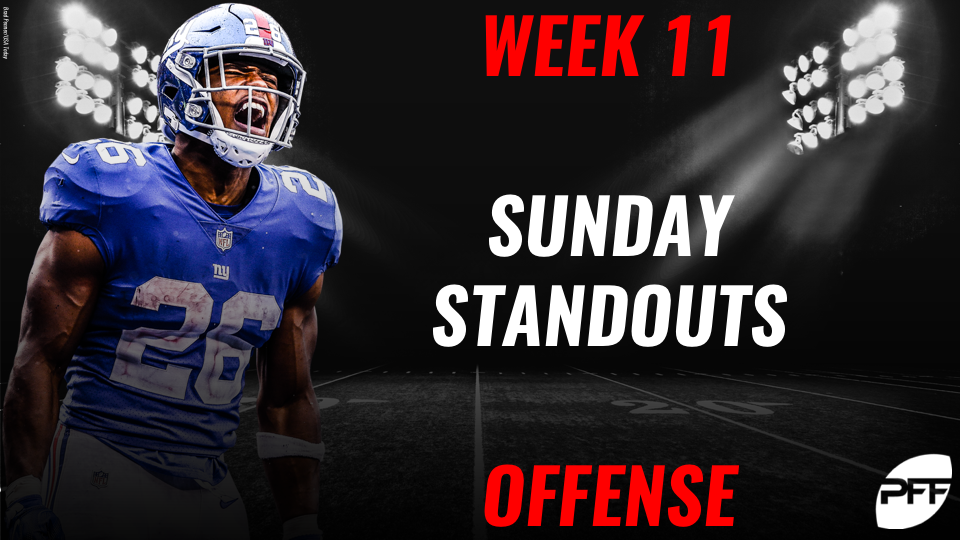 Key signature stat: Generated a perfect WR rating of 158.3
Nine targets, nine receptions, 155 yards and two touchdowns led to a perfect passer rating from Luck when he targeted his number one wideout on Sunday. The Luck-to-Hilton connection was in full effect against a Tennessee Titans' defense that was coming off a very strong performance against the New England Patriots. Hilton's big performance came on just 26 routes run which gave him a league-high 5.96 receiving yards per route.
Key signature stat: Averaged 5.23 yards per route run
As if the likes of Michael Thomas, Alvin Kamara, and Mark Ingram II weren't enough for opposing defenses to worry about, Smith adds another playmaker to the Saints' high-powered offense, and that was on display Sunday. Smith was able to turn his 13 targets into ten receptions for 157 yards and a touchdown. Brees trusted the rookie when he was under pressure, targeting Smith four times in those situations. Smith delivered with three contested catches and three first downs.
Key signature stat: Averaged 5.35 yards after contact per attempt
Edwards doesn't have a household name, but if he strings together more performances like the one he had Sunday, he'll get one. Edwards was a very hard man to bring down, coming away with the highest elusive rating of any running back in the NFL this week. He forced seven missed tackles on rushes to go along with a healthy 5.35 yards after contact per attempt.
Key signature stat: Averaged 2.97 yards per route run
The trade of Golden Tate and the injury to Marvin Jones Jr. thrust Golladay into a featured role. Golladay delivered his best performance of the season in that featured role with eight receptions for 113 receiving yards. He did most of his damage on longer-developing plays as 75 receiving yards and his touchdown came on plays in which the ball was thrown 2.6 seconds or longer after the ball was snapped.
Key signature stat: Averaged 4.59 yards after contact per attempt
Barkley had more rushing yards than any other running back in Week 11, but he certainly had to work for those 142 rushing yards. Of those rushing yards, 124 of them came after contact. In addition, Barkley was able to make defenders miss, as he has all season, with four avoided tackles. Add in a receiving touchdown, and it was a good day in the office for the talented rookie running back.
Key signature stat: Posted a passer rating of 149.7 from a clean pocket
Luck continued his string of good play against the Titans on Sunday, and in turn, the Colts picked up another divisional win for the second straight week. A large contributor to Luck's success has been the improved offensive line that allowed pressure on a league-low ten percent of Luck's dropbacks this week. From a clean pocket, Luck went for 278 yards, three touchdowns, and a passer rating of 149.7.
Key signature stat: Posted a perfect pass-blocking efficiency of 100.0
The Minnesota Vikings have some tough matchups for a center to deal with in Linval Joseph and Sheldon Richardson, and Whitehair proved himself to be up to the task. He did not allow a single pressure in 37 pass-blocking snaps. In addition, he was very effective as a run blocker, contributing to both facets of the game in the Bears' big Sunday night win.
Key signature stat: Generated a perfect WR rating of 158.3
Moore is another example of a rookie wide receiver who is starting to pick up steam as the season progresses. This week, he was able to turn just eight targets into 157 receiving yards and a touchdown. Moore, along with Hilton, was another member of the perfect passer rating when targeted club this week. He was electric after the catch, averaging over 14 yards per reception after the catch to go along with two avoided tackles.
Key signature stat: Posted a passer rating of 140.0 on throws of 20-plus yards downfield
To put it simply, Drew Brees has been the best quarterback in the NFL this season. It was no different on Sunday afternoon as he and the Saints' offense ran through the Philadelphia Eagles' defense at will, just as they have against pretty much every opponent that they've faced this season. The deep ball was Brees' friend this week; he completed five of nine deep attempts for 151 yards and two touchdowns. His 30 percent deep attempt rate led all quarterbacks this week.
TE Antonio Gates, Los Angeles Chargers
Key signature stat: Averaged 4.71 yards per route run
Gates put forth a vintage performance, and easily his best performance of the season, against the Denver Broncos this week. The 38-year-old tight end ran only 17 routes, but he was targeted seven times and put up 80 receiving yards and a touchdown. Gates' 4.71 receiving yards per route run easily led the tight end position this week.