While Sunday saw plenty of huge performances on the defensive side of the ball, that doesn't mean that we didn't see some highlights on offense too. The play of the day, and maybe even the season, came when Washington Redskins wide receiver Maurice Harris reached back for a one-handed grab for a touchdown. Harris doesn't make our Sunday Standouts, though perhaps he should for that grab alone, but let's take a look at the 10 players who did in Week 10.
HB Mark Ingram, New Orleans Saints, 88.5 overall grade
With one of the most dominant rushing performances of the season, it won't surprise anyone to see three members of the New Orleans Saints on this list this week. On 21 carries, Mark Ingram averaged 4.86 yards after contact and forced five missed tackles, good for an elusive rating of 115.6, the fifth-best mark by a running back this week.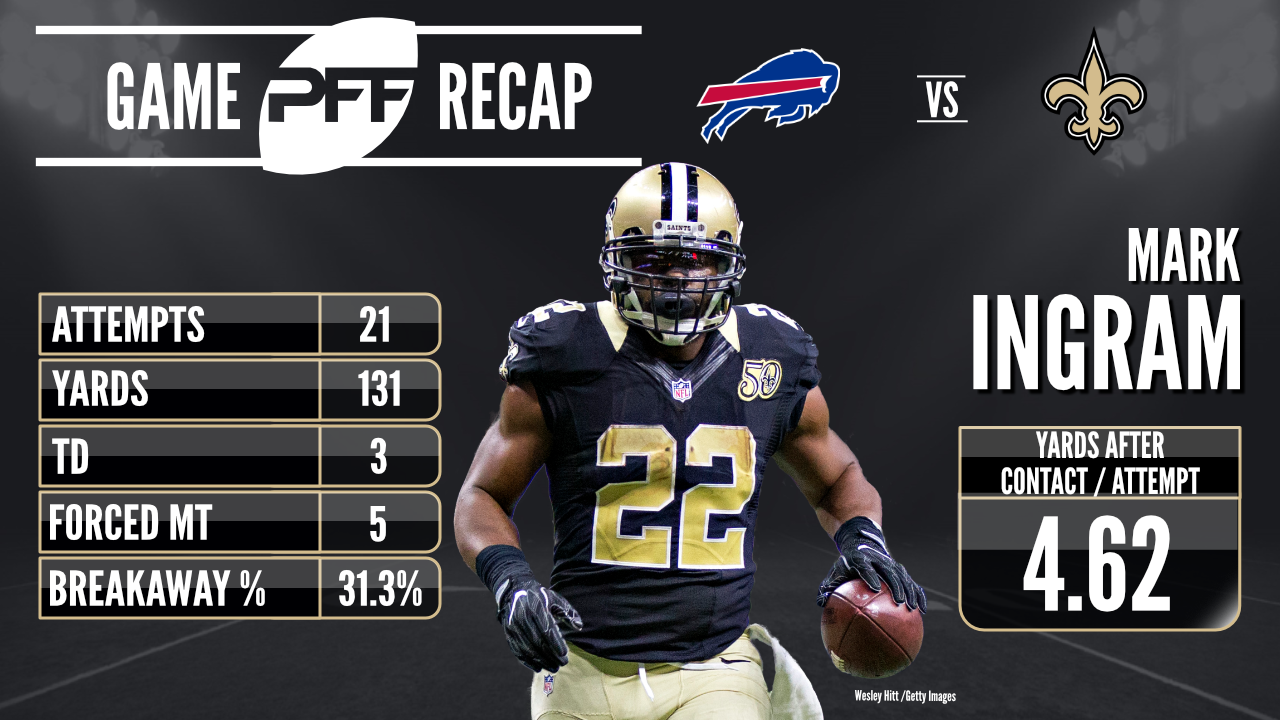 HB Alvin Kamara, New Orleans Saints, 89.1 overall grade
While Ingram had the fifth-best elusive rating, his rookie teammate Alvin Kamara ranked at the top, coming in at 145.1 after forcing eight missed tackles on 17 touches as a runner and a receiver. The duo are arguably the best backfield combination in the NFL right now, and have the Saints rocking towards the postseason.
QB DeShone Kizer, Cleveland Browns, 87.5 overall grade
While the Cleveland Browns came up short in their bid to earn their first win of the season, the play of rookie quarterback DeShone Kizer is something that should give fans hope for the future. Kizer attempted seven passes of 20 yards or longer, and while only two resulted in completions, another two were drops, giving him an adjusted completion percentage of 57.1 percent.
G Ron Leary, Denver Broncos, 90.1 overall grade
Even though Denver Broncos guard Ron Leary wasn't perfect in pass protection on Sunday night, he wasn't far away from it, allowing just one hurry from 33 pass blocking snaps. That gave him a pass blocking efficiency rating of 97.7, and he impressed against the run too, producing a PFF run blocking grade of 90.7.
WR Emmanuel Sanders, Denver Broncos, 89.4 overall grade
It was a big day for pass-catchers around the NFL, and while the Broncos couldn't pick up the win against the Patriots, wide receiver Emmanuel Sanders still impressed. Picking up 137 yards from 32 snaps in route, Sanders produced a yards per route run average of 4.28.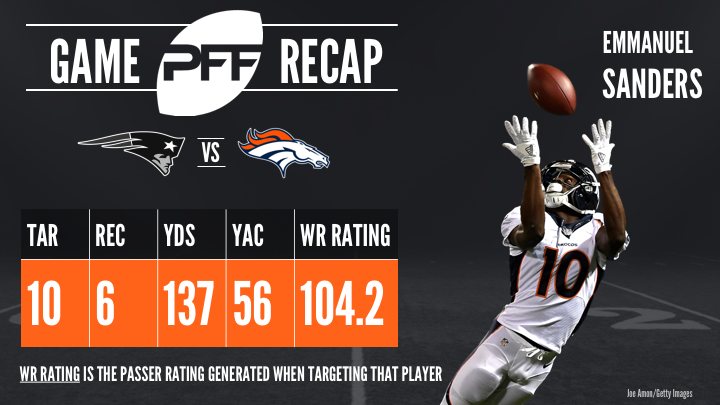 WR Sterling Shepard, New York Giants, 89.9 overall grade
We were high on New York Giants wide receiver Sterling Shepard coming into the NFL, and yesterday he produced arguably his best performance since arriving in the league. Targeted 12 times, Shepard produced a 3.55 yards per route run average, with 142 yards from 40 snaps in route. Given the injuries to the Giants receivers this season, there's every chance that we'll see more big games from him as the year goes on.
WR Adam Thielen, Minnesota Vikings, 93.6 overall grade
Minnesota Vikings wide receiver Adam Thielen is having an impressive season, and his performance in the win over the Washington Redskins on Sunday was arguably the best performance of his career. Racking up an impressive 6.15 yards per route run, Thielen was ridiculously efficient for the Vikings.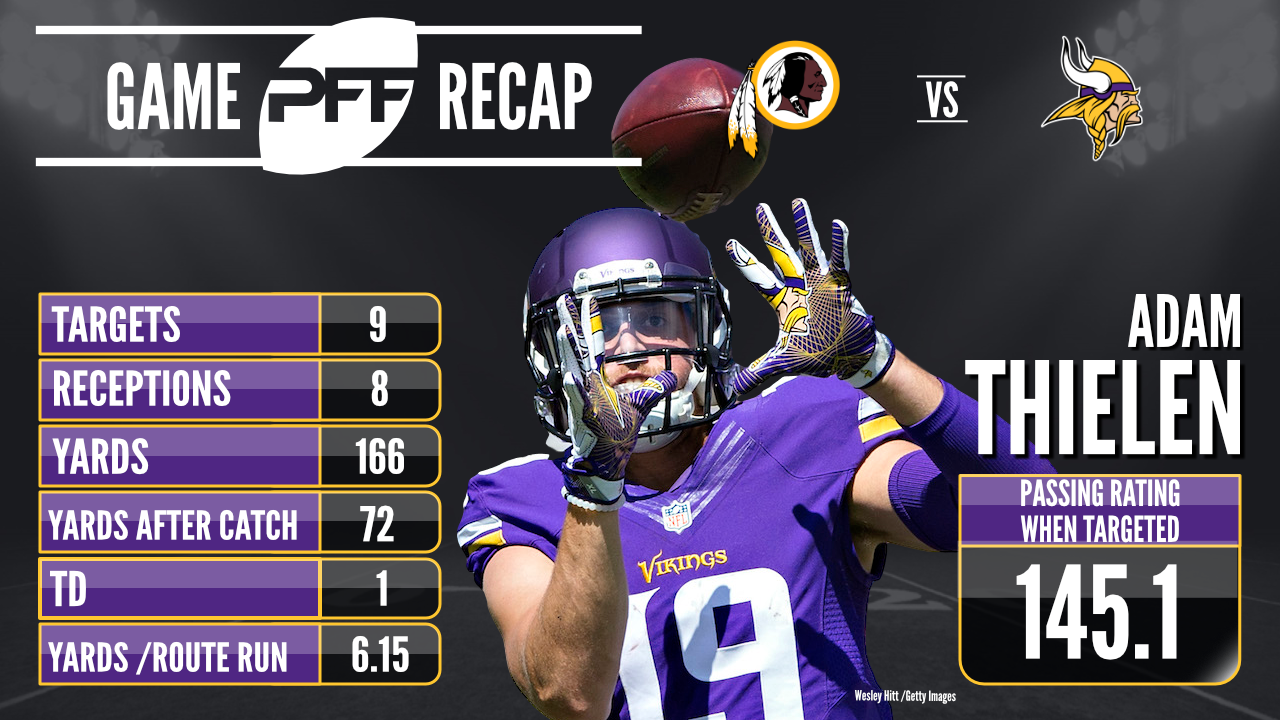 G Joe Thuney, New England Patriots, 88.7 overall grade
Joe Thuney didn't allow a single sack, hit or hurry from 38 pass blocking snaps on Sunday Night Football, giving him a perfect pass blocking efficiency rating. He also exceled as a run blocker, with an 89.8 PFF run blocking grade in the New England Patriots win.
G Larry Warford, New Orleans Saints, 87.5 overall grade
While Ingram and Kamara attracted the headlines, guard Larry Warford had an outstanding game blocking for them. His PFF run blocking grade of 90.3 so far trails only Leary among guards this week, something which should give Saints fans hope that their running game can keep churning late in the year.
WR Robert Woods, Los Angeles Rams, 87.5 overall grade
The Los Angeles Rams offense continues to be one of the most exciting units to watch in the NFL, and that continued yesterday with wide receiver Robert Woods' big performance in the win over the Houston Texans. Fueled by a 94-yard touchdown reception, his 4.75 yards per route run average ranked second behind only Thielen this week.