Secret Superstars is our weekly feature where we'll be highlighting great play from under-the-radar players.

While we'll give most weight to performance in the week just gone, an out-of-the-blue game isn't going to sway us too much. We are looking for some degree of confidence this wasn't just a one-off thing, whether it be played in other games this year, in college, etc.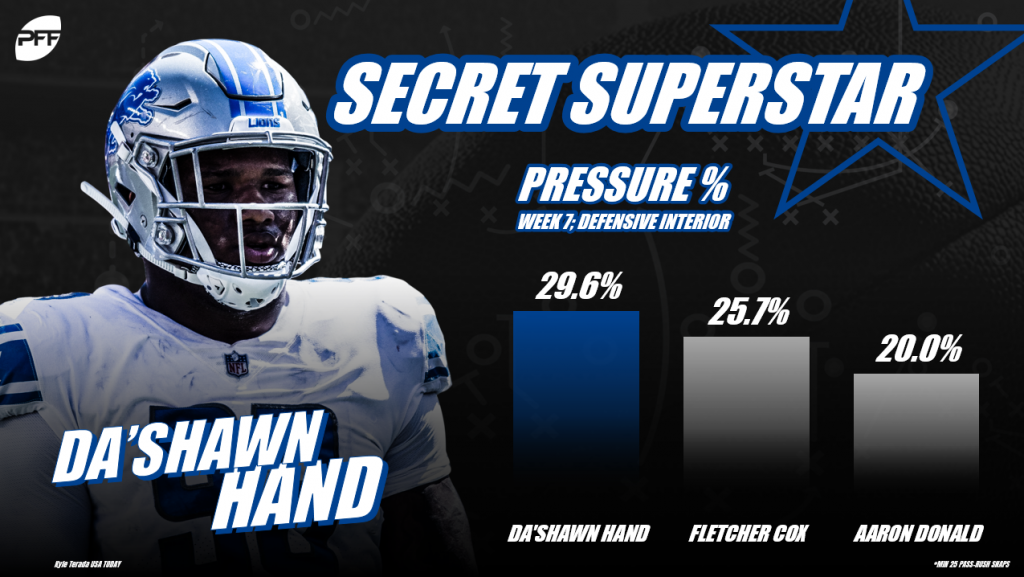 Da'Shawn Hand, DI, Detroit Lions
Week 7 Grade: 89.9
Rookie fourth-round pick Da'Shawn Hand has flown under the radar as one of the NFL's top defenders through seven weeks, earning 77.0-plus single-game grades in five of his six games so far this season. And in Week 7, Hand took his strong start in the big leagues to the next level.
Hand logged a career-high eight total pressures (all hurries) against the Miami Dolphins on Sunday, earning an elite 90.0 pass-rush grade in the process. He has now totaled 15 pressures in his 137 pass-rush snaps this season and ranks T-10th in pass-rush productivity (6.7) among qualifiers at his position. His 89.6 overall grade so far this season now leads all rookie defenders with 100-plus snaps on the year.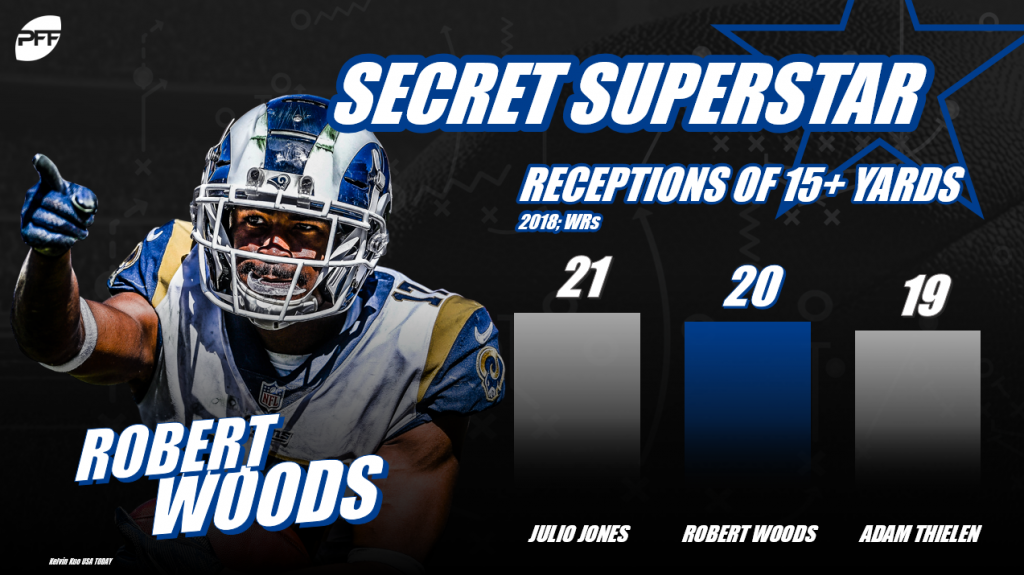 Week 7 Grade: 78.9
The Rams' offense is loaded with talent top to bottom, allowing Robert Woods to still be one of the league's best well-kept secrets through Week 7. Earning another strong single-game grade (78.9) against the San Francisco 49ers, Woods now ranks fifth in the NFL among wide receivers with 30-plus targets in overall grade (87.6) after failing to earn an overall grade above 81.0 in his previous five NFL seasons.
Woods is more than capable of turning passes at the short and intermediate levels into big plays with his yards-after-the-catch ability and can stretch any defense deep down the field with his elite speed. He ranks second behind Julio Jones in total receptions of 15-plus yards (20) and ranks tied for fifth in first-down receptions (32).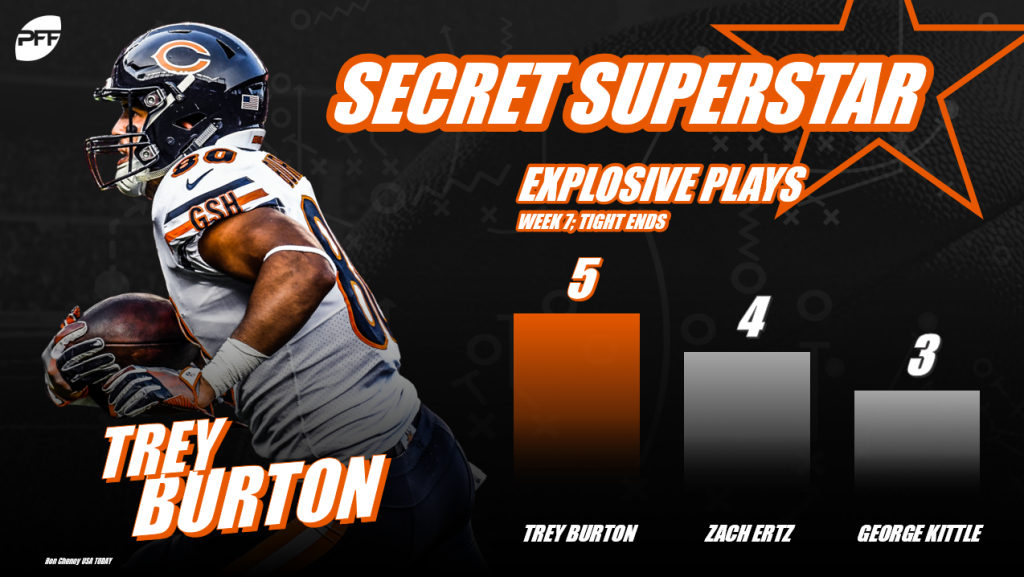 Week 7 Grade: 84.5
Bears' Trey Burton took a page out of Woods' book in Week 7, as he earned 15-plus yards on five receptions this weekend – the most among all tight ends. He turned in easily best performance as a Bear, earning a season-highs in overall grade (84.5), first-down receptions (seven) and yards per route run (2.47).
Now seven weeks into the season, Burton ranks sixth in overall grade (75.9) and third in run-block grade (77.0). If he can continue to turn in performances as he did in Week 7, his 15th-ranked receiving grade (71.0) is bound to improve, as well.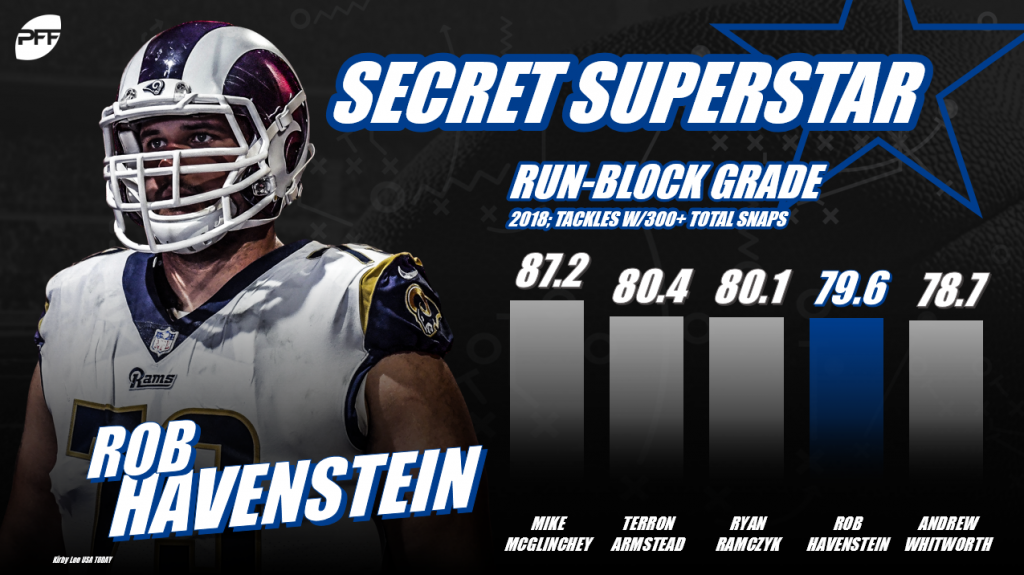 Week 7 Grade: 62.0
Rob Havenstein, like Woods, can be easily overlooked in a Rams' offense overloaded with superstars. And while he didn't have his best game yet in Week 7 (62.0 single-game grade), Havenstein has still proven to be one of the league's best offensive tackles so far this season.
Havenstein's 80.4 overall grade ranks sixth among all qualifying offensive tackles so far this season, and his 79.6 run-block grade ranks fourth. The former Wisconsin product has also allowed just 11 total pressures in pass protection, ranking T-18th among offensive tackles with at least 150 pass-block snaps this season.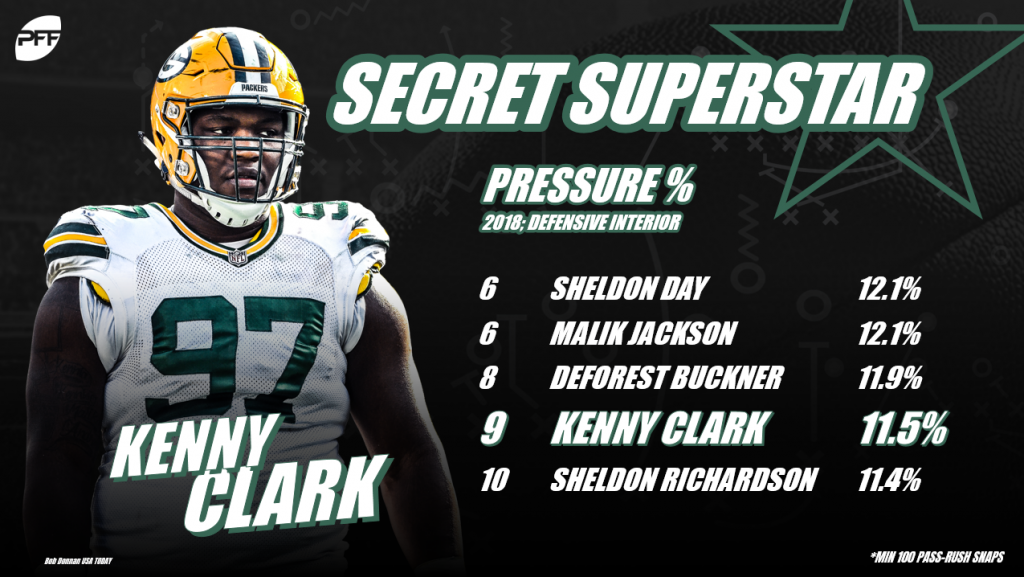 Week 7 Grade: —
Mike Daniels has been one of the league's best defensive interiors in the NFL over the years, but he may be passing the torch to the younger UCLA product at his side, Kenny Clark.
The Packers' bye week is a good opportunity to highlight Clark, a defensive interior that simply doesn't get enough love for his play down in the trenches. Clark's 90.4 overall grade ranks fourth among players at his position with at least 150 defensive snaps this season, a figure largely propped up by his play as a pass-rusher. He ranks tied for eighth among qualifiers in pass-rush productivity (12.4) through seven weeks.