Secret Superstars is our weekly feature where we'll be highlighting great play in the previous week's games from under-the-radar players.

Last week, we chose five players from losing teams and while that isn't the case this week we still have three guys who did well despite being on the wrong side of the scoreboard.
Byron Jones, CB, Dallas Cowboys
Week 2 grade: 83.9
This year, Jones completed his four-year tour of the Cowboys secondary by taking up a role he'd only flirted with previously: outside cornerback. In Weeks 11, 12 and 13 of his rookie year (2015), he played ostensibly on the outside but that was it as he stayed at free safety in Year 2 and then, last year, moved into more of a hybrid box safety/slot corner position. It's probably not unexpected, therefore, his performance over that period could best be labeled "good but inconsistent." Since being drafted, he has played more defensive snaps for Dallas than any other player and graded a very sound 74.9 overall but you always got the feeling there was more in the tank.
Playing exclusively right corner so far, Jones is showing that very much to be the case and was particularly good against the Giants on Sunday Night Football. Targeted five times, he allowed only one reception for zero yards and a passer rating against of 39.6. He's currently our second-ranked cornerback but a few more weeks like those just gone and his "secret" is out-of-the-bag.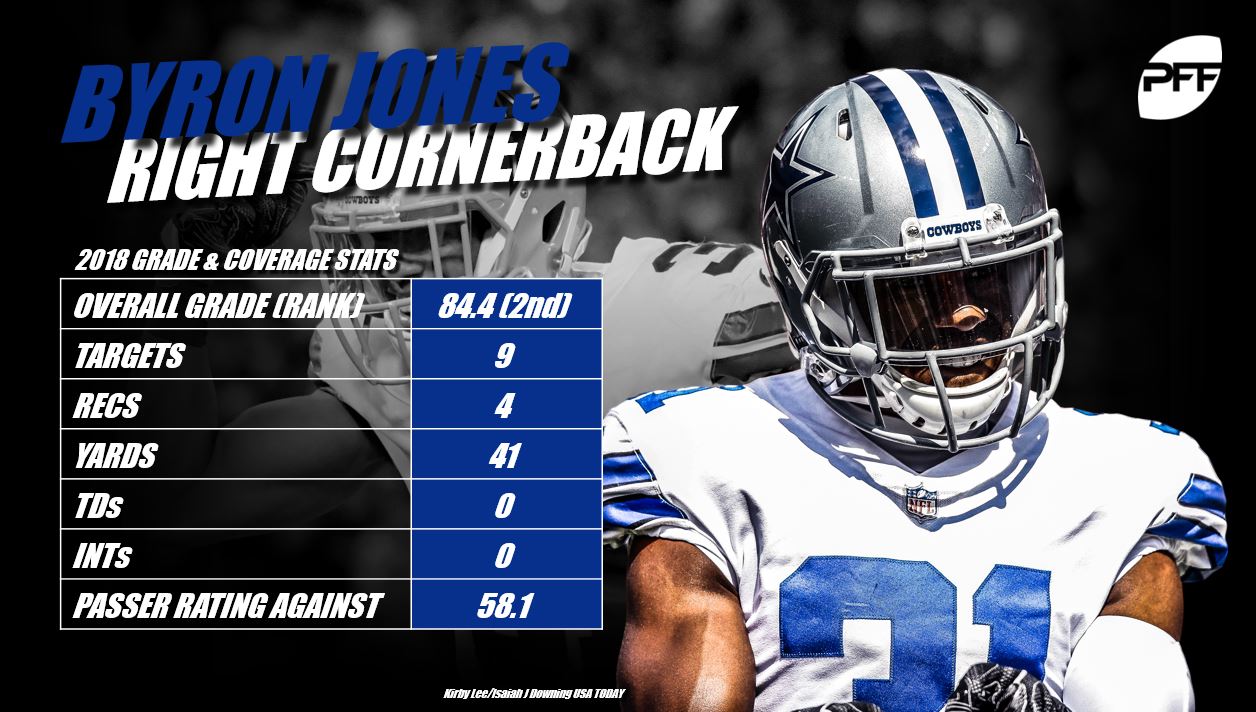 Kenny Golladay, WR, Detroit Lions
Week 2 grade: 77.2
Highlights for the Lions are currently few and far between but Golladay's emergence is certainly one. He first burst to prominence with an excellent rookie preseason debut at Indianapolis, catching three balls for 53 yards and a couple of touchdowns as well as a PFF game grade of 91.8. With expectations that high, things never quite worked out as he flashed occasionally but often underwhelmed during 2017 and ended the year with a PFF grade of 66.9. The hope was there though, his yards per route run of 1.66 was good enough for 35th of 107 qualifying receivers and this statistic has always been an excellent indicator of production going forward.
And so it has transpired to date: Golladay is currently 15th in our receiving grades with a 79.6 grade and already has 43 percent of the yardage he gained in total last year.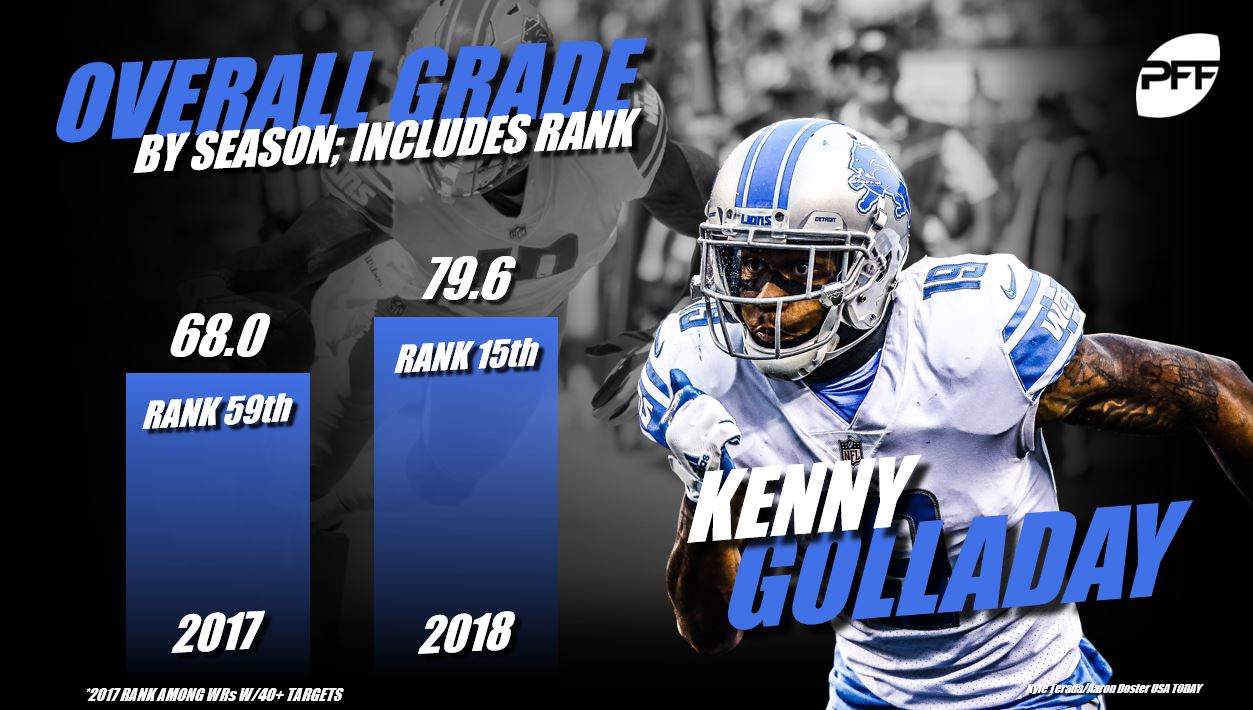 Zach Brown, LB, Washington Redskins
Week 2 grade: 78.3
Brown has always been one of those players whose ability should have dictated more production. He's got the size and more particularly the speed to excel in every facet of his position but for whatever reason, in his six seasons prior to this year, he's never graded higher than his 2016 grade of 75.6. It's not that he hasn't been good at certain aspects of play but rather more of the fact that he's never been able to tie them all together. Up until last year, you'd probably categorize him as a decent coverage linebacker who didn't do enough as a run defender who then saw a spike with his 2017 run-defense grade (81.2) but was let down by poor coverage grade (a 38.0 including five touchdowns allowed).
So far, he's managed to tie those two things together and as a result is our fourth-ranked linebacker and has yet to miss a tackle while being involved in 12 attempts. Is this finally the season where performance reflects talent?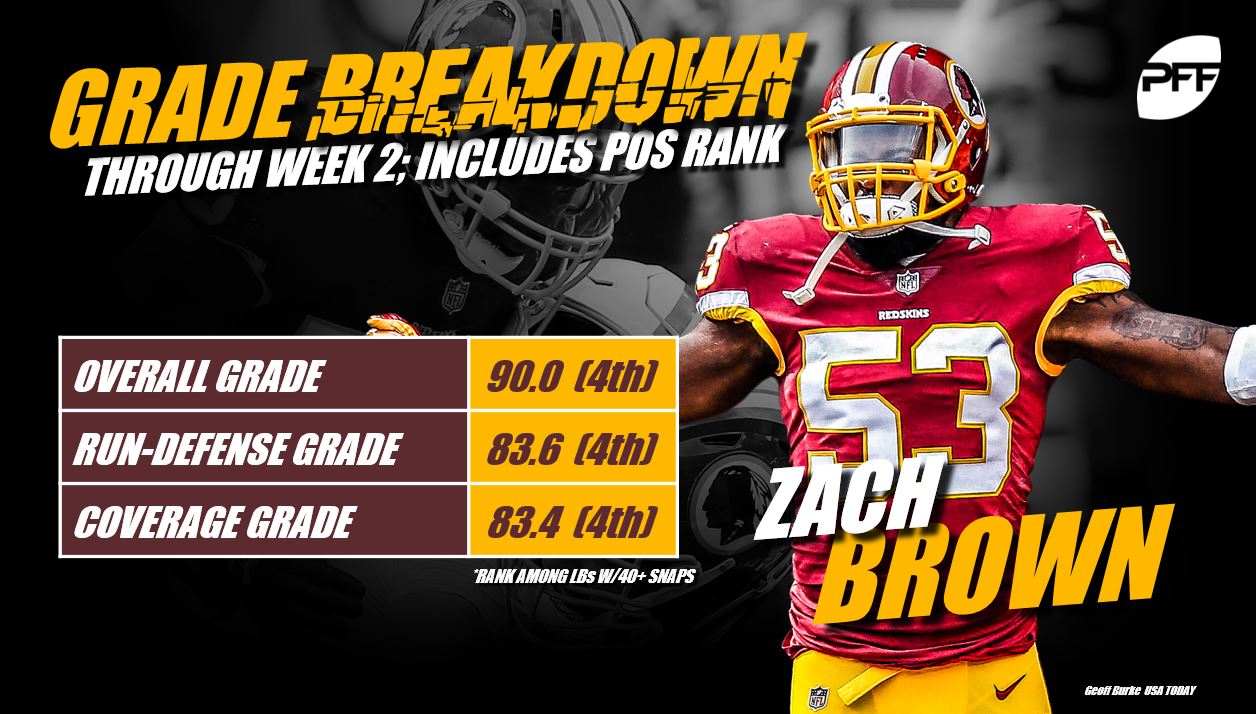 Luke Stocker, TE, Tennessee Titans
Week 2 grade: 81.2
So, this week Stocker is our low sample-size gamble (it paid off very well with Austin Ekeler last week so let's roll the dice again). He's only averaged 31 offensive plays a game but done enough in those snaps to rank as our seventh overall tight end. It's hard to reconcile that this is his eighth season in the league but regardless, here he is with the unfortunate injury to Delaine Walker giving him a late opportunity to make the mark he's not done so far. He's hung around the league so long because up until late, he been a pretty decent blocker but if he can add the receiving dynamic (as he's done so far by catching all four passes thrown his way) he may well enjoy a career year.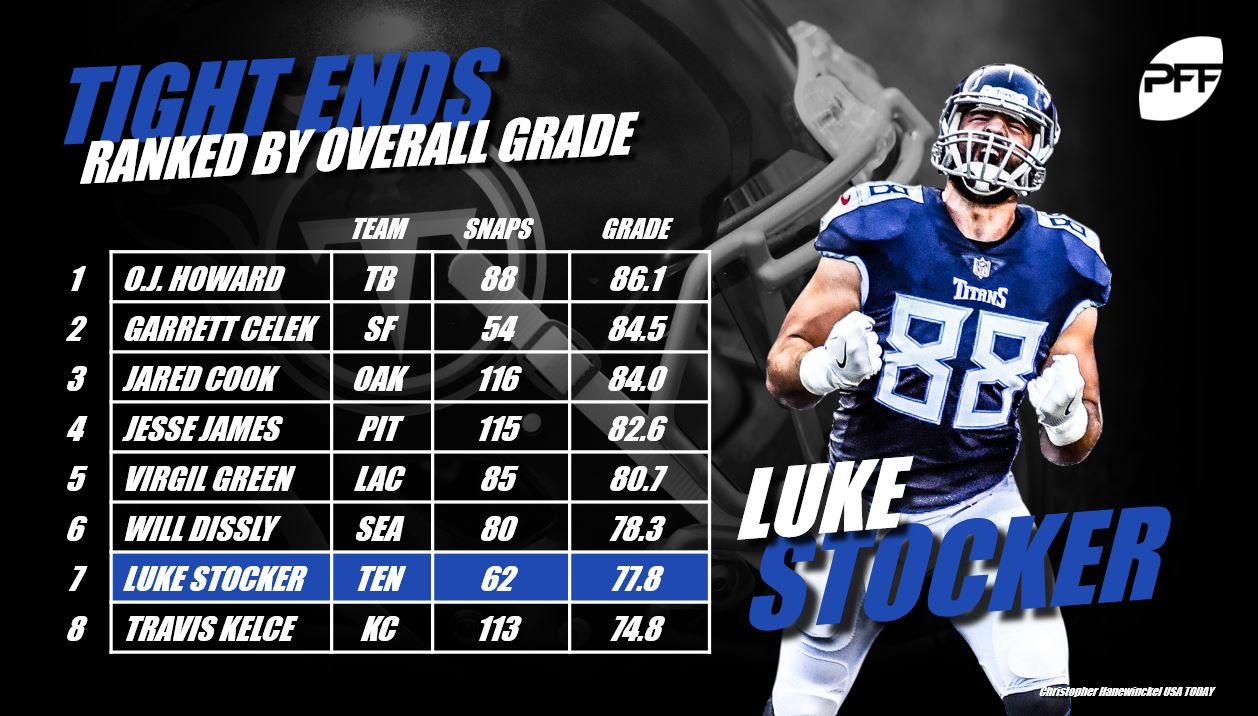 Lawrence Guy, DI, New England Patriots

Week 2 grade: 89.2
Guy is another player that's been around for a while (since 2012) without making much noise. He's never played fewer than 208 snaps in a season and in that time, graded a 69.9 almost entirely predicated on his 73.5 run-defense grade. Sure he's got to the quarterback on occasion but his 90-plus career pressures look more like a season's worth for Aaron Donald. So, if run defense is what you do why don't you just stick to that and sprinkle in a few more pressures than expected? Well, that's exactly what he's done so far, making seven tackles, all of them stops and throwing in a hit and a couple of hurries for good measure. That run-stop percentage by the way ranks first among interior defensive linemen with over 20 snaps.