This season, Secret Superstars will be our new weekly feature where we'll highlight great play from the previous week's games from under-the-radar players across the NFL. While we highlighted secret superstars to watch on offense and defense before the season, these players will be stars on a weekly basis for every week of the 2018 NFL regular season.

On this occasion, the five guys we've chosen to highlight all came from losing teams so perhaps they got even less attention than normal.
Week 1 grade: 88.7
The rookie out of BYU started and played every snap at middle linebacker, grading out as our eighth-ranked linebacker this past week. That's an awfully good resume for your first game in the NFL. He plays a lot faster than the 4.64 40-yard dash he ran at the combine and was all over the field, making six tackles against the run and another three in coverage as well as forcing a fumble on Dalvin Cook. It's pass defense which may well be his forte with his five targets resulting in a pass breakup, another where if he didn't actually touch it, he was only a fingertip away from the ball and three receptions for only 19 yards. He wasn't perfect, 14 of those yards came when he ended up on Adam Thielen which (hardly a major crime) and did get enveloped at times by offensive linemen when attacking the line of scrimmage. Regardless, this was about as encouraging a first outing as one could hope and he'll look to form what could be one of the better duos in the league with Reuben Foster upon his return from suspension.
Week 1 grade: 83.7 
This week, Leno Jr. was our third-ranked tackle and we saw this as a good opportunity to highlight a player that is often overlooked when talking about the best players at their position. For the most part, he's improved in every year of his career and, if Week 1 is any indication, this may be the year he makes the step to the next level. For the avoidance of doubt let's make it clear that ranking as 13th-best tackle in football, as he did last year, is already rarified air.
Against the Packers, he allowed only two hurries on 43 pass-blocking snaps and graded 77.9 as a run-blocker.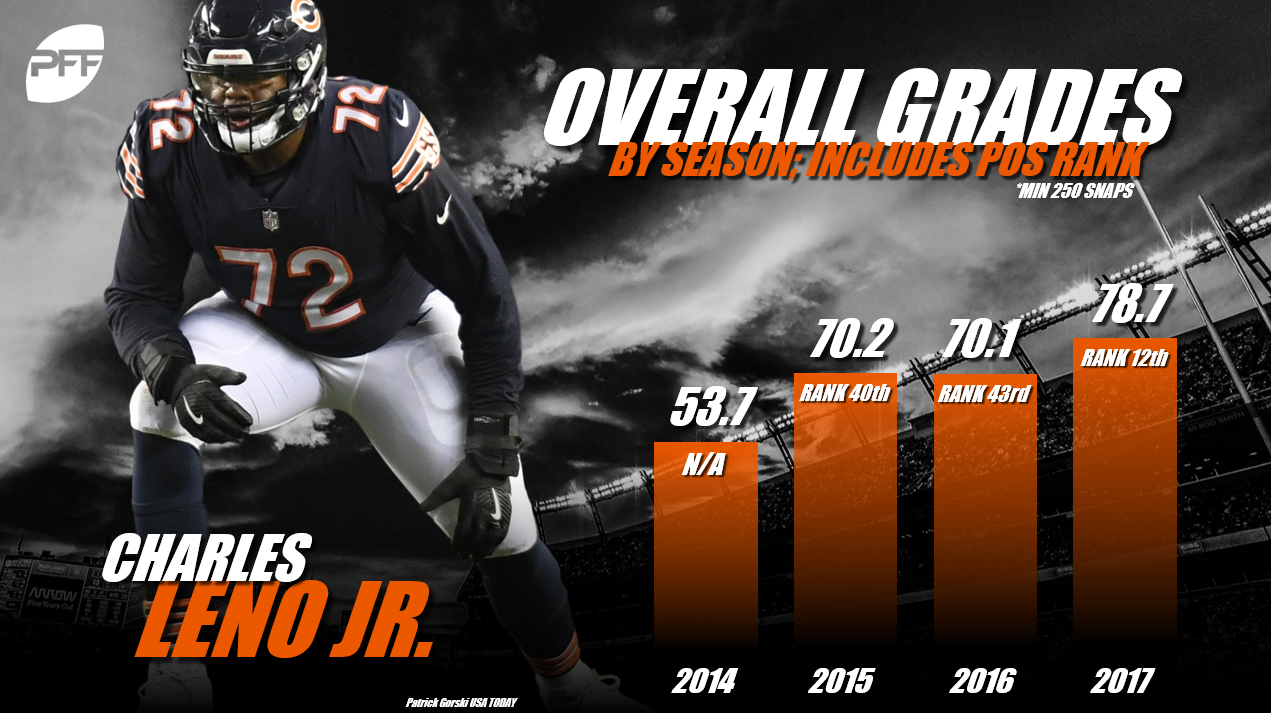 Week 1 grade: 84.2 
McDougald isn't unfamiliar being a full-time starter. He played over 1,000 snaps for the Buccaneers (starting every game) back in 2016 but he was always slated to play second fiddle behind Kam Chancellor and Earl Thomas when he came to the Seahawks as a free agent in 2017. Injury then took a hand and he ended up starting from Week 9 and playing well. He graded an extremely creditable 73.5 particularly excelling in coverage with an 82.0 grade in that facet of play. The game against the Broncos was a microcosm of his 2017 campaign, showing excellent coverage with a weakness in run defense. His two interceptions were both brilliant plays, but it would be unfair not to mention how easily he was pushed around by Demaryius Thomas in the running game on occasion.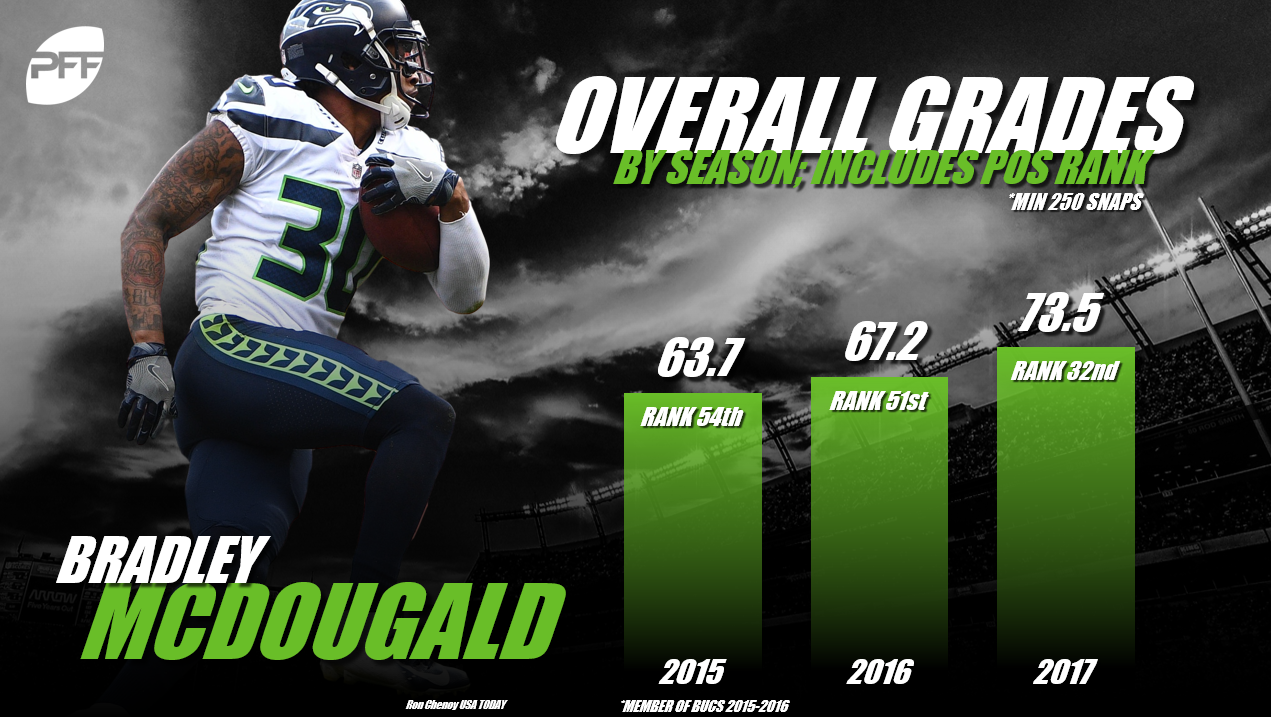 The next two players might have been in our Team of the Week but for limited snaps. Their grades were both in the area north of 90.0, including our only skill player represented here:
Week 1 grade: 91.2 
Ekeler was only on the field for 22 snaps but was so dominant in that time he rated a 93.1 grade as a receiver and 85.1 as a rusher. Whether it was making the Chiefs regret leaving a linebacker on him on his touchdown grab or lowering his shoulder to bowl over a player the caliber of Reggie Ragland, he made the most of nearly every one of his snaps. When they lined him up wide left, he blew past Steven Nelson easily enough that if Philip Rivers had not underthrown the ball, he'd probably have had another score. If there was a minor grumble, the body check he threw at edge rusher Terrence Smith in pass protection could best be described as lackadaisical.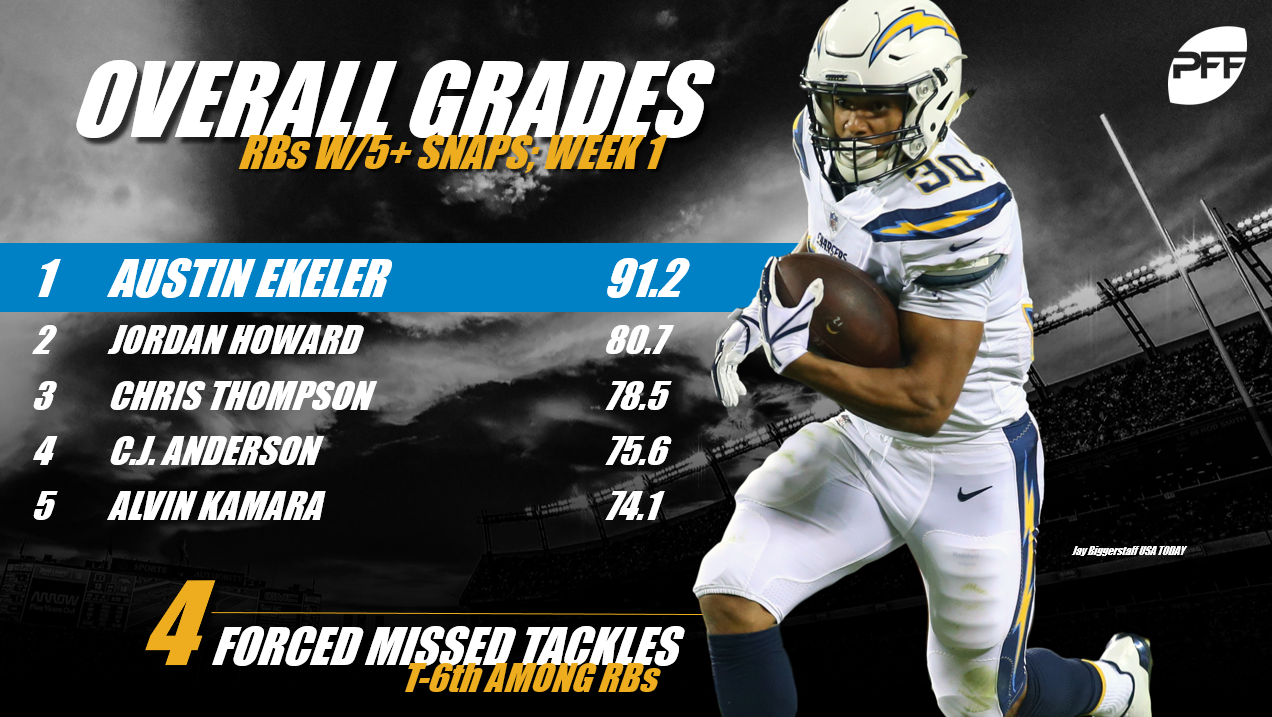 Week 1 grade: 94.9 
Ross was actually our highest-graded defender across the entire league in Week 1, just pipping out Darron Lee (94.5) who was brilliant on Monday Night Football. However, with only 17 snaps, that's not enough for Team of the Week honors but does warrant a position on this list. Clearly, a large part of that grade was built on his forced fumble that kept the Cowboys in the game but it wasn't just the fact of making that play. Consider the player he blew past to get so quickly into the backfield was RG Trai Turner. This is some reward for the Cowboys keeping him around despite a very lackluster end to 2017 where his run defense was very suspect. Obviously, the Cowboys need this to be more than a handle of high-quality reps going forward and what better place to start than on Sunday Night against the Giants.