PFF Analysts Steve Palazzolo and Zac Robinson give you an overview of every team's quarterback, and where they rank in terms of overall PFF grade as well as detailed notes on a select few who stood out for good, or bad, reasons in Week 10. These rankings are based on their overall grades after Week 10, and can be found as a part of the PFF Edge subscription.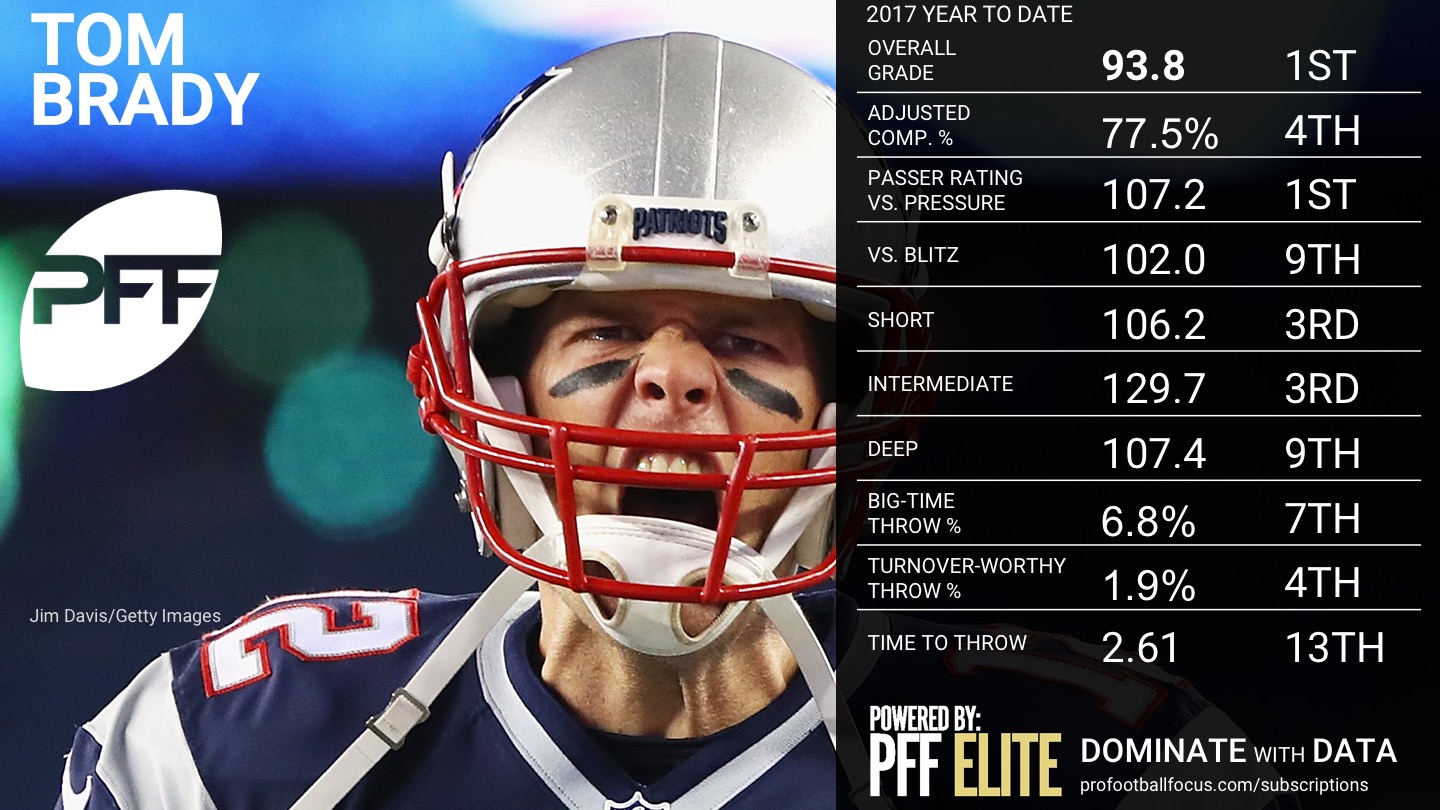 Brady was sharp throughout the game, exploiting matchups and executing the New England offense at a high level. He was only pressured on eight of his 35 dropbacks, but he finished 6-for-7 for 89 yards and a score, good for a perfect 158.3 passer rating. The Patriots have had some uncharacteristic red zone struggles this season, but Brady's short-area accuracy was on display on all three red zone touchdown passes, particularly his 11-yarder to Dwayne Allen that was perfectly placed up and away from coverage. For the game, Brady finished 12-for-14 for 159 yards and a touchdown on passes thrown in between the numbers.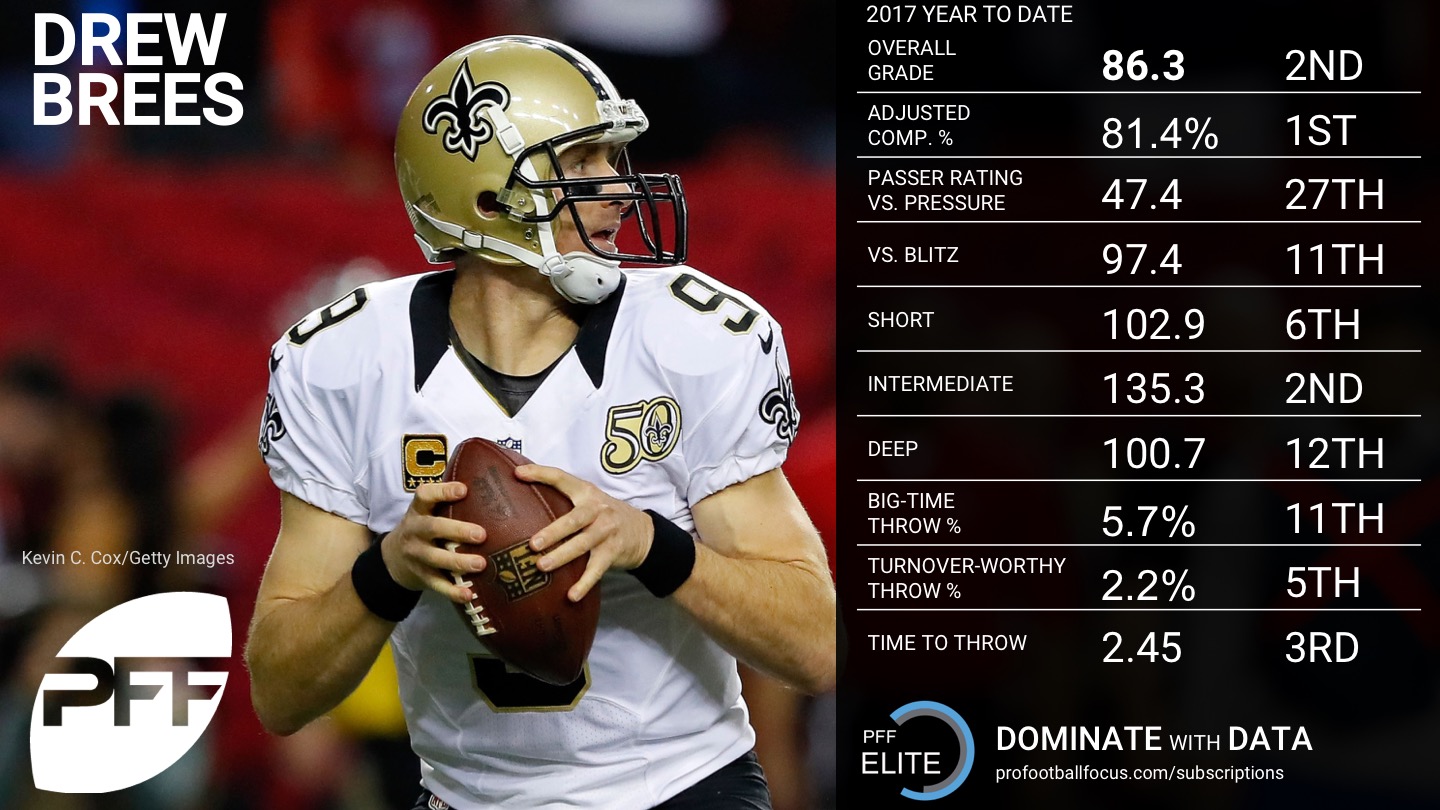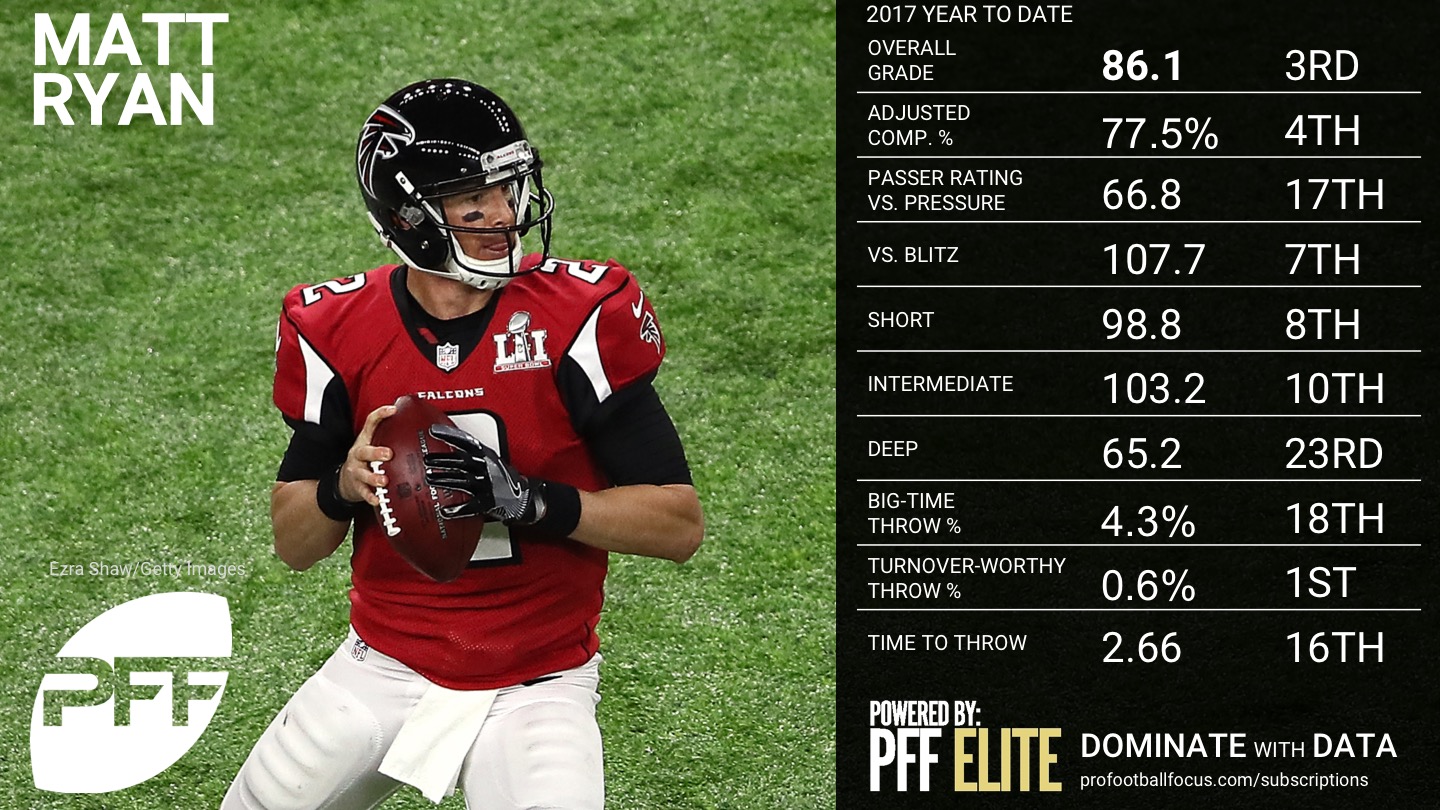 Our No. 2-graded quarterback since Week 6, Ryan continued his hot play with a clean game against the Cowboys. His first pass was intercepted on a tipped pass that normally falls incomplete, and that continues Ryan's trend of unlucky interceptions. He's actually been the best in the league at avoiding turnover-worthy plays, so don't let those eight interceptions fool you. Against Dallas, Ryan maneuvered the pocket, moved the chains on third down, and showed off his red zone accuracy with a well-placed ball in the back of the end zone for his second touchdown of the day. Ryan finished 13-for-13 for 133 yards and a score on passes in between the numbers.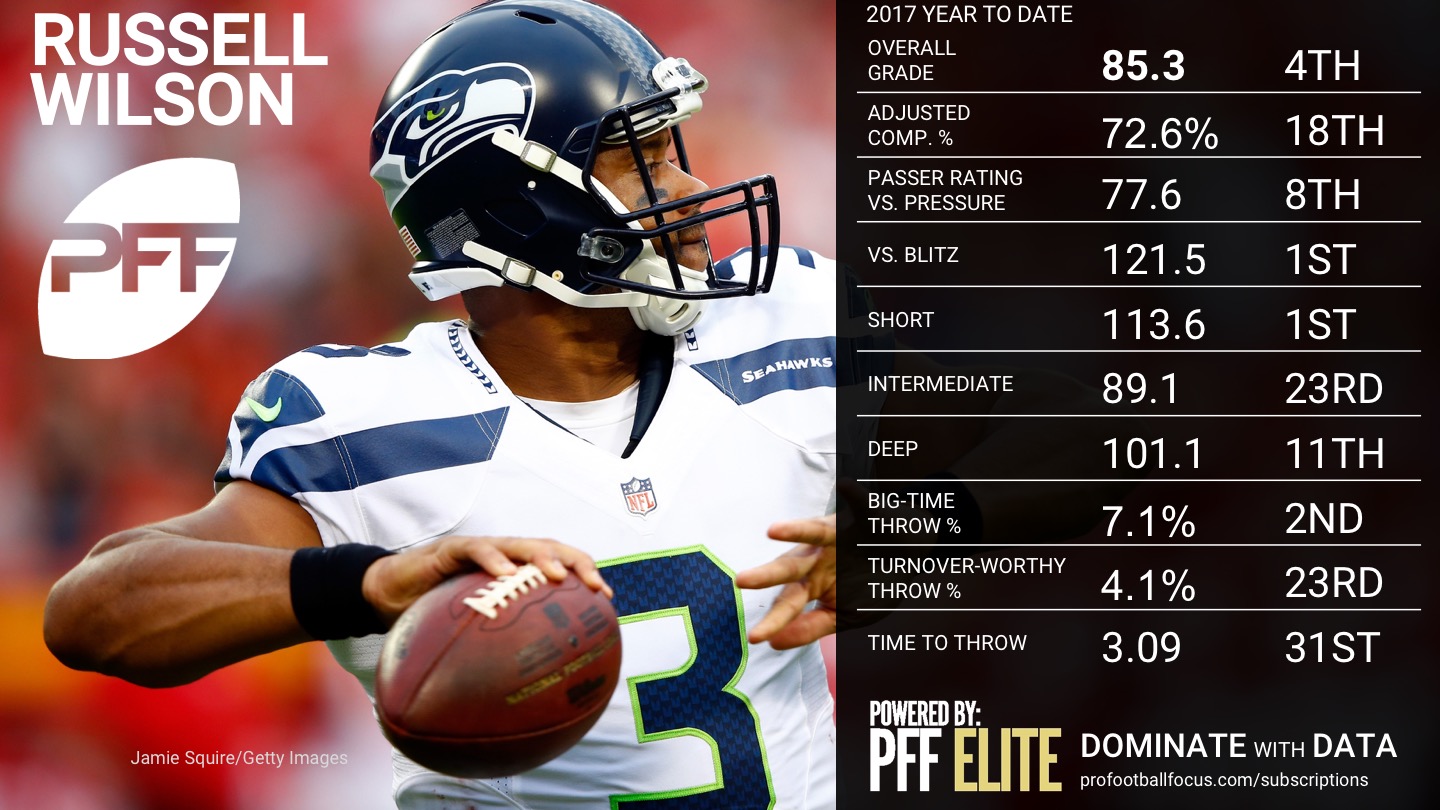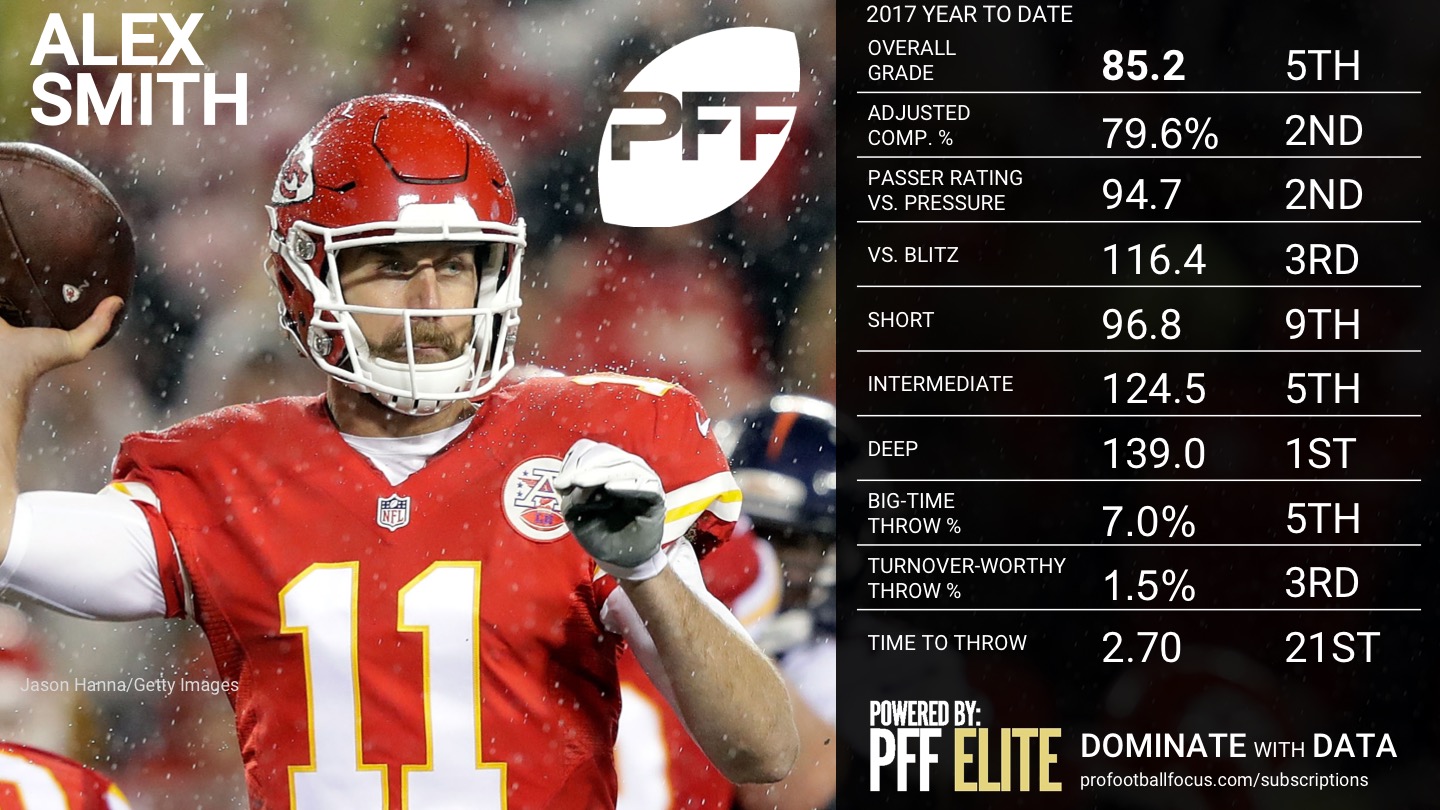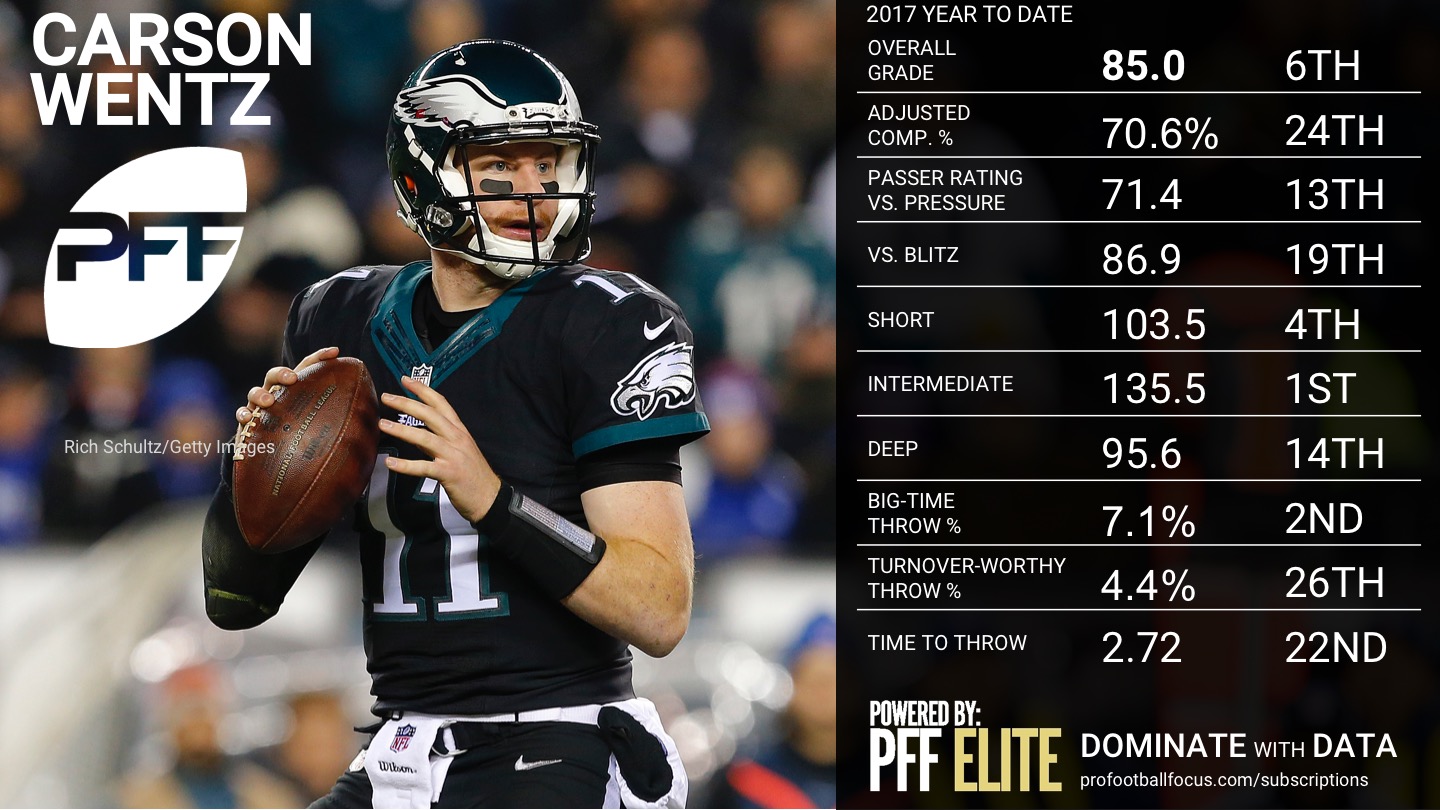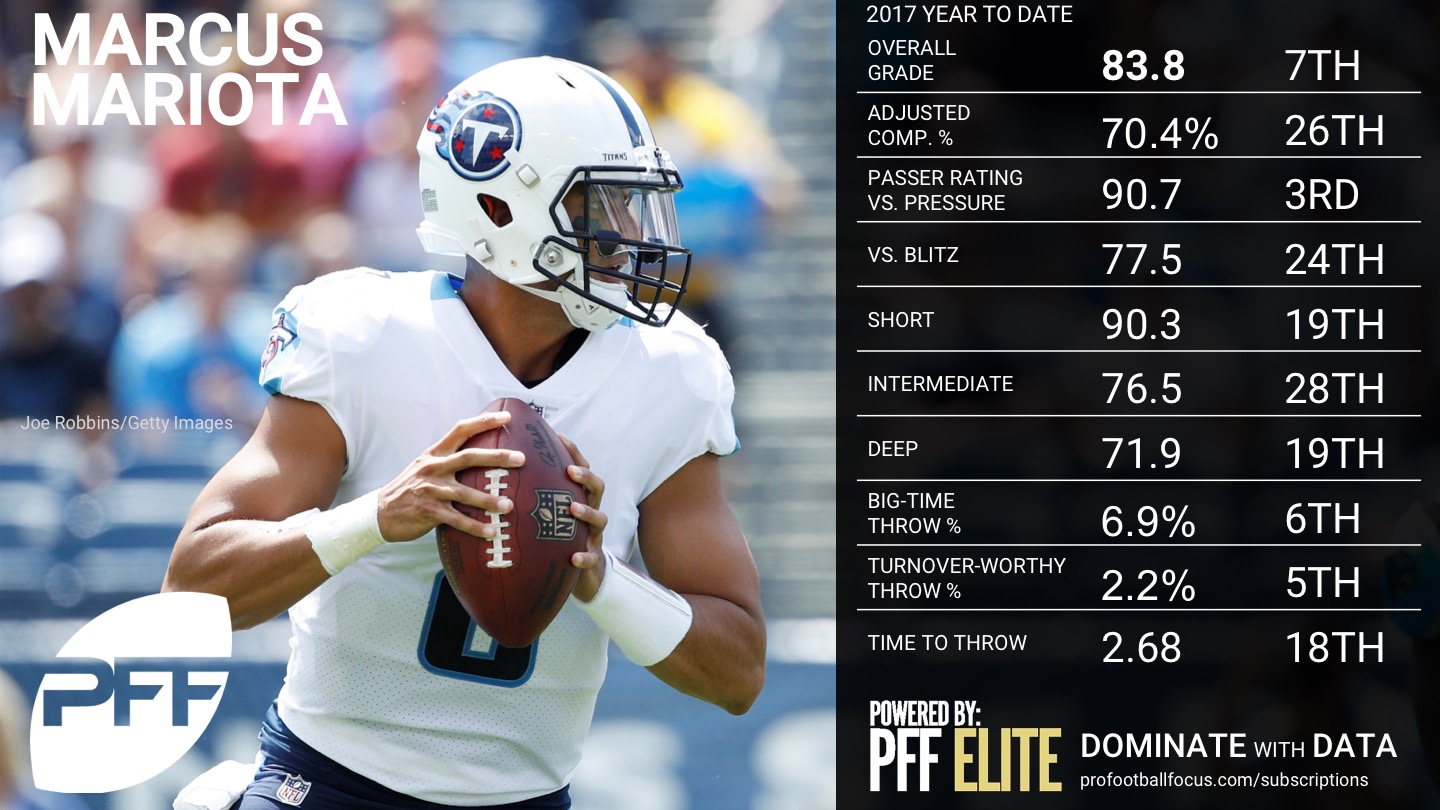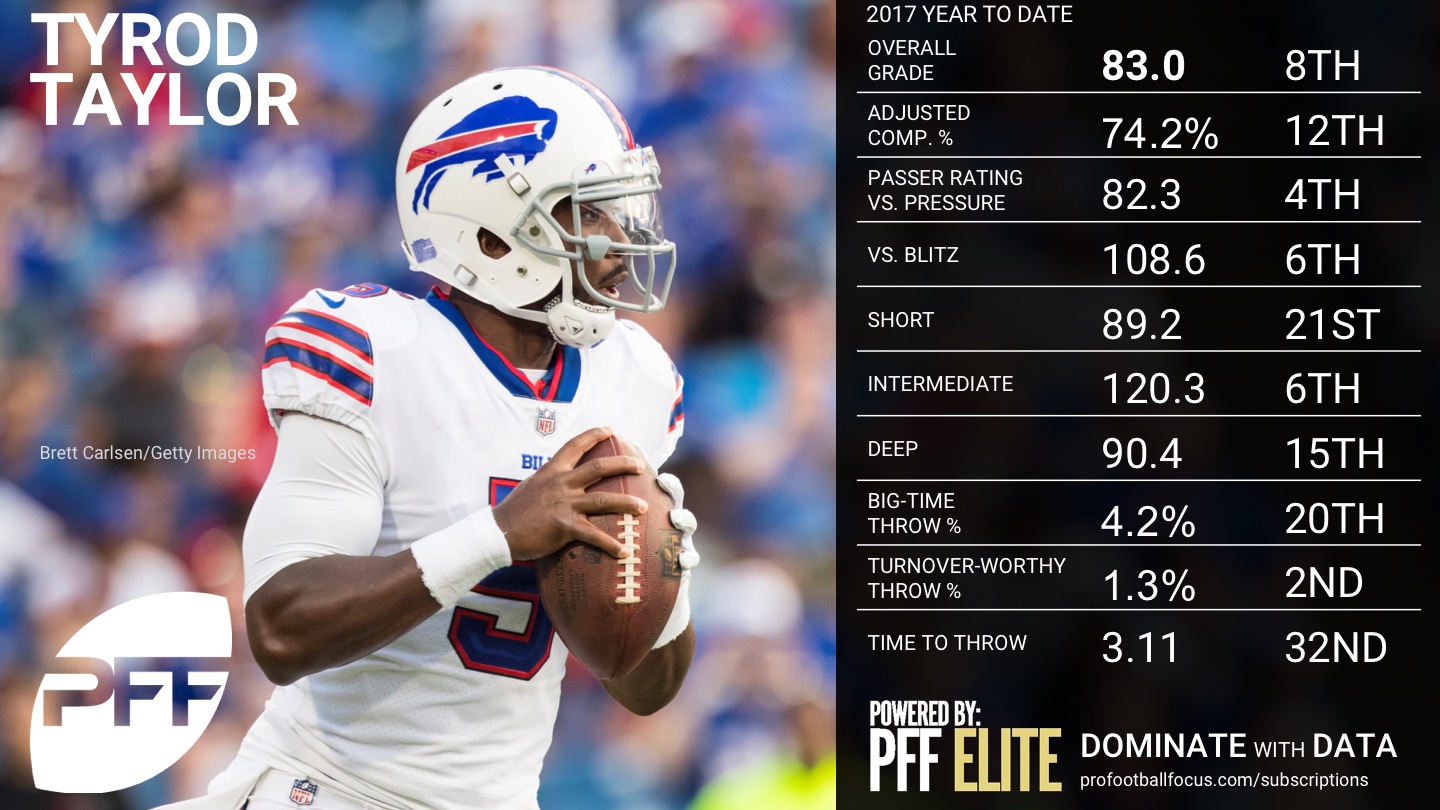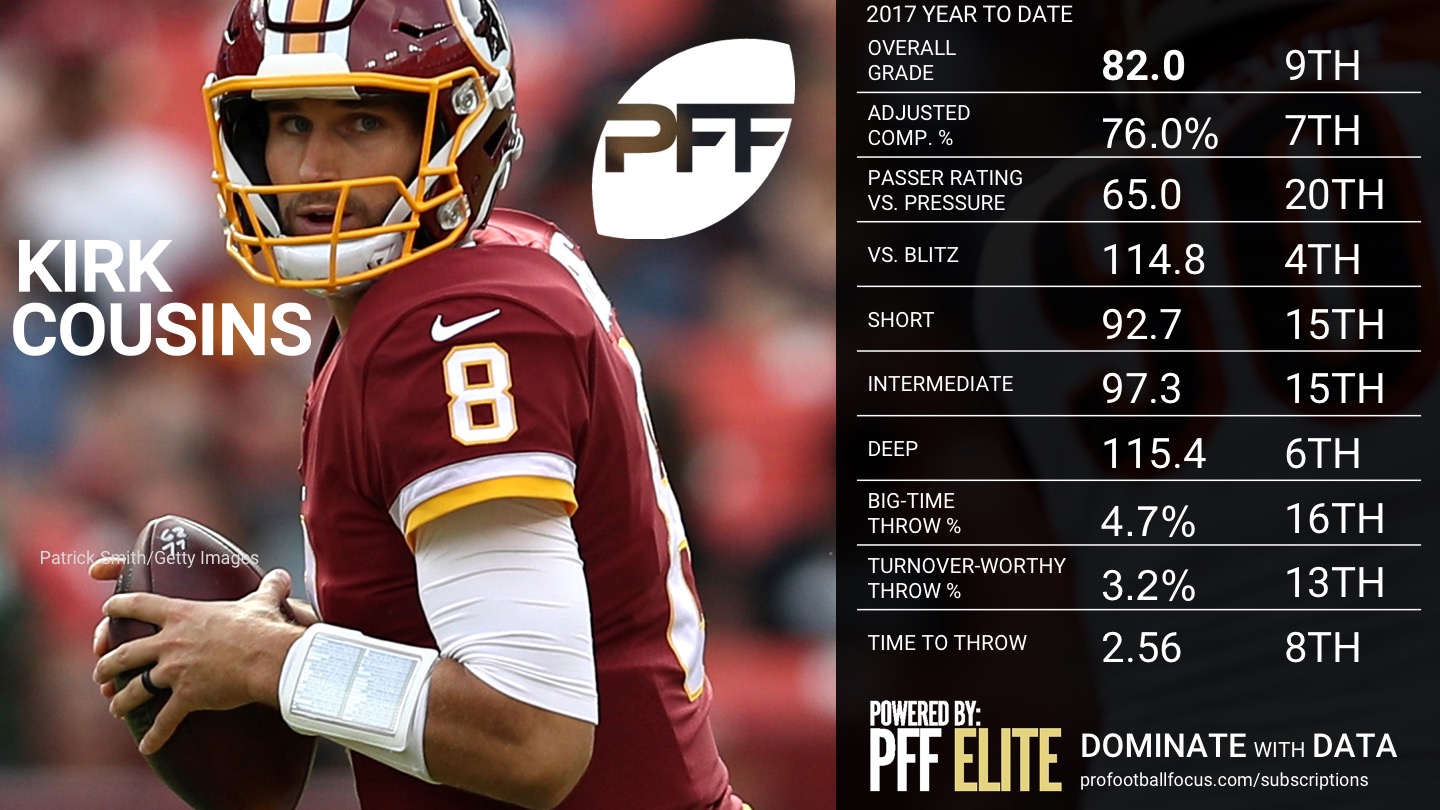 Cousins played with a good rhythm and continuously got to the open man throughout the game with his generic overall stats being a bit misleading. He connected for a 38-yard touchdown with Maurice Harris in tight coverage for their first score of the game, with what has been arguably the best catch of the year. He did fire a costly and ugly late first half interception, sailing an underneath route over Jamison Crowder's head that lead to a Vikings' score before the end of the half. Cousins was let down a bit by his teammates in the red zone, with Josh Doctson falling down on what would be an easy TD, and a few other occasions where his receivers failed to make tough catches with the ball put in a good spot for them to do so. He found a number of big plays down the field but was often under pressure (44.7 percent of dropbacks) and did struggle under duress, completing just 44.7 percent of his passes and a 38.0 passer rating.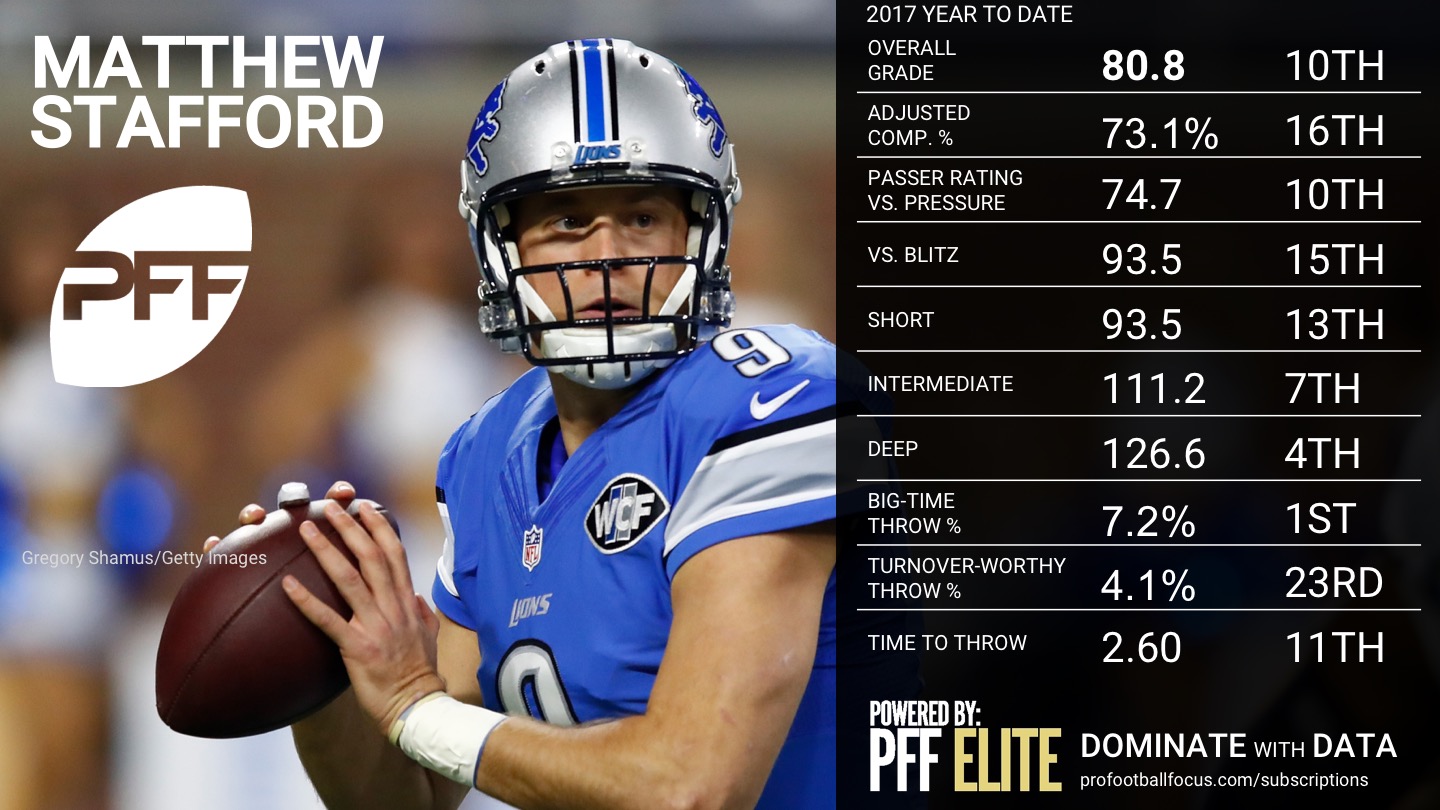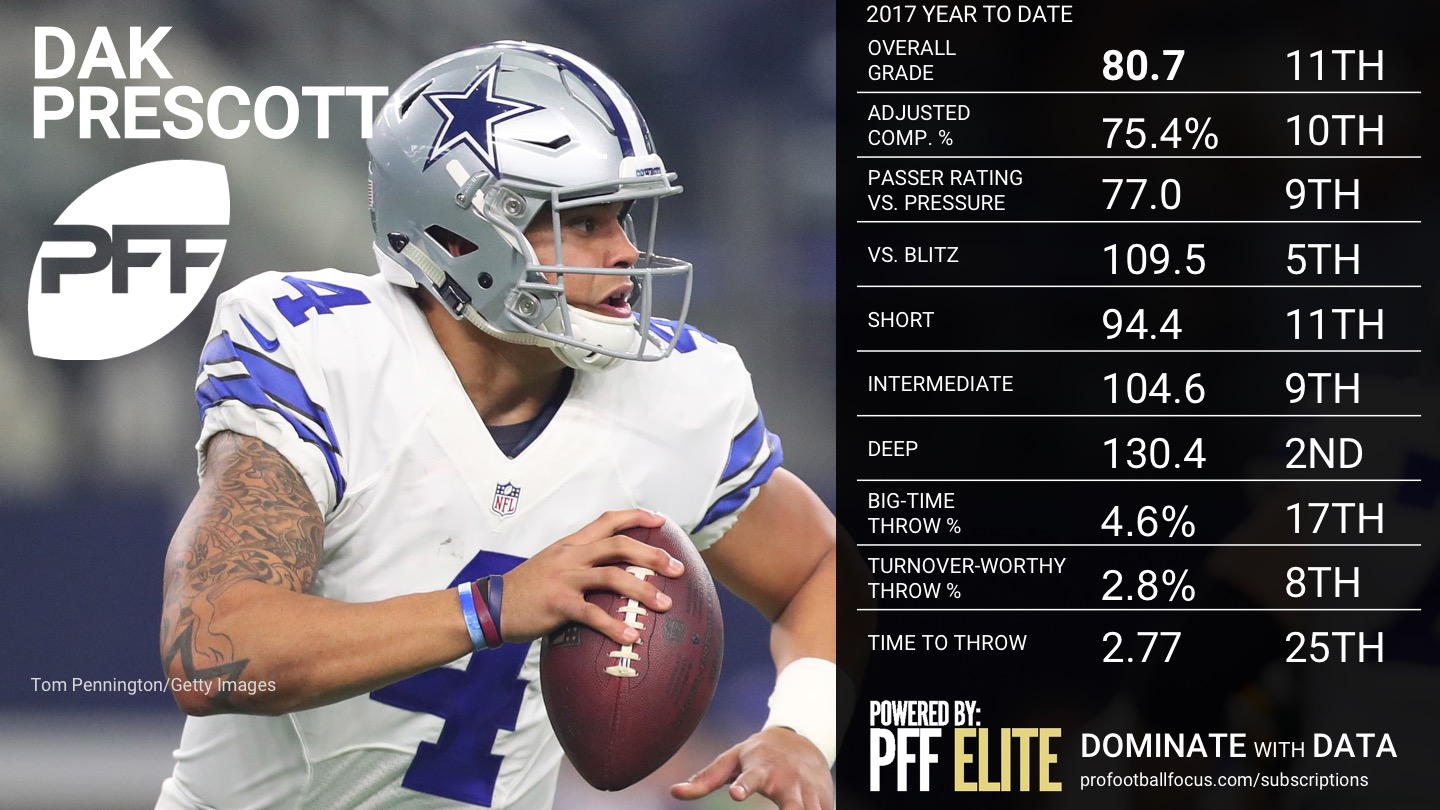 It's difficult to full evaluate Prescott's performance given the number of quick pressures he faced as he was hurried on 19-of-42 dropbacks, eight of which were sacks. When he did have time, he made some fine throws in the short and intermediate game, particularly a strike to Cole Beasley on a quick out while under heavy pressure and a laser to TE Jason Witten up the seam. He connected on 1-of-3 deep (20-plus yard) passes for 30 yards while going 3-for-6 for 54 yards at the intermediate level in a performance that had its ups and downs to go with the difficult playing conditions under heavy pressure. Prescott also have one turnover-worthy throw on a comeback route as well as a bad fumble on one of those eight sacks.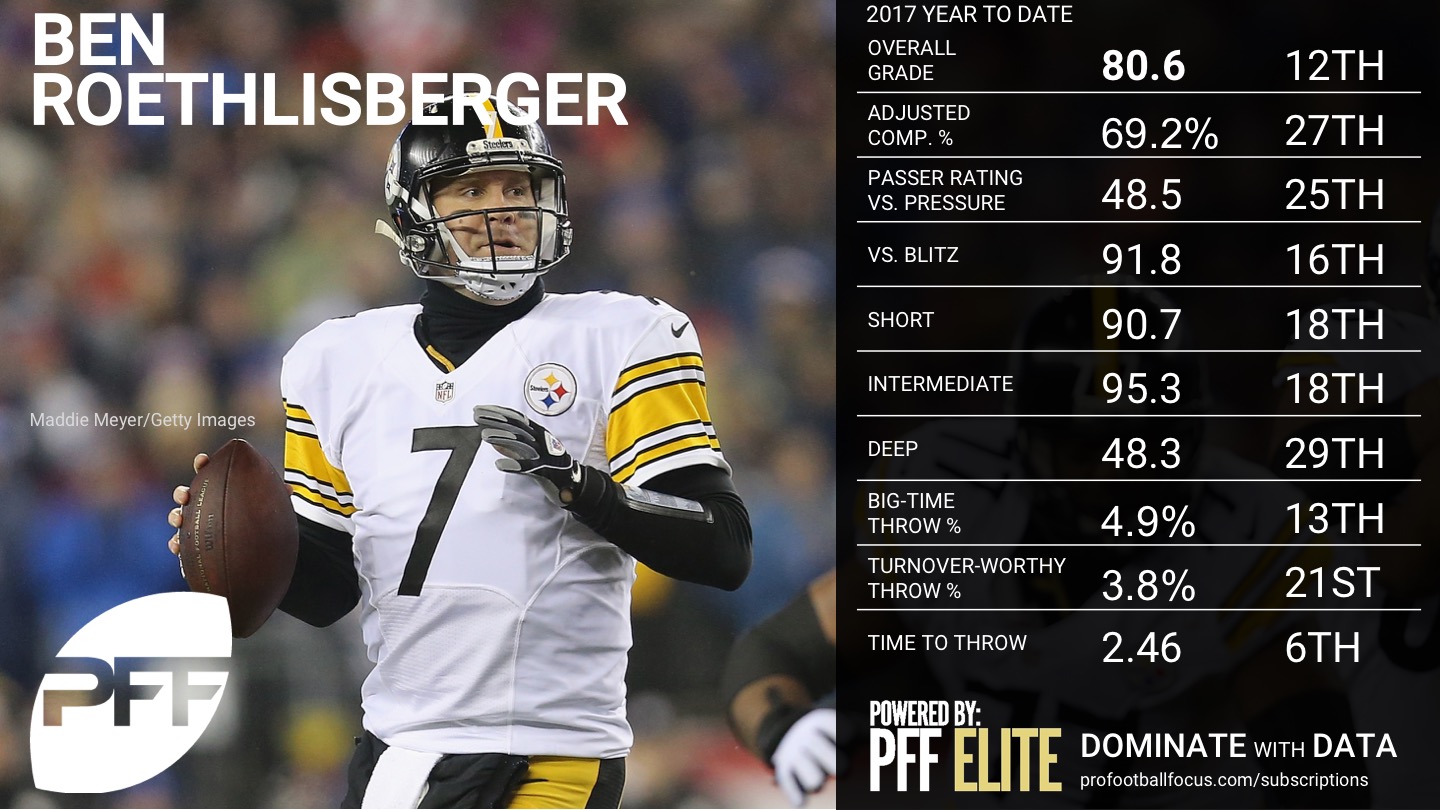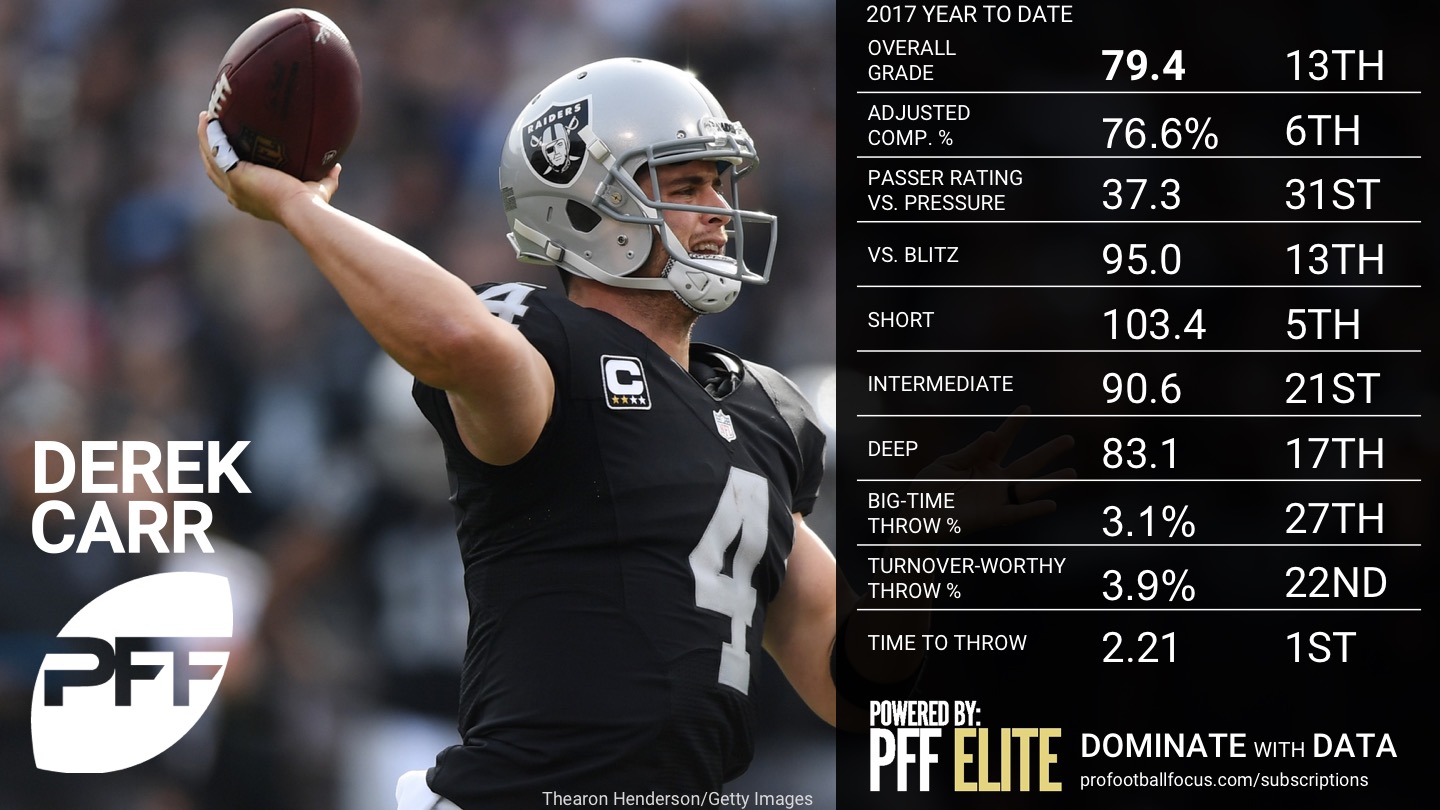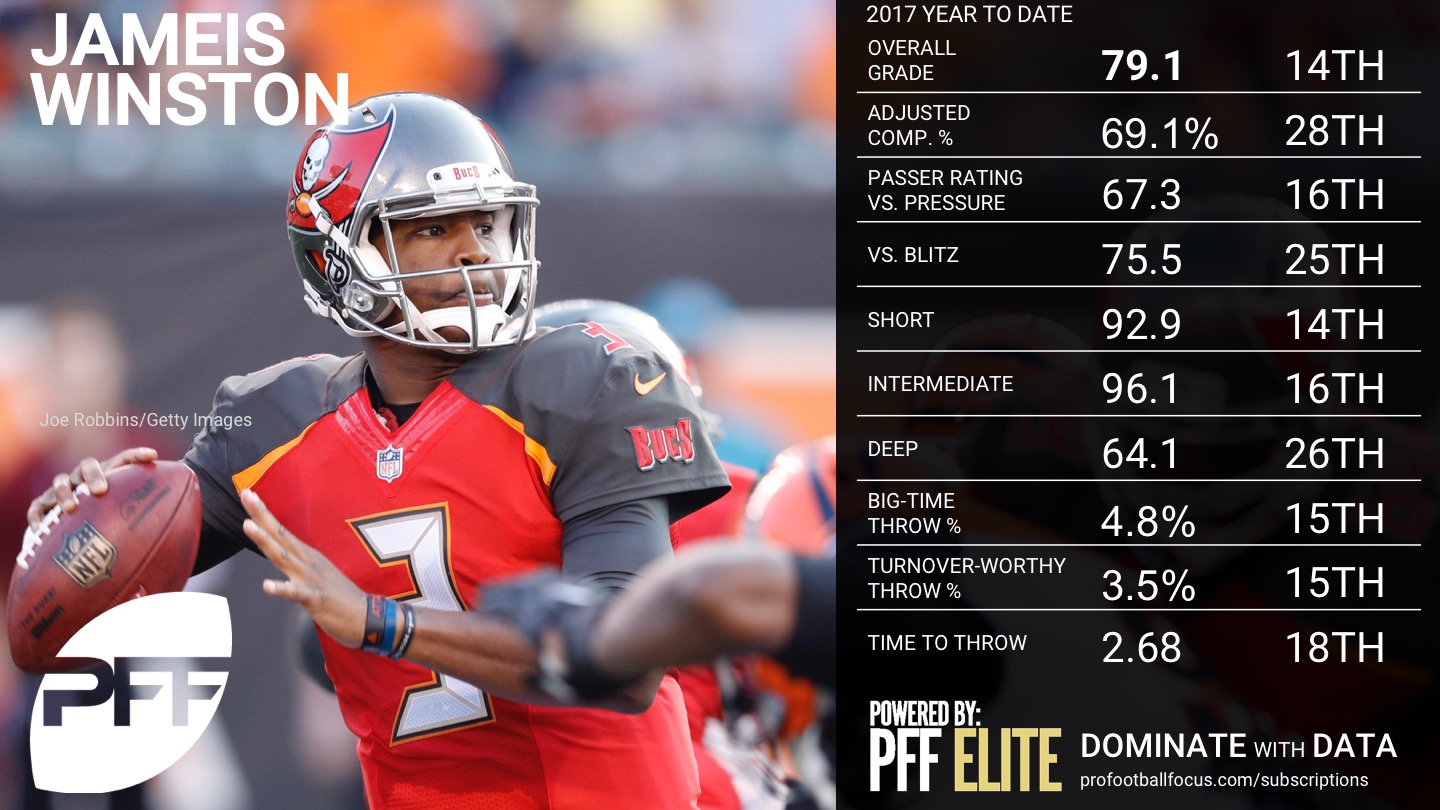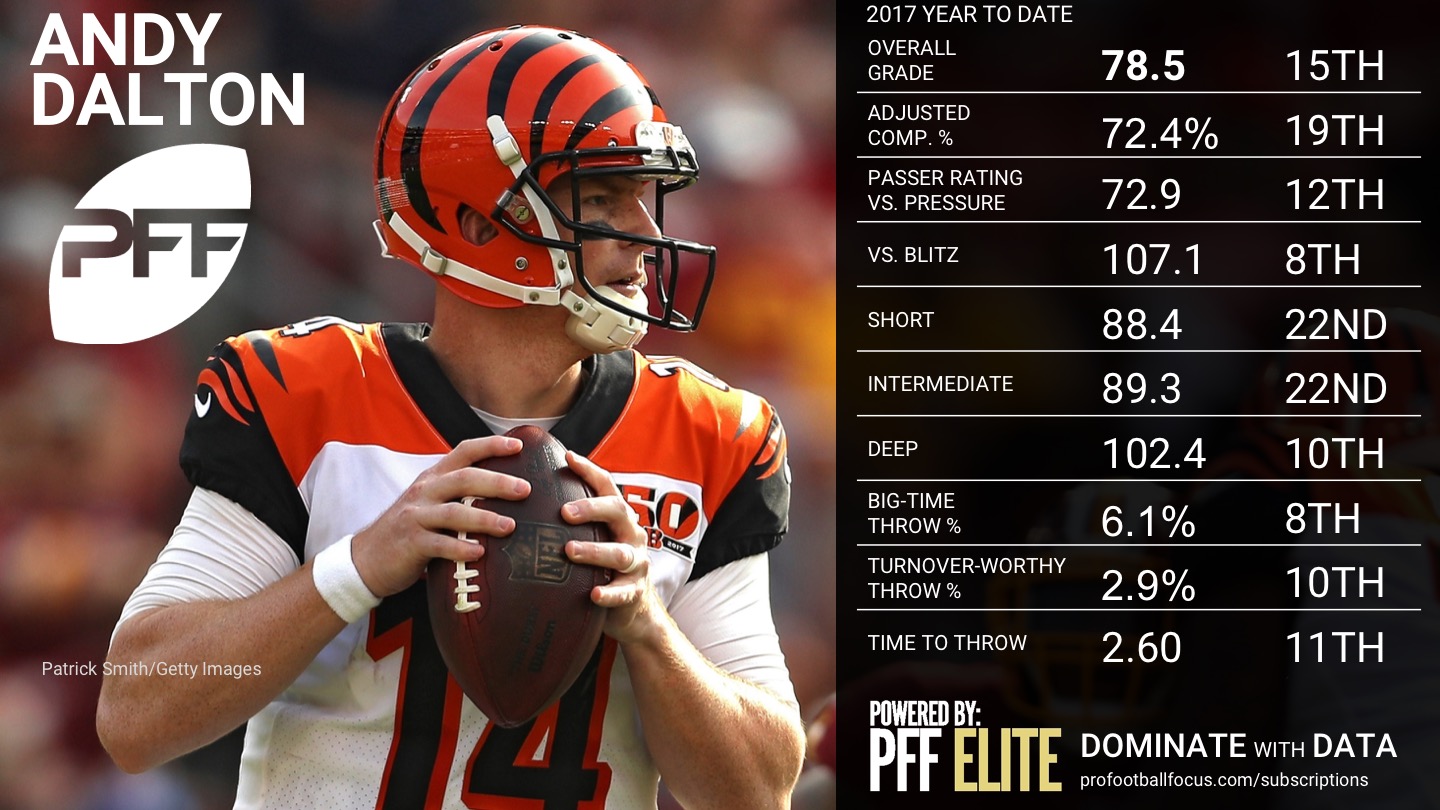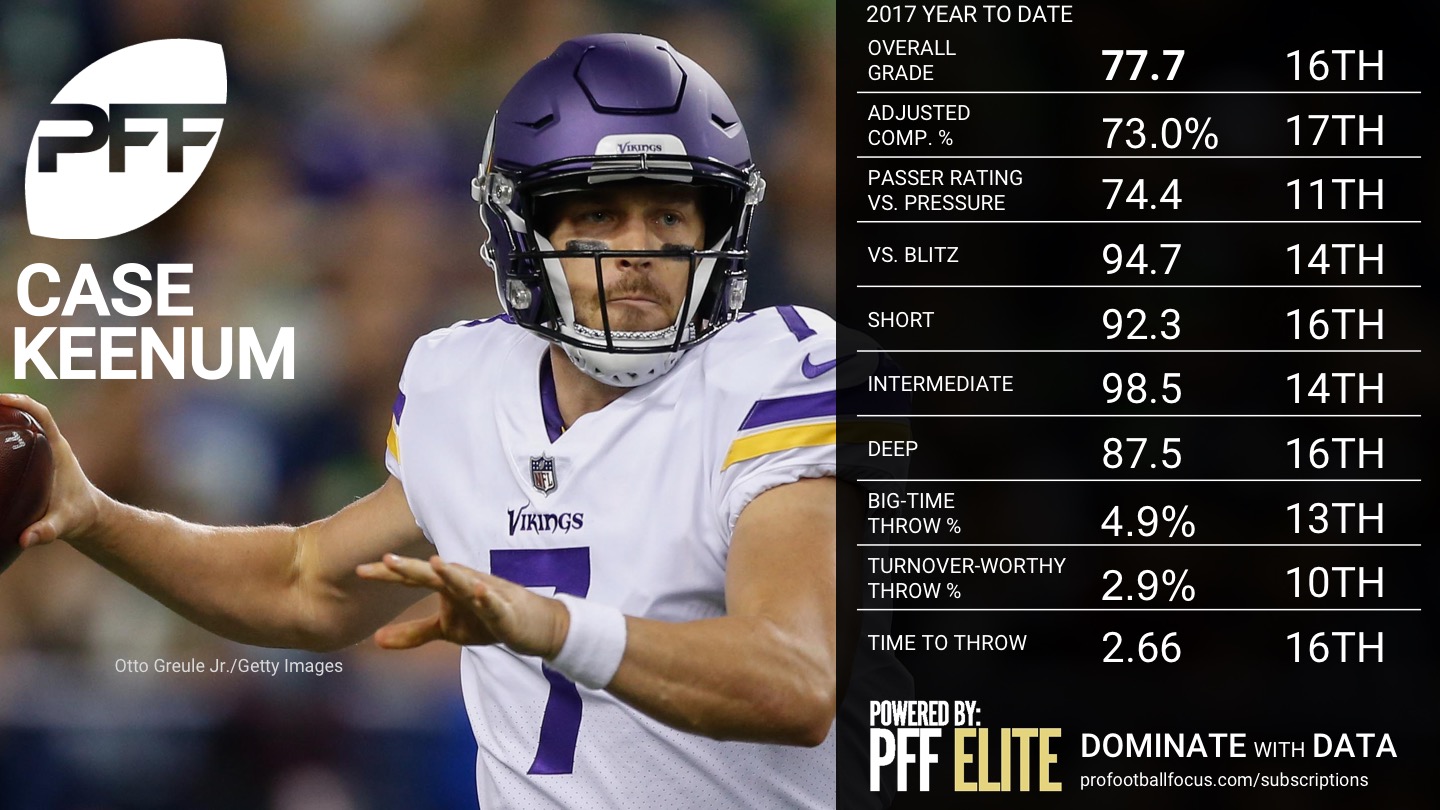 Keenum and his connection with the best WR duo currently in football Adam Thielen and Stefon Diggs was on display early, finding both guys for huge chunks of yardage as the two combined with four plays of over 38 yards through the air. Keenum placed a #BigTimeThrow to Diggs who toasted Josh Norman on and "out and up" route for 51 yards and the first touchdown of the game. He later found Thielen down the middle of the field on a scramble play that saw Thielen track down a ball over his shoulder for a 49-yard gain. After three and a half quarters of really good football, Keenum had back to back poor decisions and misreads, firing a corner route into coverage that was picked off and the ensuing drive a flat route that allowed the Redskins to climb back in the game. The Vikings used a heavy amount of play action against the fast flowing and at times undisciplined Redskins defense, with 50 percent of his dropbacks coming off of play action. Keenum was able to connect when doing so, going 12-of-15 for 198 yards and a touchdown on such plays.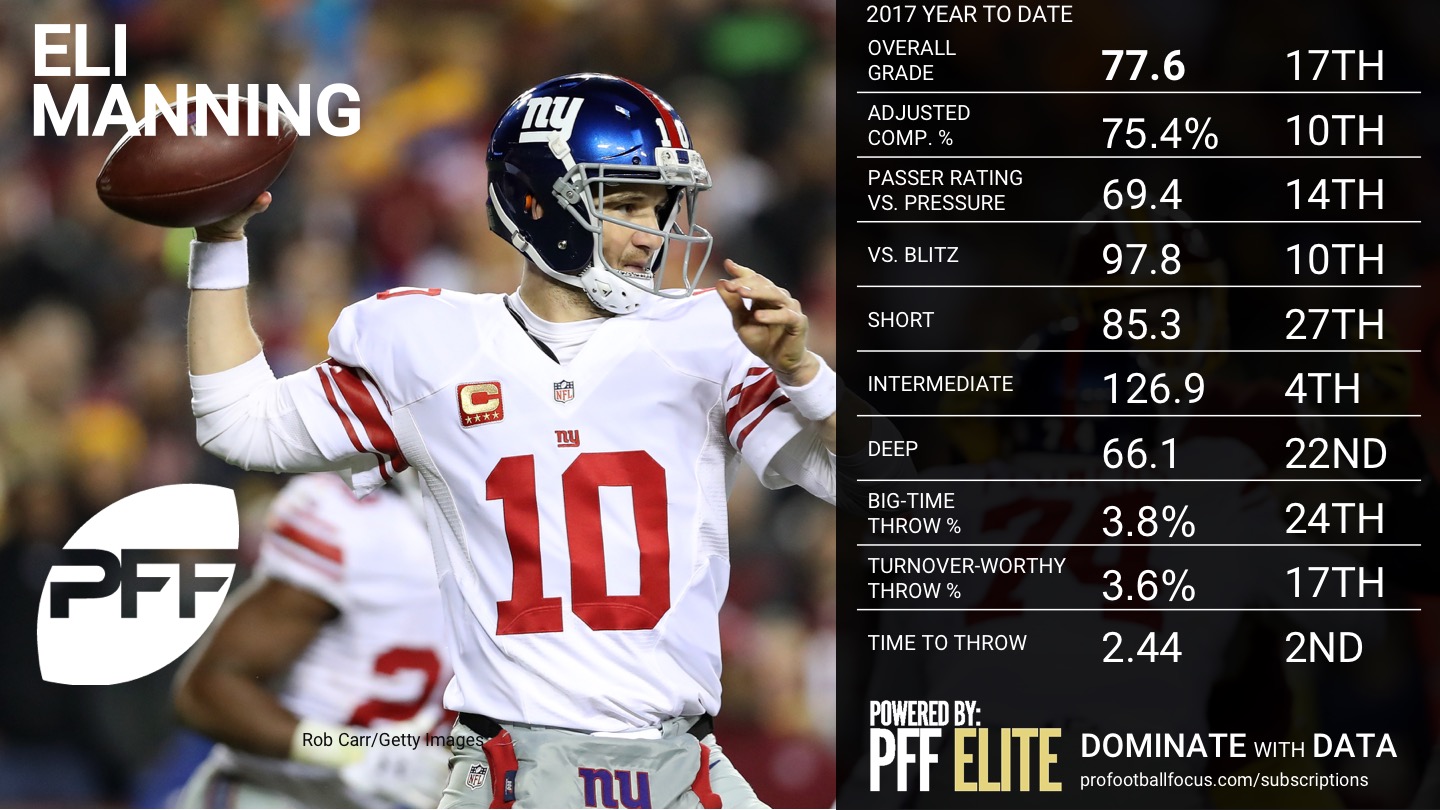 Eli had his best performance since Week 4, finding success both inside and outside the numbers with a variety of throws. The majority of his work came against the 49ers man-to-man coverages, where he completed over 80 percent of his passes and had nearly 50 percent of his passing yards against those defensive looks. Although he was kept clean on 75 percent of his dropbacks, his play under pressure was impressive, consistently finding outlets for completions finishing with a 85.7 percent completion percentage under duress. His work at the intermediate level (10-19 yards) was on point throughout, going 6-of-7 for 81 yards and two touchdowns. All things considering with the injuries and turmoil surrounding the Giants, Eli has far from been the problem for the majority of the season.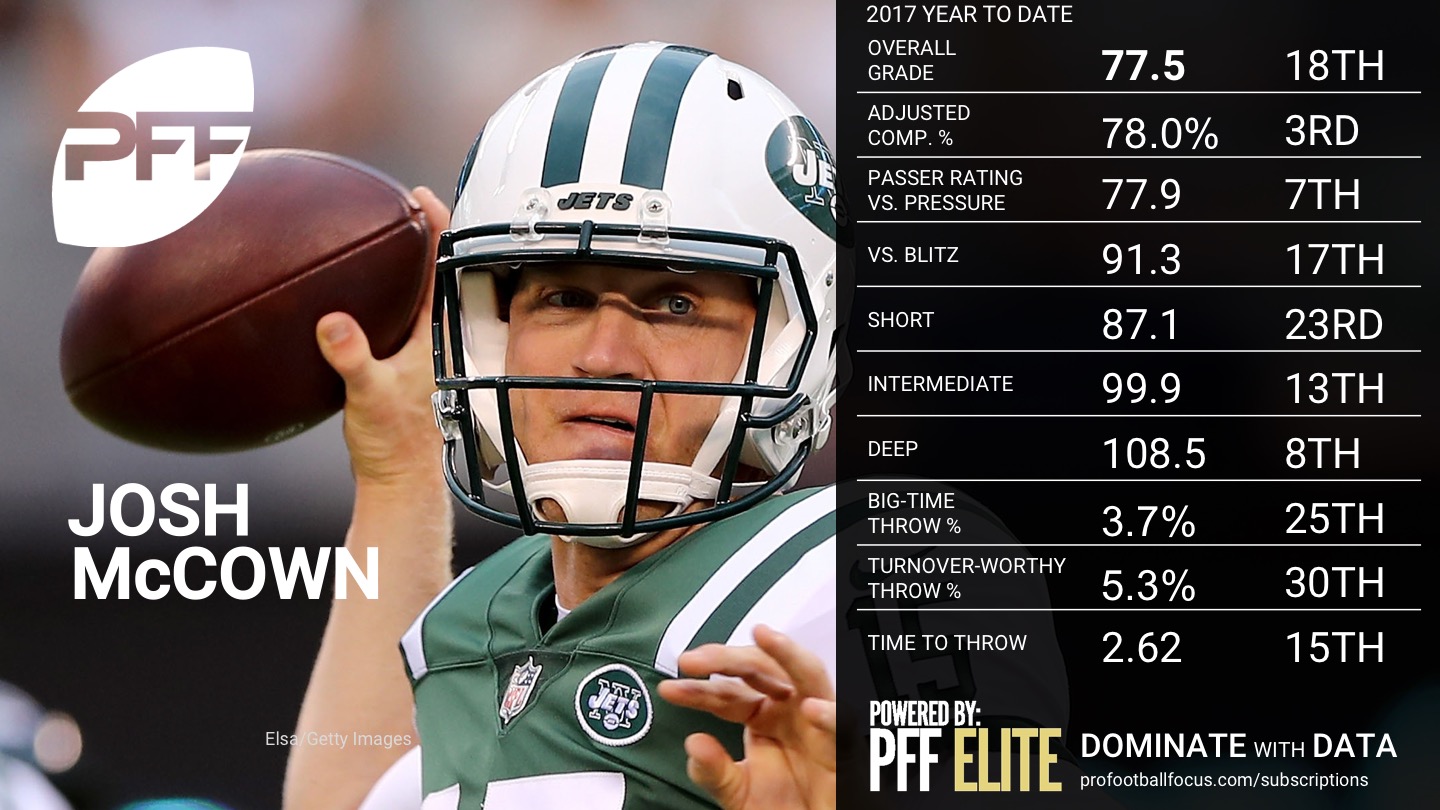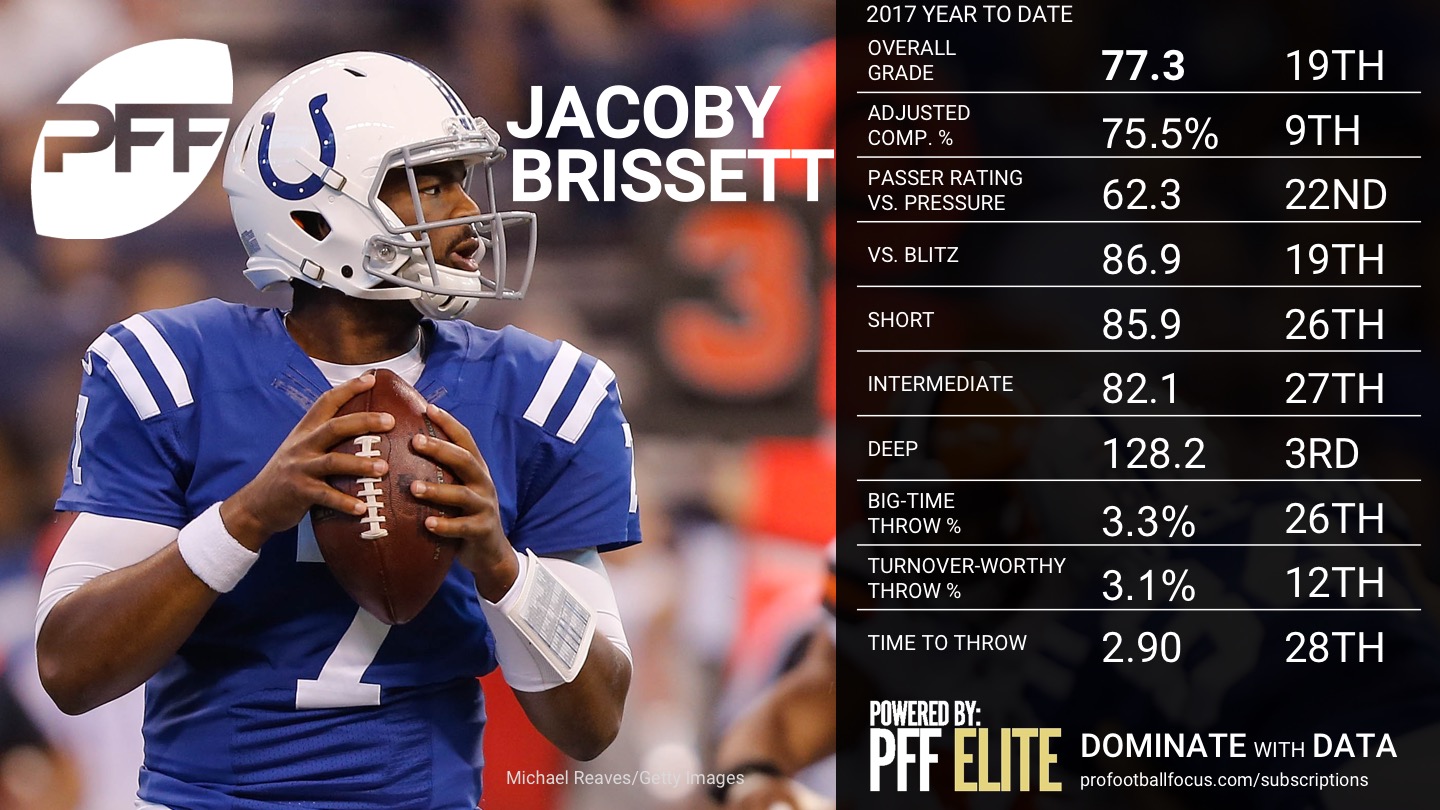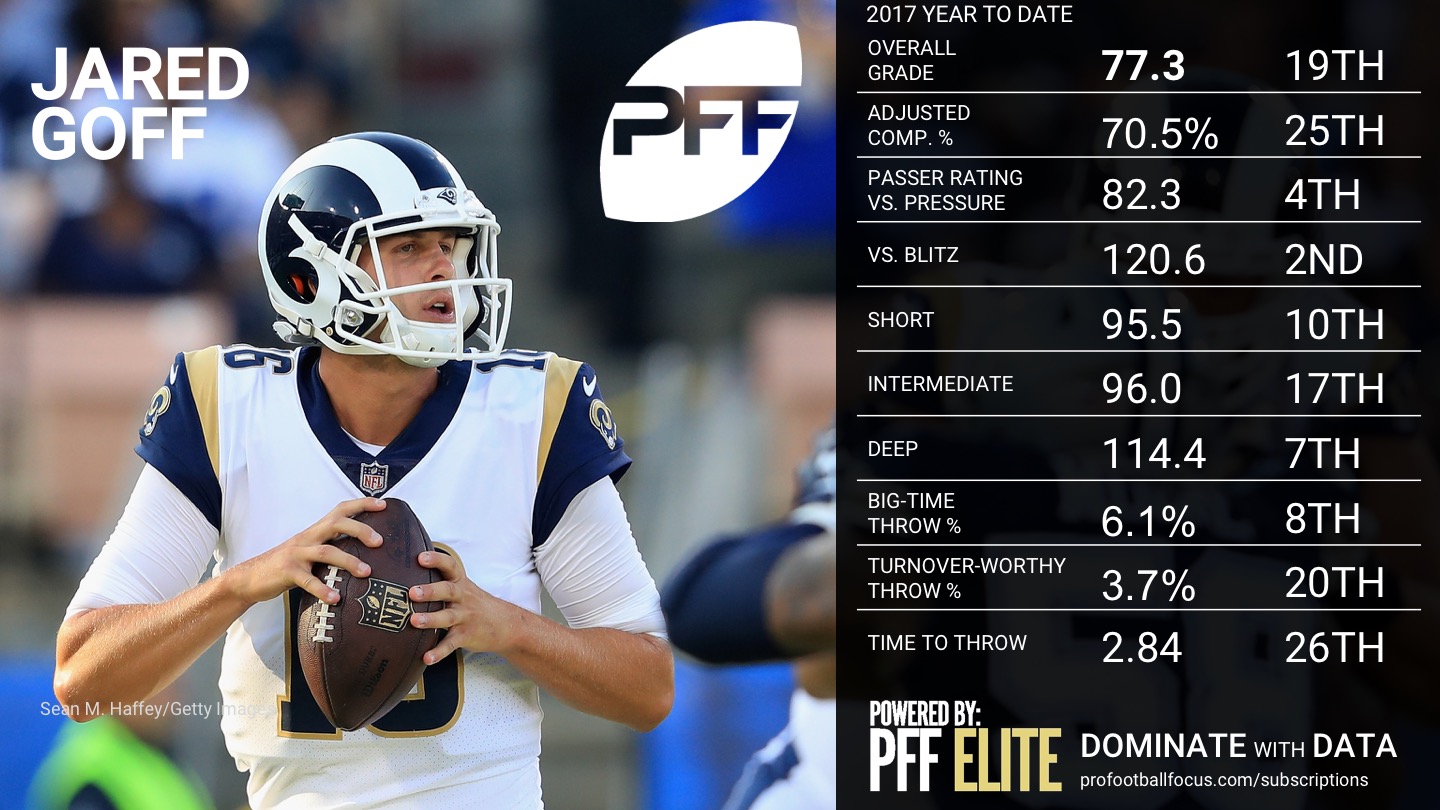 Coming off of three straight losses, Hundley was able to notch his first win as a starter in what was a must-win situation for the Packers in Chicago. He played a relatively conservative game (just five of his 25 dropbacks being thrown 10 or more yards down the field), with a number of quick game concepts to get the ball out of his hand and checking the ball down when the coverage dictated to do so. He had some interception luck in the first quarter when he moved off the spot to his right to and left a ball inside on an out breaking route only for Kyle Fuller failing to complete the play and notch the INT. Hundley thrived when it was needed the most in the fourth quarter, scrambling to find Devante Adams along the right sideline for a #BigTimeThrow and a 19-yard score. He followed it up perhaps the throw of the week considering the situation, a 3rd-and-10 on their final drive with a perfectly placed "go" ball to Adams. There were a few occasions he failed to know his protection responsibility and took sacks, but overall he made the plays he needed to in the fourth quarter.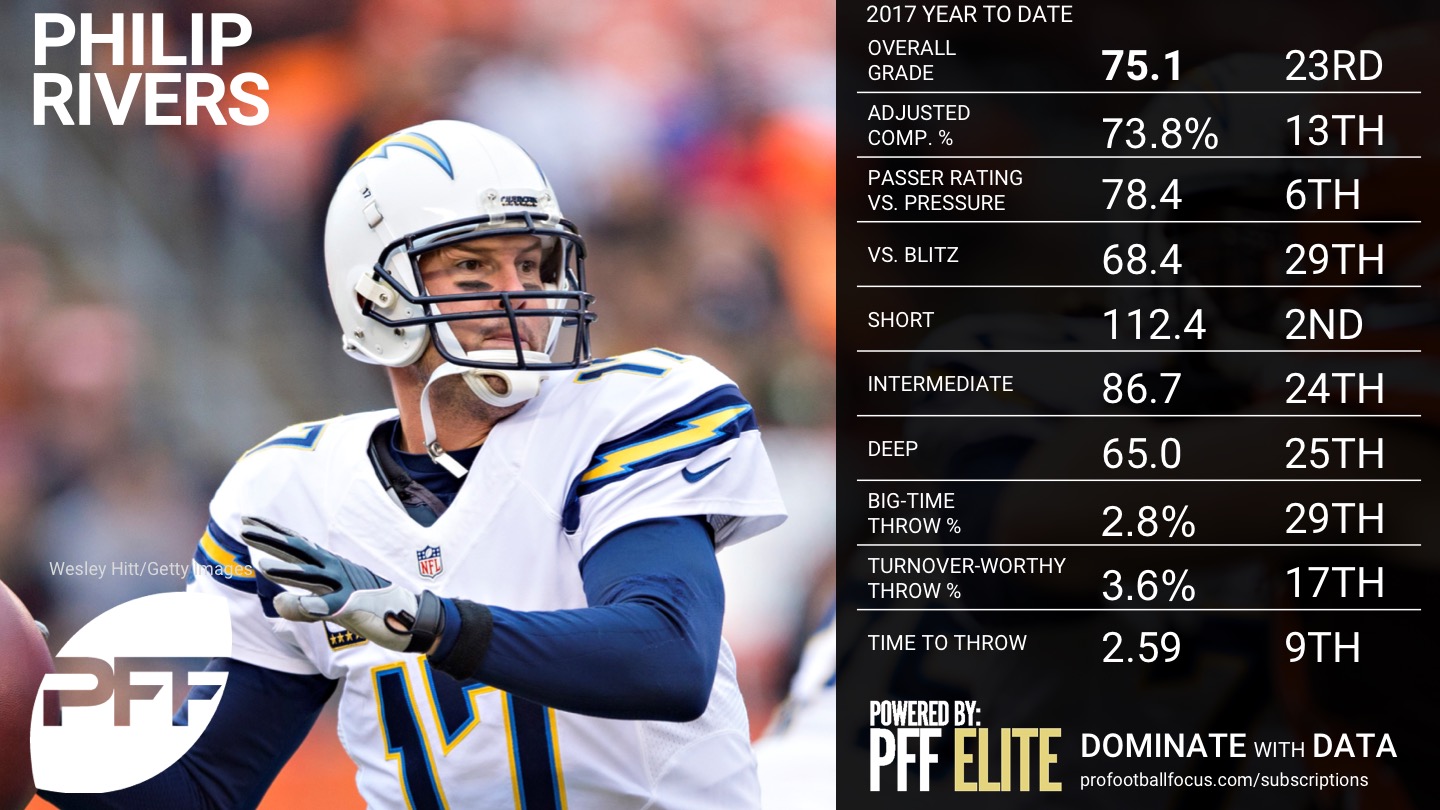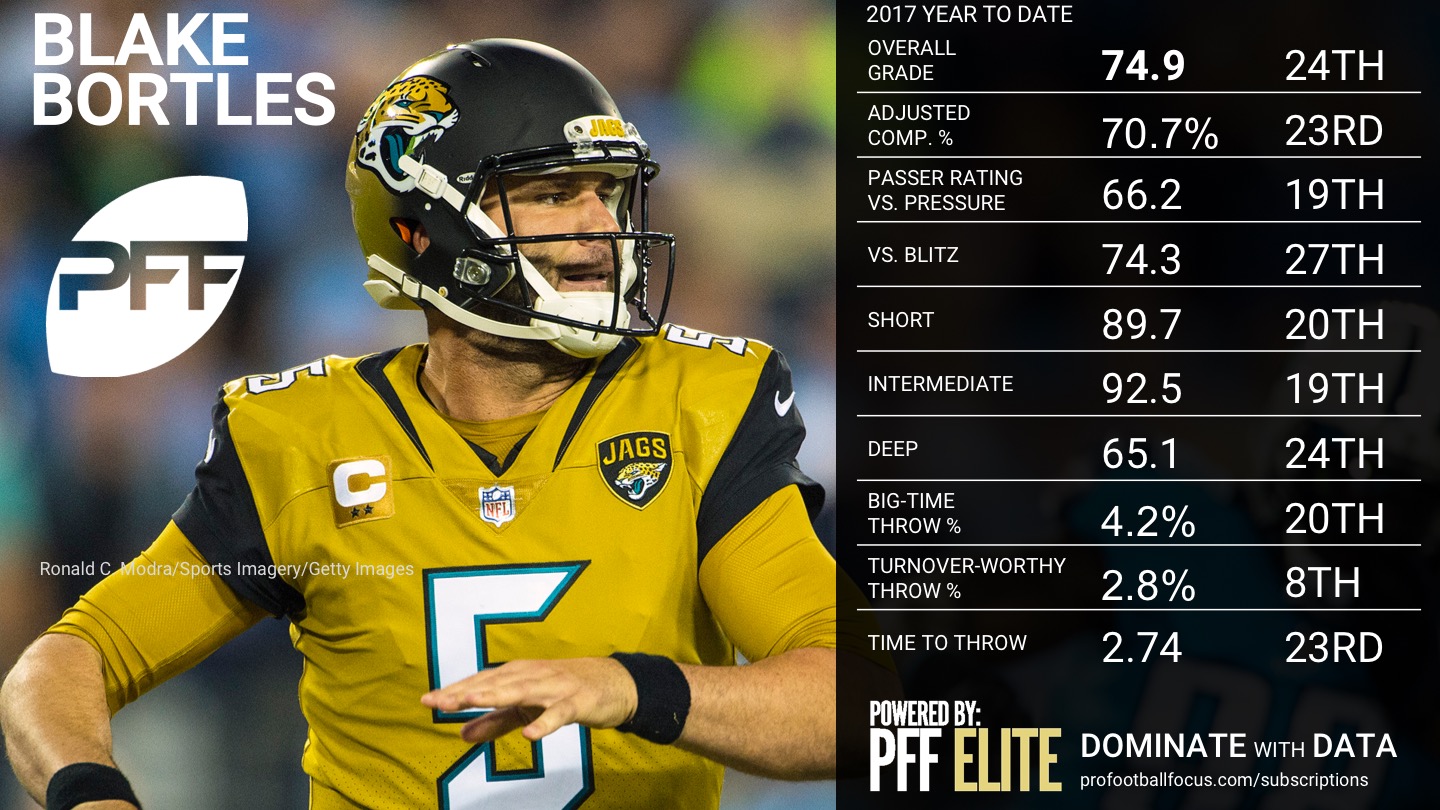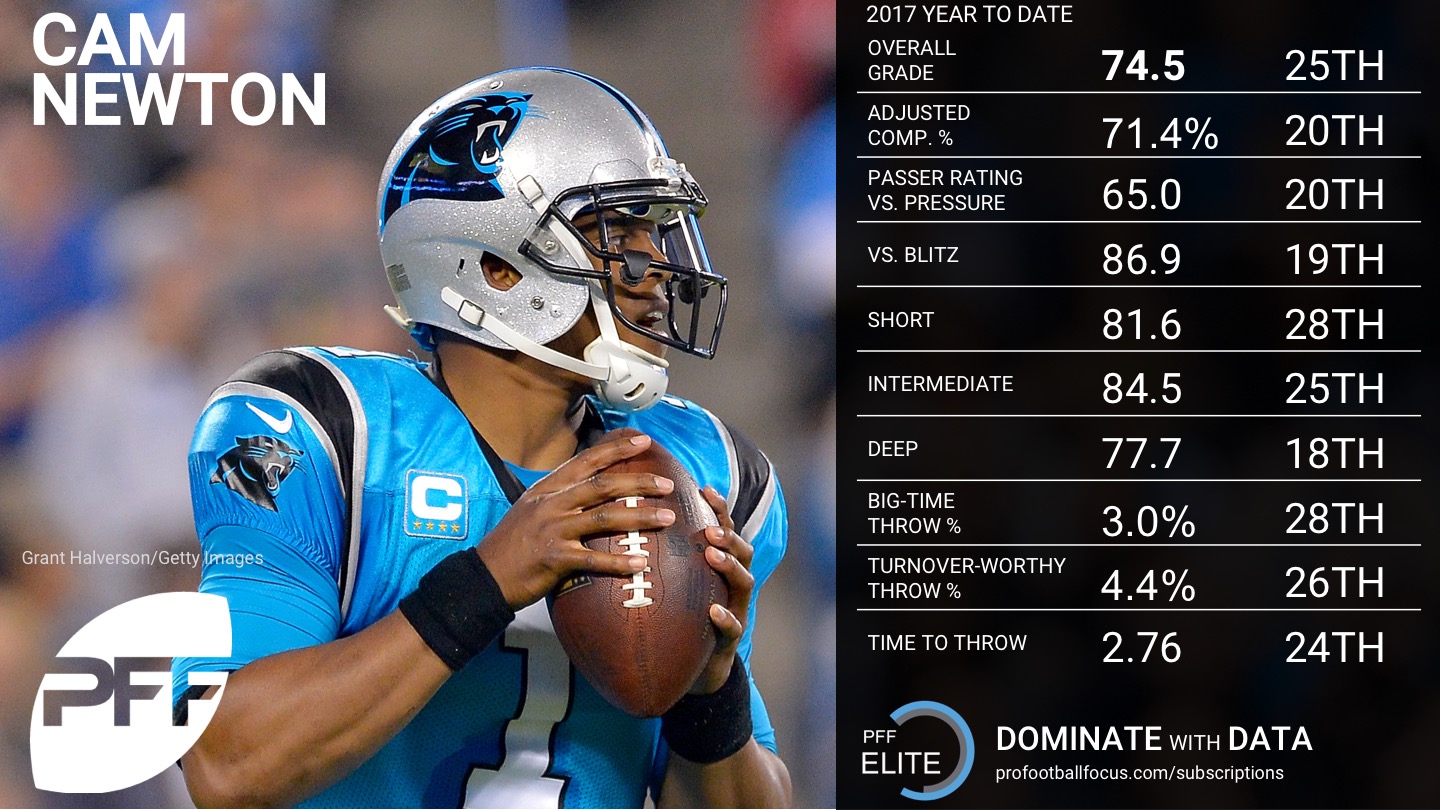 The roller coaster continues for Newton who had his best passing game since Week 5. He took good care of the ball while sprinkling in a big-time throw up the seam that was dropped but should have been a touchdown. We saw a different look from the Panthers as the quick-passing game was prevalent and Newton's time to throw was only 2.37 seconds, second-fastest in the NFL this week and well below his season average of 2.76. While Newton had his share of random missed throws, he was efficient in the short (0-9-yard) game, going 11-for-16 for 92 yards to go with his 4-for-8, 56-yard effort on intermediate (10-19-yard) throws.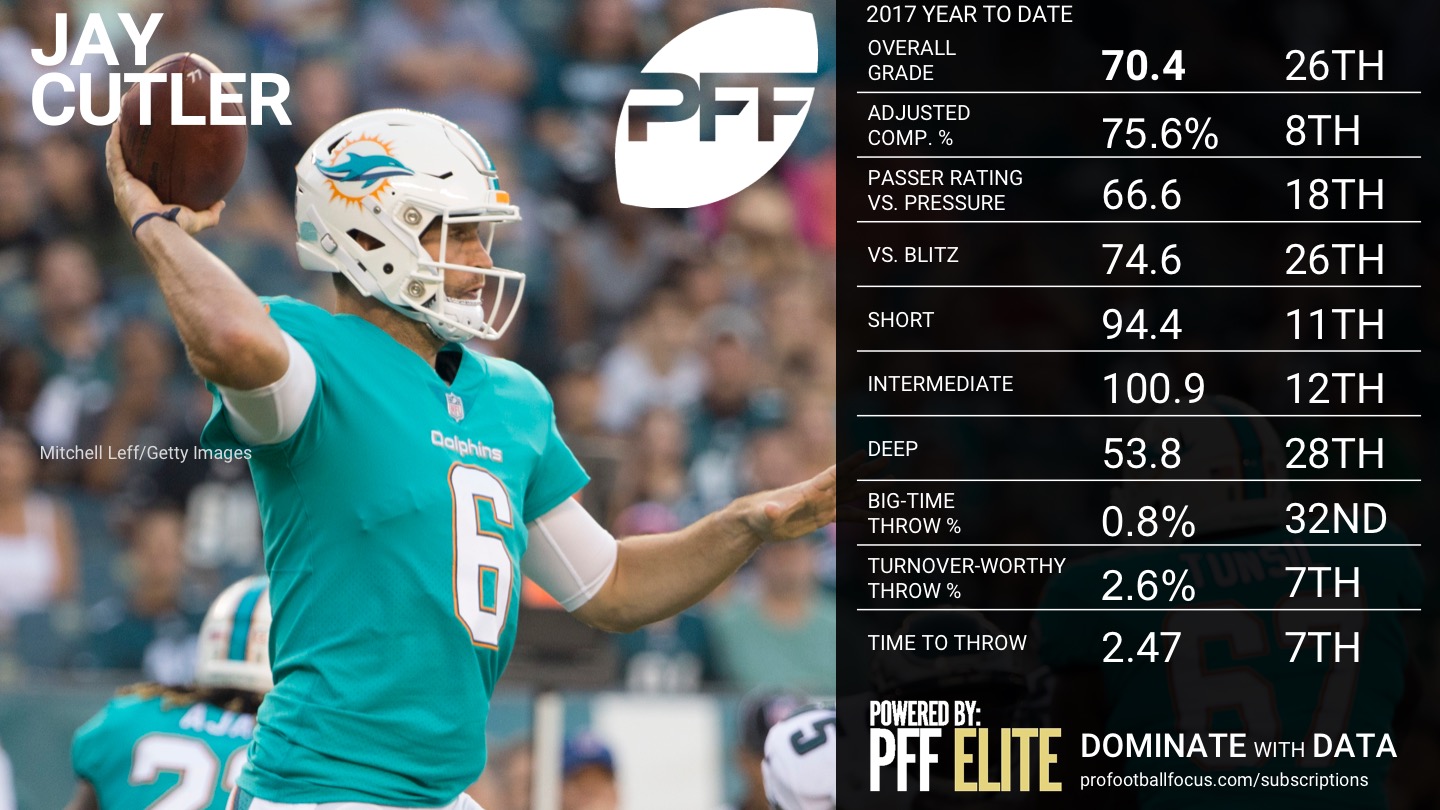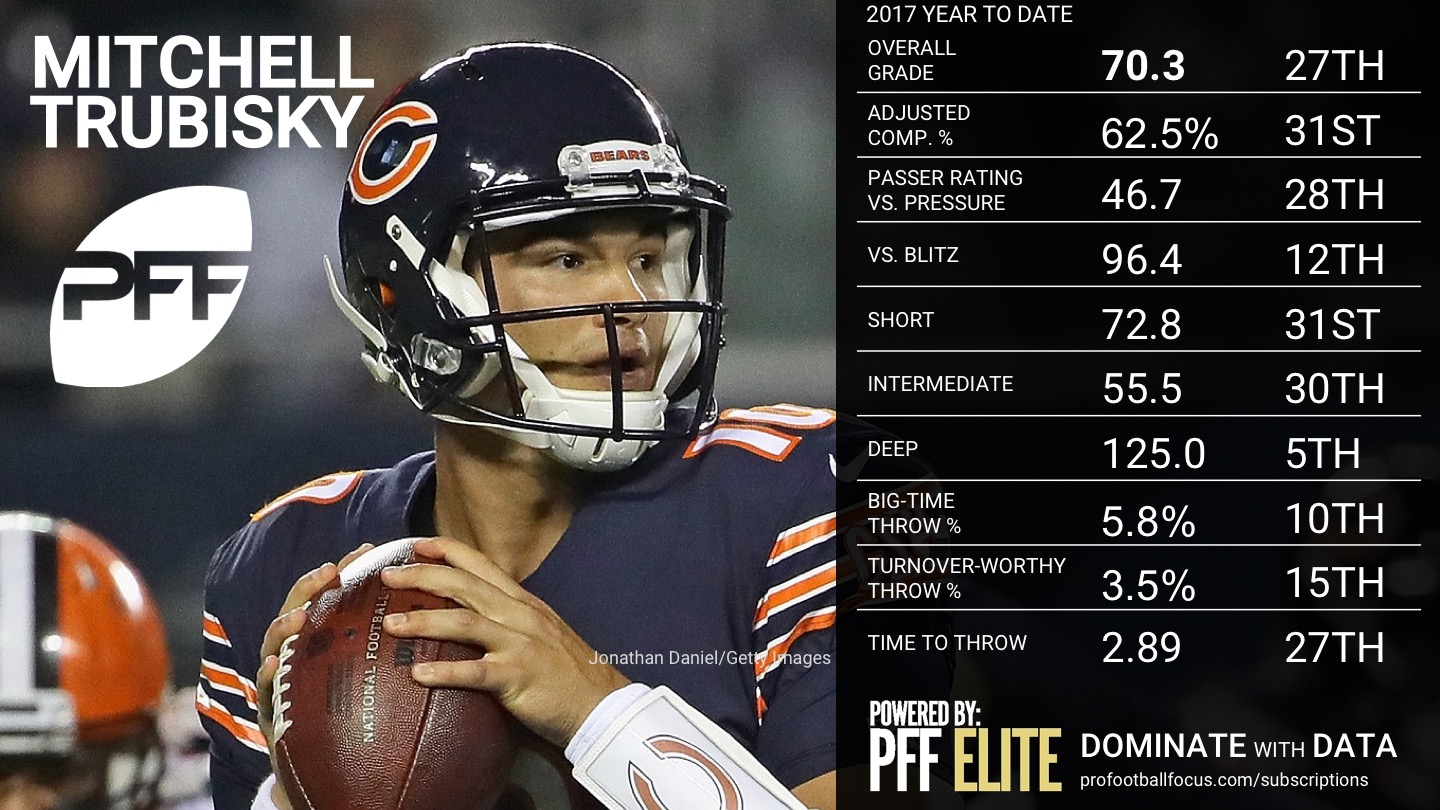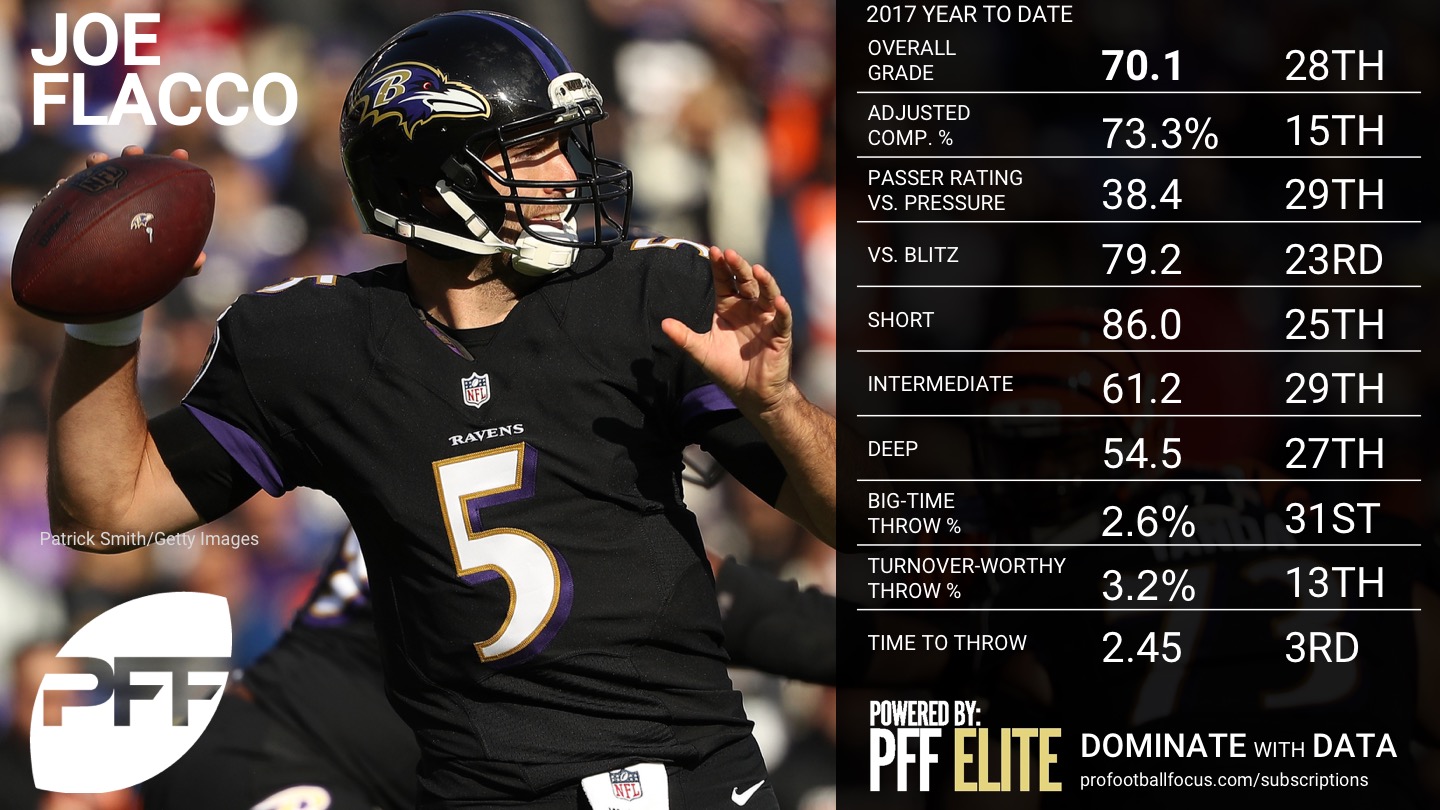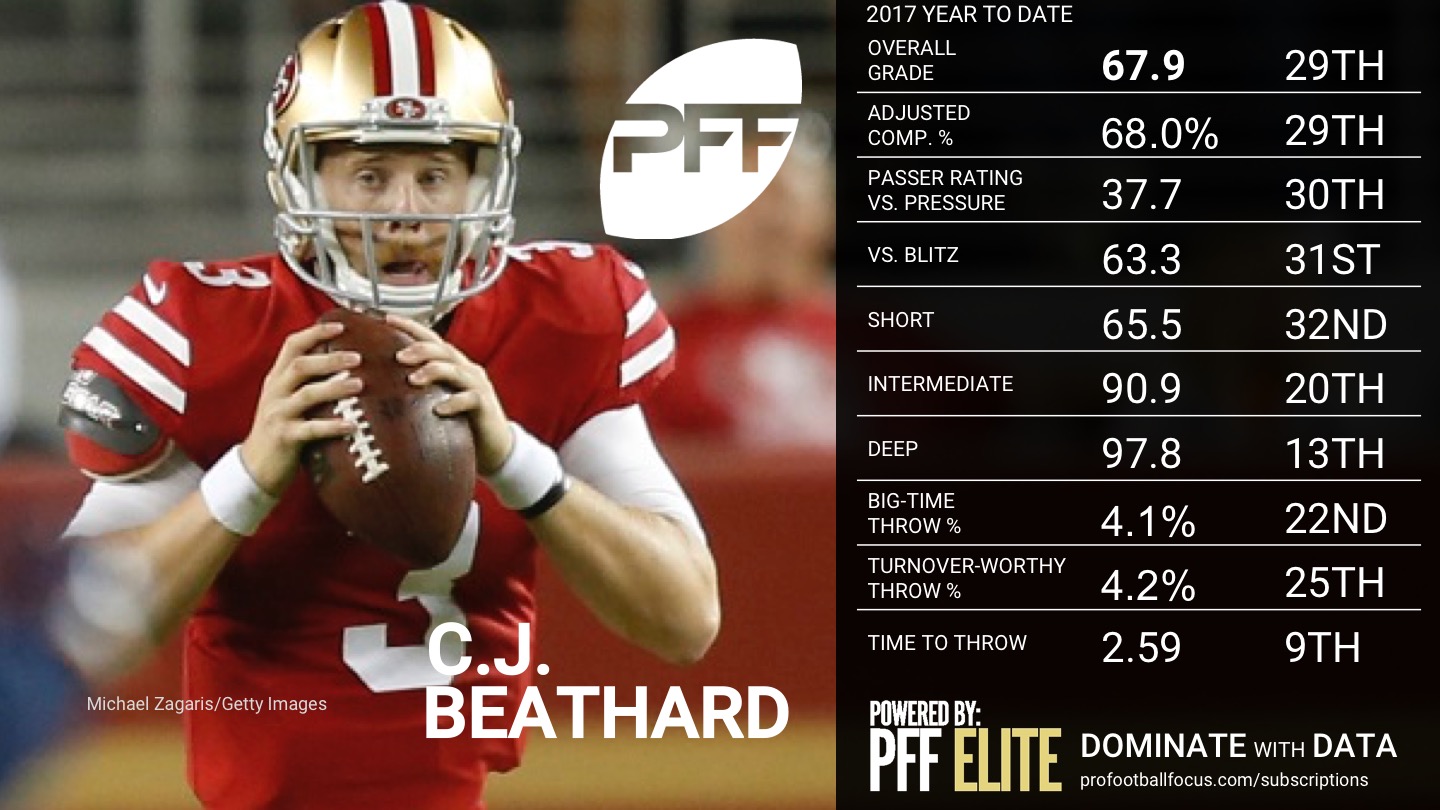 Beathard had by far his best showing of his early career, throwing the ball on time and in rhythm against a struggling Giants defense. He was well protected and wasn't required to move off the spot much at all throughout the game, throwing in a clean pocket on 85.2 percent of his passes (second-highest Week 10). From a clean pocket, Beathard posted a completion percentage of 85.7 percent (also second-highest Week 10) and his 130.7 passer rating was second best of the week. His biggest play was when he found the speedy Marquise Goodwin over the top on a well placed "post" route for an 83-yard touchdown. He threw the ball accurately on a number of deep crossing routes in the intermediate 10-19 yard range in between the numbers, where he was a perfect 4-of-4 for 113 yards and a touchdown in that area of the field.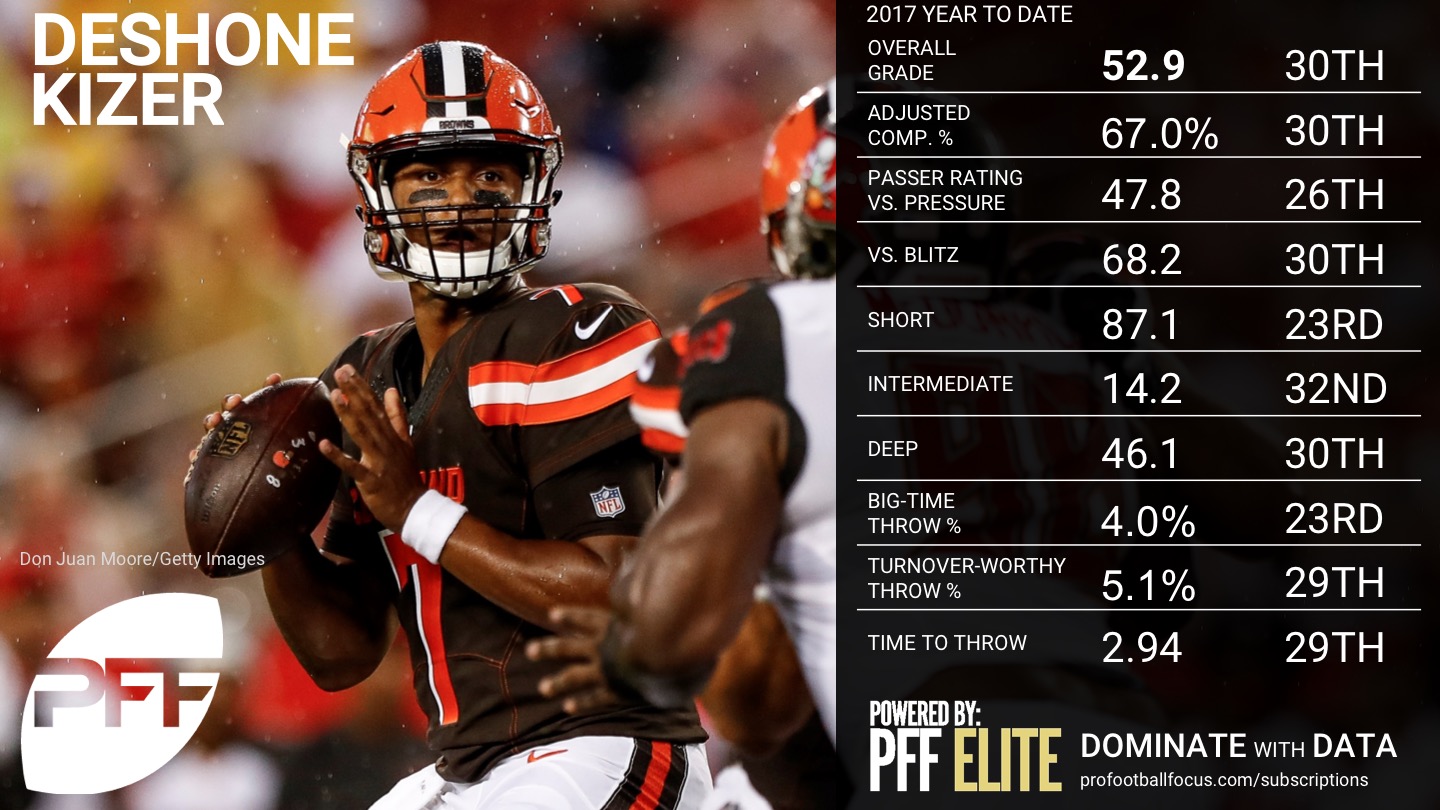 By far the rookie's best performance of the season, Kizer flashed the things that you hope he'd be able to put together more consistently. His deep ball touch was on display on the first throw of the game, dropping a "go" ball in the bucket to Sammie Coates for 38 yards, his biggest completion of the game. Perhaps his most impressive throw was a deep cross he laid up and over the linebackers and in front of the secondary for another big gain and near touchdown as TE Seth DeValve was tackled just shy of the goalline. It was clear the plan was to get the ball out of his hands more quickly with more quick game and anticipation throws on the outside, with his average time to throw at 2.75, his third-quickest of the season. It wasn't all pretty as he called his own number on a QB sneak with 15 seconds left in the first half and no timeouts that took points off the board and also threw a late game interception failing to give his WR a chance to make a play on the ball. The biggest takeaway from the game was Kizer played with decisiveness.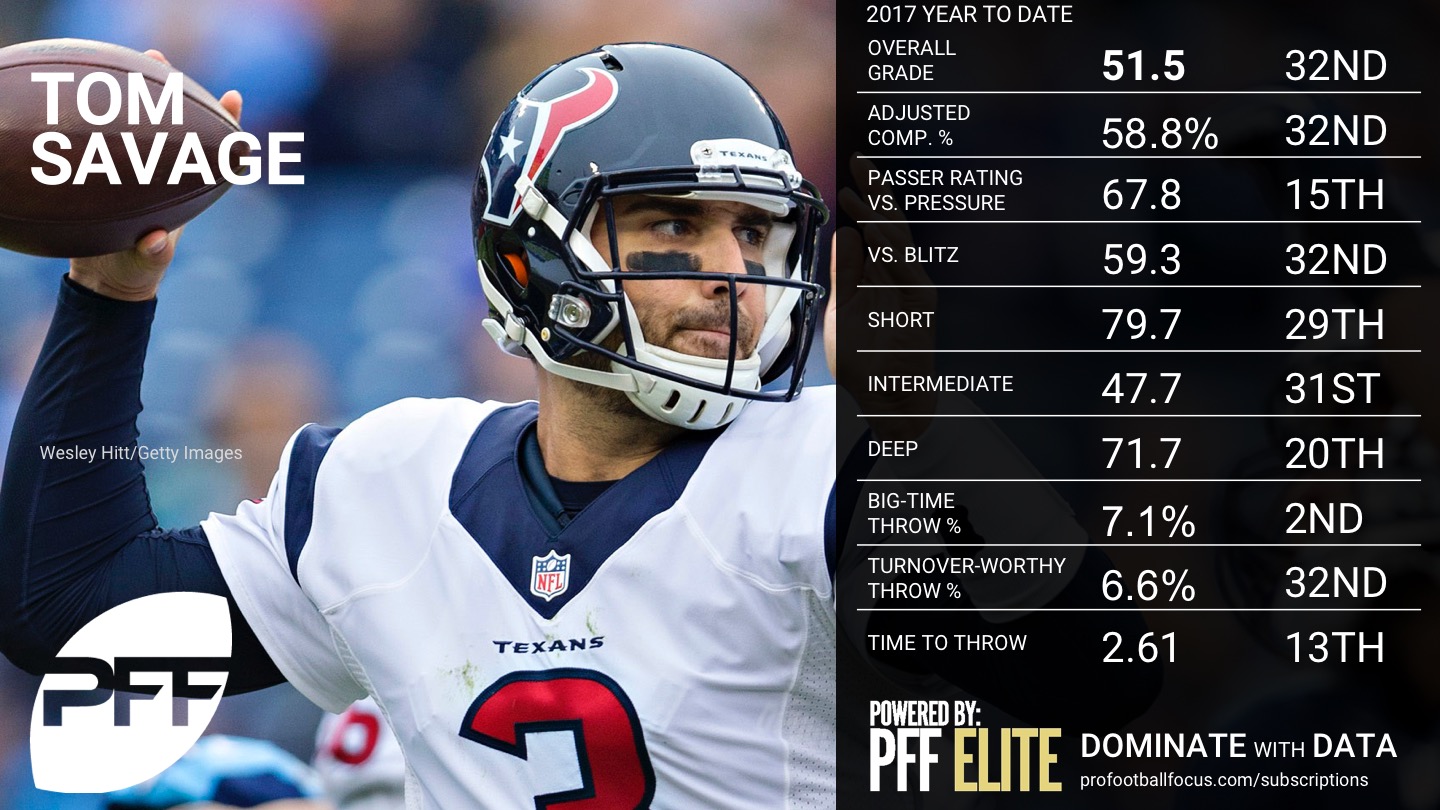 Editor's Note: The following quarterbacks, due to their injuries, lack of play over the past few weeks or recent starting quarterback changes have been pulled from their place, as their low snap count will eventually trickle off from their place in the rankings or they have not had enough snaps to qualify for a ranking yet:
7. Aaron Rodgers, Green Bay Packers – 84.9 overall grade
22. Carson Palmer, Arizona Cardinals – 75.7 overall grade
24. Deshaun Watson, Houston Texans – 75.1 overall grade
28. Mike Glennon, Chicago Bears – 71.7 overall grade
29. Brian Hoyer, San Francisco 49ers – 71.0 overall grade
34. Drew Stanton, Arizona Cardinals – 57.7 overall grade (with injury status in question, will be included when he continues to play)
N/A: Brock Osweiler, Denver Broncos – 43.7 overall grade