With four weeks of the NFL season in the books, it's time to look at the first players of the month across both conferences. The NFL broke out their list for September and while it wasn't a bad effort, there are a few changes that we at Pro Football Focus have made.
Rather than being led by some flashy highlight numbers like sacks or interceptions, Pro Football Focus has watched and graded every single snap from every player of this NFL season, giving us a unique insight and ability to evaluate how players have really been performing in their totality. With that in mind, here are the PFF Players of the Month for September:
NFC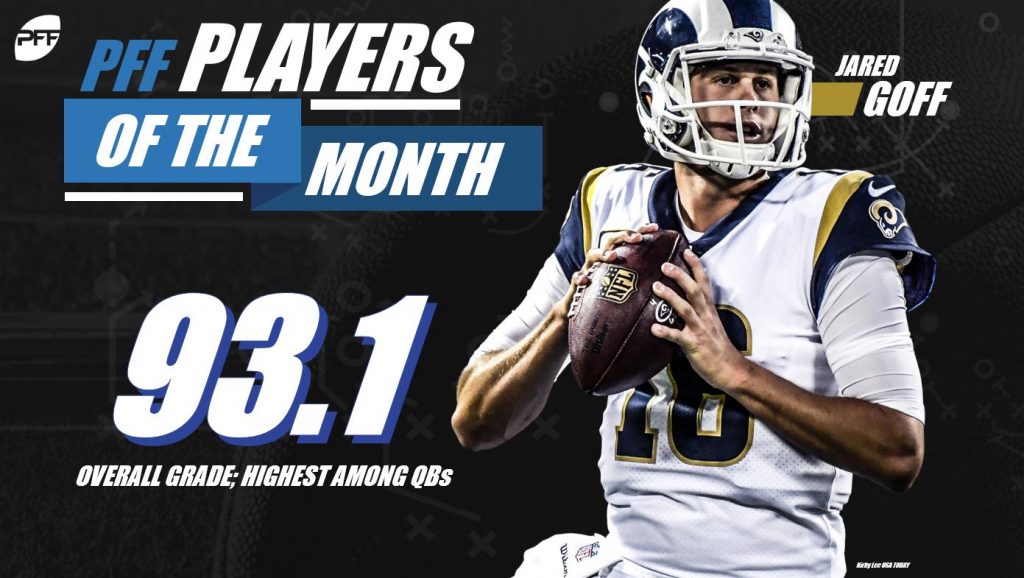 The NFL nailed this selection with Goff. Through the first few weeks of the season, he has 14 big-time throws, more than anybody outside of Ryan Fitzpatrick and has been the perfect complement to Sean McVay's schematic genius. Goff leads the league in adjusted completion percentage (84.0%) and has been leading an absolute juggernaut on offense as the Rams roll through the rest of the NFL.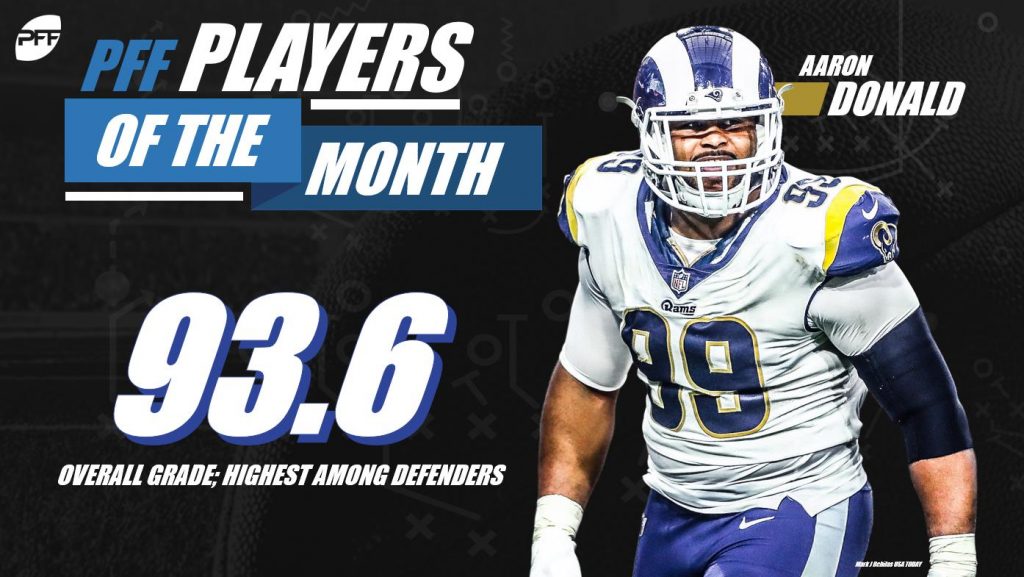 While Khalil Mack is far from a poor choice (he has been our second-best graded defensive player through September) and has had an undeniably potent impact on the Chicago Bears' defense, the player that has been peerless when it comes to sheer dominance has been Aaron Donald. Though he was slow getting sacks, Donald has been racking up pressure at a better rate than anybody, demonstrably affecting the opposing passing game and ruining gameplans. At 30 total pressures, he has four more than anybody else in football despite playing on the inside where pressure is harder to come by, and his win percentage as a pass-rusher is also the best mark in the league by a distance.
Turner has been a force for the Cardinals' special teams this year, seeing time with the kick return, kick coverage, punt return and punt coverage units. He has already registered six tackles on special teams, tied for the most in the league, and has some nice blocks on punt returns, knocking opposing players to the ground.
AFC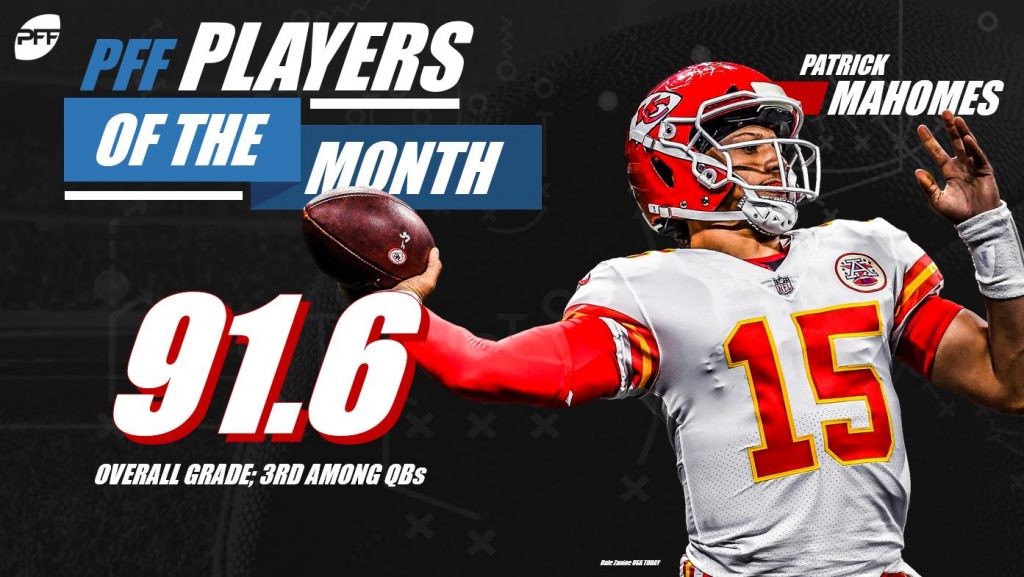 Another spot the NFL nailed, the emergence of Patrick Mahomes has been something to behold. It took until his fourth game of the season to register a turnover-worthy throw, and he still has just one of them on the season. His touchdown numbers speak for themselves, but the lack of mistakes despite an average depth of target of 10.5 yards – a mark that would rank among the top players in football each year – is perhaps the defining characteristic of his play thus far. Mahomes has been a big-play machine and has done so without costly errors.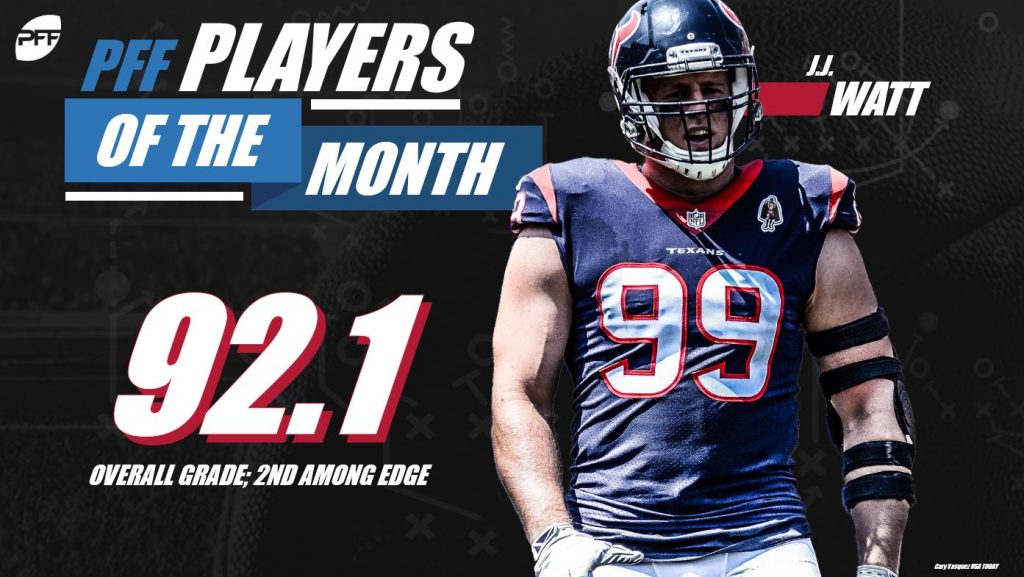 J.J. Watt is back! Perhaps not all the way back, but the 2018 version of Watt has been amongst the league's best players, even if he isn't pushing the bar higher with every game as he was at his very peak. Sacks are what draws the attention, but Watt also has 19 total pressures and 14 defensive stops, the latter mark ranking third among players that aren't linebackers.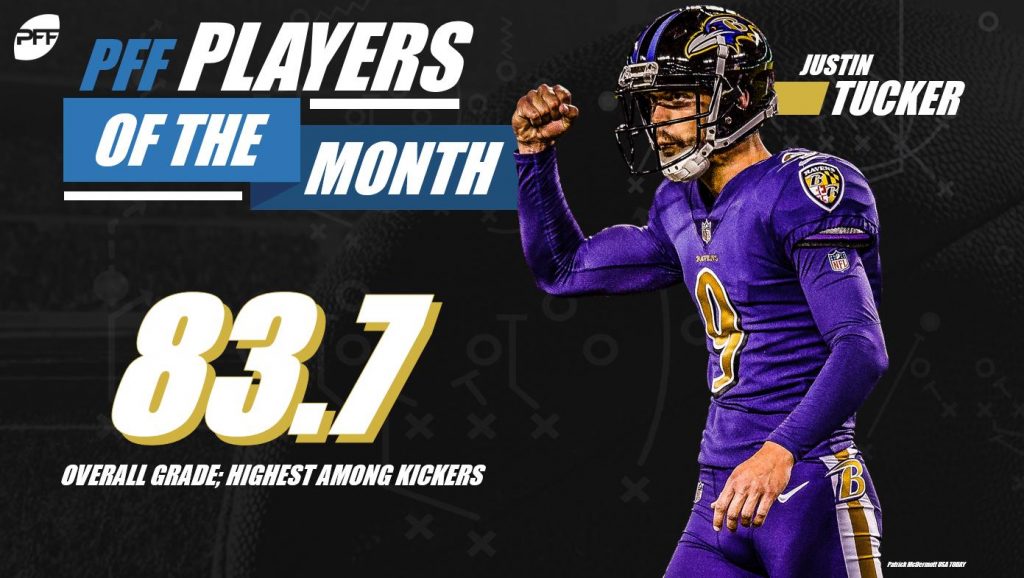 What Tucker has done so far this season is impressive, even by his high standards. The only "miss" he has came on a blocked field goal, and he leads the league with three field goals of 50-plus yards. He provides a great safety blanket for the Ravens' offense, and the team can be confident in trotting him out there from anywhere inside 55 yards, and with kicks from 60+ yards in his career, he has that in his back pocket should it be needed late in a game.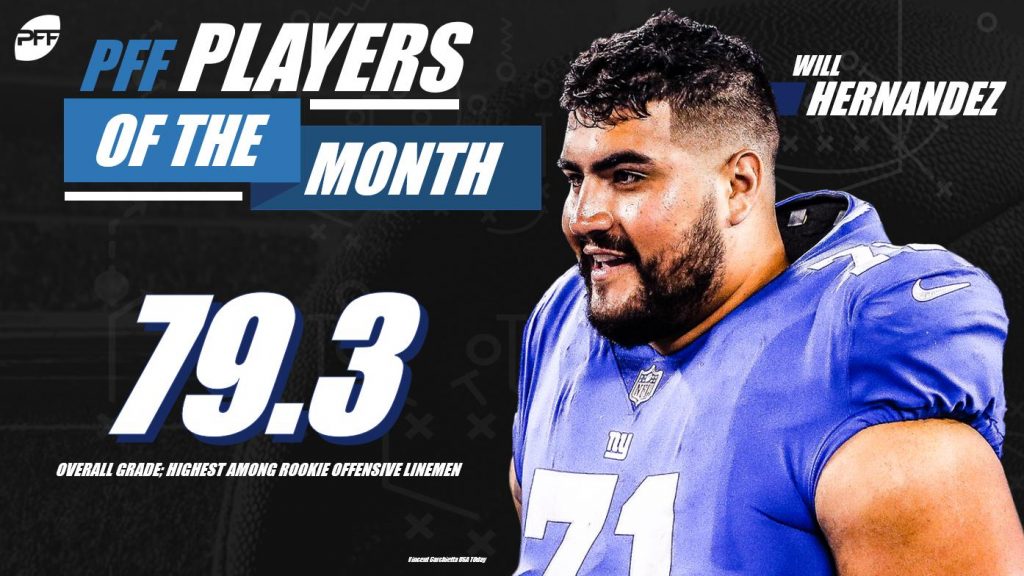 Linemen don't get the love and respect they deserve because there aren't easy box score numbers to draw the attention, and while Calvin Ridley has been impressive, Will Hernandez has been exceeding him in relative obscurity in the trenches. Through four games, Hernandez has allowed just four total pressures and been a people-mover at the point of attack in the run game.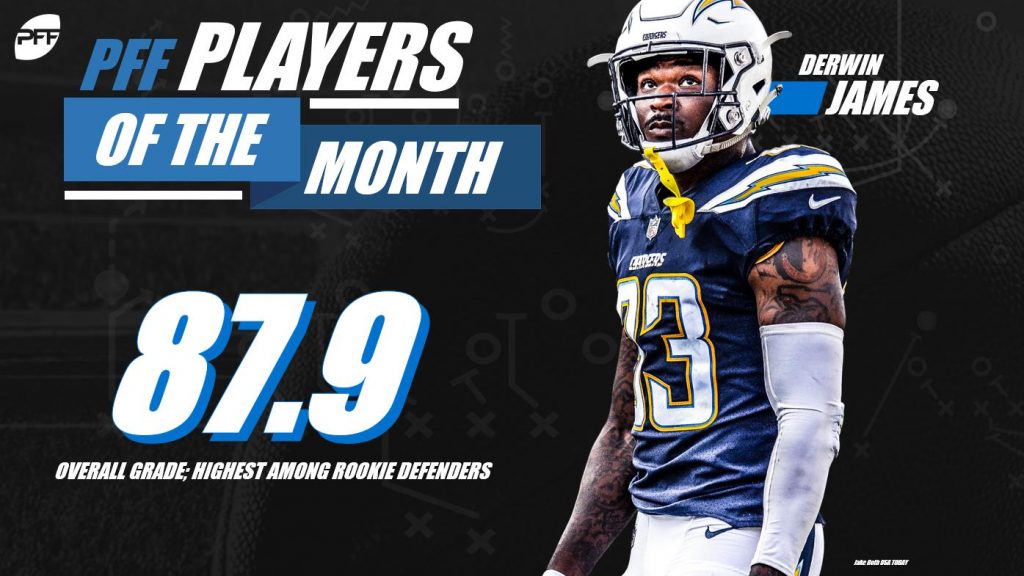 Though Darius Leonard has had one phenomenal game and looked like he has plenty of potential, his tackle numbers do not tell the full story of a player that has given up a reception on 34 of 36 targets in coverage for almost 12 yards a catch within the Colts' system. Derwin James, on the other hand, has been a monster for the Chargers, lining up all over the field and making plays in whatever role is asked of him. James has 10 total pressures and three sacks just as a blitzer, which ranks fifth amongst all rookies and is only six fewer than top five pick Bradley Chubb, a pass-rusher by trade!