After each week of the NFL season, and once our exhaustive All-22 review process is in the books, PFF will be bringing you the insights from our play-by-play grading of every NFL game with our team of the week.
This year we will match the new and improved All-Pro system when it comes to offensive and defensive formation, with a flex player for both sides of the ball that can be either a receiver, slot weapon, tight end or running back on offense, and anybody in the defensive secondary on defense. This gives us the flexibility to reward the player that best deserves it across multiple positions, rather than shoehorning in somebody just to fit a slot receiver or cornerback role. 

Offense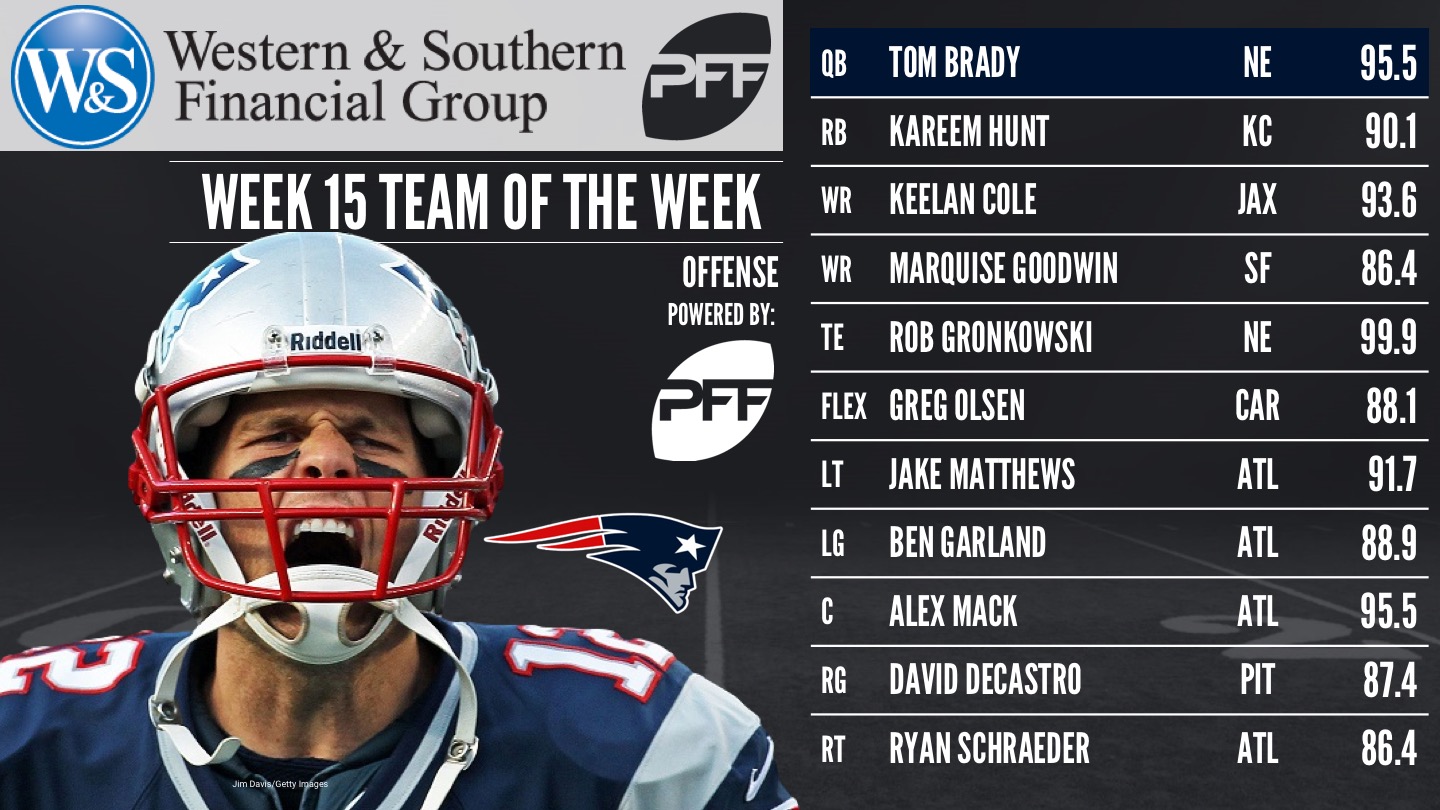 PFF Grade: 95.5
Elite Stat: Tom Brady completed five of eight deep passes for a league-high 148 deep yards this week.
When the Steelers elected to punt the ball back to Tom Brady with a couple of minutes left in their big AFC battle this week, there was an air of inevitability about his march down the field to put the go-ahead score on the board, a score that would ultimately prove decisive. Brady was impressive and consistently found Rob Gronkowski – his mismatch trump card – against the Steelers increased man coverage, moving the ball down field effortlessly in the most critical situations.
PFF Grade: 90.1
Elite Stat: Kareem Hunt broke seven tackles on 31 total touches against the Chargers.
It's no coincidence that when the Chiefs offensive line got its act back together against the Chargers, Kareem Hunt suddenly looked like the player he was in September and October once more. Hunt carried the ball 25 times this past week, gaining 99 yards after contact and breaking six tackles along the way. As a receiver, he also added another 51 yards on seven receptions from nine targets, beating five different defenders for catches.
PFF Grade: 93.6
Elite Stat: Keelan Cole gained an absurd 6.89 yards per route run this week.
Keelan Cole absolutely carved up the Houston defense this week, racking up 186 receiving yards and a touchdown from nine targets and seven receptions. He beat six different Houston defenders for catches, and gained 101 of those yards after the catch. Blake Bortles had a passer rating of 155.8 when throwing the ball Cole's way, just a hair short of a perfect rating.
PFF Grade: 86.4
Elite Stat: Marquise Goodwin gained 2.65 yards per route run this week.
The favorite target of Jimmy Garoppolo this week against the Titans, Marquise Goodwin saw 13 passes thrown his way over the entire game, catching ten of them for 114 yards, 25 of which came after the catch. His chief victim was rookie corner Adoree' Jackson, who saw nine of those targets and surrendered seven of the receptions for 77 yards.
PFF Grade: 99.9
Elite Stat: Rob Gronkowski gained 4.80 yards per route run this week.
Rob Gronkowski was the best player in football this past week. The Steelers came with a new, aggressive game plan to combat the Patriots offense, featuring much more man coverage than they typically run, but Gronk was the kryptonite that destroyed that plan. He gained 168 receiving yards from 11 targets, as well as securing a 2-point conversion, victimizing Steelers safety Sean Davis, who drew the short straw of having to cover him one on one most of the game.
PFF Grade: 88.1
Elite Stat: Greg Olsen gained 3.52 yards per route run this week.
Greg Olsen has been back in the Panthers lineup for a few weeks now, but this was the first time he was the huge factor in the passing game that we expect to see each week. He caught nine of the 11 passes thrown his way for 116 yards and a touchdown, beating five different Packers defenders for catches. Olsen gained 37 yards after the catch and Cam Newton had a passer rating of 140.9 when throwing in his direction over the course of the game.
PFF Grade: 91.7
Elite Stat: Jake Matthews allowed two total pressures this week.
The Falcons running game was at its punishing best on Monday night against the Bucs. They topped 200 yards rushing as a team, with Devonta Freeman getting 126 of them, and much of that was made possible by the work of LT Jake Matthews, whose run blocking was crushing, particularly at the second level. Matthews didn't allow a sack or a hit across his pass-blocking snaps, but did allow a small volume of hurries given 38 snaps in protection.
PFF Grade: 88.9
Elite Stat:  Ben Garland allowed three total pressures across 38 pass-blocking snaps.
The Atlanta offensive line destroyed the Tampa Bay defensive front on Monday night, and Ben Garland's run blocking was so destructive to the Bucs defense that he made the team without a stellar performance in pass protection. Garland allowed three total pressures, but was a beast on the ground, paving the way for Falcons running backs to top 200 rushing yards overall.
PFF Grade: 95.5
Elite Stat: Alex Mack allowed no total pressures from 38 pass-blocking snaps.
Almost making a complete sweep on the offensive line, the Falcons find four of their five starters on team of the week, with Alex Mack taking the center spot. Mack didn't allow any pressures at all in the game, and was the only member of the line to have a perfect day in pass protection. Like the rest of the unit, he was a monster on the ground and dominated the Bucs defensive front as a run blocker.
PFF Grade: 87.4
Elite Stat: David DeCastro allowed just one total pressure from 34 pass-blocking snaps.
They ended up ultimately coming short against the Patriots, but the Steelers had a lot of high-level performances in that game. RG David DeCastro was once again a force and is solidifying his case as the best guard in football this year. He allowed just one hurry all game, and was more than a match for the New England defensive front in the run game. Pittsburgh gained an average of 5.6 yards per carry on runs that went immediately either side of his blocks.
PFF Grade: 86.4
Elite Stat: Ryan Schraeder allowed just one total pressure this week.
The Atlanta offensive tackles form the bookends for PFF's team of the week this week, with Ryan Schraeder also having an excellent outing against the Bucs defense. Schraeder allowed just one hurry across 38 pass-blocking snaps, and like the rest of that Falcons offensive line, earned solid a run-blocking grade.
Defense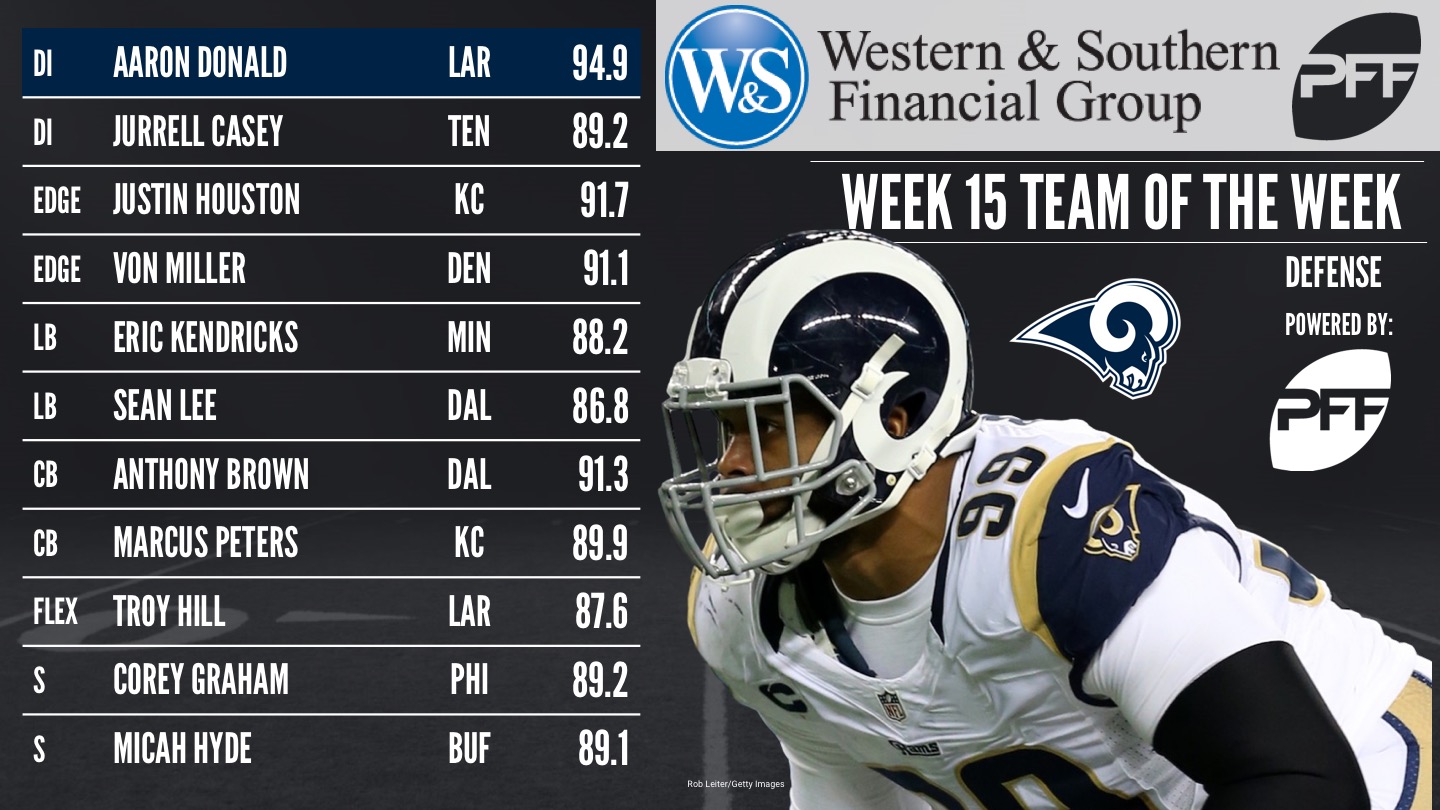 PFF Grade: 94.9
Elite Stat: Aaron Donald had nine total pressures this week.
Off the team last week, Aaron Donald resumes his spot on PFF's team of the week, with a certain inevitability given the fact he was going up against the Seattle offensive line that has never been able to get a handle on blocking him. Donald had a ridiculous nine total pressures, three sacks, and five defensive stops in total over the game, and was practically unblockable all game long, giving the Seahawks offense all kinds of problems as they were consistently presented with decisive and immediate pressure right up the gut.
PFF Grade: 89.2
Elite Stat: Jurrell led all 3-4 defensive ends in run-stop percentage this week at 22.7 percent.
Jurrell Casey achieved something unusual against the 49ers, which was to make team of the week while posting no pressures at all. Casey had five defensive stops in total to lead the team, as well as a batted pass, but critically he also had a positive pass-rushing grade because of four plays in which he beat his man as a pass-rusher but the ball came out before it could affect the quarterback.
PFF Grade: 91.7
Elite Stat: Justin Houston had five total pressures from 25 pass-rushing snaps.
Justin Houston didn't come out of the game against the Chargers with a sack, but he was a consistent pass-rush force, and ended up with five total pressures, one of which was a knockdown of Philip Rivers. Houston also had a pair of defensive stops and looked like his old self, which is to say one of the game's best and most impactful edge rushers.
PFF Grade: 91.1
Elite Stat: Von Miller had seven total pressures against the Colts.
With little interest in the Broncos lately given their season struggles, there seems to have been a lack of attention on Von Miller, but he has been as good as ever, and he was again destructive this week. Against the Colts, he notched seven total pressures, even if he failed to convert any into a sack, while also batting a pass and recording a pair of defensive stops in the run game. Miller remains one of the game's best defenders and has been on a dominant tear over the past few games.
PFF Grade: 88.2
Elite Stat: Eric Kendricks allowed a passer rating of 8.3 when targeted this week.
Eric Kendricks' strength is in coverage, and we saw that on display this week against the Bengals, picking off an Andy Dalton pass and returning it for a score as the Vikings stomped the life out of Cincinnati over the course of the game. Overall, Kendricks was thrown at five times, allowing just two of those to be caught for only nine yards. The passer rating he allowed on his targets was just 8.3.
PFF Grade: 86.8
Elite Stat: Sean Lee was targeted just once in coverage against Oakland.
There is no doubting the Dallas defense looks transformed when LB Sean Lee is out there on the field, and we saw him have another excellent game at the heart of that unit this week against the Raiders. Lee earned positive grades across the board in all facets of play PFF measures, and he led the team both in solo tackles (eight) and defensive stops (four).
PFF Grade: 91.3
Elite Stat: Anthony Brown had three pass breakups from seven targets this past week.
The Raiders went after the Dallas cornerbacks in this game, with all three of their top cornerbacks seeing at least six targets. Brown saw the ball come his way seven times, and though he allowed 56 yards, they came on only three receptions. He was able to get his hands on three of the targets to break them up.
PFF Grade: 89.9
Elite Stat: Marcus Peters didn't allow a catch from six targets against the Chargers.
Generally if you can make it out of a game as a cornerback without having allowed a reception, things have gone well. That's exactly the case for Chiefs cornerback Marcus Peters this week. Peters was thrown at six times, allowing no catches, but he caught two passes himself for interceptions and broke up another. Needless to say, the passer rating of Philip Rivers when putting the ball into his coverage was zero.
PFF Grade: 89.2
Elite Stat: Corey Graham allowed 19 yards in coverage on six targets.
The Eagles defense definitely bent about as far as it could against the Giants while still getting out of dodge with the victory. Corey Graham tied for the team lead with seven solo tackles and added another assist, but it was coverage where he really stood out, closing quickly to prevent big gains, and notching a pass breakup on a play that was nullified by penalty.
PFF Grade: 89.1
Elite Stat: Micah Hyde allowed negative yards in coverage this week.
The Buffalo secondary bounced back this week against Jay Cutler and the Miami Dolphins, with multiple members having strong performances and pushing for a spot on team of the week. Ultimately, Micah Hyde was the only one to make that grade, and he made some notable plays in the game. He was thrown at twice in primary coverage, and those targets actually lost yardage (minus two), while he broke up the incomplete pass.
PFF Grade: 87.6
Elite Stat: Troy Hill allowed a passer rating of 39.6 this week, the same passer rating as just throwing the ball at the ground every play.
In PFF's first year of grading college football, Troy Hill was one of the standouts of the season in his final year at Oregon. That hasn't translated to the NFL, but for one week at least, Hill was fantastic against the Seahawks offense. He was thrown at four times, allowing just one catch for four yards, while breaking up one of the incompletions. Overall, Russell Wilson had the same passer rating when targeting Hill as he did on the two passes he threw away.
Special Teams
6-for-6 on the day? Check. Kick from 50-plus yards? Check. Game winner? Check.
It wasn't a great day for the Bengals, but punter Kevin Huber had a standout performance, with three of his eight punts landing inside the Vikings 20 yard line.
Averaging 18.3 yards per punt return on seven returns, Cooper was electric on special teams, forcing three missed tackles on punt returns alone.
A 2016 sixth-round draft pick, Kamu Grugier-Hill has already flashed on special teams this year but delivered the best game of his career to date against the Giants, registering three solo tackles.