Around this time of the year — ever year — there is a familiar feeling around upset New York: false optimism with the knowledge that the team will inevitably crash, burn, fall short of the New England Patriots and ultimately miss the playoffs.
2016 feels different, though. The Bills appear to have finally found a franchise quarterback, Rex Ryan is entering his second season — and this time he has players who should be able to work within his system — and the roster has talent all over.
Here is where Buffalo ranks among each position group entering 2016:
[More: Be sure to check out PFF's ranking of all 32 NFL QB situations, offensive lines, running back units, receiving corps, secondaries, and defensive front-sevens. Catch up on all the team previews here.]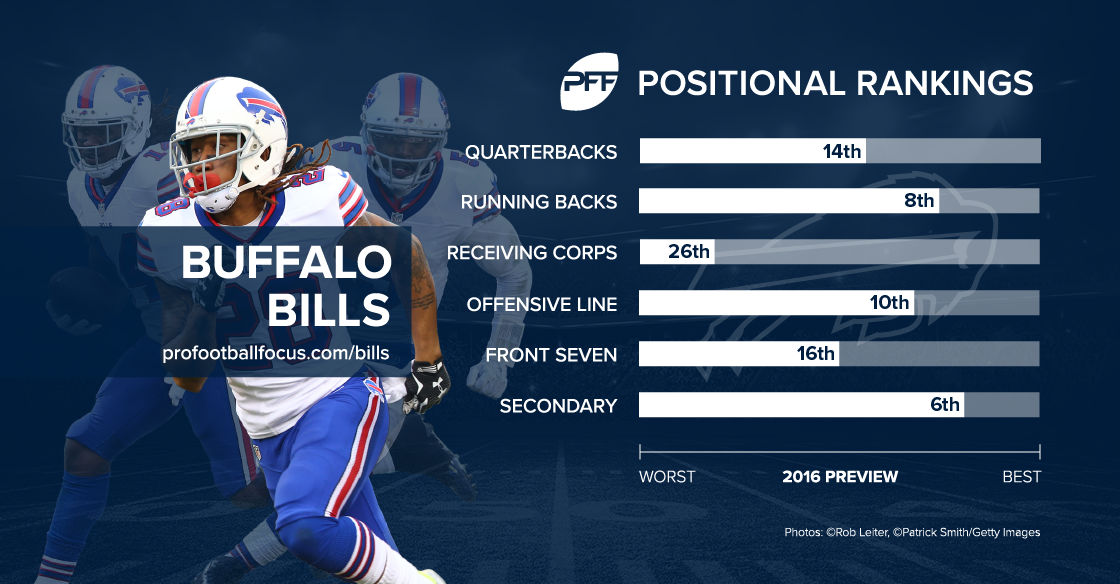 Buffalo will go as far as Tyrod Taylor can take them
Quarterbacks: 14th
Taylor was a pleasant surprise for the Bills last season, providing fans with the best QB play the team has seen since the days of Drew Bledsoe. Taylor finished 2015 as our 10th-ranked quarterback in terms of overall grade, and he didn't accumulate all of it with his legs — his +5.4 passing grade ranked 13th among QBs, ahead of Philip Rivers, Ryan Tannehill and Eli Manning. If Taylor can improve upon his short-intermediate passing game in 2016 (he had a -16.6 passing grade on throws traveling less than 10 yards in the air versus a +26.2 passing grade on throws traveling over 10 yards in the air) he could take a big jump forward in 2016 — that's still an if though. Taylor will be one of the most interesting QBs to monitor during this upcoming season. Beyond Taylor the depth chart gets shaky, EJ Manuel has by all measures been a bust (he was our lowest-graded QB in 2013, his last season as a starter) and Cardale Jones is very much a developmental project at this point.
McCoy and Williams make for dominant duo
Running backs: Eighth
When he ranked the 32 running back groups, Senior Analyst Mike Renner said, "There might not be another backfield duo that complements each other better than the one in Buffalo."
McCoy finished last season as our 20th-ranked running back in terms of rushing grade (a nice bounce back from 2014, when he finished 56th out of 57 qualified running backs in rushing grade) and has demonstrated time and again throughout his career his ability to work in space. When McCoy is at his best, he's one of the most elusive running backs in the league.
Complementing McCoy is Karlos Williams, who burst onto the scene as a rookie. Williams was our 13th-ranked RB in terms of rushing grade last season (third among rookies) and his +3.1 blocking grade was the second-best among all running backs.
All eyes on Sammy Watkins
Receiving corps: 26th
Sammy Watkins had an impressive sophomore campaign in 2015 and he absolutely exploded for the last nine weeks of the season. For the season, Watkins was our 11th-ranked overall receiver and he had our 12th-best receiving grade. From Weeks 9 to 17 though he ranked fourth among receivers in terms of overall grade and his +14.0 receiving grade trailed only Antonio Brown's.
Bills fans are currently holding their breath hoping that he makes a clean and timely recovery from offseason foot surgery, but all reports so far have indicated that he should be good-to-go. After Watkins, however, the depth chart is very thin. Robert Woods is coming off of his worst season as a professional (he ranked 106th out of 113 qualified WRs in terms of overall grade) and after him Buffalo is hoping that a guy like Leonard Hankerson or Greg Salas can step up to take the third spot.
Buffalo's offensive line may be the most Jekyll-and-Hyde unit in football
Offensive line: 10th
It's tough to overstate just how good the left side of that line (center Eric Wood included) was last season; and at the same time it's also tough to overstate just how bad the right side of the line was at the exact same time. LT Cordy Glenn, LG Richie Incognito and C Eric Wood all earned top-10 overall grades at their respective positions – they ranked 9th, 2nd and 5th respectively – but RG John Miller ranked 78th out of 82 qualified guards in terms of overall grade and RT Jordan Mills has graded out positively in pass protection in just three games over his three-year career (the last being in Week 14 of 2014). Don't be surprised if newcomer Fernando Velasco sees a meaningful snap count this season — he has experience at all of the interior positions and he's graded well throughout his career.
Run defense stands out, but questions remain for front-seven
Front-seven: 16th
There's no doubt that this should be a solid unit, but can it be an explosive one? Senior Analyst Ben Stockwell noted that, "In their first year under Rex Ryan, the Bills' biggest defensive failing was a complete and utter lack of pass-rushing support for Jerry Hughes." Now that was a big reason why they went out and drafted Shaq Lawson – one of the premier pass rushers in all of college football last season – with their first-round pick but he's going to miss time in the beginning of the season as he recovers from shoulder surgery. After him and Hughes, the roster is still fairly thin with pass-rushers. In terms of run defense though, this could be one of the better units in all of football. Reggie Ragland figures to step in and make an immediate impact against the run, and outside of Preston Brown (who graded decently as a rookie in 2014 before grading as one of the worst LBs in the NFL in 2015), Buffalo doesn't really have any players who have proven to be weak against the run.
Darby, Gilmore combine for star cornerback tandem
Secondary: Sixth
On the outside, Buffalo has one of the best – if not the best – cornerback tandem in all of football. Ronald Darby took home our Defensive Rookie of the Year award last season after finishing the season as our ninth-ranked cornerback in terms of both overall grade and pass coverage. Stephon Gilmore has had a top-25 coverage grade (out of over 100 qualified CBs) in each of the past two seasons, as well.
In the slot, the Bills will enter the season with Nickell Robey's name penciled in but don't be surprised if newcomer Sterling Moore takes that job from him at some point. Robey has been a disappointment since an impressive rookie season in 2013 and Moore has shown some ability to play in the slot. If Robey is able to maintain his SCB job, Moore should provide nice depth should any of the first three CBs face an injury. Corey Graham was one of the best safeties against the run last season and his 35.7 tackle efficiency rating was nearly double the second-best safety's. Buffalo also welcomes back Aaron Williams who missed most of 2015 with an injury.