With both free agency and the draft in the books, the major period of talent acquisition has been done already for every team heading into the 2017 season. Players will emerge throughout training camps and preseason, but for the most part, what we see on paper now is what will roll into opening day for most teams, so it's time to start handing out paper championships. Which teams in each division have improved the most from a season ago?
AFC East
New England Patriots
This should terrify the rest of the NFL. The defending Super Bowl champions look significantly better on paper than they did a season ago. They lost starting CB Logan Ryan in free agency, and while many expected them to lose Malcolm Butler as well, they have retained his services as well as adding Stephon Gilmore from Buffalo, representing a significant upgrade over Ryan. Brandin Cooks came over in a trade from New Orleans, giving them a deep threat that had been absent from the team for a while and a player to whom targets last season yielded a passer rating of 119.2, better than any New England receiver. Their draft consisted of just four mid- to low-round picks, but they still managed to pick up some intriguing developmental prospects from that group.
AFC South
Jacksonville Jaguars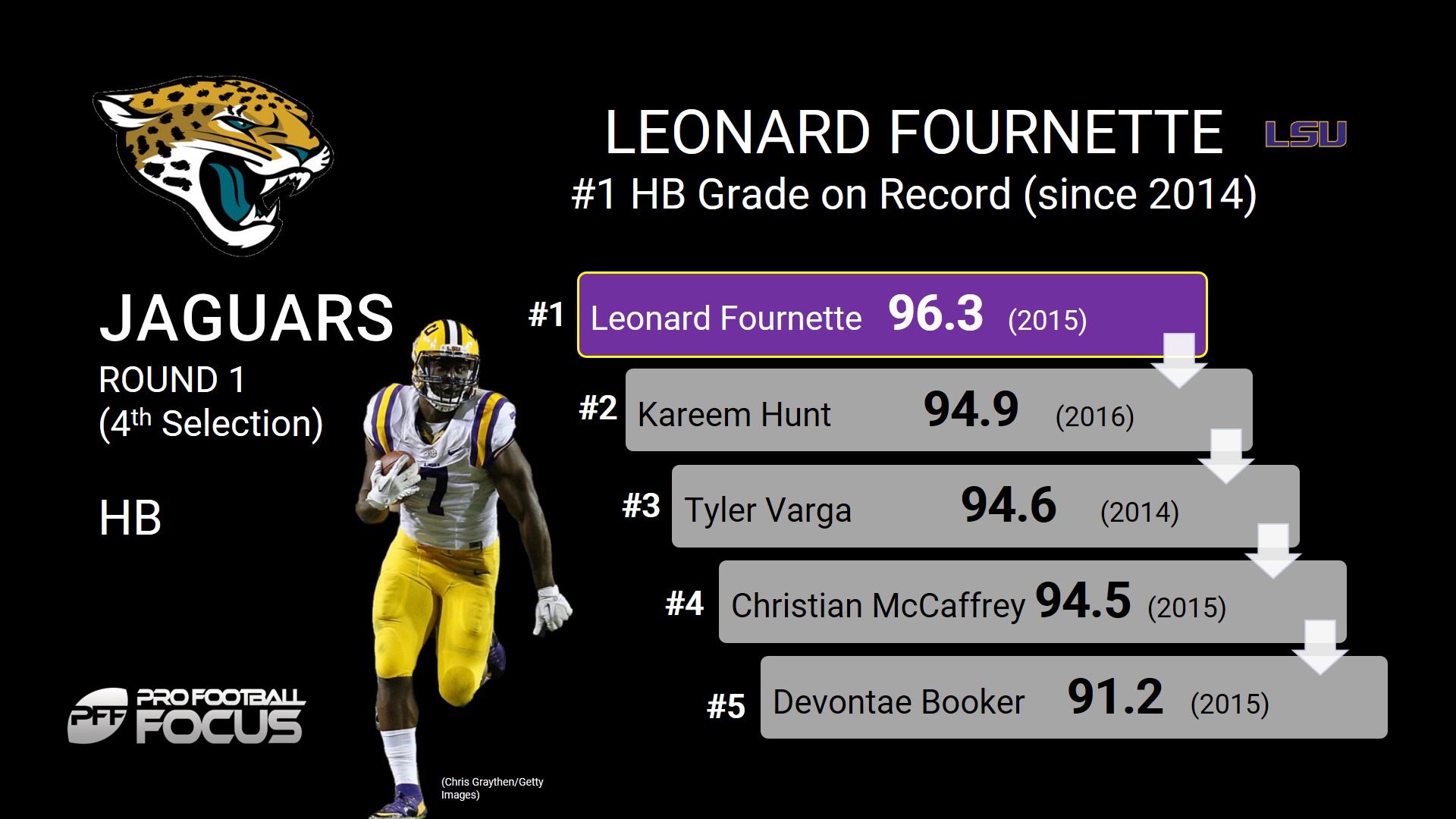 The Jaguars are in danger of becoming the new Washington Redskins in terms of perennial offseason champions, but it's tough to argue with a huge influx of talent over the past few months. A.J. Bouye coming over from Houston should give them the league's best young cornerback pairing along with last year's top pick Jalen Ramsey. Bouye notched 13 pass breakups and three picks including the playoffs last season. Calais Campbell was the most dominant interior pass-rusher in the league last season not named Aaron Donald, notching nine sacks, 15 hits, 32 hurries, and five batted passes. In the draft, Leonard Fournette may be something of an anachronism in a 2017 NFL offense, but he should provide a massive early-down lift to their run game. Ultimately the team's success will still rest on the shoulders of Blake Bortles.
AFC North
Cleveland Browns
I think as a division, the AFC North may have helped itself more than any other from top to bottom this offseason, but it's hard not to love what the Browns have done. From effectively "buying" a second-round draft pick from the Houston Texans in the Brock Osweiler trade, to adding significant reinforcements to their offensive line, to locking up Jamie Collins and then snaring three first-round picks and QB DeShone Kizer by the end of the second round, this team is undoubtedly moving steadily away from the basement of the division and the league. What is most encouraging is that they didn't panic for a quarterback, instead rebuilding the offense for whoever starts to have a much easier job. J.C. Tretter last season allowed just eight total pressures across seven games at center, while Cameron Erving notched 30 by the end of the year.
AFC West
Denver Broncos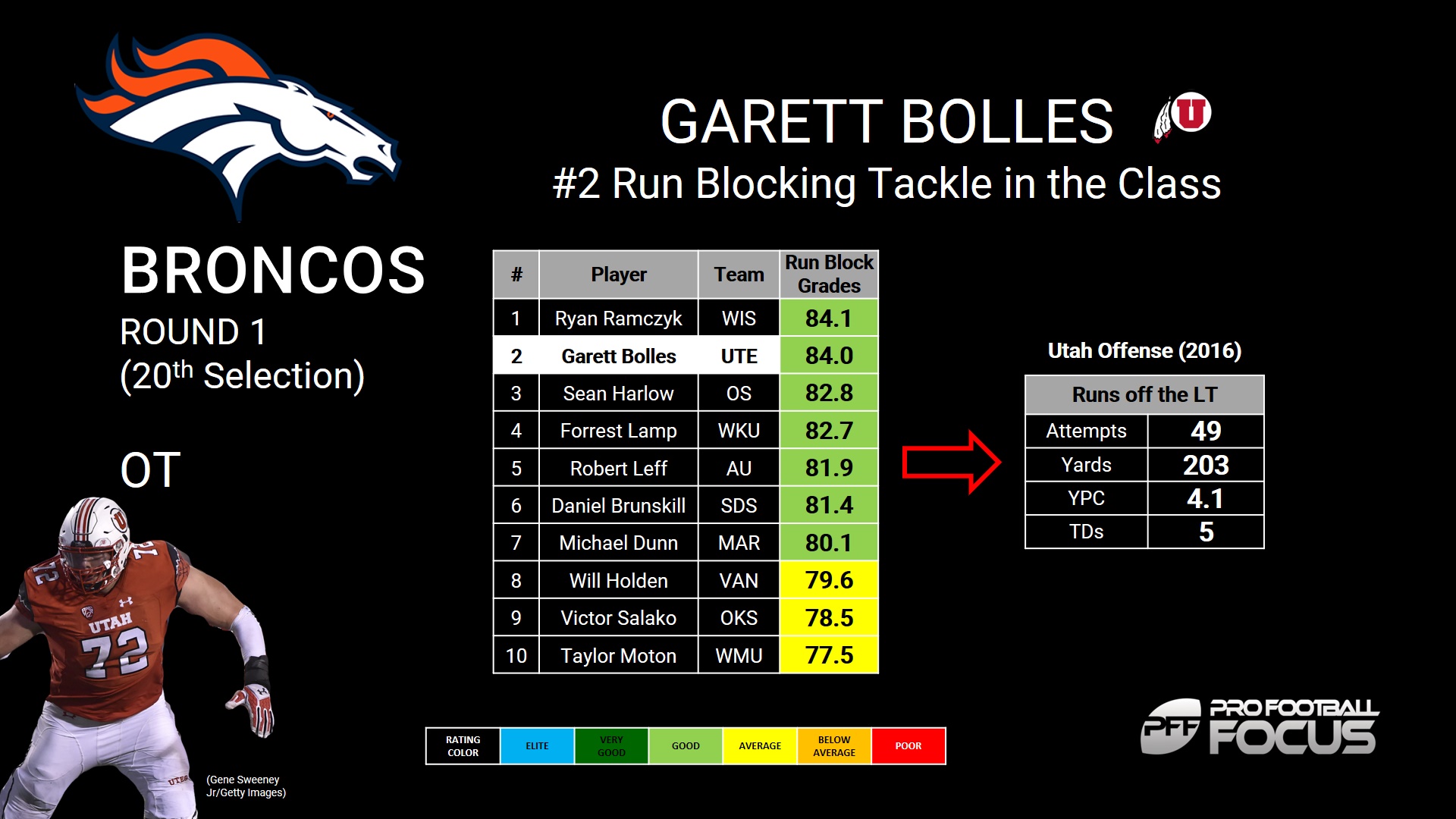 The AFC West wasn't a big player in free agency, with the most significant additions for most teams coming via the draft. Each team has at least one significant addition, but the team that clearly went to work addressing an area of weakness is the Denver Broncos. They added Ronald Leary to address a weakness at guard, and then grabbed Garett Bolles with their top pick to fix their left tackle problem. Leary didn't allow a single sack in 2016, compared to the four that Max Garcia did playing left guard for the Broncos. Carlos Henderson also has the ability to make an impact early, as he led all FBS wide receivers last season in broken tackles, with 48, 22 more than anybody else.
NFC East
Philadelphia Eagles
Alshon Jeffery was the big get for the Eagles in free agency, bringing a receiver with legit No. 1 potential to a unit that has been unable to make plays for some time, but they also added a number of other low-key players to provide depth. The draft though is what separates them. In Derek Barnett, they added a pass-rusher in the first round who has accumulated 187 total pressures over the past three seasons, 23 more than No. 1 overall pick Myles Garrett. CB Sidney Jones was unfortunate to injure his Achilles pre-draft, but he has the talent to be the best CB in this class. He didn't allow a touchdown in 2016 and just one the year before that. Lower down in the draft they also added several players that will have the chance to contribute early.
NFC South
New Orleans Saints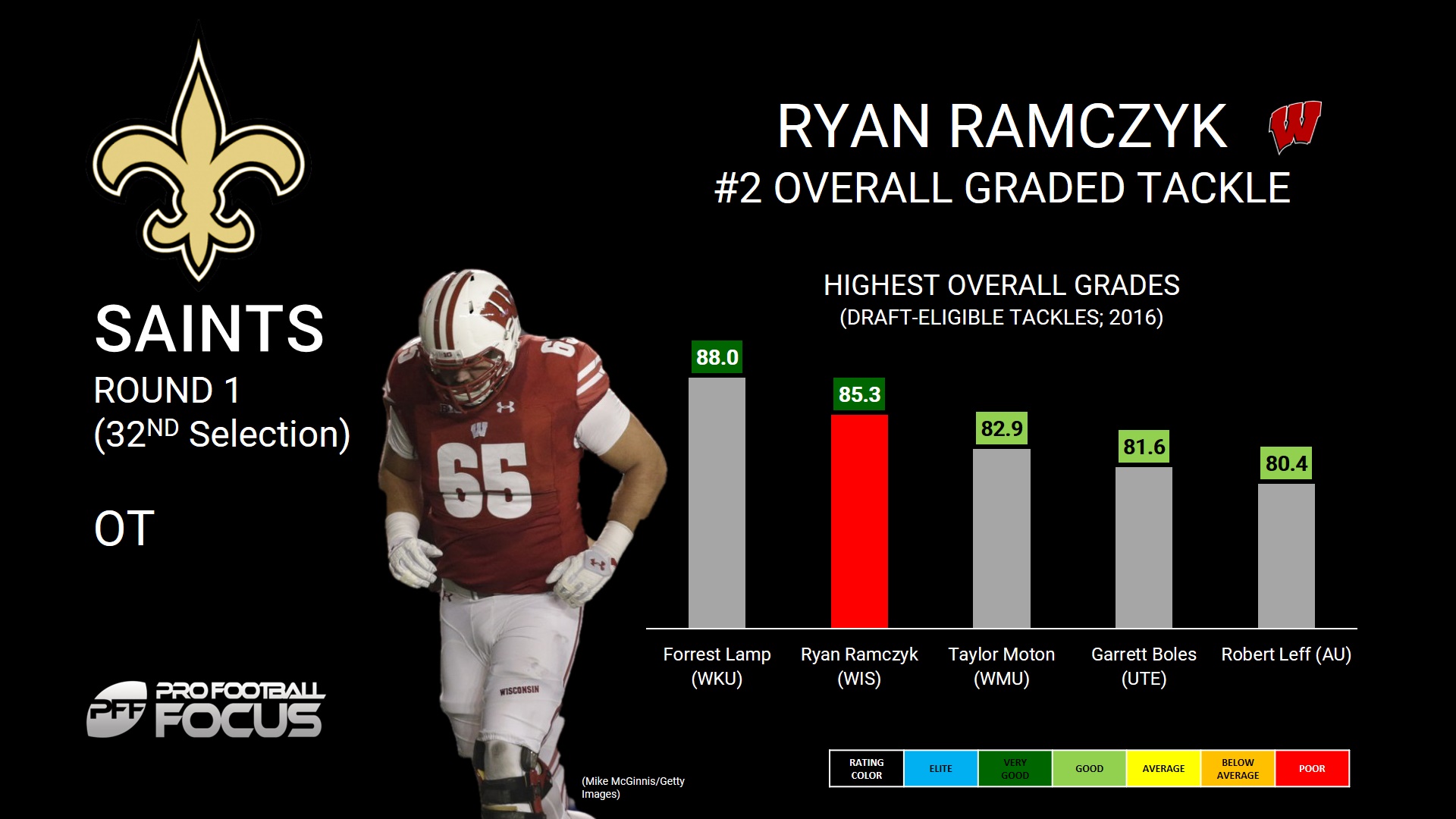 It's hard not to like what the Tampa Bay Buccaneers did over free agency and the draft, but the Saints draft was so good I think it edges it. Marshon Lattimore slipping to No. 11 could prove to be a steal, as he was the clear best corner in the draft. Last season, he allowed an NFL passer rating of just 31.9 when targeted, and gave up only 18 catches all season. Ryan Ramczyk was the best tackle prospect in the draft, allowing just 12 total pressures all season, and their next four picks in the draft could all make significant impacts as rookies. Adrian Peterson coming on board for a modest contract could also prove to be a high-reward move for little risk, as he has a habit of defying convention when it comes to what he should be able to do physically over his career.
NFC North
Detroit Lions
The Lions swapped out two of their offensive linemen over the free agency period, upgraded at each spot, and got cheaper while doing it. That's impressive right off the bat, while their draft hit on a series of needs. Jarrad Davis should start from day one at middle linebacker for the team where his athleticism can shine through. Teez Tabor slipped in the draft because of pedestrian speed, but has allowed just two touchdowns over the past three seasons, and only been beaten for a pass longer than 30 yards in one of those years (on a route in which he slipped over).
NFC West
San Francisco 49ers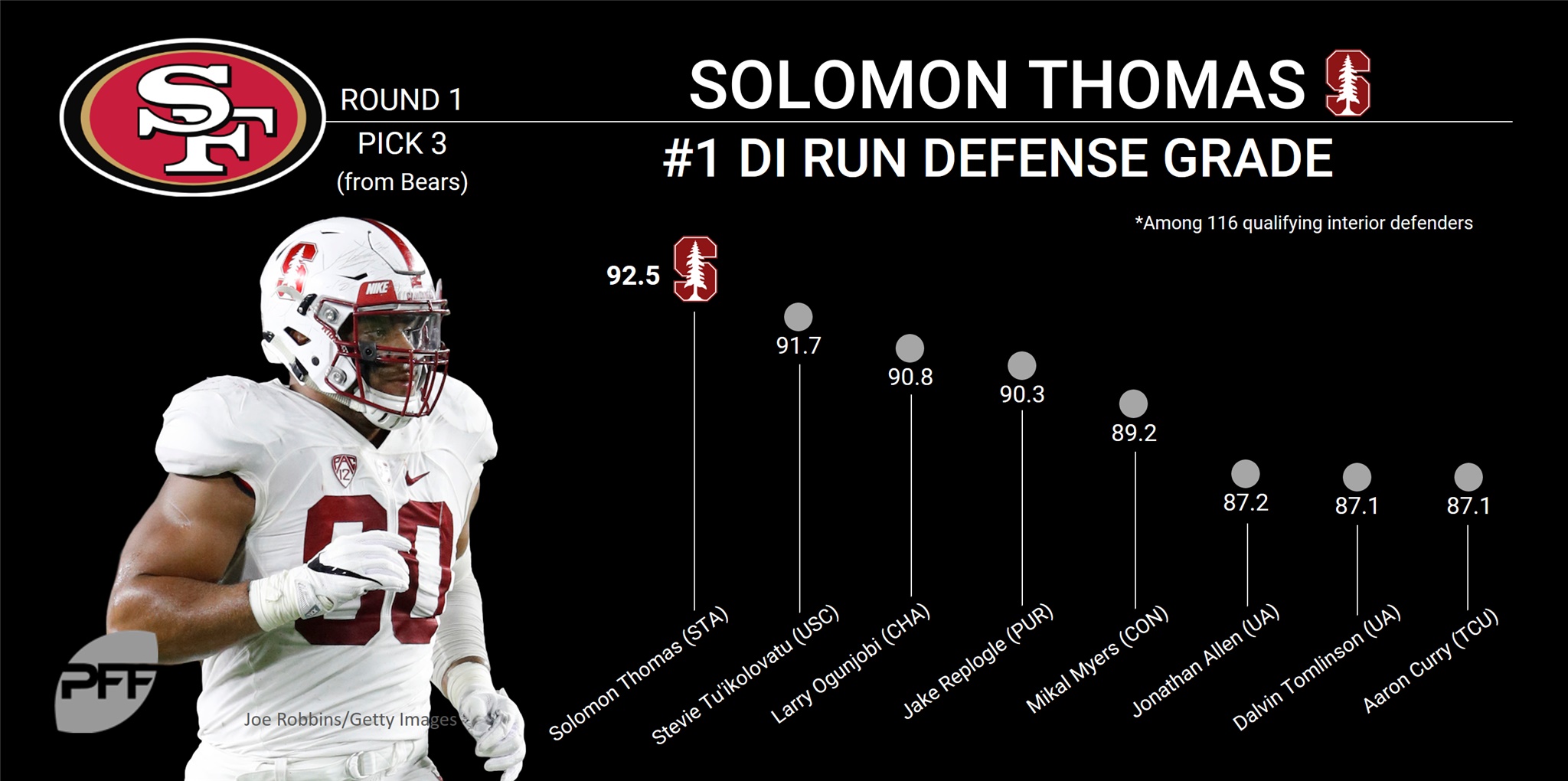 The 49ers had the furthest to go in terms of repairing their roster, so it makes sense to some degree that they are the most improved. Free agency brought over players like Pierre Garcon, a stopgap QB in Brian Hoyer, and the league's best fullback in Kyle Juszczyk, but the draft was where things really picked up. They picked up extra draft collateral to drop one spot at the top of the draft, and still got the player they were targeting all along in Stanford's Solomon Thomas. Thomas was one of college's most disruptive forces in 2016, notching 44 total pressures and 46 defensive stops. They were able to jump back into the first round and get LB Reuben Foster, a player they would have happily taken at No. 3 overall had Thomas gone to Chicago as a result of the trade. Foster is the most dominant LB in the class and only concerns over his shoulder caused him to slip. TE George Kittle in the fifth round could also prove to be a steal given his skill set and athleticism.