Suffering two division losses to start the season, the Washington Redskins (0-2) will welcome Mitch Trubisky and the Chicago Bears (1-1) to the nation's capital in do-or-die mode. Dropping to 0-3 will put the Redskins in a hole Case Keenum & Co. likely can't climb out of in time for a playoff berth. And Vegas isn't on Washington's side, either, as the team enters as 5.5-point 'dogs at home.

Chicago may be coming off a narrow victory over the Denver Broncos in Week 2, but I'd be hard-pressed to say the team is happy with their start to the season. The Trubisky-led offense has scored just 26 points in two games and ranked 26th in expected points added (EPA) per offensive play (-0.183) and 31st in scoring drive percentage (4.5%) entering Week 3. Only the hapless Miami Dolphins and New York Jets averaged fewer yards per play than the Bears in Weeks 1 and 2 combined.
[Editor's Note: All of PFF's player grades and advanced statistics are finalized and made available to ELITE subscribers before 5 pm ET on the Monday following each weekend's slate of games during the season. Sign up today to gain access!]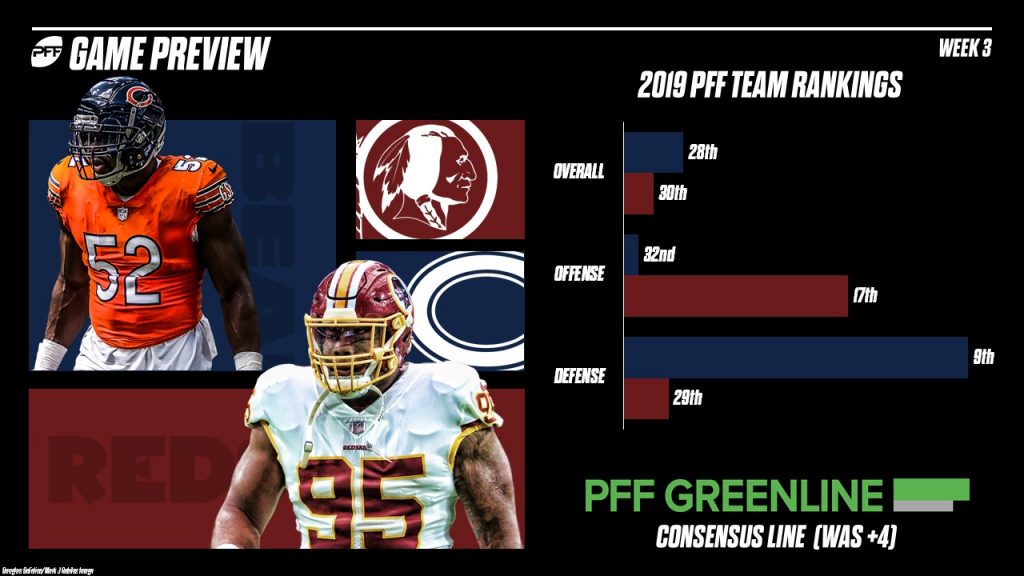 MITCH TRUBISKY STILL ISN'T GOOD
Among the 29 NFL quarterbacks with 50 or more dropbacks in Weeks 1 and 2, Trubisky ranked 28th in passing grade (50.8), 29th in yards per attempt (4.8) and 28th in passer rating (65.0). He and Ryan Fitzpatrick are duking out for worst-performing quarterback in the NFL right now.
Accuracy is still a significant concern for 'Bisky. Only Cam Newton threw uncatchable inaccurate passes at a higher rate in Weeks 1 and 2 than the Bears signal-caller. Among the 32 quarterbacks with 10 or more attempts of 10-plus air yards, Trubisky ranks tied for last in percentage of throws charted as uncatchable inaccurate. Even when working from a clean pocket, he has thrown uncatchable inaccurate passes on 24% of his attempts, a figure that ranks 29th among qualifying signal-callers in Weeks 1 and 2.
Trubisky's woes have contributed significantly to the Bears' lackluster passing attack. Chicago finished Weeks 1 and 2 as the 28th-ranked offensive in EPA per pass play (-0.205) and 30th in yards per pass play (4.6).
CASE KEENUM ISN'T THAT MUCH BETTER
Fortunately for Trubisky and the Bears, Keenum hasn't performed much better to start the season. Keenum finished Week 2 as the NFL's 27th-ranked quarterback in passing grade (57.0). He hasn't been quite as inaccurate as Trubisky, but Keenum still ranks in the bottom half of the NFL in charted accuracy percentages heading into Week 3. He has also earned just a 59.0 overall grade on passes of 10-plus air yards this season, ranking 25th among the 30 NFL signal-callers with 15 or more attempts of such depths in Weeks 1 and 2.
The biggest concern with Keenum's game is his play from a clean pocket. He has completed 40-of-54 passes for 427 yards and three touchdowns across his 54 clean-pocket dropbacks to start the season, earning just a 54.3 clean-pocket passing grade in the process. The box score doesn't tell as bad of a story as his grade, but that's only because he's had three turnover-worthy plays working from a clean pocket this year, which ranked tied for first among all quarterbacks in Weeks 1 and 2.
WASHINGON LACKS STAR POWER ON DEFENSE
No Redskins defender with 50 or more defensive snaps played has earned an overall grade above 75.0 to start the season. The team's highest-graded defenders are Tim Settle and Daron Payne, two interior defensive linemen with strong run-defense grades and woeful pass-rush grades.
Washington's defense finished Weeks 1 and 2 ranked 30th in percentage of opposing dropbacks pressured (23%). Opposing offenses averaged 8.4 yards per attempt as a result, a figure that ranks 25th in the NFL.
BEARS' DEFENSE IS STILL ONE OF THE NFL'S BEST
Mirroring last season, Trubisky and the Bears' offense have been bailed out by a defense playing above expectation. In Weeks 1 and 2, Chicago allowed just 4.0 yards per play and ranked fourth in scoring drive allowed percentage (9.1%). Surprising no one, Khalil Mack is currently the team's highest-graded defensive player (81.9) through two weeks.
FINAL WORDS
Even with Trubisky expected to fall below expectations (again) against a bad Redskins defense, Keenum will need to play a lot better than he has to start the season if he's going to secure a win against Chicago at home. Improved play from a clean pocket for Keenum would keep this game close. If he plays anything like he did in Weeks 1 and 2, it could get ugly for the Redskins.