We're on to the pro-day part of draft season, as the NFL Scouting Combine is now in the rearview mirror and prospects are either sitting on their impressive workouts or looking to rectify anything that may have gone wrong in Indianapolis. Our team is still working through the tape in the ever-changing evaluation process, and the draft board continues to take shape on a daily basis. The first pick has remained constant throughout the mock draft process, but starting with the No. 2 pick, this draft could turn any numbers of ways.
As always, this mock draft is what I would do as GM of each team, not a prediction of what NFL front offices are thinking.
1. Cleveland Browns
Myles Garrett, Edge, Texas A&M
Garrett has proved everything he's needed to during the draft process, as he dominated the NFL Combine after three productive years at Texas A&M. His 31 sacks, 35 QB hits and 98 hurries on 978 rushes show that he knows how to get to the quarterback, and his improved run grade of 87.8 ranked third in the nation last season. Garrett is the best player in the draft and a perfect fit for a pass-rush-needy Browns defense.
2. Trade: New York Jets (from San Francisco 49ers)
49ers receive: Jets' first-round pick (No. 6), Jets' second-round pick (No. 39)
Jets receive: 49ers' first-round pick (No. 2), 49ers' fourth-round (No. 143)
Mitchell Trubisky, QB, North Carolina
(I usually don't include trades unless it makes a lot of sense for both teams. In this case, the 49ers do not have a good, clear choice to take at No. 2, and the Jets are making a move to find their quarterback.)
The Jets are sorting through a number of unexciting free-agent bridge quarterbacks, but they change that by making the move to get Mitchell Trubisky. The one-year starter was impressive at North Carolina, showing the presence to maneuver the pocket and the arm to deliver the ball outside the numbers with velocity. Trubisky also has excellent short-area accuracy, and his grade on third downs ranked third in the nation a year ago.
"Athletic within and outside the pocket. Very accurate throwing on the move."

Mitchell Trubisky profilehttps://t.co/NOrGDILc39

— PFF (@PFF) March 5, 2017
3. Chicago Bears
Jonathan Allen, DI, Alabama
Chicago has added a number of key pieces to the defense in recent years, and even with a subpar NFL Combine, Allen brings another playmaker to their defensive front. While it would certainly ease concerns if Allen had shown better athleticism in Indianapolis, last year's nation-leading 67 QB pressures speak for themselves, and Allen's three-year production has been outstanding. He knows how to shed blocks and disrupt both the run and pass game, and his 93.6 pass-rush grade led all interior defensive linemen in 2016.
4. Jacksonville Jaguars
Deshaun Watson, QB, Clemson
This pick is another shocker in the draft. Even with QB Blake Bortles on the roster, the Jaguars grab Watson at No. 4 as the quest to find a top signal-caller continues. Bortles was seemingly on the right path in 2015, but a poor 2016 is enough for the Jaguars to look for insurance in Watson, who can throw with accuracy and touch. His best throws are quite impressive, and he'll make plenty of them, but he'll also miss his fair share, and he has work to do as far as working through progressions and maneuvering the pocket. However, Watson consistently shows the ability to bounce back from mistakes, and he's been one of the nation's top-graded quarterbacks the last two seasons, doing his best work down the stretch.
5. Tennessee Titans (from Los Angeles Rams)
Marshon Lattimore, CB, Ohio State
The Titans grabbed former Patriots CB Logan Ryan in free agency, but that won't keep them from taking another corner, as starter Jason McCourty is heading into the last year of his contract. Lattimore was outstanding in one year of work at Ohio State, allowing a passer rating of only 30.2 into his coverage, fourth-best among corners with at least 40 targets. Lattimore has the size and speed to press and take away the deep ball and the movement skills to break on the ball in front of him, where he didn't miss a tackle in all of 2016.
PFF scouting report: Marshon Lattimore, CB, Ohio Statehttps://t.co/2HpkwotCYz

— PFF College (@PFF_College) March 4, 2017
6. San Francisco 49ers (from New York Jets)
49ers receive: Jets' first-round pick (No. 6), Jets' second-round pick (No. 39)
Jets receive: 49ers' first-round pick (No. 2), 49ers' fourth-round (No. 143)
Derek Barnett, Edge, Tennessee
There are few positions that are set on the 49ers' roster, so they can go a number of ways here. Barnett had outstanding production at Tennessee, finishing No. 2 among the nation's edge defenders in 2015 (90.0) and No. 3 in 2016 (92.0). He is strong against the run and continues to improve as a pass-rusher, challenging the edge as well as any rusher in this class. He'll play defensive end as the 49ers transfer to a 4-3 scheme.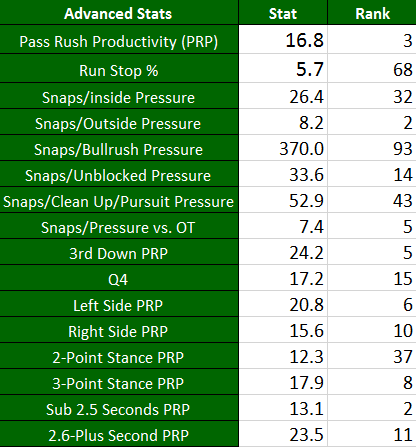 7. Los Angeles Chargers
Malik Hooker, S, Ohio State
A perfect scheme fit for new defensive coordinator Gus Bradley, Hooker brings exceptional range as a center-field free safety, as he picked off seven passes last year in his first full season of action. The Chargers continue to add talent to the defensive side of the ball, and Hooker is the next piece in the puzzle. The one issue is his tackling, where he missed one out of every 6.5 attempts last season, good for 135th out of 242 qualifiers. However, Hooker's instincts and ball skills are necessary for the Chargers' cover-3/cover-1 scheme, and Hooker makes for a good first-round marriage.
"Malik Hooker makes more plays on the ball from the other side of the formation than any safety I can remember."@PFF_Sam pic.twitter.com/zCAQybG5vE

— PFF College (@PFF_College) March 2, 2017
8. Carolina Panthers
Mike Williams, WR, Clemson
The Panthers love to surround QB Cam Newton with big-bodied receivers, and Williams adds another weapon to the mix. He can win in the possession game, where he uses his 6-foot-3 frame to win on slants and posts, but he also has the body control to make contested downfield catches to bring a big-play element to the offense, as well. Williams earned the No. 3 overall grade among Power-5 receivers, at 85.0 overall, and adds yet another huge target for QB Cam Newton in the Carolina offense.
9. Cincinnati Bengals
Corey Davis, WR, Western Michigan
A natural fit in Cincinnati, Davis is the draft's best route-runner and a perfect complement to WR A.J. Green on the other side. QB Andy Dalton has showed that he can put up good numbers when he has a variety of playmakers all over the field, and adding Davis is another step in the right direction. He can get open in the short and intermediate range, and averaged 8.1 yards after the catch per reception over the last three seasons.
Could the Bengals pick Corey Davis to play alongside A.J. Green? https://t.co/2IJNwv5FJb

— PFF (@PFF) March 6, 2017
10. Buffalo Bills
Teez Tabor, CB, Buffalo Bills
With CB Stephon Gilmore moving on in free agency, the cornerback position becomes an even bigger need for the Bills. Tabor didn't have a great combine, but he's one of the best playmakers in the class at cornerback. He recorded a pass breakup or an interception on 26.5 percent of his targets—best in the class—and can make plays whether playing in press or off coverage.
11. New Orleans Saints
Reuben Foster, LB, Alabama
Reuben Foster's off-field antics at the NFL Combine may not sit well with teams, but focusing on his on-field performance, he's a perfect fit in New Orleans. Foster was the nation's top-graded linebacker in 2016, at 93.3 overall, as he can take on and defeat blocks in the running game while showing the athleticism to hang with running backs and tight ends in coverage. Off-field aside, Foster is a three-down presence in a league that needs them more than ever.
Does Alabama's Reuben Foster make sense for the Saints? https://t.co/B44mORklTY

— PFF College (@PFF_College) March 14, 2017
12. Cleveland Browns (from Philadelphia Eagles)
Jamal Adams, S, LSU
The Browns' defense is starting to take shape as they add another playmaker in Adams, who led the nation's safeties with an 89.4 overall grade last season. He can play the run when lined up in the box, and can play multiple coverages, whether working short zones, covering tight ends, or playing on the back end. Adams continued to improve each year at LSU and he adds a defensive chess piece to the Cleveland defense.
PFF scouting report for LSU safety Jamal Adamshttps://t.co/GOdaKNoSkw

— PFF College (@PFF_College) March 7, 2017
13. Arizona Cardinals
Tre'Davious White, CB, LSU
White posted the nation's top grade among cornerbacks in 2016 at 90.5, bouncing back strong form a subpar 2015. He has enough size and speed to play on the outside, but he's also capable of kicking inside to cover the slot, adding a versatile dimension to the Cardinals' defense. With Patrick Peterson locking down one side of the field, the No. 2 corner spot is a vital spot for Arizona to address.
14. Philadelphia Eagles (from Minnesota Vikings)
Solomon Thomas, Edge, Stanford
Continuing to move up draft boards after a strong combine, Thomas will fit well in Philadelphia where he can use his outstanding run-stopping ability at defensive end before kicking inside to rush the passer. Thomas was the best run defender in college football last season, finishing at 92.0 overall and improving as a pass-rusher to rank seventh among the nation's interior defensive linemen, at 86.5.
PFF scouting report: Solomon Thomas, DE, Stanfordhttps://t.co/3cJxLa2a6T

— PFF College (@PFF_College) March 6, 2017
15. Indianapolis Colts
Tim Williams, Edge, Alabama
Even with the additions of John Simon and Jabaal Sheard in free agency, there's still room for pass-rushers in Indianapolis, especially a player like Tim Williams, who can make an immediate impact as a situational rusher. He's only played 168 snaps against the run the last three years, and he may be limited there early on in the NFL, but he did his damage as a pass-rusher, where he put pressure on the quarterback on 26.1 percent of his rushes (the NCAA average is 10 percent).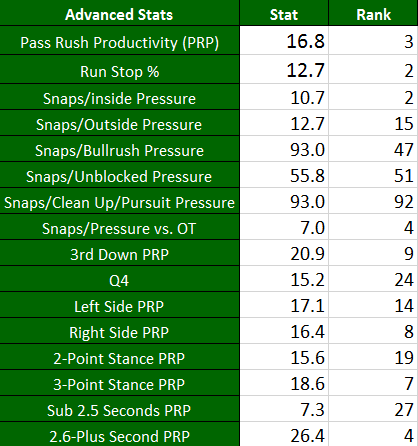 16. Baltimore Ravens
Carl Lawson, Edge, Auburn
Finding pass-rushers is still a priority for the Ravens, and Lawson is coming off a 2016 season in which he finally showed what he's capable of when healthy. He recorded the fifth-best pass-rushing grade in the nation with his nine sacks, 13 QB hits, and 45 hurries on 364 rushes, and can step right in as a designated rusher as he develops as a run defender after ranking 161st in the country last season.
PFF scouting report: Carl Lawson, DE, Auburnhttps://t.co/IiSGIGMx4t

— PFF College (@PFF_College) March 6, 2017
17. Washington Redskins
Dalvin Cook, RB, Florida State
Cook had been going higher in my previous mock drafts, but other positions came off the board first in this one. Cook is a big-play threat every time he touches the ball, and he does a nice job of maximizing his run blocking, as evidenced by his nation-leading 90 forced missed tackles last season. He hits the edge as well as any running back in the class, and that same big-play ability is on display in the passing game, where he can create mismatches out of the backfield or split out wide.
"Breaks long runs in spite of his blocking. Home run waiting to happen."

Scouting report for FSU RB Dalvin Cook: https://t.co/UkAyqUWJhN

— PFF (@PFF) February 23, 2017
18. Tennessee Titans
John Ross, WR, Washington
Everyone knew John Ross was fast, but a 4.22 40-yard dash at the NFL Combine was nice affirmation for what we saw on tape. Ross can get behind the defense in the deep game and take short passes to the house; that playmaking ability is much-needed for QB Marcus Mariota and the Tennessee offense. Ross averaged 3.04 yards per route last season, good for 12th in the nation.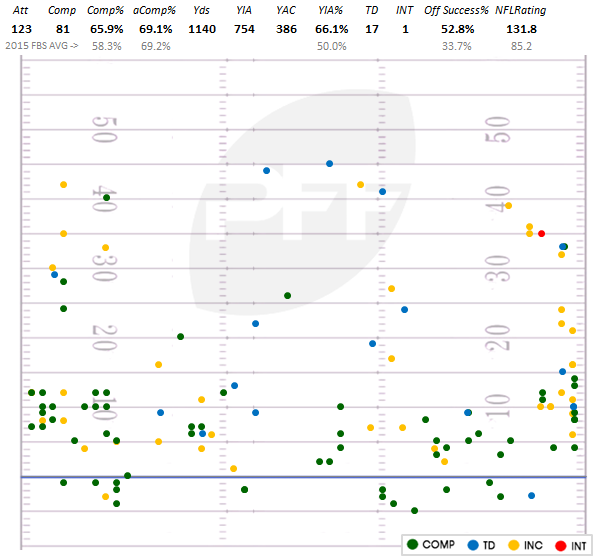 19. Tampa Bay Buccaneers
Leonard Fournette, RB, LSU
Fournette would have been a good fit for Washington, but he also fits what Tampa Bay is trying to build offensively. RB Doug Martin is coming off an injury-riddled season, and Fournette can take right over in the Bucs' downhill scheme that works well with his strengths. At his best, Fournette led the nation in forced missed tackles in 2015, with 83, as he brings speed and power to the position—even though he may be limited in the passing game.
"Leonard Fournette has a size-speed blend that doesn't come around often"

Scouting report:https://t.co/EVSqEfO2Q4

— PFF College (@PFF_College) March 2, 2017
20. Denver Broncos
Ryan Ramczyk, OT, Wisconsin
The first offensive tackle finally comes off the board, as Ramczyk is one of few tackles in the class that looks like an immediate starter at the next level. Denver has a lot of work to do up front, and Ramczyk can step right in at left tackle to offer strong pass protection after he gave up 12 QB pressures last season in his first year of FBS action. He can make every block in the run game, and that fits well with a Denver offense that is looking to add more man concepts to last year's zone-heavy scheme. Ramczyk's 85.0 overall grade ranked fourth in the FBS last season.
21. Detroit Lions
Charles Harris, Edge, Missouri
The combine wasn't kind to Harris, but he knows how to get after the quarterback after posting 20 sacks, 37 QB hits, and 77 hurries on 877 rushes over the last three years. Harris has an excellent spin move that allows him to get inside offensive tackles, a big part of his 88.2 pass-rush grade that ranked 12th in the nation a year ago. Harris has some work to do against the run, but can contribute immediately as part of Detroit's defensive line rotation as he works on that part of his game.
"Consistently one of the nation's top pass-rushers in two years as a starter."

Charles Harris profile:https://t.co/MR8rnHycwR

— PFF College (@PFF_College) March 5, 2017
22. Miami Dolphins
Taco Charlton, Edge, Michigan
The Dolphins need an influx of youth at defensive end, and Charlton is a good fit at this point in the draft. He continues to improve, ranking as the No. 4 edge defender in the nation down the stretch, and he picked up 17 sacks, 19 QB hits, and 66 hurries on about a season-and-a-half's worth of action between 2014 and 2016. Charlton is also stout on the edge against the run, and his best football may be ahead of him.
PFF scouting report for Michigan edge defender Taco Charltonhttps://t.co/8Kbb32ZcUr

— PFF (@PFF) March 11, 2017
23. New York Giants
O.J. Howard, TE, Alabama
This move is all about loading up on playmakers for the Giants' offense. They already brought in former Jets WR Brandon Marshall to pair with Odell Beckham, Jr. and Sterling Shepard, and Howard adds a middle-of-the-field complement to the strong receiving corps. Howard wasn't used often in the passing game at Alabama, but has the size and speed to stretch the seam; he averaged 7.1 yards after the catch per reception over the last three seasons.
"O.J. Howard may end up being a better pro than he was a college player"

Scouting report:https://t.co/iKnmlzdbb5

— PFF College (@PFF_College) March 3, 2017
24. Oakland Raiders
Zach Cunningham, LB, Vanderbilt
Oakland has added key pieces to the defense on a yearly basis, and Cunningham can provide a playmaking presence in the middle. He has the athleticism to play zone coverage or cover tight ends, and he has no problem getting dirty in the running game, where his 56 solo run stops led all Power-5 linebackers. The issue for Cunningham is his tackling, where he's missed 34 attempts over the last two years; if he can cut those down, he's an excellent three-down linebacker prospect.
"Outstanding thumper that loves taking on and destroying blocks from linemen"

Zach Cunningham profilehttps://t.co/KUiEvQ2BkO

— PFF College (@PFF_College) March 5, 2017
25. Houston Texans
Patrick Mahomes II, QB, Texas Tech
Mahomes lands in Houston for the second straight mock as the Texans continue to search for their signal-caller of the future. Even if they land Tony Romo in the short-term, Mahomes is a great developmental prospect, as his feel for the passing game and ability to create plays outside of structure is outstanding. That same feel also gets him into trouble, as he'll have a number of bad plays in there, as well, but a team willing to work through the kinks may be rewarded with a high-end starter. Mahomes ranked second in the nation in both big-time throws and third in turnover-worthy throws last season, highlighting the boom-or-bust nature to his game.
Patrick Mahomes, first-round QB? pic.twitter.com/82D2Ko6iOa

— PFF College (@PFF_College) March 3, 2017
26. Seattle Seahawks
Forrest Lamp, G, Western Kentucky
Three years of outstanding grading for Lamp and multiple years of poor offensive line play by the Seahawks make this a good first-round fit. Lamp has ranked among the top five offensive tackles in the nation in each of the last three years, combining smooth pass protection with fundamentally sound work in the run game. Lamp was outstanding in his showcase game against Alabama, surrendering only one QB pressure against the nation's top defensive front. Short arms will likely move Lamp to guard at the next level, but he has the versatility to play all along the offensive line.
"Shows good ability on backside cut blocks. Good fit for a zone-blocking scheme."

Forrest Lamp scouting reporthttps://t.co/nQ0UBOHUnv

— PFF College (@PFF_College) March 9, 2017
27. Kansas City Chiefs
Christian McCaffrey, RB, Stanford
A 6.57 3-cone confirmed what we saw on tape from McCaffrey, and that's outstanding change-of-direction ability. Our top-graded receiving running back from 2015, McCaffrey would be a top prospect if he was just a receiver, but he also brings a scheme-diverse, patient runner to the backfield. His best fit is with a team willing to utilize his mismatch-creating ability, lining him up all over the field and spreading the field to let him run the ball in either a man or zone scheme. McCaffrey adds another weapon to a Kansas City offense that is quietly adding versatile options all over the field.
Biggest risers and fallers after the NFL combine, including @StanfordFball running back Christian McCaffrey: https://t.co/gaaVCUB1n7

— PFF (@PFF) March 8, 2017
28. Dallas Cowboys
Jordan Willis, Edge, Kansas State
An outstanding combine confirmed what we saw on tape from Willis after he posted the nation's top grade among edge defenders at 94.3 overall, including a 94.1 pass-rush grade. He notched 15 sacks, eight QB hits, and 54 hurries on 546 rushes, and while he did much of his damage against overmatched Big 12 right tackles, he showed the ability to threaten the edge and carried it over into the Senior Bowl game in Mobile. Willis adds a pass-rush threat to a Dallas defensive front that sorely needs it.
29. Green Bay Packers
Sidney Jones, CB, Washington
After Jones tore his Achilles at his pro day, Green Bay looks to the future as they eat the redshirt year in hopes of getting a potential top-10 cornerback down the road. Jones was slated to go much earlier in the draft before the injury, as he has good size and press-man ability—two things that didn't go unnoticed among Pac-12 offensive coordinators, who targeted him only 48 times last season, tied for 201st in the nation.
In today's Draft Daily, @PFF_Steve examines the impact of Sidney Jones' injury on his draft stock. https://t.co/hBQUfkvSf1

— PFF College (@PFF_College) March 13, 2017
30. Pittsburgh Steelers
Marlon Humphrey, CB, Alabama
After drafting CB Artie Burns last season, the Steelers still have room to add more talent to the secondary. Humphrey has good size and speed, and he does his best work with the ball in front of him—perfect for Pittsburgh's zone-heavy scheme. The issues with Humphrey arise at the catch point, where he loses far too often as he allowed 16.9 yards per reception on completions into his coverage the last two years.
"Good fit in zone coverage. Excels when the play is in front of him"

Marlon Humphrey scouting report:https://t.co/NyOmKzV3vb

— PFF College (@PFF_College) March 7, 2017
31. Atlanta Falcons
Malik McDowell, Edge, Michigan State
Atlanta continues to build in the trenches, as McDowell can play outside at defensive end in their 4-3 scheme. He played inside and outside at Michigan State, where he graded well against the run last season, at 83.2, and ranked 12th among interior defensive linemen as a pass-rusher, at 85.7. Our analysts like McDowell's fit on the edge where he had a number of impressive plays against some of the nation's top offensive tackles, including Wisconsin's Ryan Ramczyk and Notre Dame's Mike McGlinchey.
32. New Orleans Saints (from New England Patriots)
Cordrea Tankersley, CB, Clemson
A smooth-mover for a 6-foot-1 corner, Tankersley is scheme-diverse, as he can play press man coverage and off coverage proficiently. He can be too physical at times, something he'll have to adjust to avoid illegal contact penalties at the next level, but opposing quarterbacks had a passer rating of 40.0 when throwing his way the last two years. The Saints continue to add more pieces to a defense that sorely needs it.
Cordrea Tankersley's 4.47 proves he has plenty of long speed. He allowed an average of only 10.1 yards per catch in his final year at CLEM. pic.twitter.com/1EDIT3yscr

— PFF College (@PFF_College) March 6, 2017
Want more draft data from the Pro Football Focus analysis team? Access PFF Draft Pass now for in-depth scouting reports, statistics, and more.