San Francisco 49ers running back Raheem Mostert took a pitch eight yards deep in the backfield from his own 40-yard line with tackle Mike McGlinchey pulling to block about five yards in front on Thursday night. And as Mostert neared the Oakland Raiders end zone untouched for six points, it was McGlinchey who was the first to congratulate him. After all, McGlinchey had run the length of the 52-yard touchdown to block for him — symbolic of the rookie tackle's league-best 88.6 run-blocking grade and of the 49ers' second-best 75.1 run-blocking grade as a team.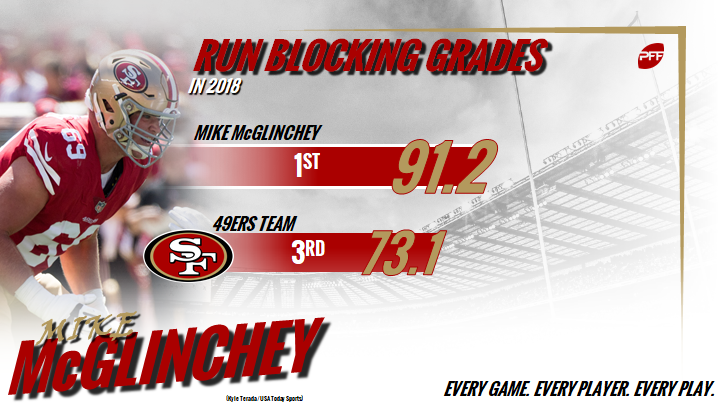 And while the entire line has cemented itself as a top run-blocking unit, McGlinchey has anchored the right side to new heights. Against the Raiders, Mostert, Matt Breida and Alfred Morris averaged 8.5 yards per carry when rushing to the right side (obviously skewed by Mostert's touchdown run, but the unit still generated 5.2 yards per carry without it). It's a testament to what the 49ers have been able to accomplish this year despite an abysmal 2-7 record.
Breida and Mostert, specifically, averaged 4.21 yards before first contact per attempt and totaled a whopping 61.5% of their yards before first conact on the day
For context, Morris and Breida rank 43rd and 35th, respectively, out of 51 running backs in elusive rating, a metric that measures a runner's success beyond the help he gets from blockers. And yet, Breida is top-10 in yards, yards per carry and breakaway percentage.  That's not to discredit him as a runner; rather, it highlights just how important an offensive line is to a running back's success.
Including Thursday night's rout of the Raiders, San Francisco running backs have now averaged 2.05 yards before first contact per attempt on the season, ranking fourth in the NFL.
Breida currently has the sixth-most yards on rushes of 15 or more yards. For Saquon Barkley, the top running back in that category, 55 percent of those yards have come after contact. For Breida, just 30 percent have come after contact. What that means is many of the yards on Breida's big runs (of which there have been nine, tied for fourth-most) are coming before he's been touched, another credit to the work of the offensive line.
The Raiders' defense has admittedly struggled mightily on the season in almost every aspect, but the 49ers' offensive line has otherwise been stellar against strong defensive fronts. In Week 7 against the Los Angeles Rams and Aaron Donald, who leads the NFL with a run-defense grade of 95.6, the line managed to create enough space to generate 4.5 yards per carry and 2.2 yards before contact, well above the 2018 NFL average of 1.6 yards.
On Thursday, that stellar run-blocking was particularly useful in getting rookie quarterback Nick Mullens comfortable in his first NFL start. On the 49ers' first drive of the game, Breida and Mostert ripped of 18-yard and 14-yard gains, respectively. Ultimately, it set Mullens up for a wide-open touchdown pass that got the ball rolling in a 34-3 victory. Now with a potential answer at quarterback, the 49ers may be ready for their offensive line to propel them to more wins on the year, despite their playoff hopes looking all but dashed.
At the very least, the offensive line should give both fans and players hope that the team can return to its former glory within the next few seasons. And its rookie tackle Mike McGlinchey is leading the way, just as he did for Mostert on Thursday night.