The cornerbacks who play on the outside often get far more recognition than those who play the slot — and it makes sense. An outside corner is seen breaking up long balls or playing tight in the middle of the field, whereas a slot corner more frequently deals with less-flashy and difficult-to-defend slant and crossing routes.
That could be why Pittsburgh Steelers cornerback Mike Hilton hasn't received his due praise for the work he's done inside. The Steelers' secondary has been a problem area for the team for a few years now, but Hilton has, at the very least, provided some stability from the slot.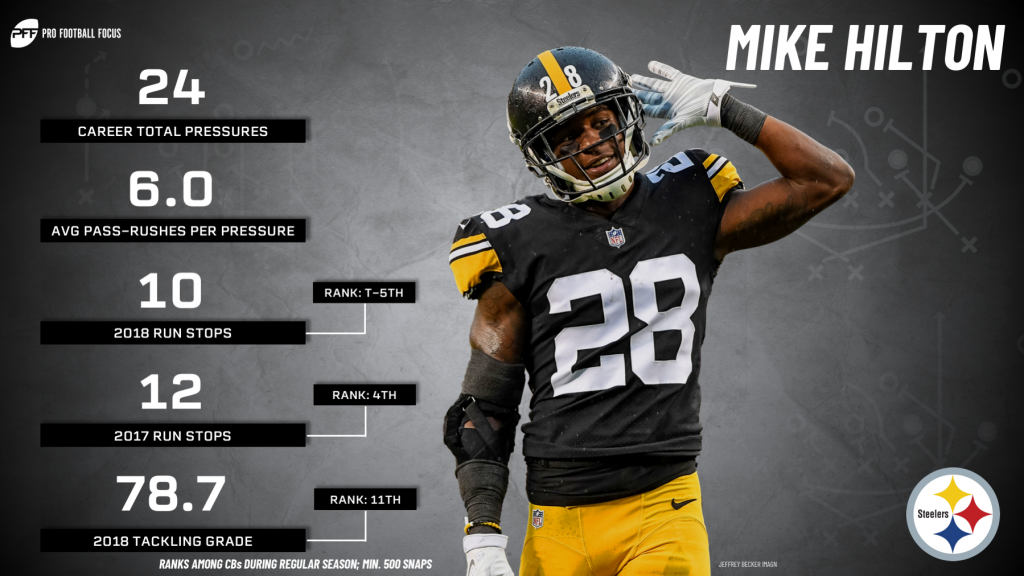 After not playing his rookie season, Hilton was thrown into the fire in 2017 — and he didn't miss a beat. The Ole Miss product ranked fourth among 51 qualifying cornerbacks in passer rating allowed when targeted from the slot (61.1) en route to a strong 83.3 overall grade, which slotted him 10th at his position.
Hilton's grade dipped slightly in 2018, but his slot prowess continued to shine through. No cornerback over the last two seasons has faced as many slot targets as Hilton has while giving up just one touchdown.
There were admittedly games in 2018 where it appeared Hilton was a punching bag for the opposing quarterback. A two-game stretch between Weeks 13 and 14 saw him allow 12 receptions on 14 targets for 174 yards and two touchdowns. But there were also stretches such as Weeks 5 and 6, where Hilton surrendered five catches on seven targets for a mere 19 yards.
Of Hilton's three touchdowns allowed in his career, two have been when he was lined up in a non-slot position — and he has lined up outside only 15 times in his career, which is no coincidence. Slot corners simply can't be treated like outside cornerbacks. The slot catch rate for the entire NFL in 2018 was 69.3% while elsewhere, it dropped all the way to 62.8%. In this sense, a slot corner's job is more geared toward limiting a receiver's gain rather than preventing the catch (which, is still obviously a goal).
So when Hilton's skillset is used properly (i.e. not on the outside), he is effective as any other slot cornerback in the NFL. That has been evident in his work against some of the league's top receivers. He faced nine targets against Cleveland Browns wideout Jarvis Landry in 2018 and allowed just five receptions for 69 yards and no touchdowns. New Orleans Saints wide receiver Michael Thomas wasn't able to crack him either, catching two balls for 15 yards. And Los Angeles Chargers star Keenan Allen was limited to two catches on three targets for 22 yards.
Again, those numbers might not appear to be very good on paper. But receptions in slot coverage went for an average of 10.7 yards in 2018, so Hilton being able to limit the best of the best to no touchdowns despite some yardage is a solid indicator of a top tier slot corner who deserves to be paid as such.
The Steelers wanted to sign Hilton to a tender worth $645,000 over one year, but the two sides are reportedly aiming to get a longer-term deal done. And if Hilton continues to lock down his opponents, that figure will surely balloon for upcoming seasons. Hilton isn't perfect — his 2018 season was far less convincing than his standout 2017 campaign — but good slot defenders are hard to come by, and the Steelers are fortunate enough to have one.