Selected back-to-back at the top of the 2018 NFL Draft, former collegiate superstars Baker Mayfield and Saquon Barkley, picks Nos. 1 and 2, respectively, will each make their NFL debuts on opposing sidelines Thursday night, marking the start of two rookie campaigns filled with lofty expectations.
Though he is currently slotted behind seven-year veteran QB Tyrod Taylor as the Cleveland Browns' No. 2 quarterback, Mayfield wasn't selected first overall to hold a clipboard for long, and if his play at Oklahoma is any indication, he doesn't belong on the sidelines. Thursday night's preseason contest against Barkley's New York Giants will be Mayfield's first opportunity to take a significant step toward forcing coach Hue Jackson to go against his firm designation of Taylor as the starter and turn to his rookie signal-caller.
Barkley, on the other hand, doesn't have an unwavering coach in his path to the Giants' starting lineup, as he was expectedly listed as the No. 1 running back on the team's first unofficial depth chart released this week. In line with other Giants starters, Barkley won't see a bevy of snaps in his debut to avoid injury, but the former Penn State phenom plans to play.

Here, we highlight what to look watch for in each of the two stars' debuts.
Baker Mayfield | PFF Draft Board Rank: No. 1
 Early chemistry with Browns' receivers
While overloaded with arm talent from an accuracy standpoint, Mayfield should look to build up his on-field relationships with the Browns' crop of talented receiving corps, including accomplished veterans Josh Gordon and Jarvis Landry.
Gordon is a big play waiting to happen with his ability to get behind defenses on deep posts and go routes, an attribute Mayfield has proven he can take full advantage of with his top-ranked deep-pass adjusted completion percentage (64.4) a year ago.
Also in the fold, Antonio Callaway, a former Florida standout who dropped in the draft due to off-field concerns (and rightfully so, apparently), draws comparisons to Mayfield's former Oklahoma teammate and current Jacksonville Jaguars wide receiver Dede Westbrook, as both wideouts possesses similar big-play ability and a knack for gaining yards after the catch. If Mayfield can mirror even a fraction of the production he and Westbrook had in Norman, the Callaway-Mayfield connection could be bound for big things.
Westbrook averaged 9.7 yards after the catch per reception and totaled 721 deep receiving yards with Mayfield at the helm in 2016, ranking fifth and third, respectively, among qualifying FBS receivers. Mayfield also recorded a 149.8 passer rating when targeting Westbrook that season, the second-highest mark among qualifying FBS receivers.
An under-the-radar Browns receiver that may shine with Mayfield under center is third-year Colorado State product Rashard Higgins, as two young bucks have already developed "amazing chemistry" in camp. Higgins averaged 3.45 yards per route run with the Rams in 2015, ranking ninth among FBS receivers with 50 or more targets.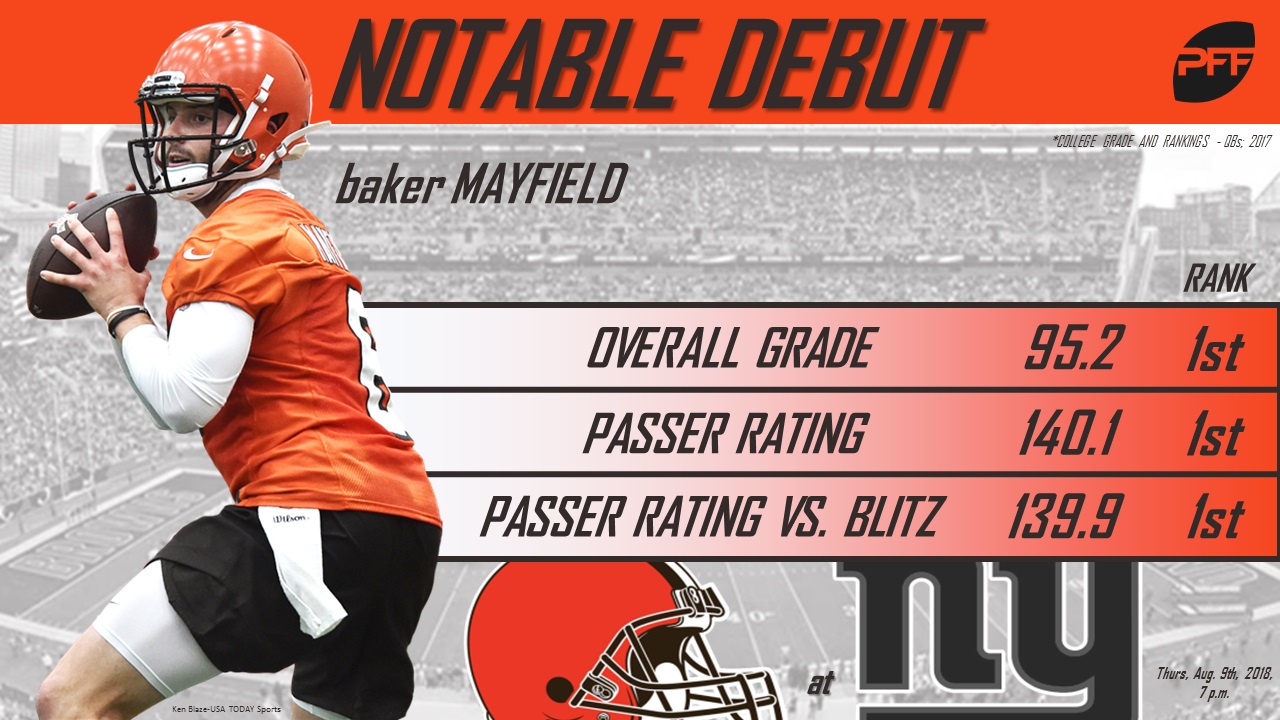 Reaction to NFL pressure 
Mayfield thrived under pressure throughout his career with the Sooners, as he recorded a passer rating above 111.0 when pressured in all three of his seasons as the team's starter. He also led all qualifying FBS quarterbacks in overall grade under pressure (78.2).
Of course, the game gets a bit faster at the next level. Given how volatile play under pressure can be year-to-year, even when comparing NFL quarterbacks across seasons, Mayfield's performance when pressured is far from guaranteed. How he reacts to his first taste of NFL pass-rushers on Thursday and moving forward will be key in his development.
Saquon Barkley | PFF Draft Board Rank: No. 11
Response to early contact
Barkley performed well in terms of creating yards after contact and forcing missed tackles last season, as evidenced by his 27th-ranked elusive rating (68.9) during his final year at Penn State. However, his tendency to always chase the big play rather than settle for average-to-above-average yardage when facing early adversity in the play did prove costly.
Among the 42 FBS running backs contacted at or behind the line of scrimmage on at least 80 carries last season, Barkley ranked dead last in yards per carry (0.46) and 33rd in yards after contact per attempt (2.48) on such runs. He also ranked 24th among the same group of backs in percentage of runs where he was contacted at or behind the line of scrimmage that resulted in a first down or touchdown (13.6 percent).
Barkley's play in said situations will have to improve to avoid a surplus of short gains at the next level, and his road to improvement will start Thursday.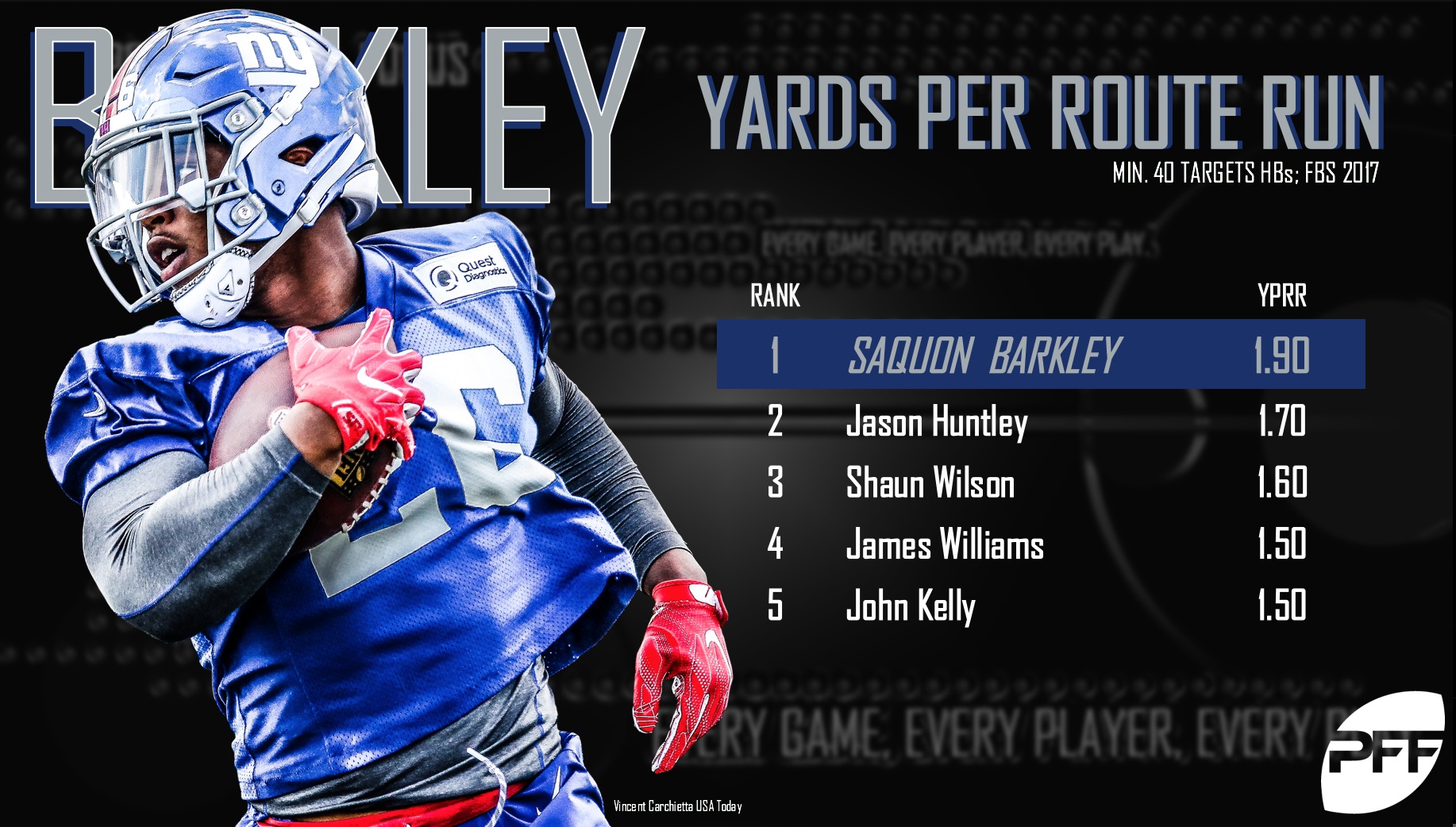 Involvement on passing downs
Though coveted as a runner, Barkley is most valuable in the passing game. He averaged 1.90 yards per route run across 321 routes with the Nittany Lions in 2017, ranking 11th among the 102 FBS running backs with at least 20 targets. And he did so across an expansive route tree compared to other backs.
Of Barkley's 611 receiving yards in 2017, he garnered 17.2 percent on pivot routes, 21.8 percent on wheel routes and 31.4 percent on flares out of the backfield. If New York is going to pull the most out of their No. 2 overall pick investment, they'll be smart to tap into Barkley's pass-catching ability sooner rather than later.