The 2018 NFL Draft was the first time since 2009 where two centers were selected in the first round. Teams tend to pick the most elite at the position in the second and third rounds, and it's usually slim pickings in the late rounds after that.
Those few first-round centers have typically fared well in their rookie years, including the likes of Dallas Cowboys center Travis Frederick (85.6 rookie grade), Atlanta Falcons center Alex Mack (83.7 rookie grade) and former New York Jets center Nick Mangold (83.2 rookie grade).
When the Detroit Lions picked Frank Ragnow, PFF's highest-graded FBS center at 90.3 in 2017, at 20th overall, they knew what they were getting in a player who hadn't allowed a single sack in 1,242 pass-block snaps over four years at Arkansas. They also knew Ragnow was flexible having played at guard and center with the Razorbacks.
But Ragnow, who has started all three games at left guard for the Lions, fell well short of expectations through two weeks of play — that is, until a breakout game on Sunday against the New England Patriots.
When running backs Kerryon Johnson and LeGarrette Blount rushed to either side of Ragnow on Sunday, they averaged 7.4 yards per carry on 11 attempts. In Weeks 1 and 2, Lions running backs averaged 4.9 yards on just eight attempts to the left or right of Ragnow.
While that success led to a 75.5 run-block grade that ranked tied for fifth among guards in Week 3, Ragnow truly shined in pass-blocking for the first time this year. He didn't allow a single pressure on the week after having the most pressures ever allowed by a guard through the first two weeks since 2006. 
It is important to note, though, the Patriots interior defensive line isn't the most athletic nor near the top of pass-rushing ranks and they were also without the services of their best pass-rusher, Trey Flowers, against Detroit.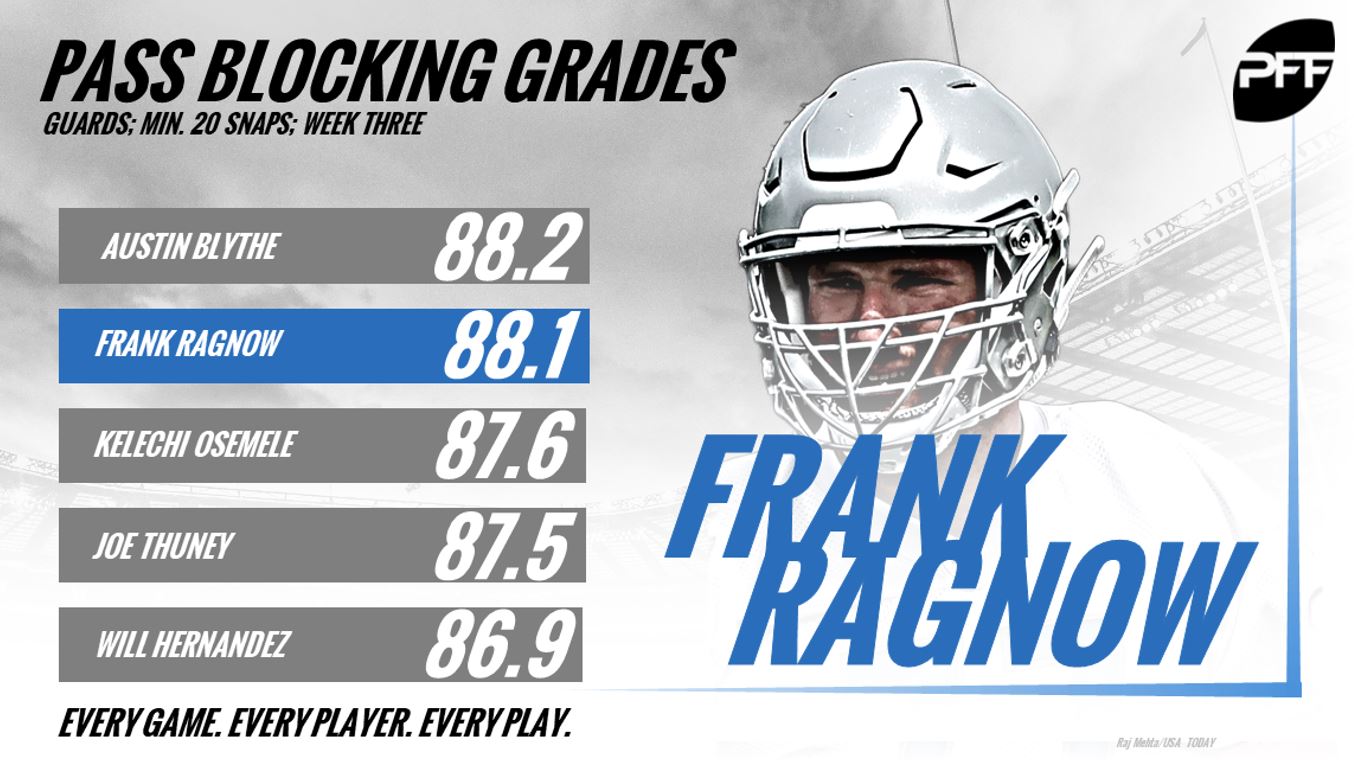 Many were quick to label Ragnow a bust after two rough performances, but his inexperience at guard is worth noting when looking at his progression thus far as an NFL player.
Ragnow played at center for nearly all his college career, exclusively playing guard in his sophomore year. It was his worst year of blocking, with 19 of his 35 pressures allowed in college coming that season. In Week 3 of 2017, Ragnow's only game at right guard that season, he allowed two pressures. He would finish the year allowing just three total.
Against the New York Jets in Week 1, Ragnow appeared slow, which isn't totally unexpected for an inexperienced rookie. He was overpowered on numerous rushes and looked particularly susceptible against stunts.
That inexperience was also on display in Week 2 against one of the NFL's best in San Francisco 49ers edge defender DeForest Buckner, but Ragnow did show improvement — particularly again, against stunts. The 49ers coaching staff repeatedly schemed Buckner to be in isolation with Ragnow, and it worked wonders, as Ragnow was overwhelmed often. But again, it's difficult to expect a rookie in a new position to cleanly hold off one of the NFL's best interior pass-rushers. Buckner currently holds the league's 14th-highest pass-rushing grade among interior defensive linemen and has never graded below a 71.6 overall in his three season.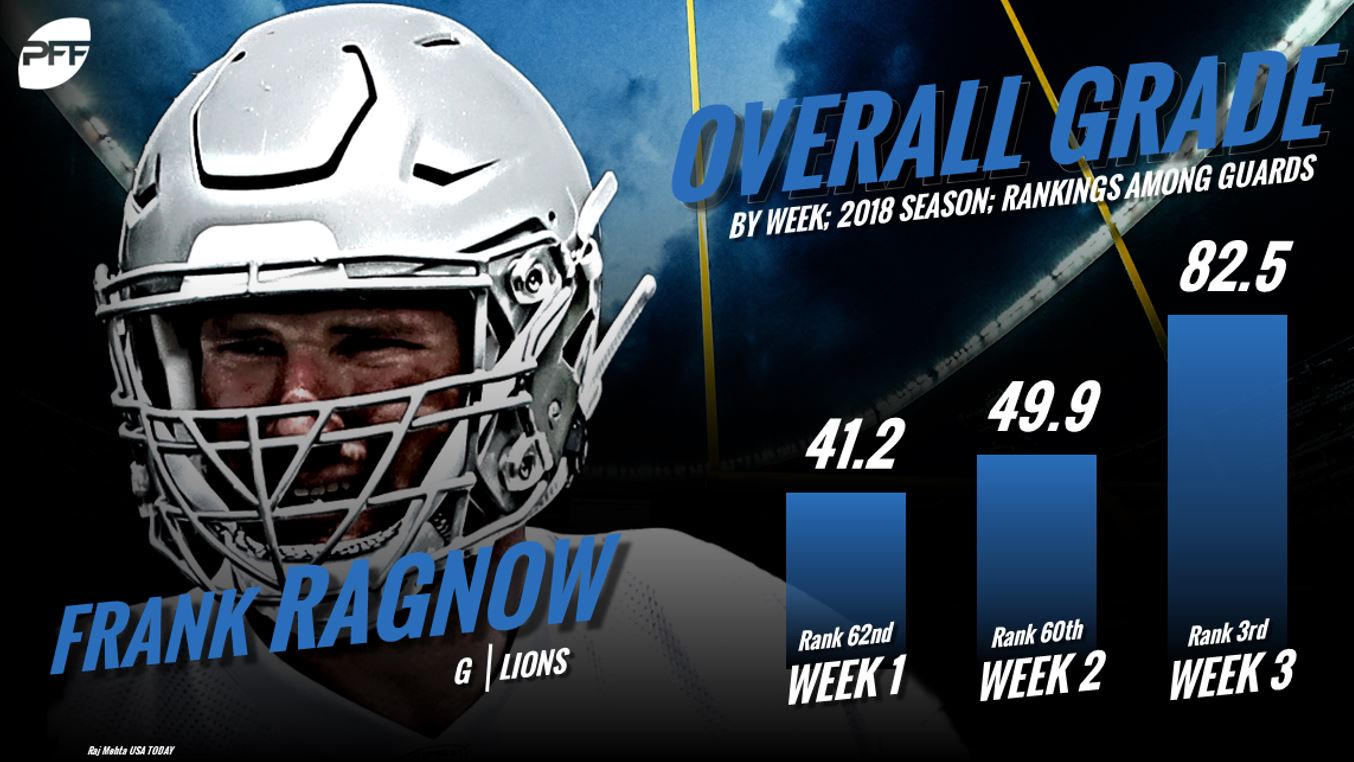 The struggles weren't without a few bright spots, however. Stunts proved to be a problem for Ragnow against the Jets, but he performed admirably on a few of them late against the 49ers. In addition, he was beaten on four snaps in Week 1 and another two in Week 2, as seeing six combined beaten blocks through two games were the second most among guards.
The stellar performance against the Patriots clouds any determinations on if Ragnow's collegiate success at center will translate to guard in the NFL, but it's nevertheless promising.