We have reached crunch time in the NFL playoffs. Four teams are just one win away from an appearance in Super Bowl LII and the chance to cap the season by hoisting the Lombardi Trophy.
The storylines for each of these games are plentiful, but let's take an early look at a couple of the biggest and most obvious factors that could define which teams we see in the Super Bowl.
Two of the league's best defenses are squaring off in the NFC Championship game, but the key to all of that defensive quality is how it will affect the quarterbacks, neither of whom were the Week 1 starter for their respective teams.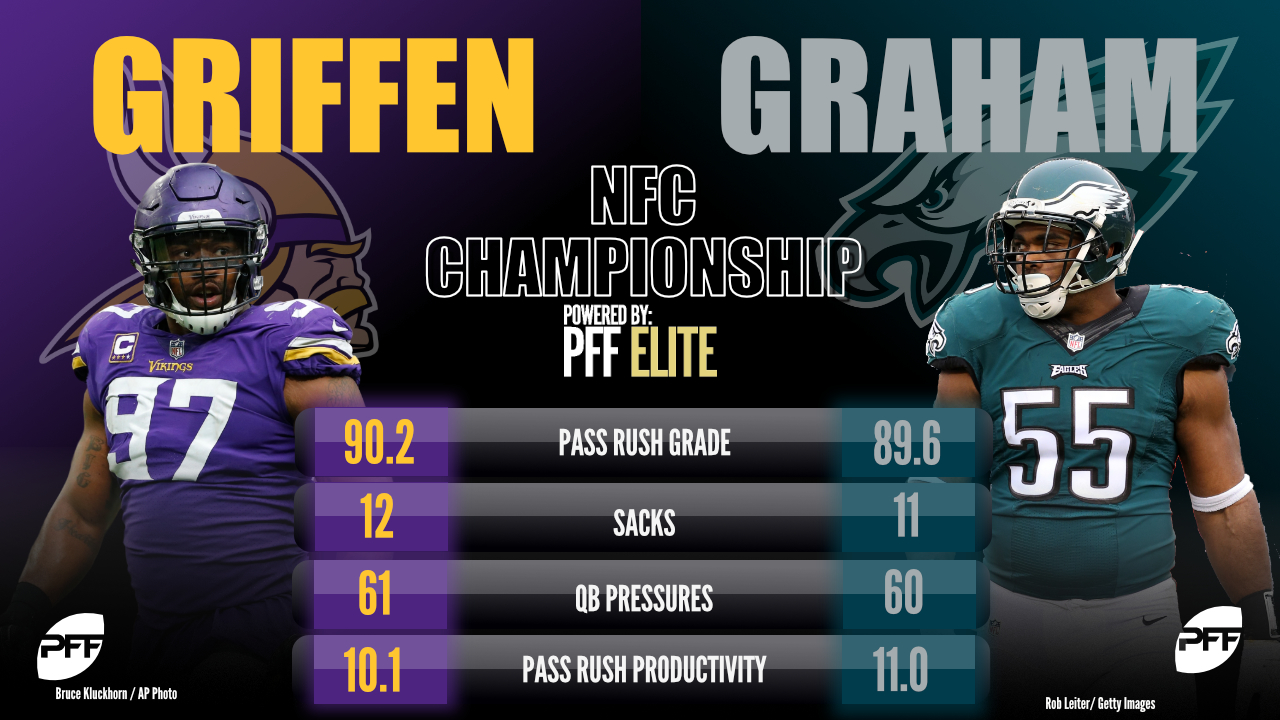 Nick Foles has been disastrous under pressure so far, with a passer rating of only 23.8 when pressured compared to one of 106.3 when kept clean. The Vikings' defense has been good at generating pressure this season, doing so on 34 percent of the passing snaps they have faced. That is down significantly from the previous two years, but the rest of the defense has still improved overall. If they can hurry Foles, they figure to be in good shape.
The other side of the ball, though, figures to be more interesting and a more severe test. The Eagles' defensive front generates more pressure than anybody. As a unit during the regular season, they notched 27 more pressures than any other defense. That has continued into the postseason, and including all playoff games, they have generated pressure at a greater rate than any other defense.
Case Keenum has been far better under pressure than Foles, and he has a passer rating of 78.5 even when pressured so far this season, a top-10 figure in the league. Keenum has allowed 10.7 percent of that pressure to turn into sacks, the second-lowest mark in the league, but the Vikings' offensive line has begun to struggle lately as injuries take their toll.
[Editor's Note: All quarterback notes and stats above can be found in the first ever PFF QB Annual, with your PFF Edge subscription.]
Against the Saints, right tackle Rashod Hill – not a first-string starter – surrendered a sack, a hit and four hurries, while Mike Remmers allowed four total pressures while playing out of position at left guard. Keenum was under pressure on 14 of his 43 dropbacks and had a passer rating of just 5.1 on those plays in that game.
While he has been pretty good under pressure over the course of the season – aided by his top two receivers ranking No. 1 (Stefon Diggs) and No.4 (Adam Thielen) in the NFL in contested catch rate – Keenum can be left with nowhere to go if the pressure is decisive enough. The Saints were able to pin their ears back at times last week, and the Eagles have a significantly better defensive front than New Orleans does.
Keenum will be hoping all week that the Vikings' offensive line gets as healthy as possible to give him the best protection possible. If he finds himself under a huge volume of pressure from that defensive front, we may see more mistakes like the interception he threw against the Saints, and it doesn't take many of those to decide the outcome of a game.
The key to stopping this New England offense is finding a way of covering Rob Gronkowski. Tom Brady can be slowed against man coverage schemes, but every time teams have run that game plan against them this year, and Gronkowski has been the key to unlock that puzzle.
Overall, the Patriots have gained a first down on 84 percent of Gronkowski's receptions this season – 30 percent higher than the league average – and he has caught 69 percent of the passes thrown his way.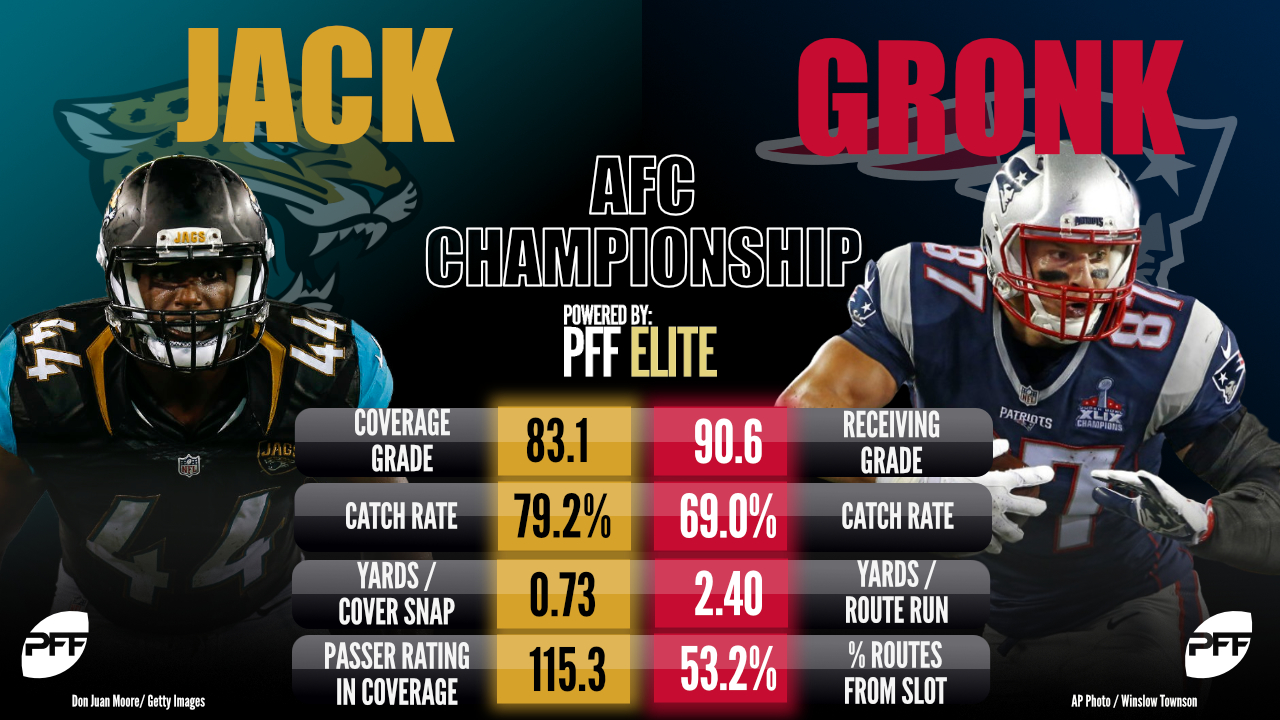 Most teams just simply don't have an athlete that can hope to go one-on-one with him and hold up, but the Jaguars do. It's quite possible that the team will turn to LB Myles Jack to handle the assignment, but the best player on their defense for the job is cornerback Jalen Ramsey.
Jack has covered tight ends this season pretty extensively, but the results when he has done so have not been good despite his excellent coverage credentials coming out of college. Jack's stat line covering tight ends this season is as follows: 27 targets, 21 receptions allowed (77.8 completion percentage), three touchdowns allowed, zero interceptions, all of which culminates in Jack allowing a 138.9 passer rating when covering tight ends.
As much as an athletic linebacker will help in coverage, they generally just can't live with a player as special as Gronk, and neither can most safeties. The Steelers and Titans both tried to run man coverage-heavy game plans against the Patriots, and the safeties they assigned to cover Gronk allowed 12 catches from 13 targets, 199 receiving yards, a touchdown and a two-point conversion.

This season, Gronkowski has yielded a receiver rating of 137.5 when targeted against coverage from a safety. That's not quite better than the mark when covered by a linebacker (144.4), but only by a slight margin. In order to move the needle when covering Gronk – unless you have a special safety – you need a cornerback.
Most corners just aren't physical enough to contest at the catch point, but Ramsey certainly doesn't have that problem. When Gronkowski has been targeted with a cornerback in coverage this season, that passer rating tumbles 80 points to 54.6, and Ramsey has been one of the game's best coverage defenders this season, earning the second-best coverage grade among all corners at 92.6.
Ramsey has allowed just 51.1 percent of passes thrown his way to be caught this year and has allowed a passer rating of only 63.9 when targeted. If the Jaguars want to go out of their way to take away New England's biggest weapon on offense, they should find a way to put their best coverage player on him, and that's Ramsey.