"Hopefully there's not a bunch of people walking the streets in Minshew jockstraps." – Washington State head coach Mike Leach 
Former Cougar and sixth-round rookie quarterback Gardner Minshew II has taken the NFL by storm. Also known as Mustache Minshew, he went from just another backup quarterback to everyone's favorite player within weeks of making his NFL debut. His look may have won people over, but really Minshew's performance on the field should've done the trick. He is currently one of the 10th-best quarterbacks in PFF grade at the moment.
Both Minshew and the Jacksonville Jaguars defense overcame the soap opera type situation going on with Jalen Ramsey to really dominate the Tennessee Titans from start to finish. Nonetheless, using PFF's unique grades and advanced database, here are five takeaways from Minshew's TNF party.

Minsh-a-palooza
As indicated, Minshew has been far exceeding expectations thus far, given the situation he came into. One would not expect a Day 3 rookie to step in right away and dominate as he has, but when you dive into his college data from his time at Washington State, we really should've seen his coming. Not only was he a top-10 quarterback with an 88.4 passing grade, he was far and away the most accurate. He posted an absurd 83.3% adjusted completion percentage when kept clean (best in all of CFB by nearly a full percent).
Against the Titans last night, Minshew finished as the highest-graded player among both team's offenses with a solid 81.8 PFF grade and had a great big-time throw to turnover-worthy play ratio of three to zero. With that said, Minshew was at his best when throwing to his first read with a 91.3 passing grade. To no surprise, his accuracy numbers are off the charts on those pass attempts with an 81.3% adjusted completion percentage and 64.3% accuracy rate (would rank in the top-10). Moreover, Minshew had a 10.6 average depth of target on those throws that also resulted in 10.1 yards per attempt and a 141.1 passer rating. In other words, when things go according to plan, Minshew is lights out.
Throughout the game, one could easily recognize the fact that Minshew torched the Titans on his intermediate/deep targets. On throws that traveled 10 or more yards, Minshew recorded an absurd 96.0 grade, averaged 15.1 yards per attempt with two touchdowns (completed six of his eight passes, one was a drop). Minshew gave some love to the go-route as well and found great success with his three big-time throws coming on four go-route targets.
The greatest tell-all of how good a quarterback really is/was as well as how stable his play is on a game-for-game basis is his throwing ability in a clean pocket. And last night Minshew was really good in this category. When clean from pressure, Minshew had an 87.6 grade, averaged 8.3 yards per attempt, a 123.5 passer rating and 78.3% adjusted completion percentage. By the end of Minsh-a-palooza, former Mike Leach prodigy Gardner Minshew II had us all screaming "you're my boy Minshew!" 
Marcus Mariota's future is beginning to be in doubt
Entering a contract year, quarterback Marcus Mariota had to prove that he is indeed a franchise signal-caller that is deserving of a long-term deal. Last night didn't help his case. With two big-time throws and three turnover-worthy plays, Mariota finished the game with a 52.8 passing grade and threw over 32% of his passes as uncatchable. 
By his 11.1 average depth of target, it was clear Mariota was trying at all costs to make the big-time plays and throws we see the elite quarterbacks make. However, Mariota had very little success on the mid-field/deep throws. In fact, it was about as bad as it gets from an NFL starter. When he opted to sling it 10 yards or more downfield, Mariota had just a 62.5 passing grade and threw 40% of his 20 such passes as uncatchable (would rank among the five worst quarterbacks).
Overall, the Titans ran play action at a decent rate of 26.4% (which we here at PFF absolutely love to see). Though, this percentage should've been far higher given how much better of a player Mariota was in play action. When executing play action, Mariota had a 75.2 passing grade, averaged 10.9 yards per attempt and had a 100.6 passer rating. With no play action, Mariota had a 44.4 grade, averaged 6.3 yards per attempt and had a 74.5 passer rating and gave up three sacks to himself on non-play action plays. Arthur Smith (Titans offensive coordinator and play-caller), we are looking at you, my friend.
One of the most obvious things a general football fan would notice from last night's game was how often Mariota was hit with pressure and how poorly he performed in those situations. Under duress, Mariota had an incredibly bad passing grade of 28.5 and had three turnover-worthy plays. Now, we aren't asking him to be elite when under pressure but avoiding the turnover-worthy plays in these situations are a must. An average depth of target of 11.6 yards doesn't help matters when you have yet to perfect that ability of avoiding those negative plays. The Jaguars recognized the fact that Mariota is not the best decision-maker under pressure, thus they blitzed him on over a third of his dropbacks and executed a stunt 45.3% of the time. Mariota had a rough outing against their blitzes with a 59.3 grade, but an even worse one against the Jaguar stunts with a 44.8 grade. Along with that, Mariota when facing a stunt threw 40% of his passes as uncatchable (would be the worst).
Is Ryan Tannehill season approaching?
Jalen Ramsey: Silent Night
On a night that was supposed to be his farewell to Jacksonville, cornerback Jalen Ramsey was rather silent and didn't necessarily make the statement he anticipated making. Though this doesn't mean Ramsey isn't worth an absurd trade package because he is still one of the top corners in the game, he had a forced fumble after the catch but in coverage he didn't make the "wow" plays like an interception or pass breakup that everyone was watching for.
Ramsey had a 74.8 coverage grade on the night but did let up a few bad ones. Ramsey forced two contested targets but allowed both of them to be caught. Overall, he was targeted in coverage on seven of Mariota's 40 attempts and allowed four catches and an average yards per target over 10 yards.
Invest NOW in D.J. Chark Jr.
As a member of the Jaguars receiving unit that was slotted as the worst receiving unit in the league entering the year, and is still probably the worst, wide receiver D.J. Chark Jr. is the lone wolf in generating positive plays on a consistent basis. The 2018 second-round pick finished the night with a 76.7 overall grade and a few insanely good plays.
There were two instances of Chark Jr. in a contested-catch situation and he came away with two impressive grabs that both resulted in an explosive play of 15-plus yards (both instances were also off of perfectly executed go-routes). Along with that, Chark Jr. generated 2.62 yards per route run and a 158.3 passer rating.
Furthermore, Chark Jr. faced off against Titans corner Malcolm Butler on eight routes and absolutely toasted him on those with a 92.9 receiving grade and catching all three of his targets for 71 yards and averaged 8.88 yards per route run. 
As mentioned, this receiving unit is not in good shape. The most targeted receiver was Dede Westbrook, and he only generated 1.44 yards per route run and had a couple bad drops that led to an underwhelming receiving grade of 52.2. Chark has shown flashes unlike any other Jaguars receiver currently on the roster and should be fed as such.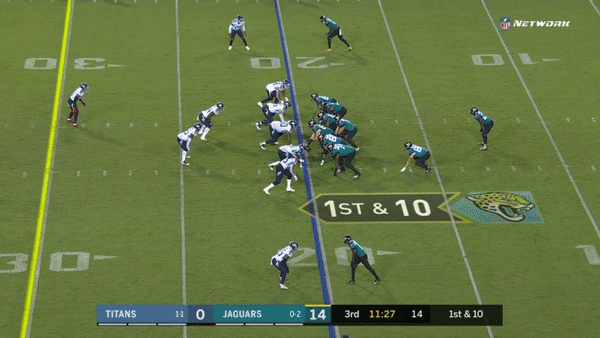 Jacksonville's pass-rushing was that good and Tennessee's pass-pro was that bad
In one of the most cringe-worthy pass-blocking performances in recent memory, the Jaguars mauled their way through to generating a near record amount of pressures in Jacksonville. While the pass-rush should be applauded for their very impressive performance, it should also be noted that they went up against incredibly poor pass-blocking. The offensive line alone allowed 14 pressures, with four of the six linemen to see reps giving up multiple pressures. Moreover, guard Jamil Douglas stood out for all the wrong reasons with a 12.4 pass-blocking grade.
On the Jaguars' end, they generated 27 pressures as a whole, with a majority coming from star interior defensive lineman Calais Campbell who had the highest-graded game of his career at 94.7 and tied his career-high for a single game with 10 pressures. Campbell ended up with a pressure on 28.7% of his pass-rush snaps and beat his opposing blocker on 38.5% of his reps. Rookie edge defender Josh Allen too had himself a night to remember with an 80.2 overall grade. Allen forced a pressure on 16.7% of his pass-rush snaps (six pressures in total) and won against his blocker on 20.5% of those snaps.