The first week of the 2018 NFL regular season is in the books and the dust has settled on the standout performances and how rookies played in their debut performances but an underlying theme that went under the radar in Week 1 is how each NFL team replaced an integral member of their 2017 squad.
Be it retirement, free agency or trades, the 2018 offseason saw a lot of movement from stalwarts on several NFL franchises and Week 1 was the first iteration in which fanbases got to see how their new-look position may fare this season.

With that, here are Week 1 grades from those players replacing key positions around the NFL:
Cleveland Browns Left Tackle – Joe Thomas
Replacement: Desmond Harrison, 1st Year (West Georgia)
Replacement Week 1 Grade: 40.4
After 10,363 consecutive snaps played at left tackle for the Cleveland Browns, Joe Thomas suffered a torn triceps last season and later called it a career. Thomas set the standard at the tackle position in Cleveland and had been excellent in recent years, ranking in the top-five among all tackles each of the last five seasons. Stepping into his shoes in Week 1 was undrafted free agent Desmond Harrison, who struggled to fill the void left by Thomas. Harrison showed his inexperience with three pre-snap penalties. He also allowed five hurries and one sack in 58 pass-blocking snaps, but it was run blocking where he really struggled. His run-blocking grade of 35.8 ranked second worst among 69 tackles with at least 25 snaps played in Week 1.
Minnesota Vikings Slot Cornerback – Terence Newman
Replacement: Mike Hughes, 1st Year (UCF)
Replacement Week 1 Grade: 73.1
Terence Newman retired this offseason after 15 seasons in the NFL, leaving an opening at the starting slot cornerback position that he manned for the Minnesota Vikings last season. Rookie cornerback Mike Hughes has been battling with Mackensie Alexander for the position left by Newman. An ankle injury to Alexander gave Hughes an opportunity for more work in Week 1, and he delivered a solid performance. Hughes actually played twice as many snaps at outside cornerback (30) as he did in the slot (15) on Sunday, but he still led all Vikings cornerbacks in slot snaps played. Hughes was targeted six times and allowed three receptions for 59 yards while also showcasing his ability to make plays on the ball with an interception and two pass breakups.
Seattle Seahawks Strong Safety – Kam Chancellor
Replacement: Bradley McDougald, 6th Year (Kansas)
Replacement Week 1 Grade: 84.2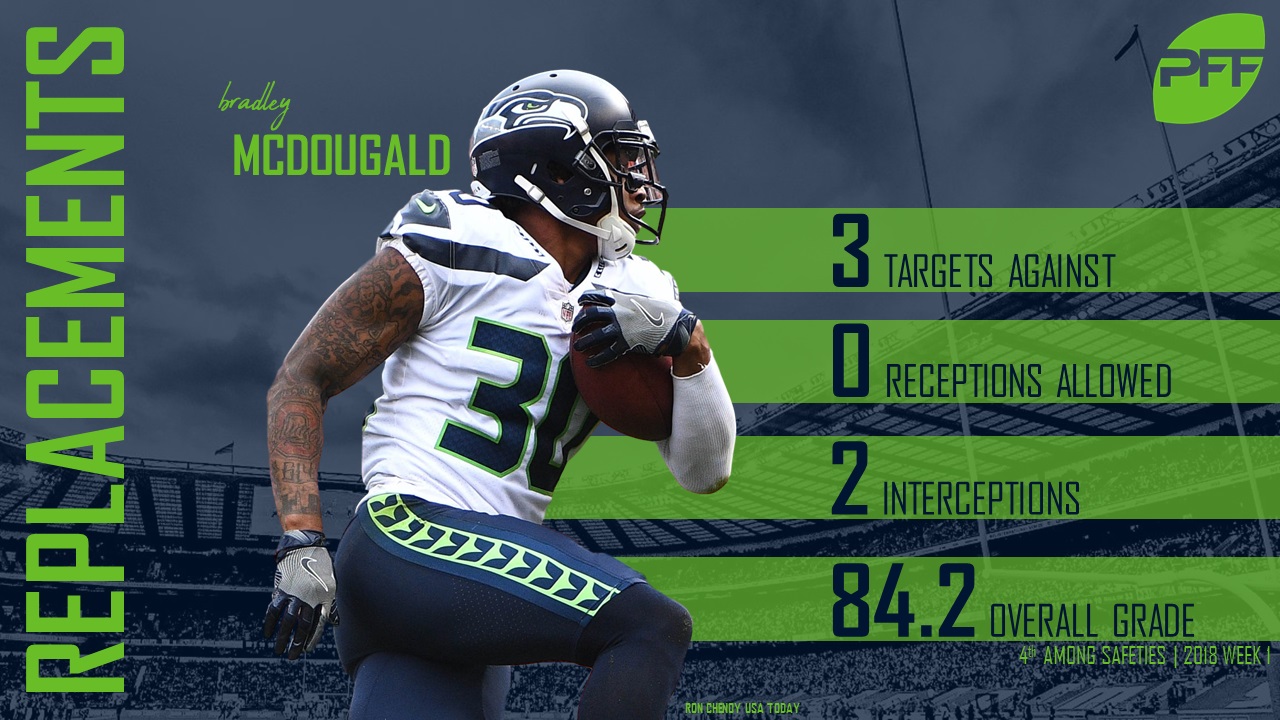 A neck injury led to Kam Chancellor's retirement this offseason. His replacement in 2018 is the same man who replaced him for the Seattle Seahawks while injured last season, Bradley McDougald. McDougald played well last season, particularly in coverage. His coverage grade of 82.0 ranked 14th among safeties with at least 250 snaps played in 2017. Last week, he recorded the fourth-highest grade of any NFL safety at 84.2 behind another strong performance in coverage. McDougald was targeted three times, allowed no receptions and intercepted two passes. He also showed versatility, lining up 22 snaps in the box, 15 in the slot and 16 at free safety.
 Dallas Cowboys Tight End – Jason Witten
Replacement: Geoff Swaim, 4th Year (Texas)
Replacement Week 1 Grade: 63.3
Long-time Dallas Cowboys tight end Jason Witten made the move this year from the field to the broadcast booth which promoted Geoff Swaim to the role of starting tight end. After playing just 203 offensive snaps in 2016 and 172 offensive snaps in 2017, Swaim was on the field for 58 plays against the Carolina Panthers. Swaim had an uneventful debut as part of a Cowboys offense that struggled to move the ball against the Panthers. He picked up just 0.56 receiving yards per route run which ranked T-24th out of 32 tight ends who saw at least three targets in Week 1. Swaim's run-blocking grade of 63.5 ranked 19th out of 50 qualifying tight ends.
Arizona Cardinals Quarterback – Carson Palmer
Replacement: Sam Bradford, 9th Year (Oklahoma)
Replacement Week 1 Grade: 43.7
Sam Bradford did not have the debut that he was hoping for with his fourth NFL team in nine seasons. After Carson Palmer's retirement and the ensuing offseason battle with rookie Josh Rosen, Bradford went into Week 1 as the starter for the Arizona Cardinals and turned in the worst overall quarterback grade (43.7) besides Nathan Peterman. Bradford was under pressure on 39.5 percent of his dropbacks which was ninth highest in the NFL, and he didn't fare well under pressure. When under pressure, Bradford connected on four of 12 targets for 33 yards and an interception while taking two sacks. That was good for a passer rating under pressure of only 7.6.
San Francisco 49ers Edge Defender – Elvis Dumervil
Replacement: Cassius Marsh, 5th Year (UCLA)
Replacement Week 1 Grade: 69.1
Elvis Dumervil had the second most snaps at edge defender on the San Francisco 49ers last season, even in his 12th year. Dumervil rushed the passer on 289 of his 341 defensive snaps in 2017. With his retirement, more situational pass-rushing opportunities are opened up for other players. Cassius Marsh is one player who will look to expand in that role as a situational pass rusher for the 49ers. In Week 1, Marsh played 39 snaps and rushed the passer on 24 of them while dropping into coverage on another six. Marsh recorded two hurries on his 24 pass-rushing snaps, but he actually fared better in run defense. It was only a nine snap sample, but his run-defense grade of 84.9 led all 49ers edge defenders.
Titans Running Back – DeMarco Murray
Replacement: Dion Lewis, 7th Year (Pittsburgh)
Replacement Week 1 Grade: 57.4
After sharing the backfield with DeMarco Murray the last few seasons, Derrick Henry has a new running mate in Dion Lewis. Lewis out-snapped Henry 49 to 20 in the opening week and 31 to 10 on passing downs. It was as a receiver that Lewis struggled in the opening, however, as two drops on eight targets brought down his grade. Lewis did finish with a top-five rushing grade last season on the New England Patriots, and he showcased some of that ability in his first game with the Tennessee Titans. Lewis forced six missed tackles on the ground (most in the NFL) and picked up 3.44 yards after contact per rush which ranked fourth among running backs with at least 10 attempts.
 Bills Left Guard – Richie Incognito
Replacement: John Miller, 4th Year (Louisville)
Replacement Week 1 Grade: 58.5
 Richie Incognito retired early this offseason only to promptly unretire, but in any case, he will not be with the Buffalo Bills to help their offensive line in 2018. Vladimir Ducasse moved from right guard to the left guard position previously held by Incognito, which brings John Miller back up to be the starting right guard after being benched last season in favor of Ducasse. Miller struggled in his return as did most of the Bills offensive line. He allowed four pressures in his 44 pass-blocking snaps to go along with a penalty. Center Ryan Groy, filling in for the retired Eric Wood, also allowed four pressures.
Pittsburgh Steelers Inside Linebacker – Ryan Shazier
Replacement: Jon Bostic, 6th Year (Florida)
Replacement Week 1 Grade: 90.5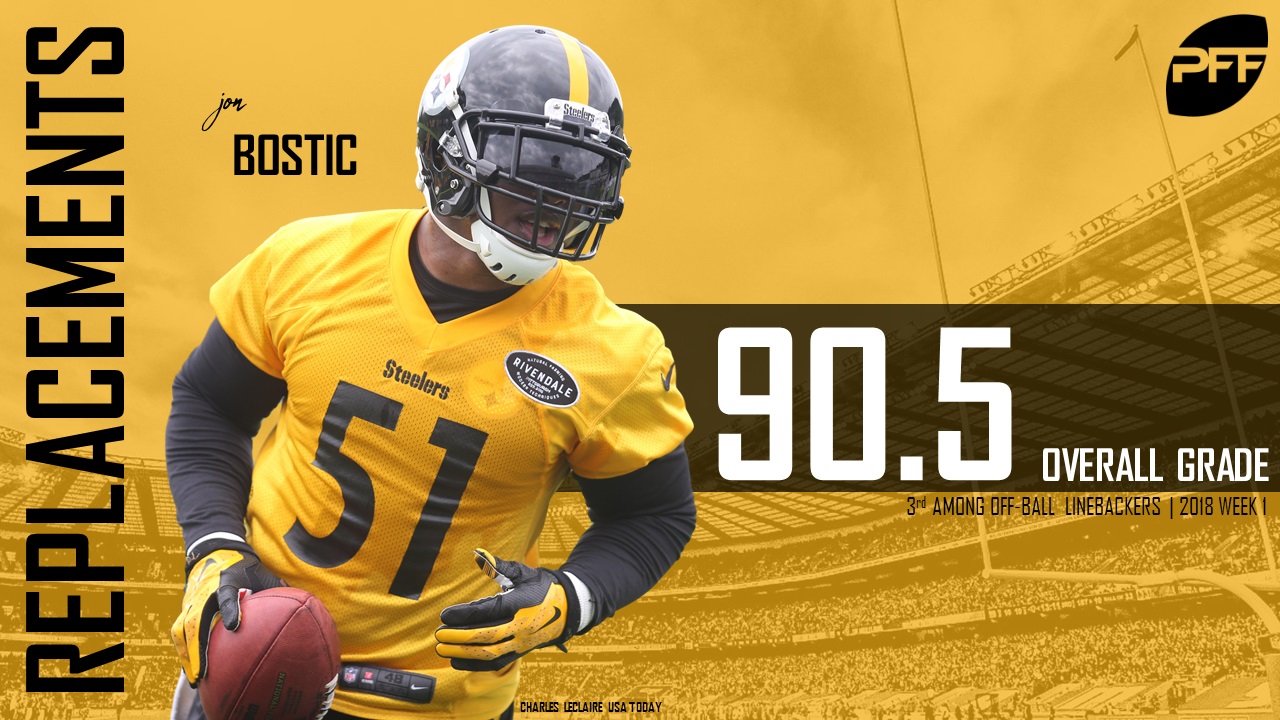 Ryan Shazier continues to recover from the spinal injury that he suffered last season, and it remains to be seen if he will return to the football field. That leaves a void in the Pittsburgh Steelers defense that the rangy, athletic playmaker used to fill. Jon Bostic got off to a good start as Shazier's replacement on Sunday with a team-high grade of 90.5. He was strong in the run game and in coverage, something that had caused him trouble in the preseason. He recorded four total stops or tackles that result in a win for the defense, and two of those came on receptions. He limited the two receptions in his coverage to just four total yards.
 Bears Tight End – Zach Miller
Replacement: Trey Burton, 5th Year (Florida)
Replacement Week 1 Grade: 63.2
Zach Miller, like Shazier, didn't retire, but he did suffer a career-threatening injury last season. The Chicago Bears signed Trey Burton to man the tight end position for 2018, and after a strong preseason in which he received an 86.9 overall grade that ranked fifth among tight ends with five or more targets, Burton had a mundane season debut. He was targeted five times against the Green Bay Packers, but only one of those targets was catchable which he caught for 15 yards. Burton's versatility was on full display, however, as he was utilized inline (22 snaps), in the slot (21 snaps), out wide (10 snaps), and in the backfield (5 snaps).