After a Week 6 loss to the Los Angeles Rams, the Denver Broncos were sitting at just 2-4 and coming off a four-game losing streak. Their hopes of contending were looking rather bleak, and a lot of that had to do with Case Keenum not performing how John Elway and the Broncos would have hoped when they inked him to a free agent contract this offseason following his career year for the Minnesota Vikings.

Keenum's 59.6 overall grade through those first six games ranked 29th out of 32 qualifying quarterbacks, and that was a far cry from his overall grade of 81.4 in 2017 which ranked seventh. Prior to last season, Keenum had not received an overall grade higher than 70.0 since entering the league in 2013. Looking at that, you would have expected his grade to regress a bit from his outstanding performance last year, but not to the extent that it did through the first six weeks of the 2018 season.
One of the key drivers in his early struggles was his inability to take care of the football. Through the first six weeks of the season, Keenum racked up ten turnover-worthy plays which trailed only Andrew Luck over that span. He simply wasn't making the big plays needed to offset those poor ones either, as he produced only eight big-time throws in those six games (t-18th most).
However, since Week 7, Keenum has looked a whole lot more like the quarterback that excelled with the Vikings rather than the one who struggled through stints with the Rams and Houston Texans. Those turnover-worthy plays that plagued him early in the season have all but disappeared; in his last five games, Keenum has only produced three turnover-worthy plays in 170 dropbacks. The reduction in turnover-worthy plays comes along with a rise in the big-time throws that Keenum has been making deep down the field and into tight windows. His ten big-time throws since Week 7 are the eighth-most in the league. Combine those two trends, and his overall grade has jumped into the top ten quarterbacks in the league over the last six weeks at 82.4.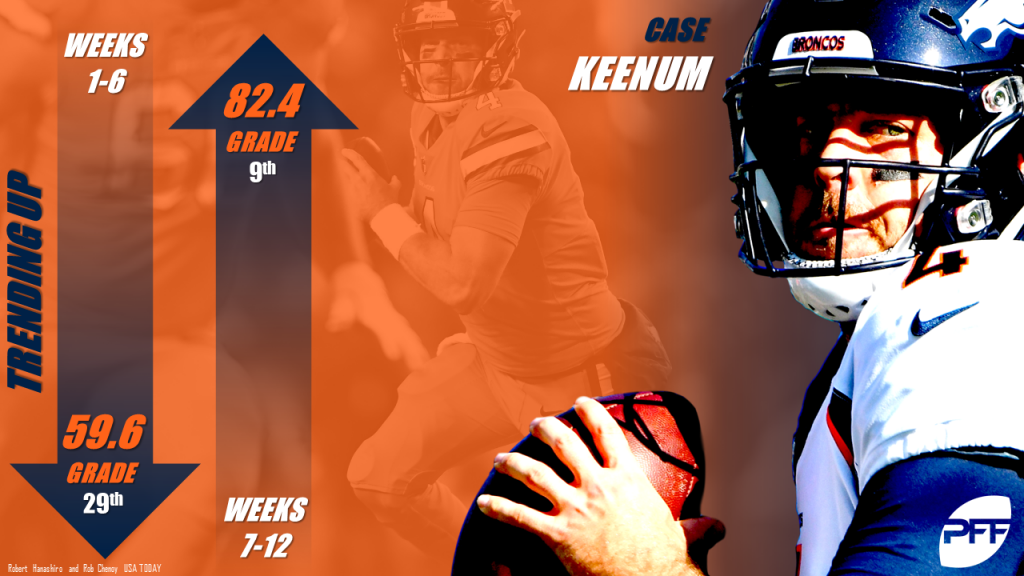 One area where Keenum had some success last year is when he was forced to make plays under pressure. His passer rating of 78.5 under pressure sat among the top ten quarterbacks in the league, and he was especially adept at avoiding sacks. Keenum was only sacked on 10.7% of his pressured dropbacks a season ago which was the second-lowest mark in the NFL.
That ability to perform under pressure is something that will be critical in the upcoming weeks since the Broncos have suffered multiple injuries up front on their offensive line. It is an area that Keenum has begun to improve in over recent weeks as well. Since Week 7, Keenum has the seventh highest passing grade under pressure, and he has just one turnover-worthy play when pressured.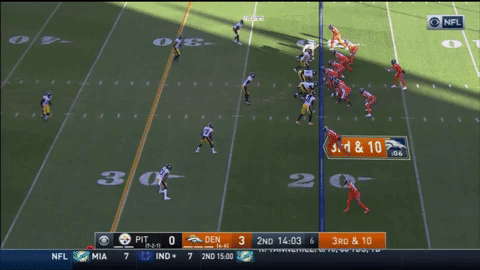 This play from their win over the Pittsburgh Steelers last week exemplifies the pocket presence and playmaking ability under pressure that Keenum demonstrated last year, and that he will continue to have to demonstrate moving forward. Even with quick pressure directly up the middle, Keenum was able to escape, climb the pocket, and deliver an on-target ball into tight coverage for a conversion on third and ten. Those are the sorts of drive-extending plays that Elway was hoping for when signing Keenum and the plays that he has begun to make over the last few weeks.
If Keenum can provide quarterback play ranking in the top half of the league, as he has in recent weeks, the Broncos suddenly have a team that could potentially make some noise in the AFC. Last season, Keenum showed that he could lead a team with an elite defense deep into the playoffs. This season, he is on a new team, but in a similar situation, as he is calling the signals for a team with a top-five defense in terms of PFF team defensive grade. If he plays as he did over the first six games, they have little to no shot at making the playoffs. That being said, with his recent string of performances looking more reminiscent of last year and a favorable remaining schedule, the Broncos look poised to make a run in the AFC.