The Oakland Raiders provided one of the first surprises of the 2016 NFL draft when they drafted West Virginia safety Karl Joseph with the 14th overall selection. While that was seen as a reach by many, we did have him rated as a first-round player and the 30th player on our final big board before the draft.
The problem for Joseph that kept him down some draft boards wasn't his play on the field, where he was a highlight machine early in 2015, but that there were only four games of tape to go on from his final year in college, with a torn ACL in the game against Oklahoma ending his season. At that point, five weeks into the college football season, Joseph had the fifth-highest overall grade among safeties, and eighth-highest in coverage.
He is expected to come in and at least help the Raiders replace retired safety Charles Woodson, who earned the highest coverage grade among safeties in the NFL in his final season in the league. A future Hall of Famer, Woodson graded positively in all but one of the seasons since we began grading back in 2007, so it will be no small feat to adequately replace a player like that straight away.
If healthy, Joseph does have the potential to excel as a rookie, though he might play closer to the line of scrimmage than Woodson did, and as a result might struggle in his rookie season to reach the heights Woodson did in coverage. We saw plenty of big plays in just four games in 2015, with Joseph capable on the ball in coverage, and also able to deliver a big hit to receivers coming across the middle.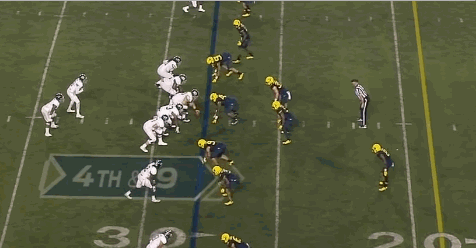 What Raiders fans should be just as excited about however is his versatility and ability to come up and play in run defense. Through the first five weeks of the college football season, only 10 safeties in the 2016 draft class had made a tackle resulting in a defensive stop on a higher percentage of their snaps in run defense than Joseph's mark of 6.1 percent, with seven of the 12 tackles he made against the run resulting in a defensive stop.
He's a solid tackler too, missing just two of the 20 solo tackles and assists he attempted before getting hurt, meaning he missed a tackle once every 10 attempted, this was an improvement on the 2014 season, where he missed 17 of the 89 solo tackles and assists he attempted, once every 5.2 attempted, meaning he was almost twice as efficient as a tackler in his final year in college.
Joseph joins a talented Raiders defense that looks good on the defensive line, off the edge and in the defensive backfield. He will be the third new starter among the Raiders defensive backs, with safety Reggie Nelson leaving the Cincinnati Bengals in free agency, and cornerback Sean Smith jumping across the division from the Kansas City Chiefs.
With so many talented players around him, Joseph is unlikely to be stretched beyond his means as a rookie, which should ease his transition to the NFL and hopefully lead to some of the highlight reel plays we saw in his time at West Virginia.