If you take a look through the lists of the top off-ball linebackers set to hit free agency, many start with names such as C.J. Mosley and Anthony Barr, but neither of those names top our list of the top ten free agent linebackers available in 2019. That honor belongs to the 26-year old linebacker out of Texas who spent his first four seasons with the Philadelphia Eagles: Jordan Hicks.
Hicks rebounded from an Achilles injury that limited him to just 268 snaps in 2017 to record an overall grade of 80.7 in 2018, tenth-best among 92 qualifying linebackers. It was the second time in his first four seasons that Hicks has found himself among the top ten at the position. In 2016, he graded at 88.3, which put him behind only Luke Kuechly and Jerrell Freeman. His only two seasons that didn't end on injured reserve produced two campaigns where Hicks showed himself to be among the top ten players at the position.
The problem is that two of Hicks' four seasons have ended on injured reserve. In 2015 and 2017, he was able to play a combined 714 snaps before being sidelined with pectoral and Achilles injuries, respectively. Those potential durability concerns aside, though, Hicks' production in his time on the field should be a massive draw to linebacker-needy teams across the league. It's not often that a player with Hicks' talent hits free agency, set to be just 27 at the start of next season. He may not be the highest-profile name on the market, but he should be highly coveted, particularly given the skillset he possesses in coverage.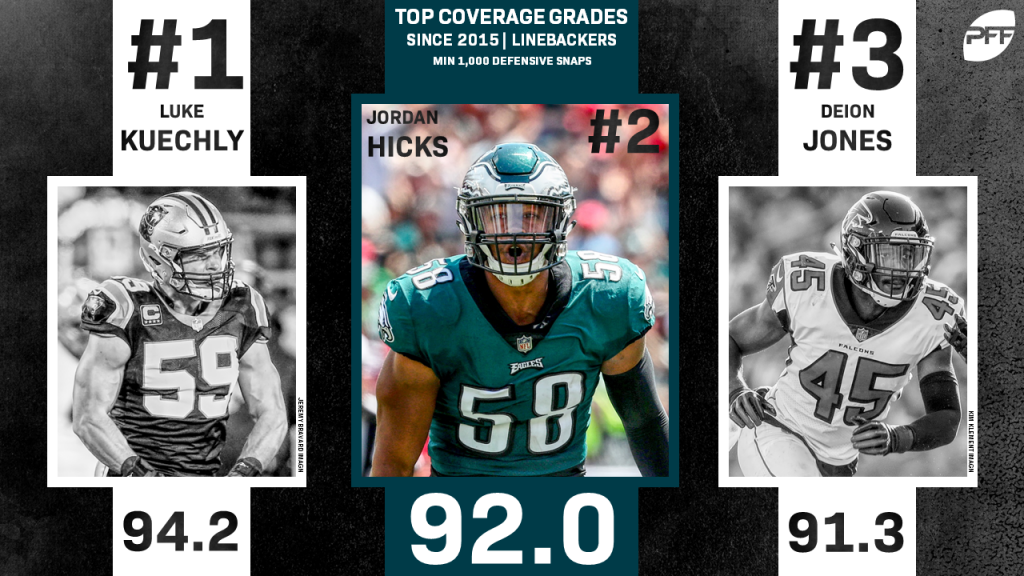 Including the playoffs, 100 different linebackers have played at least 1,000 defensive snaps since the start of the 2015 NFL season. Over that span, Hicks has a coverage grade of 92.0. The only player with a higher coverage grade is Kuechly. It is no exaggeration to say that Hicks is one of the very best coverage linebackers in the league – a league that is increasingly reliant on off-ball linebackers to handle more and more in coverage as offenses continue to evolve and get better at finding weak spots in a defense. 
A large portion of a linebacker's duties in coverage come down to limiting damage. Whether it be a receiver crossing their zone underneath or a running back catching a flair out of the backfield, stopping the catch altogether isn't a likely outcome. Thus, the best thing they can do is limit the damage of the play by meeting the receiver and stopping them as quickly as possible. That is what Hicks has done better than nearly anyone else. Just 38.9% of the receptions in Hicks' coverage throughout his career have gone for first downs or touchdowns (postseason included); that ranks fifth among 124 linebackers with at least 50 targets in that span. 
As he displayed this past season, ball carriers weren't likely to escape his grasp once he got to them either. Hicks missed a tackle once every 20 tackling opportunities during the 2018 regular season and that ranked among the top ten players at the position. That was paired with a career-high grade of 81.3 in run-defense grade, as well.
In a league that is asking its linebackers to do more in coverage, one of the top coverage linebackers in the game and an all-around, complete, starting-caliber linebacker is set to hit free agency. Other big names may overshadow his, but there is no doubt that Hicks' on-field performance shows that he is the top option available.