Following a college career with 797 yards surrendered on 61 receptions — including an 11.5 yards per reception average in his final year at Boston College that ranked just 121st — John Johnson III was certainly hoping to up his coverage game in his time in the NFL. He wasn't particularly atrocious in college, earning a decent but not great 64.2 coverage grade, but there was clearly room for improvement.
Now, as he prepares for the final game of the 2018 season, the 2017 third-round pick is closing that gap between good and great at a rapid pace in his second season with the Los Angeles Rams.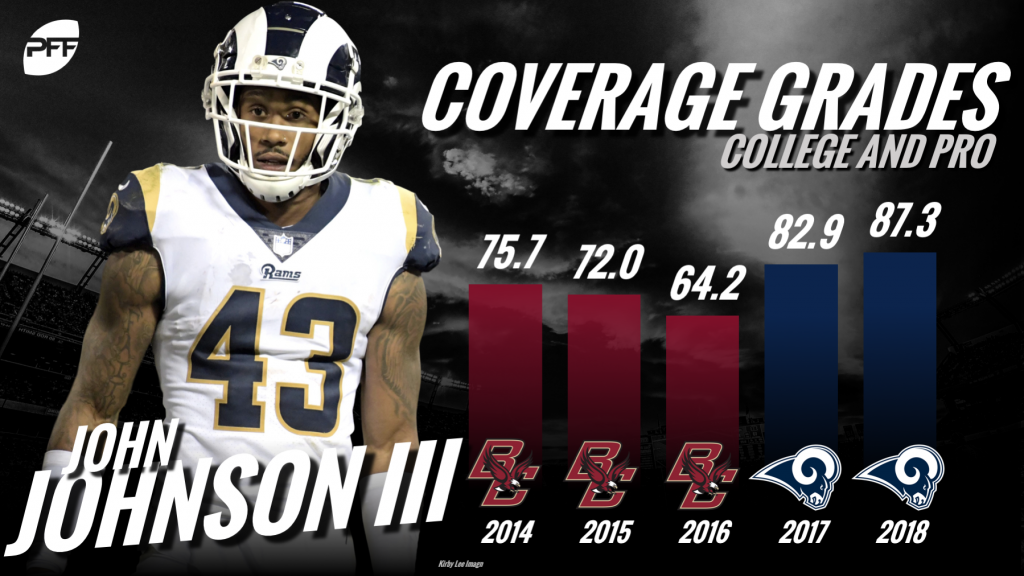 In his first season with the Rams, Johnson III surpassed his college numbers in multiple facets. On 41 targets, he notched eight pass breakups, the same total he had at Boston College from 2014-2017 on 109 targets. In terms of yards per completion allowed, he reduced his three-year college average (13.1) to just 9.8 yards in his rookie year with the Rams.
The promise Johnson displayed in 2017 carried over to an even more impressive second year in 2018, a year that has pitted him among the NFL's best cover safeties.
To the tune of an 86.1 coverage grade in the regular season (fifth among safeties who faced 20-plus targets), Johnson III allowed just 9.2 yards per reception in the regular season, a mark that ranked 15th among safeties who faced 20 or more targets.
Even when Johnson allowed completions in his coverage — which he did at a seemingly high, but normal rate for safeties (75.6%) — he rarely let the receiver out of his grasp. Only Harrison Smith had more snaps and a higher tackling grade than Johnson (88.2), and Johnson's 12 total stops in coverage ranked 10th among players at the position.
The second-year safety has displayed the ball-hawk tendencies that every coach wants in a safety, while also proving himself as a sure-fire tackler. The Rams can't ask for much more from a safety who is supposed to be still developing in his second season. Instead, he's quietly taking the league by storm.
But it's hard to stick out when you're drafted among a slew of impressive safeties. Johnson III is joined by the New York Jets' Jamal Adams, the Chicago Bears' Eddie Jackson, and the Indianapolis Colts' Malik Hooker, among other safeties, who have excelled in multiple phases of the game after being drafted in 2017, but it was Johnson who led that group in yards per reception allowed, stops and tackling efficiency this year.
Yet, he continues to fly under the radar, but it's he who now gets to play for a Super Bowl. After covering opposing teams' tight ends for much of the year, Johnson III will get one of the biggest tests of his young career against the daunting Rob Gronkowski.