It should come as no surprise to those around the NFL that through four weeks of the 2018 season, Houston Texans edge defender J.J. Watt is back to his dominant ways.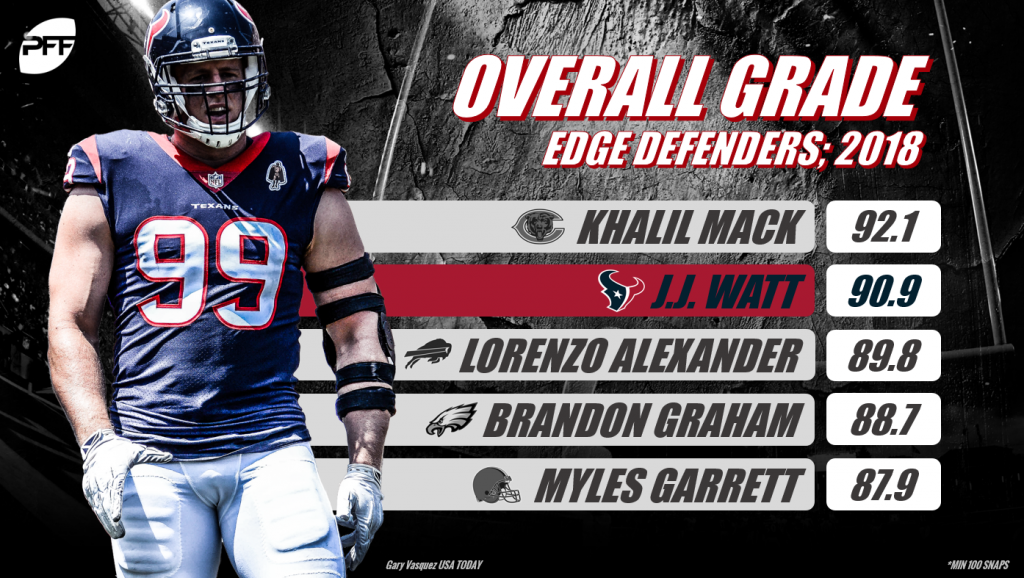 After two injury-riddled seasons in 2016 and 2017, there were plenty of critics who questioned whether Watt would ever play football again – let alone come back and be his old, dominant self. Well, through four weeks of the 2018 NFL season, it appears Watt has answered those critics. Among all edge defenders in the league, Watt is the second-highest graded player at the position with a mark of 90.9. He is currently tied for first in sacks (6) among edge defenders and is fifth in total pressures (19) through the first four games.
Despite his overall success, Watt got off to a slow start to the season, logging just five total pressures in Weeks 1 and 2. Of course, he has since turned things around, as Watt recorded nine pressures (six hurries, three hits) and five sacks in just the past two weeks. He now ranks ninth in pass-rush productivity (8.6) largely because of his recent efforts.
J.J. Watt finds the football, again! ????

(via @NFL)pic.twitter.com/gFygqnm2dU

— Pro Football Focus (@PFF) September 30, 2018
However, while Donald narrowly edges out Watt for our best overall single-season defensive interior grade, when you compare the best four-year stretch of their careers (Watt 2012-2015; Donald 2014-2017), the case can be made that not only has Watt been more dominant than Donald when healthy, he has been way more dominant – which is hard to believe. During those four-year stretches, Watt produced 372 quarterback pressures to Aaron Donald's 295 (in other words, almost a full season's worth of pressures).

Since we have already compared two of the most dominant defensive players of this generation, we may as well continue the trend. In another telling statistic, Watt was named the top player in our PFF Top 101 series in three consecutive years – 2012-14 (the only player to ever do so), while Donald has been named the top player twice (2015, 2017) – not bad in his own right.
Watt in his prime completely redefined what we believed possible at the position. And while, of course, it will be extremely difficult to replicate the kind of game-breaking numbers he has put up in seasons past, should he stay healthy, he will likely leave us shaking our heads in wonder yet again. The scary part is that Watt – despite all he's already accomplished – is still improving and building upon his already ludicrous numbers.
At his best, Watt is arguably the most destructive interior defender in all of football, and while we may not see him play at the same level he once did, he's still a wonder to behold when he's near his best. Let's all cherish the time that he remains on a football field – it won't be long before we're talking about Watt as one of the greatest players the game has ever seen.