Lost in the shuffle of Sean McVay's award-winning debut as an NFL head coach was the Los Angeles Rams' No. 1 overall pick, the signal-caller at the helm of it all, Jared Goff.
Fans and media alike were quick to tag Goff as a merely a product of McVay's system – not one capable of taking it to the next level – as he improved his overall grade from 42.9 in 2016 to 75.6 with McVay in 2017. Goff, now four games into his second season with McVay, is proving his doubters wrong, rising above the infamous "system QB" label.
In Los Angles' 38-31 win over the Minnesota Vikings on Thursday, Goff earned the highest single-game grade (96.3) of his career, completing 26-of-33 passes for 465 yards and five touchdowns in the process. He also recorded a sky-high adjusted completion percentage (92.9), a perfect 158.3 passer rating, had six big-time throws and committed zero turnover-worthy plays. All five scores were big-time throws.
Yes, McVay's system put Goff in a position to take advantage of mismatches and pass into open windows, but Goff still processed coverages quickly, made the right decisions and had perfect ball placement on all five touchdown passes. McVay and Goff both had fantastic games; both can be true.
Here, McVay begins what would go on to be repeated abuse of Vikings linebacker Anthony Barr in coverage, as he calls for his star running back Todd Gurley to beat Barr vertically for a red-zone touchdown. Goff, however, takes the mismatch from favorable to indefensible when he throws the pass on a frozen rope in a spot only Gurley can make the catch and easily keep his feet in bounds.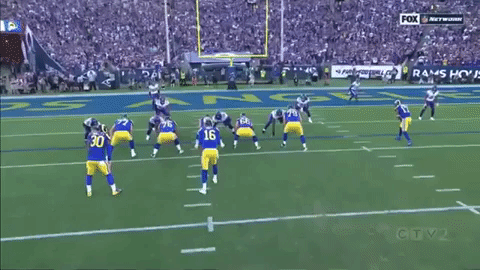 Operation: Target Barr continued without a hitch on Goff's subsequent touchdown pass, as McVay has second-year wide receiver Cooper Kupp come across the formation to the opposite side of the field – Barr's side of the field. Kupp comes out of the route wide open streaking down the sideline, and Goff hits him in stride to turn what would be a 30-yard pass if the throw was errant into a 70-yard touchdown because of the high-end ball placement. Again, it's another instance McVay and Goff both playing well.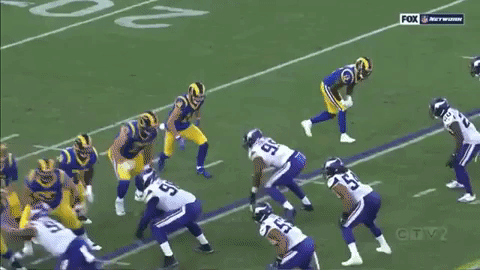 Goff then breaks away from Operation: Target Barr on his next trip to the red zone, taking it upon himself to rise above the system and throw Kupp, who is fighting double coverage, open in the back of the end zone. Oh, and Goff's on the run, too.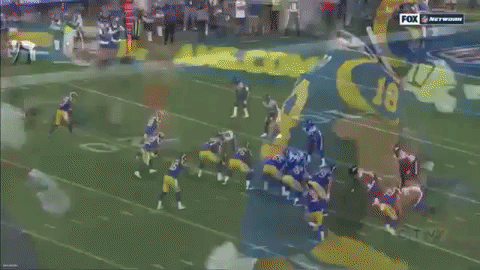 System QBs don't make throws like the one above, nor do they make the deep throws Goff completes to punch in his final two touchdowns of the contest.
Goff finds his two speedsters, Brandin Cooks and Robert Woods, for deep touchdowns of 47 and 31 yards to cap off his stellar performance. Going to Cooks first, Goff hits his speedy wideout in stride as he crosses the goal line after creating just a step or so of separation against Vikings' Trae Waynes in one-on-one coverage. Waynes was surely behind Cooks on the play, but his diving effort as the pass approaches breaks up an inaccurate throw; Goff's was, again, indefensible.
Late in the third quarter, Goff revisited Operation: Target Barr to place what was arguably his best ball in the hands of a Woods streaking into the end zone. Goff's pass doesn't force Woods to break stride and falls over the appropriate shoulder to keep him from having to make any late adjustments after the throw. Despite the mismatch of Woods-Barr, the play is far from a guaranteed completion; Goff just makes it that easy.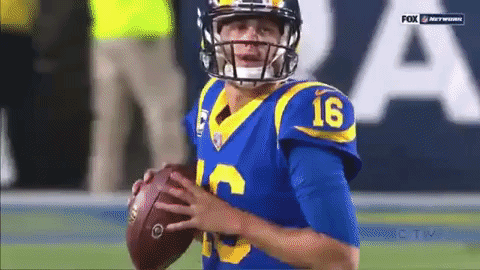 With his performance Thursday night, Goff now has 819 passing yards, a 148.7 passer rating and 10 big-time throws in his last two games. His two-game grade of 98.0 in Weeks 3 and 4 is the highest of his career by a significant margin. He is taking the next step in McVay's system rather than simply enjoying the ride, a step that will push him into the conversation of top quarterbacks in the league if keeps it up.