At the time of his trade from the New England Patriots to the Cleveland Browns in 2016, Jamie Collins Sr. was nearing 27 years old and playing like one of the best linebackers in the NFL. He had finished with a top-10 overall grade among qualifying linebackers in 2014 (85.3), 2015 (85.2) and through the first eight weeks of the 2016 season with the Patriots (82.9), and it appeared as if the Browns were securing one of the top linebackers in the league. However, as those in Cleveland now know, things didn't work out according to plan.
Collins finished his final eight games of the 2016 season in Cleveland with an overall grade of just 54.1 – nearly 30.0 points lower than his first seven games in New England. He was then signed to a four-year, 50-million-dollar extension, but went on to play just six games in 2017 due to a torn MCL, and he finished with an overall grade of 42.1 in those games. The inconsistencies continued into last season, where Collins ended the year with an overall grade of 62.3 (58th out of 92 qualifying off-ball linebackers). All in all, it was a disappointing return for the Browns, who recently released the linebacker whose career began with such promise.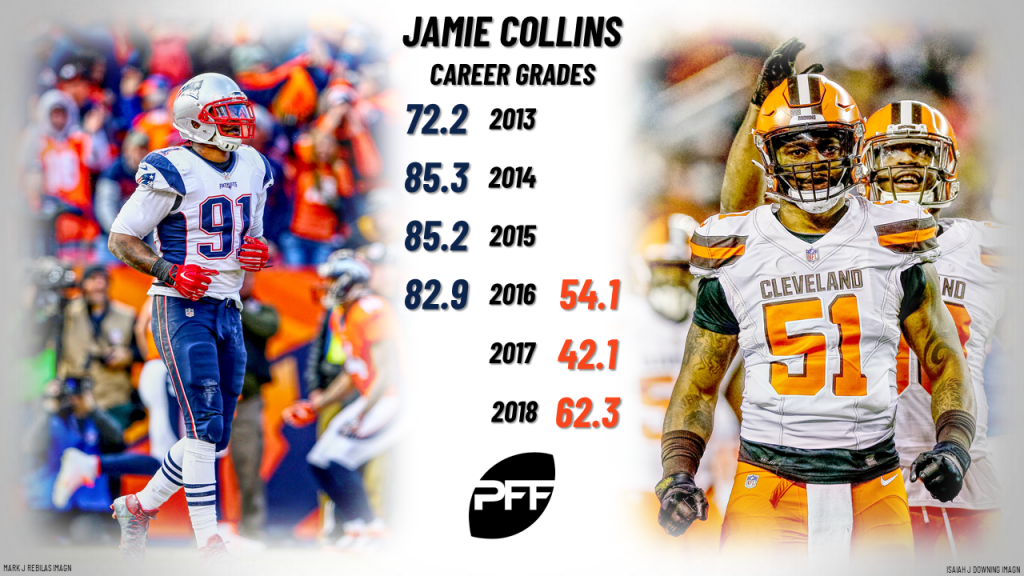 However, with Collins returning to New England on a new deal, he's set to return to the best situation in the league; to a team that will maximize his pass-rushing ability and revitalize his career.
A large part of what made Collins so effective early in his career in New England was his ability to get after the quarterback as a blitzer. Over his time with the Patriots, no off-ball linebacker had a higher pass-rushing grade than Collins, and it wasn't particularly close. When you include playoff games, Collins racked up 64 quarterback pressures from 2013 to the time of his trade in 2016 (excluding snaps taken from the edge). Among all off-ball linebackers in non-edge alignments, that was good for second-most over that span, finishing behind only his teammate, Dont'a Hightower (76 pressures).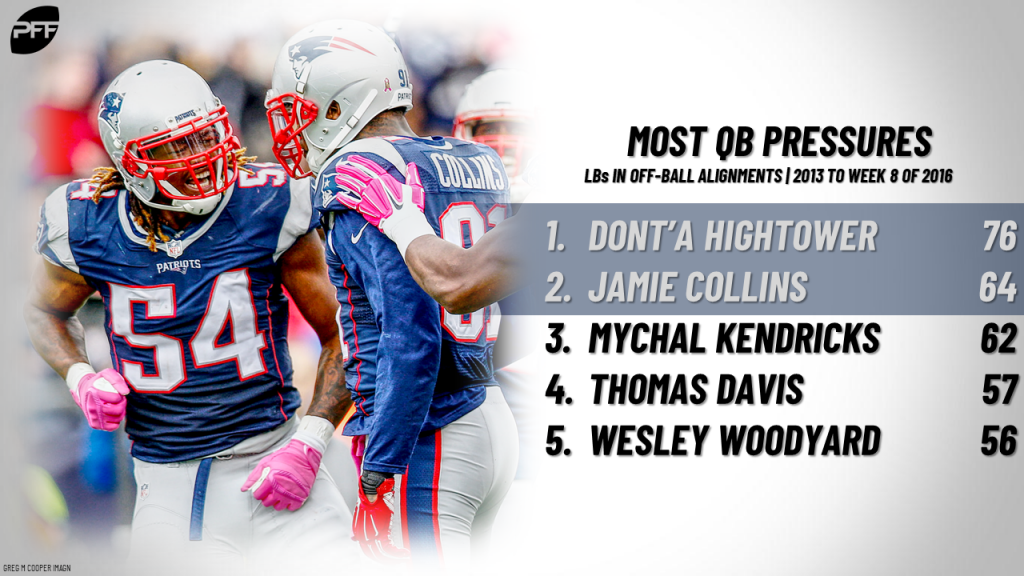 Two Patriots topping the list should come as no surprise. There are few teams – if any – that better utilize their linebackers as blitzers than New England. As my colleague Austin Gayle highlighted following the Super Bowl, it's a large reason why the Lombardi trophy is returning to Foxboro. In their three postseason games this past season, Kyle Van Noy and Hightower combined for 27 quarterback pressures — all other off-ball linebackers combined for 28 pressures over the entirety of the playoffs. Looking a little deeper, Van Noy and Hightower combined for 21 of those 27 pressures on rushes that involved a stunt. No other off-ball linebacker had more than three pressures on such plays in the postseason. Belichick is one of the best in the business at manufacturing pressure, and now he gets another piece to work within the linebacker room, a piece who has proven himself to be an above-average blitzer in a similar scheme.
The significant decline in performance from Collins after being traded to the Browns in 2016 could be due to a myriad of factors, among which is his utilization and alignment on the Browns' defense compared to how he was used in New England. It remains to be seen if he can return to the form that put him on a trajectory to be one of the top linebackers in the league, but one thing is clear – there is no better team and no better scheme to put Collins in position to do just that.