Second-year Pittsburgh running back James Conner stepped into some of the biggest shoes in football at the position at the start of Le'Veon Bell's holdout, but those shoes are now breaking at the seams as Conner marches into Week 9 with the fifth-highest yards per touch (5.81) among qualifying backs.
The Pittsburgh Steelers running back, in addition to his high-end efficiency from a yards standpoint, ranks 13th in rushing grade (72.3) and tied for ninth in receiving grade (72.1) among backs with 200-plus offensive snaps on the year.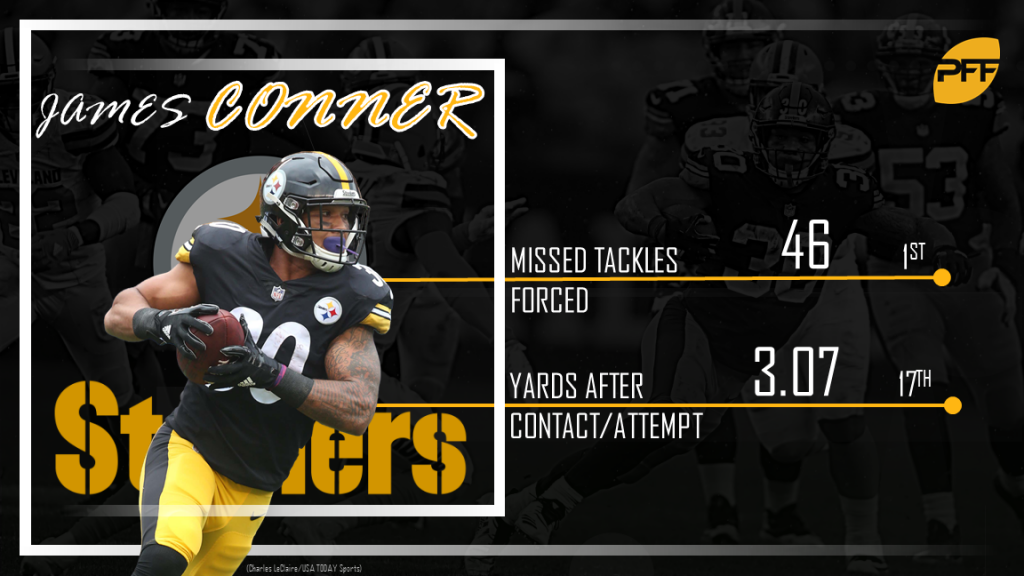 Conner's ability to add yards after contact and run through missed tackles has been well above expectation, as the former third-round pick currently leads all running backs with 70-plus touches (carries and receptions) in forced missed tackles per touch (0.29) and respectively ranks second and 14th in PFF's elusive rating (88.8) and yards after contact per attempt (3.07).
Even after starting the season with 20 forced missed tackles and a respectable 2.53 yards after contact per attempt average in Weeks 1-4, Conner has gotten even better as the season as pressed on. In Weeks 5-8, Conner forced an NFL-high 26 missed tackles and led the league in elusive rating (121.9), and he did so with a Week 7 bye week. His unparalleled efforts on a limited sample size made his selection as PFF's AFC Offensive Player of the Month in October a no-brainer.
Staying in October, Conner owns the sixth-highest receiving grade (76.1) among backs with at least 80 receiving snaps in Weeks 5-8. He caught 13-of-17 targets for 159 yards and seven first downs in the span of three games, breaking an impressive nine tackles in the process. His season yards per route run average (1.52) now ranks 11th among the 31 backs with 100 receiving snaps in 2018.

Compared against Bell's monster year that came a season ago, Conner outpaces the (former) Steelers lead back in efficiency nearly across the board.
In 2017, Bell averaged just 0.15 forced missed tackles per touch and 4.79 yards per touch, both metrics falling below Conner's figures in Weeks 1-8. Yes, Bell touched the football more than any other back in football last season, but Conner is showing no signs that he'll be unable to finish the season ahead of Bell in efficiency.
Put simply, Conner is doing more than filling in for Bell; he's outperforming him. The intrigue of having Conner and Bell as a tandem is legitimate, but Conner is more than just a hot hand – he's the better hand, and Pittsburgh should treat him as such.