With Telvin Smith recently announcing that he will be taking an unexpected break from football in 2019, the Jacksonville Jaguars must look to replace a reliable staple of their defense.
Smith, a former fifth-round pick in 2014, had developed into a consistent presence for the Jaguars and registered over 1000 snaps in each of the past three seasons (including playoffs). Despite being remarkably durable, Smith's career performance had been inconsistent but he had certainly shown the ability to be an impact player.
Over the first two seasons of his career, Smith notched overall grades of 63.7 and 66.8 which respectively ranked 39th and 35th among his positional peers. In total, his 115 defensive stops over those two seasons were the second-most among his classmates. 
In his rookie campaign, Smith showed flashes of coverage ability by allowing only 0.98 yards per coverage snap, however, that wasn't to last, as that number jumped to 1.25 yards allowed per coverage snap in 2015 when he yielded a passer rating of 113.5 on throws into his primary coverage.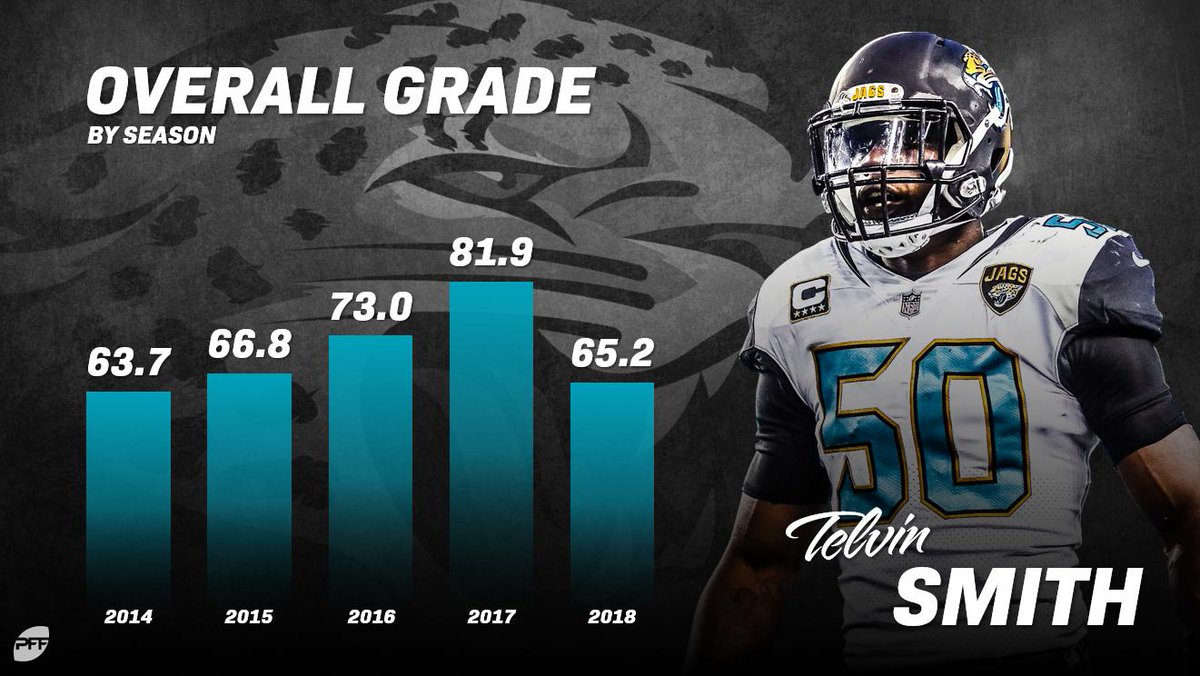 Despite an unamusing start to his career, Smith began to show promise in 2016 and 2017, as the early playing time appeared to be paying dividends.
The 2016 season saw him post a 73.0 overall grade and a 77.3 grade in run defense. His durability and improvement led to the second-most defensive stops in the league at the linebacker position, and while coverage was still not his strong suit, Smith posted a career-high five pass breakups and finished the year with an average of eight coverage snaps played per reception allowed — the best mark of any linebacker with 500 or snaps that season.
After showing signs of life in Year 3, Smith's fourth professional season was a huge jump forward, and it's no coincidence the Jaguars defense also excelled that year, finishing as our highest-graded defense. Smith was the team's fifth-highest graded defender at 81.9; his run defense, in particular, was stellar, as he finished with an 87.4 grade and 33 defensive stops which both ranked in the top 10 among qualified linebackers. The former Seminole also tallied the highest regular-season coverage grade (70.7) of his career.  During the Jaguars playoff run, Smith registered 14 stops and three pass breakups, ranking first and second, respectively, among all defenders that postseason.
Smith's career appeared to be trending in the right direction, but 2018 did not go as he or the Jaguars would've hoped. Despite eclipsing 1000 snaps, Smith notched a career-low 50 defensive stops and finished with a run-stop percentage of just 8.3% that tied for 30th among all linebackers. Smith's overall grade of 65.2 was his lowest mark since his rookie year.
The 2018 season proved to be a let down for many around the Jacksonville franchise, and while Smith did put up career-low numbers, he still would've been a focal point of the defense had he planned to suit up for 2019. Smith's ability to be a three-down linebacker is coveted in today's NFL and should he decide to return, he should be welcomed back with open arms.