Versatility.
It's a coveted trait in today's NFL, though it can also be somewhat overrated. There's a delicate balance between finding a player who can contribute in multiple areas and finding one who is a "jack of all trades, master of none."
For Kentucky's Josh Allen, there is a valuable component of versatility that can be tapped into at the next level, though his future team may just want to keep him focused on the pass-rushing portion of his game.
As recently as 2013, we saw Oregon edge rusher Dion Jordan selected at No. 3 overall with many analysts lauding his ability to "cover well for a 6-foot-7 athlete." While Jordan's range in coverage was a unique sight given his size, for a No. 3 overall pick, it certainly should not have been his selling point as his ability to get after the quarterback effectively was far more important than 30-50 snaps in coverage every year.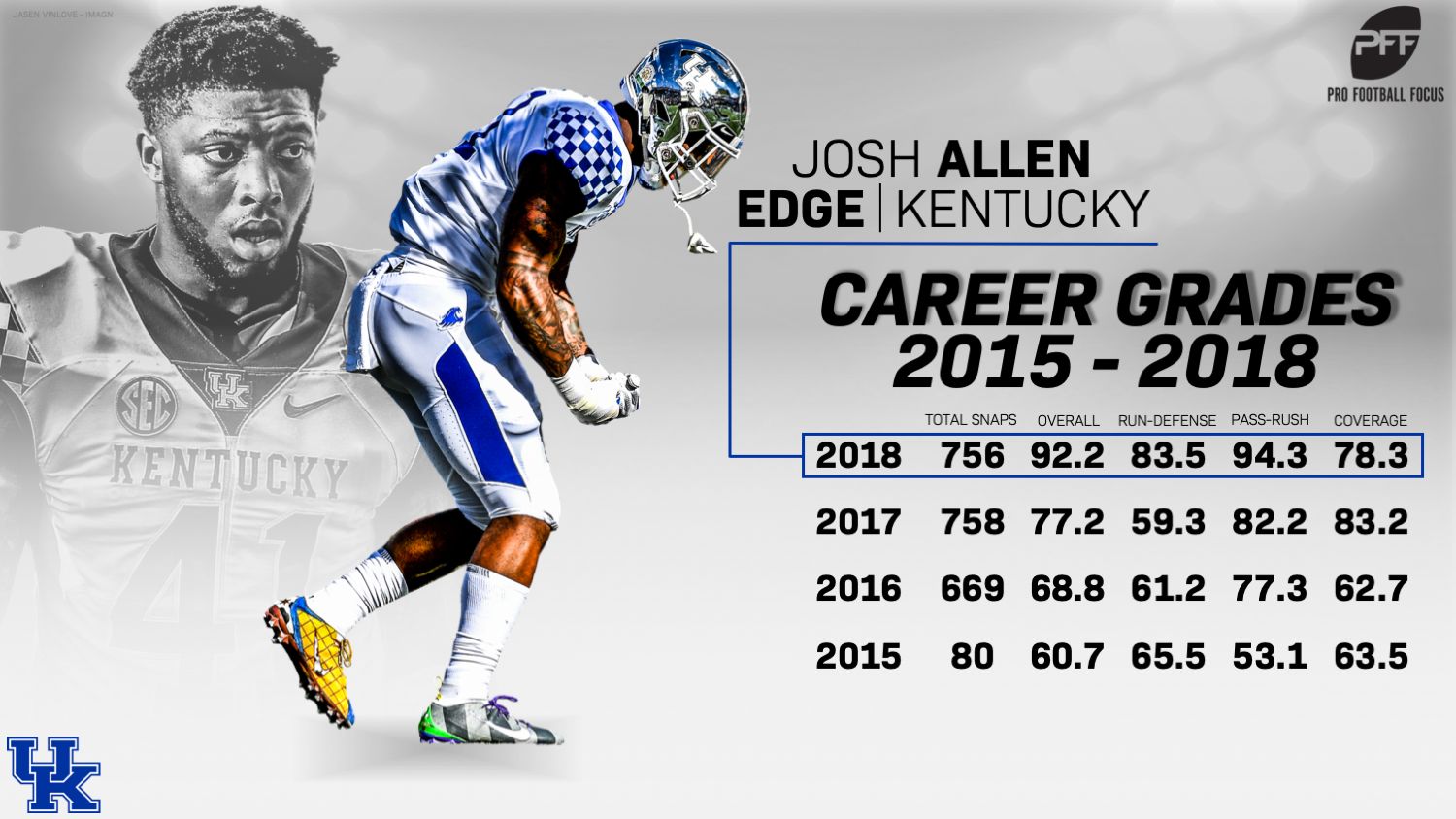 The narrative around Allen may be similar as he has coverage versatility that gives a defensive coordinator plenty of options to keep an offense off-balance, but he can also succeed as just a pass-rusher given his impressive development at Kentucky. However, unlike Jordan who was more novelty than effective coverage player, Allen made enough plays in space, both against tight ends and running backs, that it's not crazy to think that he can be an asset in that department at the NFL level. Allen may be exactly what analysts wanted Dion Jordan to be.
Let's take a look.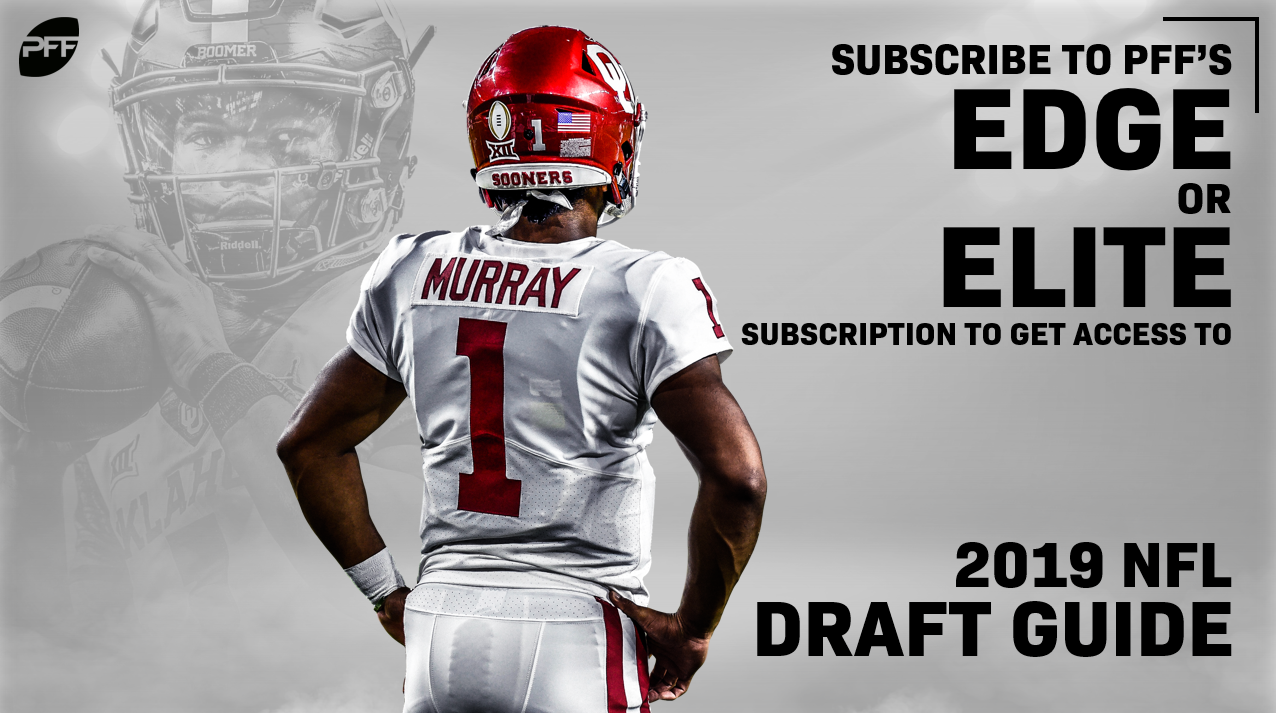 Rushing the Passer
Starting out with the place where Allen will most likely make his money at the next level: pass-rushing. Allen has progressed every year at Kentucky going from 77.3 as a pass-rusher in 2016 to 82.2 in 2017 to an incredible 94.3 last season. Perhaps most impressive is his overall efficiency when rushing the passer as Kentucky only sent him after the quarterback 520 times over the last two years (about 1.25 seasons for most rushers) and Allen notched 24 sacks, 24 QB hits and 50 hurries during that time.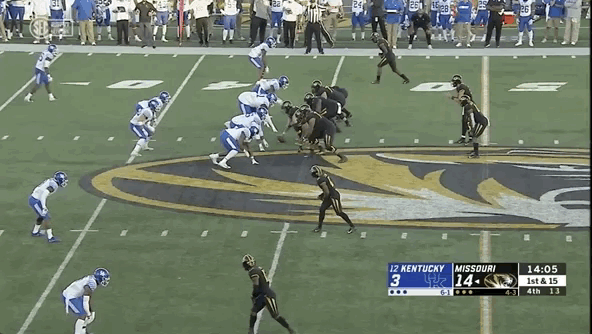 Allen has the burst and bend to challenge NFL offensive tackles right off the snap, and it resulted in his creating pressure to the outside shoulder of offensive tackles once every seven snaps last season. He's more than just athleticism, however, as Allen has continued to add to his pass-rushing arsenal every year.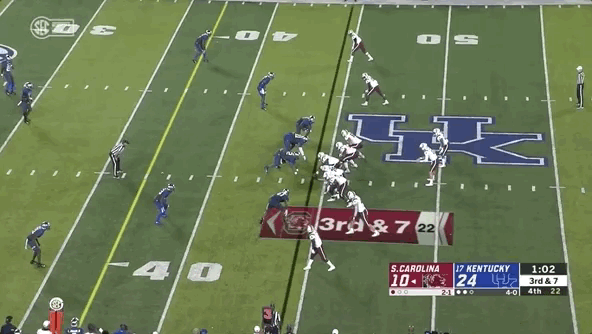 Coverage
If Allen is drafted by a traditional 4-3 team, he's likely a hand-in-the-dirt defensive end who may drop into coverage once or twice a year as part of a zone-blitz scheme. However, in an old-school 3-4 look, or a team willing to be creative in nickel and dime packages, Allen's coverage skills are an asset.
He's dropped into coverage 300 times over the last two seasons, far more than any other top edge defender in this draft class. While most edges drop into "curl/flat" responsibilities where most plays are made working downhill in condensed space, Allen has shown the ability to run down the field with tight ends and running backs while showing impressive catch-point ball skills.
Here he runs the seam with NFL draft prospect Jace Sternberger, completing the play with a pass breakup.
Watch the play recognition, change-of-direction and ball skills to break up this pass on the goal line against Florida.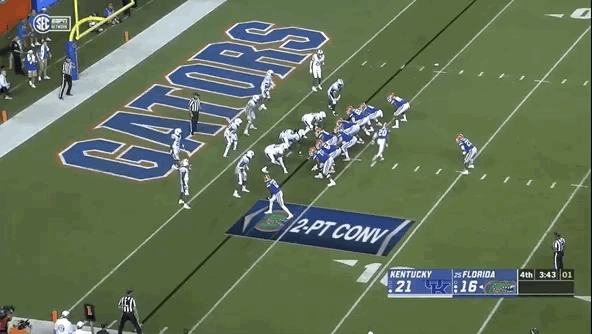 Allen shows off his ability to cover down the field as he carries the running back down the field as part of his curl/flat responsibility.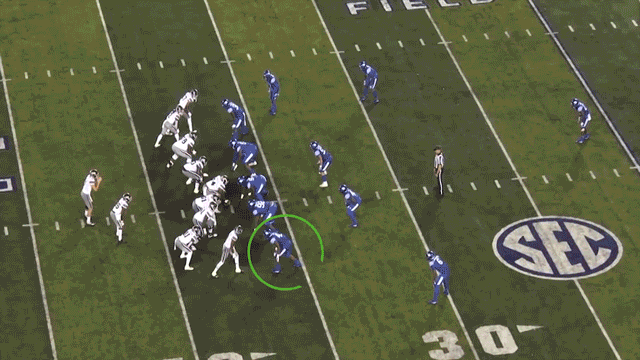 Overall, Allen forced six incompletions on only 21 targets last season while grading at 78.3 in coverage, a year removed from grading at 83.2.
If Allen wasn't so good as a pass-rusher, he'd be a viable off-the-ball linebacker with valuable coverage skills. Of course, an ideal scenario has Allen tapping into both his pass-rushing and coverage ability on passing downs, and a creative defensive coordinator can use him to keep opposing offenses off balance.
Run Defense
A quick word about the run. While Allen's pass-game versatility is the crux of what you need to know about him as a prospect, he did take a big step forward in the run game after two-plus subpar years in that department. He's still a bit behind other top edge defenders when it comes to run defense, but there's reason to think he's improved from weakness to satisfactory when projecting Allen's game.
Allen improved his ability to shed blocks and get in on plays
Here he shows the speed to get down the line of scrimmage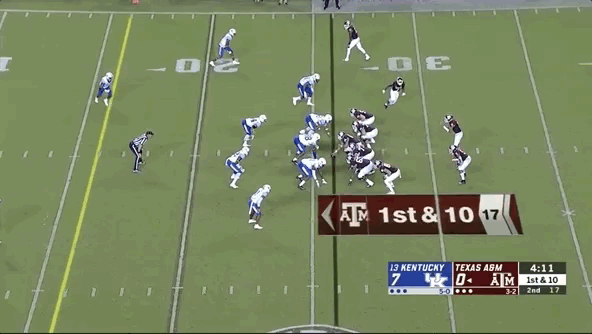 Final Word
Allen provides one of the most versatile skillsets among defensive players in the NFL draft, though he may not even need it depending on which team drafts his services. At best, Allen is a terror on the defensive side of the ball, keeping offenses in confusion as to whether he'll be coming after the quarterback or dropping back into zones to cover tight ends, running backs, and underneath receivers. At worst, Allen lines up as a pure pass-rusher with the ability to continue his development from high school receiver to NFL-caliber rusher, providing high-level play at one of the most important positions on the field.