Philadelphia's wild-card playoff victory over Chicago will live in infamy as the "Double-Doink Game," as the Eagles held on to a one-point win following a Cody Parkey implosion. Eventually, Philly would go onto lose the New Orleans Saints in the divisional round contest where they scored zero red-zone passing touchdowns and pushed their playoff point total to a meager 30 points.
To be clear, Philadelphia's red-zone deficiency may not have been the sole reason for the loss, but that didn't stop the Eagles from drafting a top offensive talent in wide receiver and Stanford-alum J.J. Arcega-Whiteside. And early reports indicate that his work inside the 20-yard line has been impressive.
This shouldn't come as a surprise to those who watched him in college.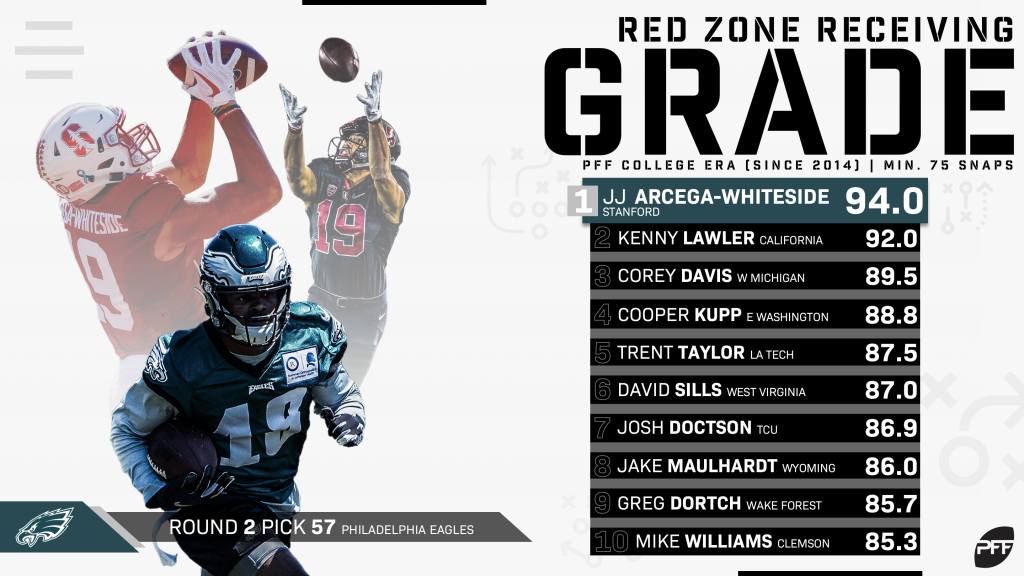 In fact, J.J. Arcega Whiteside wasn't just one of the better red-zone receivers in college football last season — he became the highest-graded red-zone receiver we've ever seen.
Among the 498 FBS receivers who have logged at least 75 red-zone snaps in the PFF College era (2014 – present), Whiteside's 94.0 receiving grade ranks first, beating out notable names like Western Michigan's Corey Davis, Ohio State's Michael Thomas and Clemson's Mike Williams. During his time at Stanford, Arcega-Whiteside caught 27-of-39 red-zone targets for an incredible 25 combined first downs and touchdowns, generating a 105.4 passer rating in the process.
In his final season alone, the Stanford product hauled in 13 of his 18 red-zone targets, and he tallied 149 yards, nine touchdowns and three additional first downs. Among the 57 draft-eligible wide receivers with at least  10 red-zone targets in 2018, Arcega-Whiteside's 4.14 yards per route run ranked first, while his 113.2 passer rating when targeted was good for 17th.
As PFF's Mike Renner excellently laid out in his pre-draft evaluation, Arcega-Whiteside's ability to shield defenders away from the ball with his body positioning is unequivocally unique. He, quite literally, boxes out defenders whenever the opportunity presents itself and rarely loses when doing so.
And it was this trait that made him such a formidable presence in the red zone throughout his time in college. From 2016 to 2018, Whiteside saw 16 contested targets inside the opponent's 20-yard line — tied for the most ever recorded by a college receiver — and he came down with 11 of those passes. His career red-zone contested-catch rate of 68.8% ranks second among receivers in the PFF College era who have seen at least 10 contested targets in the red zone.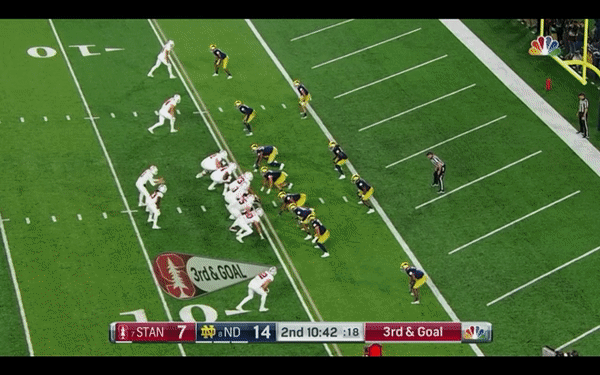 There is no doubt that the Carson Wentz to Arcega-Whiteside connection could be exceptional, specifically in red-zone situations, as the Eagles' quarterback possesses the fourth-highest red-zone passing grade (75.2) among quarterbacks since 2016. Despite missing a considerable amount of time over the last three years, Wentz has still tossed 55 red-zone touchdown passes since 2016, the eighth-most among signal-callers. Among the 31 quarterbacks with at least 100 red-zone dropbacks since 2016, Wentz's 100.7 red-zone passer rating ranks eighth.
Head coach Doug Pederson, who has enjoyed the red-zone talent of Travis Kelce and Zach Ertz in recent years of his coaching career, should be thrilled about the potential and depth that the rookie receiver brings to the offense. If he can continue to build chemistry with Wentz, and if he can continue to turn heads during red-zone drills, J.J. Arcega-Whiteside could very well be Pederson's next great red-zone threat.