At just 24 years old, Kwon Alexander entered free agency after four seasons and 2,917 defensive snaps with the Tampa Bay Buccaneers. On Monday, the San Francisco 49ers handed him a contract that averages 13.5 million dollars per year and 27 million dollars in guaranteed money – a contract that has a higher annual payout than the previous top contract for an off-ball linebacker that was given to Luke Kuechly. With that kind of money in play, it's natural to think that the 49ers just got themselves one of the best young linebackers in the NFL, but the PFF grades and data on Alexander tell a different story.
Across his first four seasons, Alexander has recorded overall grades of 38.8, 68.4, 65.5, and 59.1. That doesn't look like the profile of a top-dollar linebacker in the NFL. Last season, his year was cut short by a torn ACL that he suffered in Week 7, but his overall grade of 59.1 in his time on the field ranked just 65th out of 92 qualifying off-ball linebackers. It was his lowest overall grade since his rookie season in which he ranked fifth-worst at the position.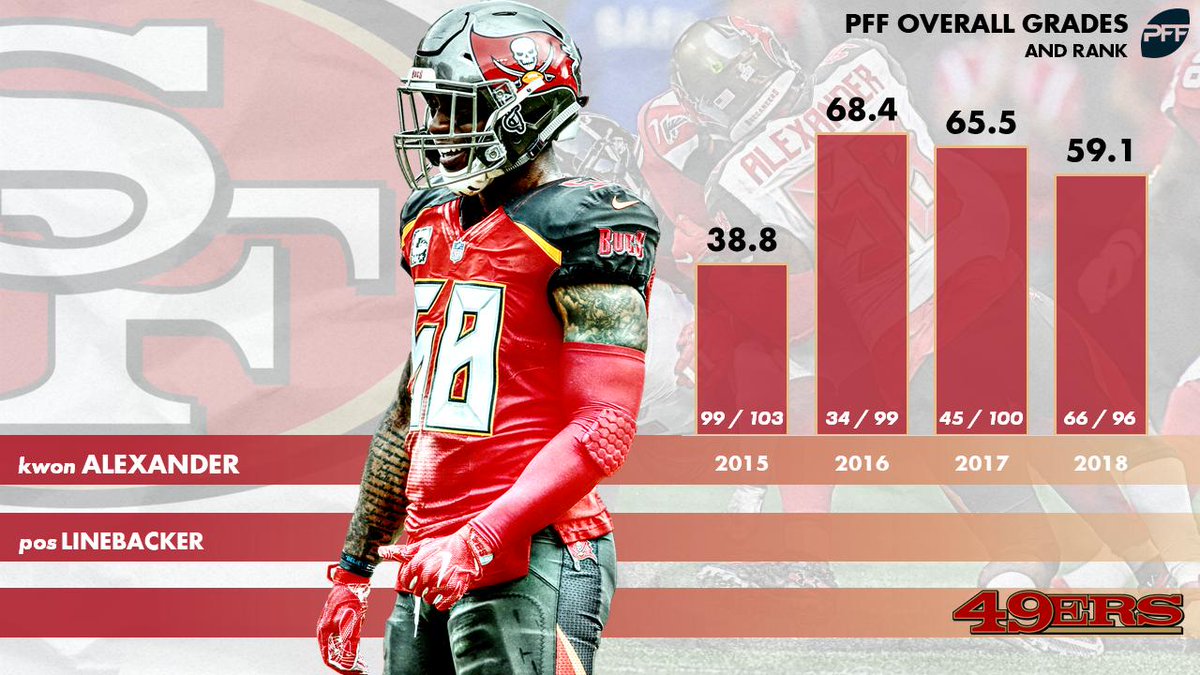 Alexander's athleticism and playmaking ability are what got him the contract, but it's the plays that he doesn't make which are the bigger story, particularly in regards to missed tackles. Since entering the league, Alexander has missed 78 tackles in the regular season; only Telvin Smith Sr. has more missed tackles in that span, and the next closest player to Alexander is Alec Ogletree with 62 missed tackles. So while the highlight plays do flash on tape for Alexander, they are joined by a healthy dose of negative plays.
Along with his issues as a tackler, Alexander has struggled as a run defender. In his four seasons as a professional, he has yet to record a run-defense grade higher than 60.0 in a single season. His career high came in 2016 when he recorded a run defense grade of 59.2, ranking 58th among qualifying linebackers.
That being said, Alexander does have his strengths. One such strength is his ability to get after the quarterback as a blitzer. Over the last two seasons, 77 linebackers have logged at least 50 pass-rushing snaps, and Alexander ranks fifth among them with a pressure rate of 26.8% (19 pressures on 71 pass-rushing snaps). He's been fairly strong in coverage in recent years as well; taking out his rookie season, Alexander has a coverage grade of 74.2 since the start of 2016, ranking 16th out of 54 linebackers who have seen at least 100 targets over that span.
As the overall grades would suggest, though, the bad has outweighed the good for Alexander up to this point. The 49ers will add him to a young linebacker group headed by Fred Warner (63.9 overall grade in 2018) and Elijah Lee (60.1 overall grade) where they will hope that his athleticism and potential come to fruition in the form of consistent, high-level performance for the entirety of a season. Given what we've seen from him to this point in his career, that's a risky 54 million dollar proposition.