When the Denver Broncos selected Courtland Sutton with their second pick of the 2018 NFL Draft, it foreshadowed the inevitable for a proven, yet aging wide receiver corps.
Now, the Broncos are in desperate need of playmakers on an offense that graded in the bottom half of the league as a whole last season, and Sutton is poised to take up that mantle. Like any rookie season, there were plenty of areas for growth with Sutton, but given his skill set and flashes of production, there's a good reason to believe he could have a breakout season in 2019. 
Sutton's rookie season did not lack playing time, especially once long-time Broncos wide receiver Demaryius Thomas was traded to the Houston Texans. He assumed a starting role from there on out, paving his way to becoming the team's leading receiver down the stretch. Overall, Sutton put up decent first-year numbers and finished with 42 receptions, 704 receiving yards, four touchdowns and a 62.5 receiving grade.
The apex of his season came in a Week 13 bout with the Cincinnati Bengals when he finished with a season-high receiving grade of 86.7. Sutton caused problems for the entire Bengals secondary that day, as he registered four catches against four different defensive backs, and that resulted in 85 yards, one touchdown and a 139.9 passer rating when targeted. Although he lacked consistency his rookie season, Sutton still managed to have six games with a passer rating above 100.0 when targeted.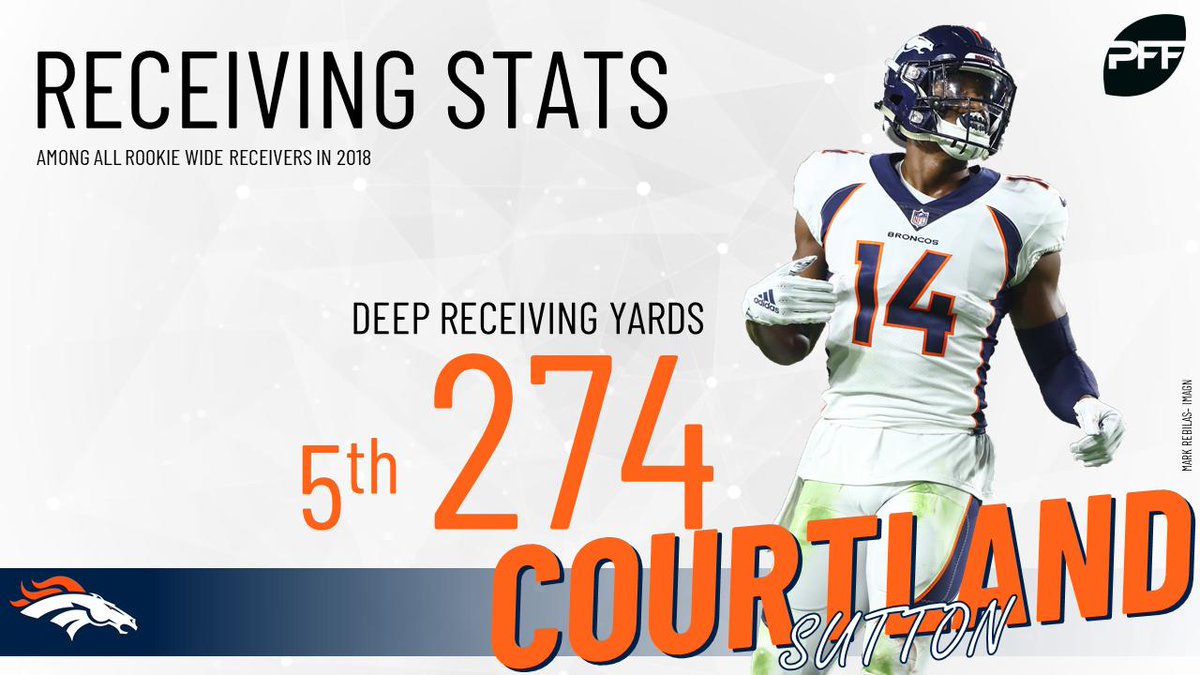 Taken in the second round in the 2018 draft, Sutton had to show he was worth the price tag. He held his own amongst rookies, finishing with the third-most receiving yards in his class on just 42 receptions. This led to an extremely healthy 16.8 yards per reception which ranked 11th overall in the NFL at his position. Sutton also proved to be a reliable deep threat and finished first among the rookie receiving class in both deep targets (25) and deep receptions (9).
Sutton's ability to stretch the field is clearly the most potent part of his game and even an area he can vastly improve in with better quarterback play. His 36% catch percentage on deep balls ranked 49th among qualified receivers, and this can partly be attributed to former Denver quarterback Case Keenum —who finished with just a 41.7% adjusted completion percentage on deep passes last season.
Sutton seems to have all the makings to become a breakout player in 2019 and that starts with his consistency. There's no doubt the Broncos should get him heavily involved with the offense, and it will be up to Sutton to make the most of his chances. If the 23-year-old can eliminate his down games and improve upon his drop total, Denver will have a formidable number one receiver for years to come.