The NFL trade deadline isn't until October 30th, but teams are already classifying themselves as buyers and sellers. The New York Giants just stepped towards the "seller" category, as they shipped 2016 10th overall pick cornerback Eli Apple to the New Orleans Saints for a 2019 fourth-round pick and a 2020 seventh-round pick.
The 23-year-old Apple, in the third year of his rookie contract, has assembled an average 2018 campaign with a 64.1 overall grade.
Apple has yet to allow a touchdown on the season but has been targeted once every 5.8 snaps in coverage, which ranks 82nd in the NFL. One of Apple's key gripes is his tackling ability, or lack thereof, as he ranks 108th in the league with seven missed tackles and just 19 successful tries. His poor 2018 tackling grade (37.2) is the opposite of his 2017 campaign, where he maintained the sixth-highest tackling mark in the league (88.0).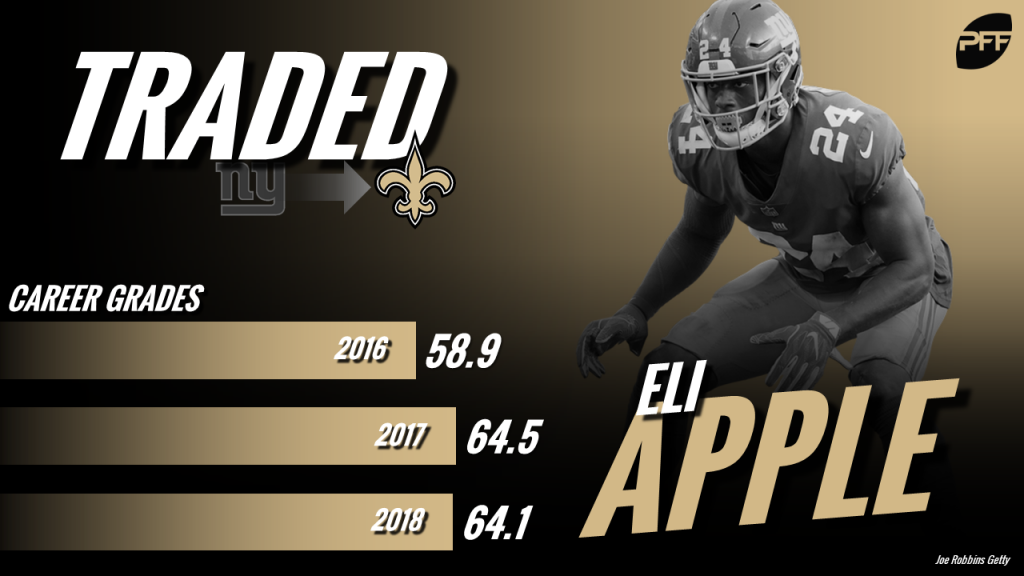 The former Ohio State product has consistently hung around PFF's average grade of 60.0, as his highest and lowest seasons are separated by 5.6 points for his first two-and-a-half seasons. His 104.4 career passer rating allowed is 7.6 points above the NFL average since 2016.
Apple played alongside one of the best safeties in the league in New York, Landon Collins, but there is no shortage of decorated players in New Orleans. The 2017 Defensive Rookie of the Year Marshon Lattimore earned the eighth-highest cornerback grade in 2017, allowing a passer rating of 45.3 when targeted, good enough for third in the league. Fast forward to 2018, and he has allowed a 117.5 passer rating, which ranks 92nd in the league.
Apple joins a large group of former Buckeyes, as he'll get to play alongside Lattimore, Von Bell, Kurt Coleman and Michael Thomas. The New Orleans' secondary was recently ranked 31st in Pro Football Focus' top 32 coverage units, as their team possesses a 52.9 coverage grade and has allowed a 121.2 passer rating as a team this season. Their top coverage defender is currently safety Bell (66.6), who has allowed 11.1 yards per reception.
This trade occurred a month after the Saints lost Patrick Robinson to the Injured Reserve due to an ankle injury. Robinson had the seventh-highest grade (87.5) among all corners in 2017.
The Saints needed to do something to shore up their struggling secondary that has surrendered 13 passing touchdowns. They are one of 11 teams in the NFL to have snagged less than five interceptions. Apple has all the tools to be a successful cornerback in this league, and although he didn't put it together in New York, he'll have an opportunity to with a New Orleans team that is a legit Super Bowl contender.
Other instant takeaways from trades around the league: